Politics
It seems, at the moment, like one of the best ways to start a fight among a bunch of serious Catholics is to start throwing around the term "prudential judgement". However, for such a frequently used term, the concept is not often defined, and given all the contention around it, I think it would be helpful to try to write a fairly brief post defining it and examining why it seems to be the center of so much controversy.
Prudential judgement is the application of the virtue of Prudence to some given situation in making a judgement as to the virtuous course of action. The Catechism defines Prudence as follows:
1806 Prudence is the virtue that disposes practical reason to discern our true good in every circumstance and to choose the right means of achieving it; "the prudent man looks where he is going." "Keep sane and sober for your prayers." Prudence is "right reason in action," writes St. Thomas Aquinas, following Aristotle. It is not to be confused with timidity or fear, nor with duplicity or dissimulation. It is called auriga virtutum (the charioteer of the virtues); it guides the other virtues by setting rule and measure. It is prudence that immediately guides the judgment of conscience. The prudent man determines and directs his conduct in accordance with this judgment. With the help of this virtue we apply moral principles to particular cases without error and overcome doubts about the good to achieve and the evil to avoid. [emphasis added]
So a prudential judgement is the application of moral principles to a particular case in order to achieve good and avoid evil. Thus, obviously, saying something is a matter of prudential judgement does not mean that "there is no right answer". The process of making a prudential judgement is one of judging which is the virtuous action to take in a given circumstance. Prudential judgments are definitionally moral questions. "Is vanilla or chocolate ice cream more tasty?" is not a matter of prudential judgement, it's a matter of personal taste.
Often "matters of prudential judgement" are contrasted with "intrinsic evils", especially in matters of political discourse. This leads to a lot of angst in some quarters. What is the difference?
An action which is intrinsically evil is something which is always and everywhere wrong. To use one of the standard examples: Abortion is an intrinsic evil in that the act of abortion can never be a just action. The taking of human life is not an intrinsic evil because it is an action which is unjust in some circumstances (murder) but just in others (self defense, just war, times and places when the common good requires the use of capital punishment). (My goal is to be short here, so I'm not going to enter into discussion of double effect.) As this example shows, just because something is not intrinsically evil doesn't mean that it isn't worthy of very, very serious moral reflection. Clearly, one can't say, "Killing another human being is not intrinsically evil, so reasonable people can feel free to differ on it." The prudential judgement of "does this situation justify the taking of human life" is clearly a moral question of the very highest magnitude.
Why then this distinction between "intrinsic evils" and "prudential judgments" in political discussion among Catholics? I think reason is that some moral principles seem to have political applications so obvious that there can be little room for variance in judgement. For instance, abortion is often cited as an example of an intrinsic evil on which Catholics may not vary in their opinion in politics. It is a belief held by much of the political left in this country that there is a "right to choice" in regards to abortion, in other words that a woman has a fundamental human right (which the state must respect and protect) to choose to have an abortion if she so chooses. From a Catholic moral point of view, one may not have a right to do something which is evil. I cannot have a "right to choose to torture" or a "right to choose to murder". As such, I think it's legitimate to say that a Catholic may not hold that a person has a right to procure an abortion.
Continue reading →
We've reached the point in the election where the press decides to mostly report on how the election is being perceived rather than on any particular events, and since the president is doing well in the polls this results in a lot of "desperate Republicans do foolish things" stories. The flavor of the week seems to be the media's discovery that somewhere out there in the right-leaning internet, there are people who have made a hobby of "re-weighting" polls in order to reflect what the re-weighters think is a more likely partisan composition of the electorate come election day.
There is, yes, a certain sad desperation about this. Now that election reporting is often more about "the race" than about issues or events, being behind in the race is crippling and so people come up with way to try to explain it away. Those with long memories (eight years counts as long in our modern age) may recall that when Bush was so rude as to be ahead of Kerry in the 2004 race, Michael Moore and those like-minded rolled out a theory that all the polls were wrong because an army of voters who only used cell phones and not land lines (and thus couldn't be polled) were out there ready to vote against Bush.
However, just as everyone's getting ready to announce that Republicans, in their constant flight from the "reality based community" have decided they don't believe in polling, we find out that the left has its own reality problem: They're convinced that the economy has been getting better over the last couple months, despite the fact there's little reason to believe this. Gallup and the Pew Research Center both have data out showing that Democrats' opinions of the economy and the job market have suddenly started improving, despite almost universally bad news over the last several months.
As you can see, partisan affiliation wasn't much of a dividing factor in assessments of the economy a year ago, but now that a bad economy might mean President Obama not being re-elected, Democrats obediently come to the conclusion that the economy really isn't that bad. According to Pew, the same divide now exists on the job market, consumer prices, the financial market, real estate, and even gas prices. You would think that at least people could agree on what the level of gas prices is, but no, apparently not, though the gap is narrower there than elsewhere: 89% of Republicans say they hear mostly bad news about gas prices while 65% of Democrats do.
The trope goes that you are entitled to your own opinions, but not your own facts. However, as the political divide has become wider and more entrenched opposite sides increasingly do have their own facts, as reality become filtered through a partisan lens.
I've been listening to music via Pandora a lot recently (while writing) and the result is that although I've been hearing more than my usual share of political ads. (Since I don't watch television or listen to commercial radio, I'm normally exempt from these despite living in Ohio.)
One thing that particularly struck me is the rampant dishonesty in regards to tax policy that's going around, in part due to the both party's bad habit of making tax breaks look more affordable by enacting them only for short terms, thus necessitating frequent renewal.
The first bone of contention is the "Bush tax cuts". These tax cuts, which affected taxpayers all across the income spectrum, are estimated to have a "cost" of $3.3 Trillion over ten years (this "cost" is the combination of foregone theoretical tax revenues and the cost of servicing the debt resulting from federal spending not going down by a similar $3.3 Trillion.) Democrats like to refer to the "Bush tax cuts" as "tax cuts for the rich" and to quote the full "cost" of $3.3 Trillion as being the cost of those cuts. What this ignores is that two thirds of that $3.3T actually went to what President Obama refers to as the middle class (families making less than $250,000 per year.) So while it's true that the "Bush tax cuts" had a "cost" of "over three trillion dollars", the attacks against this ignore the fact that two thirds of that total is "tax cuts for the middle class" which Democrats support.
Just to make it even more confusing, Democrats like to call extending the Bush tax cuts "massive tax cuts for the rich", despite the fact it is simply an extension of tax rates which have already been in place for some time. Republicans, on the other hand, like to refer the potential expiration of the tax cuts as a "massive tax increase." This is accurate, to the extent that people would indeed experience their taxes going up, but it ignores the inconvenient fact that Republicans wrote the tax cut in such a way as to expire (in order to avoid having to make hard budget decisions to 'pay for' the tax cut.)
As if one set of expiring tax cuts that everyone talks about in different ways were not confusing enough, there's also the Obama payroll tax cut: a cut of 2% in the payroll tax that pays for Social Security. This was never meant to be a permanent tax cut, but rather a short term economic stimulus. Social Security has financial problems to begin with, it doesn't help to make a significant cut in its funding. (And that's ignoring the fiction that the money you put into Social Security is the money you're get out again.)
However, even though both parties have signaled that they're essentially willing to let the temporary payroll tax cut expire at the end of this year (though both parties hope to see this done as part of a broader overhaul of taxes suited to their own priorities) that hasn't stopped some commentators and advertisers from characterizing Republican support for letting the cut expire as "a tax increase on the middle class".
I have to remind myself sometimes to refrain from immersion in current events, politics, and social issues because I swell up with machine-like resolve and start thinking of myself as a Sarah Connor, the fictional mom in the Terminator films who transformed from a timid victim to a hardened warrior on the verge of losing touch with her own humanity. She knew Judgement Day was coming, and her son would have to fight evil mightily. She knew she had to prepare and protect him.
I don't think I'm the only mom that conjures up such an image. We lay awake at night wondering what kind of battles our children will face as adults. Will they lose faith? Will they be hurt? Will they be warriors? Will they be martyrs? Will they be ready? Are we doing enough to take a stand as Catholics? No kidding, there are nights when I feel compelled to rise and do chin-ups on the door frame to flex some muscle (though I'd faint after three).
I have learned, instead, to pray. As awful as I may think some current events are, this world still belongs to God. If I believe that Christ healed the sick, commanded demons, and died and rose for the salvation of souls, then in faith I need to guard against despair and overwhelming ferocity. Remember what the centurion in Capernaum said to Jesus when he wanted his servant to be healed? He had great faith. "Lord, I am not worthy to have you enter under my roof; only say the word and my servant will be healed." He also had humility. That last part reminds me of St. Francis' advice, "Sanctify yourself and you will sanctify society."
Surely in some ways we do need to become a legend among the resistance, to warn that humanity is doomed to self-destruction if they don't listen, and to store up a proverbial cache of weapons for our children if there is a rise of the machines; but mostly what we need to do is to accept the graces and abundances offered now in this time of our own lives. We do need to fight, but we can't let ourselves become so steeled we forget we are human.
Even so, I wouldn't mind having her deltoids, and I admit I rather like imagining myself standing strong with a steady gaze across the landscape as I prepare to defend and inspire my children, but without the cigarette and Commando rifle.
SHOCKER: Teens need their mothers. Mothers can help their daughters. Even in crisis.
There's an article forthcoming in the journal Economic Inquiry by Professors of Economics, Joseph Sabia and Daniel Rees, that shows parental notification or consent laws are associated with a 15 to 25 percent reduction in suicides committed by 15- through 17-year-old women. The researchers analyzed National Longitudinal Study of Adolescent Health data collected from 1987 to 2003 and found results that are consistent with the hypothesis that laws requiring parental involvement increase the "expected cost of having unprotected sex," and, consequently, protect the well-being of young females. (Hey, they're economists.)
Here's the reasoning, taken from this paper by the same authors.
Researchers have already found, using state-level data from 1981 through 1998, that parental involvement laws reduced teen gonorrhea rates 12 to 20 percent among teen females. (Klick and Strattman, 2008)
Other recent studies provide evidence that female adolescents who become sexually active at an early age are more likely to suffer from the symptoms of depression. (Hallfors et al. 2004; Sabia and Rees 2008)
Research has shown that multiple sex partners increased the likelihood of substance abuse. (Howard et al. 2004)
It is also been found that adolescent females who had multiple sex partners were 10 times more likely to develop the symptoms of major depression than those who remained abstinent. (Hallfors et al. 2005)
There was no evidence of a similar relationship between male multiple partners and adolescent depression. (Hallfors et al. 2005)
So the hypothesis is: If parental involvement laws discourage minors from risky lifestyles that affect their physical health, then they would promote emotional health of teenage females as well. Analyzing suicide rates will give an indication since there have been many studies that link depression and suicide. The national suicide data was analyzed and that's exactly what they found – a supporting correlation. Parental involvement laws correlate with fewer suicides. Further in support, there was no evidence of a similar relationship among male adolescents, and no correlation between parental involvement laws and suicide for older women because, well, neither group would be affected by those laws.
Makes sense, right? You're probably thinking, "Did we need to pass those laws, wait and see what happened, and then count suicides?" No, we didn't, and there'd be at least some justice if the people opposing those laws would take notice.
You'd think someone who really cares about women would be able to take an objective view of this data and consider it as an appeal to our collective conscience. You'd think someone who parrots, "Trust Women!" would be consistent enough to also trust mothers who are raising teens. When the state comes between teens and their parents, it just follows that the adolescents will not be as close to their parents as they ought to be.
This only affirms what we already know. Parents of teen girls can be trusted - should be trusted for the psychological benefit of a daughter in crisis. The abortion advocate community doesn't seem as concerned about young women, though, as they are about politics and agendas. They instead say that people just want to make it harder for teens to have abortions, and that teens have a "fear of abuse" from unrelenting parents. Oh, and they'll say something about how correlation doesn't equal causation, revealing that they either are ignorant of analytical methods or, even worse, knowledgeable of them but dishonest when the results don't fit their predetermined conclusions. Some will even say that teen women should be trusted to make their own decisions even when the decision for these desperate young women is to end their own lives. Of course, we all know why Planned Parenthood doesn't want the parents involved. Ac$e$$ to abortion.
So I have a little hypothesis of my own. I predict (but would love to be proven wrong) that not a single abortion advocate will come forward and honestly reassess parental consent laws even though there is no body of data to support their premise. Could they admit that maybe, just maybe, the default condition is not that most parents of teens are abusive. Imagine!
If they trust women, why can't they trust mothers and fathers? Where does this automatic distrust of parents come from anyway? Perhaps there's a cost associated with believing that a mother has the right to kill her own child in the womb, and that cost is faith in people to love their children unconditionally at any point in life, even during difficult times.
H/T:  Michael J. New at National Review
Image: Microsoft Powerpoint
I've had it suggested that I write about motherhood a bit; be careful what you ask for.
….Yeah, I'm posting on that.  Some idiot talking head makes a slam at a grandmother with MS and everyone has to comment about it.  I think I have something worth saying, though, rather than just talking about it because it's big.
I'm a stay at home mom.  A home-maker.  A house wife.
I have worked outside the home, before I got married, in a very similar field—I was a Petty Officer in the Navy, specializing in calibration. (Making sure things that measure are accurate enough.)  Before that, I was in another similar field, at least sort of—I was a ranch kid.
Perhaps some folks look at those things and are curious—what on earth is the connection between being a mother, working with cows and fixing stuff that's used to fix planes and ships?
(cross-posted at Acts Of The Apostasy)
Okay.  The elections are just under seven months away.  The presidential combatants are *nearly* set – a foregone conclusion, barring a brokered Republican convention this summer that could turn the GOP on its establishment head.  Nonetheless, unless you've been under a rock, in a cave, or occupying some city square somewhere, you don't need me to tell you that the 2012 election season is well in hand – and not just on the national level, either.
But I'll tell you anyway: the elections are coming!!!
Now, many of us have already decided how we will cast our votes this November.   The libtards have had their marching orders since forever, which is basically vote for the guy who will give you the most stuff, and the most of other people's money.  It's a genetic thing – they really can't help themselves.  When you're humorless, hopeless and hapless, following simple instructions is about all the strain and stress their poor cerebral cortices can handle.
In fact, I came across their 2012 Voting Guide the other day, what I like to call The Non-Thinking Person's 2012 Election Decision Tree:
Now, as you can see, following the chart is very easy to do.  Short words, bold arrows and simple concepts.  I'm surprised they didn't include an "Am I straight?" question.  Of course, once you think and apply some logic to the questions being asked, you can see how utterly inane this flowchart really is. Continue reading →
[cross-posted at Acts of the Apostasy]
…as chosen by Stephen Prothero, a self-proclaimed "religiously confused" Catholic.  (Personally, I like my year-end-selected-by-the-readers polls better.)
So who is Stephen Prothero?  He's a professor at Boston University, and he contributed a column to CNN's Belief Blog.
1-6: Chief Justice John Roberts and Associate Justices Antonin Scalia, Anthony Kennedy, Clarence Thomas, Samuel Alito and Sonia Sotomayor

I know that justices are supposed to stick to interpreting the law rather than making it, especially if they adhere to the judicial philosophy of "original intent," but I'm not buying it. When it comes to "judicial activism," there are really only two kinds of judges: those who know they are acting and those who wrongly imagine they are not.

Throughout U.S. history, the Supreme Court has played nearly as important a role as the presidency on the race question, and a more important role than the U.S. Congress. Women seeking abortions do so under a regime written and enforced by the courts.

In a 2011 speech at Duquesne University School of Law, Scalia denied that his Catholicism affected his legal decisions. I'm not buying that either, which is why he and the five other Catholics on the Supreme Court occupy half of this list.

7: Speaker of the House John Boehner

As any child (or parent) can attest, the word "no" is powerful indeed, and as the leader of the House Republicans, John Boehner wields that power today. Before he gave the commencement address at Catholic University last spring, more than 80 professors at that university wrote an open letter to Boehner saying that the budget he pushed through the House contradicted Catholic social teachings by neglecting the poor. But Boehner continues to say "no" to the Obama administration, most recently on its decision to require Catholic-affiliated employers to cover birth control services in their health plans.

8. Vice President Joe Biden

The first Catholic vice president of the United States, Joe Biden wields by most accounts more power than many vice presidents in American history. (Remember Spiro Agnew?) And though Biden has ruffled the feathers of church authorities on the abortion question, he is an observant Catholic who attends church regularly and met with Pope John Paul II four times. "The animating principle of my faith, as taught to me by church and home," Biden told the Christian Science Monitor in 2007, "was that the cardinal sin was abuse of power."

9. Rick Santorum, former U.S. senator from Pennsylvania


For a while, Newt Gingrich was the Catholic Republican front-runner, but that title has been seized by Rick Santorum. Unlike Gingrich, who converted in 2009, Santorum is a cradle Catholic, and he's a more convincing fellow traveler in Christ to the religious right.

Everyone thought this election was going to be about the economy, but Santorum's mantra seems to be, "It's the culture, stupid." Santorum has grabbed headlines in recent weeks by calling President Obama a purveyor of a "phony theology" and otherwise keeping questions of faith not just on the front burner, but at a rolling boil. This weekend, Santorum said that John F. Kennedy's famous church/state speech, in Houston in 1960, made him want to "throw up" when he first read it. "I don't believe in an America where the separation of church and state is absolute," he told ABC News on Sunday.

10. Archbishop Timothy Dolan

It says something about Catholic authority today that it is hard to think of a member of the Catholic hierarchy who stands among the most influential U.S. Catholics. But Archbishop of New York Timothy Dolan is the most likely person for this honor. A theological conservative, Dolan was elected president of the United States Conference of Catholic Bishops in 2010, and he was elevated to cardinal in Rome last month. In 2008, Dolan took on Joe Biden and Nancy Pelosi for their views on abortion, and in 2009, he criticized the University of Notre Dame for inviting President Obama to speak at its commencement.

11. Stephen Colbert

The man behind the Super PAC Americans for a Better Tomorrow, Tomorrow will not be happy to learn that he fell outside the top 10 here, but he is still one of the most influential Catholics in the United States today. Colbert makes his political jabs with a smile, but they sting nonetheless.

Last year, The Washington Post asked whether Colbert was "Catholicism's best pitch man," and he does put a very different face on a church that has been best known in recent years for sex scandals. Both Colbert and the character he plays on "The Colbert Report" are committed Catholics. In fact, Colbert (the character) loves his Catholicism so much that he gave it up last year for Lent.

Colbert (the real person) regularly books Catholics on his show and has appointed Father James Martin, S.J., as the show's official chaplain. With Martin and other theists (and atheists), Colbert regularly discusses matters of faith. In fact, his character often gives guests discussing such questions wider berth than his more political guests.

12. Blogger Andrew Sullivan

In another era, this final slot might have gone to Garry Wills, a Pulitzer Prize-winning author and public intellectual whose writing regularly addresses the intersection of faith and politics in the United States. But we now live in a digital age, so the nod goes to Andrew Sullivan, the Brit behind "The Dish," a popular blog now hosted by The Daily Beast.

The thumbnail bio is that Sullivan is gay, Catholic and conservative, but his blog is far more nuanced (and coherent) than readers might imagine from that trifecta. In part because of his unpredictability, his site is the go-to blog for all things political and cultural. And the reading is easy because of Sullivan's refusal to pull his punches. (Obama's "uninspiring" state of the union was, in his words, a litany of "cramped, tedious, mediocre micro-policies.")
Imagine that – no one outside of the Washington/New York hub of whatsitpatootie.  It's almost as if Prothero doesn't believe there exists an America beyond the Eastern seaboard.  And here's another 'not a big surprise':  conservative Catholics are bad, liberal Catholics are good.  Boehner is a Catholic who says "no" to Obama's compassion and outreach, while Biden sees the abuse of power as the worst sort of sin.  Bias much?  I'm surprised he didn't include Sister Keehan or Kathleen Sibelius on this list – in fact, with the exception of Justice Sotomayor, there are no women on the list.  *Gasp!*  Not only is the Church misogynistic, but so are Boston University professors!!
And Andrew Sullivan is an influential Catholic?  Who in the world is Andrew Sullivan?  Who outside of Washington/New York cares?
We can do better than this guy, right?  Isn't Cardinal Burke more influential than Boehner?  Isn't Archbishop Chaput a bit more influential than Joe Biden?  With the exception of Cardinal Dolan, no one on his list has the power or ability to shape Catholic thought or protect Catholic identity or propose Catholic truths.   Eleven on this list do not have the power to ex-communicate (an influence I wished would be wielded more liberally) or the power to forgive sins.  That's real influence.
No – the influence wielded by most on that list, to one degree or another,  is to affect religious liberty.  Maybe that's Prothero's point.
So who would you include on this list?  What changes would you suggest, or his analysis spot on?  I have a couple ideas, but I'm interested in what you have to say.
"Put you on the armour of God, that you may be able to stand against the deceits of the devil.  For our wrestling is not against flesh and blood; but against principalities and powers, against the rulers of the world of this darkness, against the spirits of wickedness in the high places. Therefore, take unto you the armour of God, that you may be able to resist in the evil day and to stand in all things perfect"  Epistle of St. Paul to the Ephesian 6: 11-13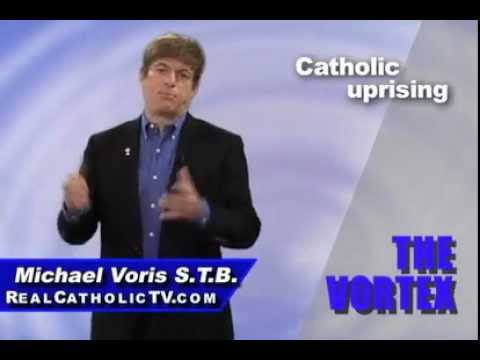 Mr. Voris is exactly right.  The American bishops are asking for a fight after having failed to feed, train and arm their military.  There is no way a single letter, as well intentioned and necessary as it is, read from the pulpit on a single Sunday, urging us to call our elected representatives, is going to save our freedoms and protect our right to practice the faith that Christ handed to us.  It will not help catechize the silly young woman mentioned in the Real Catholic video, nor will it educate the nation as to why the Church teaches abortion, artificial contraception and sterilization are evils.
I hate to say this but in many ways the bishops almost deserve to be ignored. Truth be told, they have lost an immense amount of respect among the devout laity (the non-devout obviously having no respect for them). This is not a loss of respect for the position,  but for the men and the way they hold it; weak and timidly.  The result is a wasteland of liberalism and heresy that is to be found in so many parishes across our nation.  Now, after having the President of the US attempt to force them into committing mortal sin, they want the help of those few who actually believe, practice and uphold the faith to come to the rescue. Continue reading →