Rerum Novarum
This Labor Day I recall an episode in both the history of labor in the United States and in the history of the Catholic Church in America.  The last half of the nineteenth century was a time of labor strife, as businesses grew larger, the fruit of the ongoing Industrial Revolution, and workers fought for improvement of working conditions that by any standard were frequently abysmal.  Prior to the Civil War apologists for slavery often argued that the average slave in the South was better fed, better housed and better clothed than the average industrial worker in the North.  This of course overlooked the entire question of liberty, but there were enough terrible examples of wretched working conditions in the North to give the argument facile support.
Unions sprang up to represent workers.  One of the largest in its day was the Knights of Labor founded in 1868.  Successful in several large strikes, by 1886 the membership totaled 700,000, perhaps a majority of whom were Catholic.  In 1886 the Archbishop of Quebec condemned the Knights in Canada based upon the secrecy that attended the meetings of the organization and forbade Catholics to join it.
The American hierarchy voted 10 to 2 against condemning the Knights.  Archbishop James Gibbons was going to Rome in 1887 to receive his red hat as Pope Leo XIII had made him a Cardinal.  While there he took the opportunity to submit a lengthy letter in support of the Knights.  Although the letter bears the name of Gibbons, it was probably written by his friend Bishop John Ireland of Saint Paul, who had long been active in support of the rights of workers.  The letter did the trick and the Vatican announced that the Knights were not to be condemned.  The arguments made in the letter had an impact on Pope Leo XIII and helped lay the groundwork for his historic encyclical  Rerum Novarum (1891) in which he defended the rights of workers to organize to seek better working conditions.  Ironically the subject matter of the letter, the Knights of Labor, was in decline, too many of its strikes having involved violence which the leadership of the Knights condemned, but which tarnished the Knights in the eyes of the public.  The Knights would cease to operate as a labor union in 1900, newer unions taking the place of this pioneering organization.
The letter of Cardinal Gibbons stressed that Catholic workers in America who belonged to labor organizations were not hostile to the Church as often occurred in Europe where Unions were organized by Leftist and Anarchist groups.  In America most Americans supported the workers in their struggle to improve their lot, with both major political parties vying to pass legislation aiding workers.  In short, the letter explained American labor and political conditions to the Vatican and how these differed substantially from those existing in Europe.  The letter and the decision of the Vatican were good examples of effective communication between American ecclesiastics and Rome.  Here is the text of the letter: Continue reading →
The words "Ryan" and "poverty" are almost never more than a few words apart these days. Here at TAC, and elsewhere in the politosphere, Paul Ryan's views on government spending and poverty are just about all anyone can talk about. The main anti-Ryan talking point is that he is a heartless Objectivist who is fundamentally opposed to the interests of "the poor." If the definition of "racist" these days is "anyone who is winning an argument with a liberal", the definition of "Objectivist" these days might be "anyone who is winning an argument with a Catholic liberal."
Personally, I don't think Ryan is "against the poor." But not for the reasons you might think. Many people are defending his budget on the grounds that it does not harm "the poor." While I agree that his budget does not harm the interests of low-income Americans, this is not the primary reason I would defend Ryan's ideology. I have a different reason.
I do not believe poverty exists as a meaningful category in the United States, with some exceptions that I will make clear as I proceed. Very few people in the United States are truly poor, and most of those who are live an environment of such wealth and opportunity that simply defining them as "poor" does not tell us much about their objective status. Lest I suffer the fate of Todd Akin for appearing cruel and insensitive to those who struggle with problems associated with poverty, let me clarify.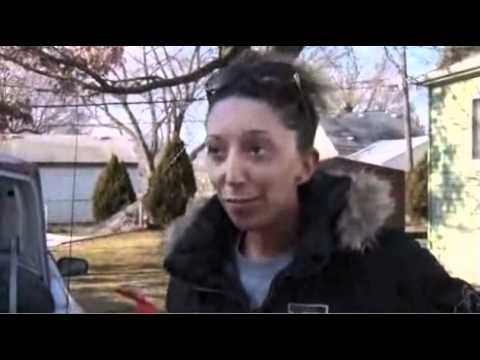 In like manner, the other pains and hardships of life will have no end or cessation on earth; for the consequences of sin are bitter and hard to bear, and they must accompany man so long as life lasts. To suffer and to endure, therefore, is the lot of humanity; let them strive as they may, no strength and no artifice will ever succeed in banishing from human life the ills and troubles which beset it. If any there are who pretend differently – who hold out to a hard-pressed people the boon of freedom from pain and trouble, an undisturbed repose, and constant enjoyment – they delude the people and impose upon them, and their lying promises will only one day bring forth evils worse than the present. Nothing is more useful than to look upon the world as it really is, and at the same time to seek elsewhere, as We have said, for the solace to its troubles.
Pope Leo XIII, Rerum Novarum
Leila Miller writes about subsidiarity:
Subsidiarity holds that decisions and policies should be made at the lowest level possible, and intervention by higher and bigger social organizations should only be undertaken when those lower levels truly need and desire a supporting (not usurping!) action.
She adds:
The role of the family must not be usurped by communities and cities, the role of cities must not be usurped by states, and the role of states must not be usurped by the federal government. Worst of all is when the federal government overtakes a role proper to the family.
Generally speaking, this is true, but it cannot be applied strictly so. For instance, if a man is beating his wife, he may feel that he does not "need and desire" government intervention. In such a scenario, it is important for the state to protect her by having laws in place that will allow law enforcement to enter in and protect her. If the state refuses to pass such laws, it is then the responsibility of the federal government to pass laws that will protect her.
From Rerum Novarum:
Man precedes the State, and possesses, prior to the formation of any State, the right of providing for the substance of his body. 
The rights of mankind always precede the State, prior to the formation of any State. This means that man's rights automatically trump every level of government. That is an idea consistent with the Declaration of Independence:
We hold these truths to be self-evident, that all men are created equal, that they are endowed by their Creator with certain unalienable Rights, that among these are Life, Liberty and the pursuit of Happiness. — That to secure these rights, Governments are instituted among Men, deriving their just powers from the consent of the governed, — That whenever any Form of Government becomes destructive of these ends, it is the Right of the People to alter or to abolish it, and to institute new Government, laying its foundation on such principles and organizing its powers in such form, as to them shall seem most likely to effect their Safety and Happiness.
The Founders agree with the Church that the only purpose of civil government is to "secure" our "rights" which come from God.
Also from Rerum Novarum:
The contention, then, that the civil government should at its option intrude into and exercise intimate control over the family and the household is a great and pernicious error. True, if a family finds itself in exceeding distress, utterly deprived of the counsel of friends, and without any prospect of extricating itself, it is right that extreme necessity be met by public aid, since each family is a part of the commonwealth. In like manner, if within the precincts of the household there occur grave disturbance of mutual rights, public authority should intervene to force each party to yield to the other its proper due; for this is not to deprive citizens of their rights, but justly and properly to safeguard and strengthen them. 
This is why I say that it is illegitimate under Catholic teaching AND under the Declaration of Independence for any candidate for president to say that abortion is not within the purview of the federal government at all, and that it is only a matter for the individual states.
It is also why the Fourteenth Amendment,which was authored by the still-new Republican Party (founded by Christians who sought to end slavery) and enacted after the Civil War, is a legitimate protection:
No State shall make or enforce any law which shall abridge the privileges or immunities of citizens of the United States; nor shall any State deprive any person of life, liberty, or property, without due process of law; nor deny to any person within its jurisdiction the equal protection of the laws.
Unfortunately, that very reasonable and basic protection has been abused by those who would rather not think in terms of the most basic rights of every human person but rather seek to divide us all into groups and drive wedges between us. If we were all merely considered "persons" and our rights were considered to be only those which are "inalienable" (God-given) then we would not have so many silly rules in our laws that drive wedges between people and build up resentments in society. The fact that this has happened for so many years and has created a government that has grown so very large does not give us license to "tweak" Catholic teaching and claim that lower levels of government have sole power to defend our rights. We must still defend the basic law of the land that is consistent with our Faith and never claim that any state may legitimately decide what our rights are. Those, as the Declaration says, come from God alone. They are not defined by vote in a state legislature.
The Founders were fortunate enough that these "truths" were, as they said, "self-evident" to them. They were very clear and needed no explanation. In today's times, due to man's continual rejection of God, we are faced with a population in which "truths" are no longer "self-evident". "Rights" are no longer understood. This failure to recognize "truth" has been explained by the Holy Father as an "eclipse of reason".
"To resist this eclipse of reason and to preserve its capacity for seeing the essential, for seeing God and man, for seeing what is good and what is true, is the common interest that must unite all people of good will. The very future of the world is at stake." 
As Catholics we each have the duty "to preserve" our "capacity for seeing the essential, for seeing God and man, for seeing what is good and true" and always forsake any notion that it might be legitimate to do otherwise for expediency's sake because we are faced with problematic  man-made boundaries in politics.
Subsidiarity is not so cut and dry. Our rights are very basic and always trump all forms of government, at all levels, according to the Catholic Church, according to the Founding Fathers, and according to the Fourteenth Amendment. If our government does not defend those very basic rights, then our government is operating in illegitimacy on the point, and if we defend that illegitimacy, our defense is illegitimate no matter how convincing we, or others, may think it to be.
Some argue that because our federal government is not defending the right to life, then the federal government is operating in illegitimacy and, therefore, it is necessary to usurp the authority of the federal government on the issue of abortion. But the authority of the federal government is found in the framework of the laws, not in the persons who are elected. The laws are clear. We can see this from the Declaration of Independence and from the Fourteenth Amendment. There is no mistake that our government is sound on this principle in considering the framework of laws. It is not the law that is the problem. It is the people who refuse to enforce those laws who must be voted out and replaced with people who will enforce those laws.
The explanation I have given above regarding the duties of all levels to defend our rights, which trump all government powers, means that the Republican Party has been from its beginning, in my view, the most Catholic political party there ever was. It is now under great threat as those who believe "states rights" trump inalienable rights — manifest primarily in the abortion issue — used to only have one candidate, but now seem to have several candidates in the field taking that wholly illegitimate position that "states" have "rights".
States do not have rights. States have powers. Only people have rights.
The Republican Party's current pro-life plank includes at least four phrases which fly in the face of the "states rights" position.
Faithful to the first guarantee of the Declaration of Independence, we assert the inherent dignity and sanctity of all human life and affirm that the unborn child has a fundamental individual right to life which cannot be infringed. We support a human life amendment to the Constitution, and we endorse legislation to make clear that the Fourteenth Amendment's protections apply to unborn children.
1. "Declaration of Independence" – As noted previously, it is in this founding document where "inalienable rights" are given as the reason for breaking away from tyranny. That is referred to as a "Natural Law" argument, which the Founders mention as "the Laws of Nature and of Nature's God". If you do not agree that Natural Law should be embraced in the reading of the Constitution, then you agree with Elena Kagan, who is by no means a Republican, and disagree with Senator Tom Coburn, a Republican. (See video here of Senator Coburn questioning Kagan about whether the right to bear arms is a "natural right".)
2. "[F]undamental individual right to life which cannot be infringed" – Any attempt to deny that right is illegitimate. Hence, the claim that any level of government — whether local, state or federal — may, if they choose, deny that right is an illegitimate claim on its face.
3. "We support a human life amendment to the Constitution" — This is an acknowledgment that states cannot legitimately allow abortion.
4. "Fourteenth Amendment's protections apply to unborn children" — This specifically refers to the provision "nor shall any State deprive any person of life."
Sadly, most people appear to be taking a postion on abortion for expediency's sake. Ask any who believe in "states rights" on abortion if they believe states may ban guns, or if states may allow unreasonable searches by law enforcement. I assure you, they will either not respond to the question, or they will fundamentally fail to understand that it is only the Fourteenth Amendment which guarantees that individual states must not ever fail to uphold our natural rights. If there is some other explanation offered from a reading of the Constitution and Declaration of Independence for these candidates failing to call for "states rights" in regard to other "natural" rights, I would be most happy to hear the explanation.
I conclude, therefore, that only two candidates currently campaigning for the Republican nomination are genuine Republicans on this issue, are genuinely in keeping with the Founders and genuinely in keeping with the Church. Not surprisingly, they are both Catholic. I will let you do the research to find out who they are.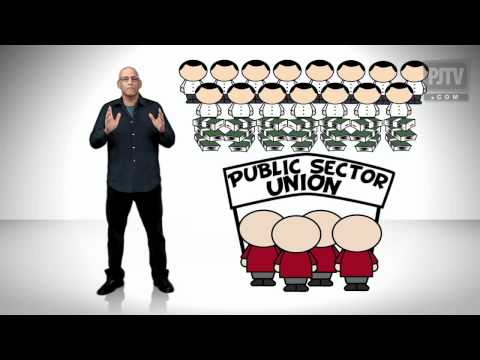 Now, there is a good deal of evidence in favor of the opinion that many of these societies are in the hands of secret leaders, and are managed on principles ill-according with Christianity and the public well-being; and that they do their utmost to get within their grasp the whole field of labor, and force working men either to join them or to starve. Under these circumstances Christian working men must do one of two things: either join associations in which their religion will be exposed to peril, or form associations among themselves and unite their forces so as to shake off courageously the yoke of so unrighteous and intolerable an oppression. No one who does not wish to expose man's chief good to extreme risk will for a moment hesitate to say that the second alternative should by all means be adopted.
Pope Leo XIII, Rerum Novarum
Klavan on the Culture, you are correct!  Public employee unions, by funding Democrats and providing election workers, effectively were able largely to write their own compensation packages, taxpayer be hanged.  It was a decades long merry party at the expense of the public, and many states are on the verge of bankruptcy as a result.  The battle over public employee unions is just the opening round in a huge political fight across the nation as the states, which are unable to simply print money as the federal government does, desperately grapple with looming fiscal insolvency.  Change is coming as change often does:  brought about by onrushing reality. Continue reading →
Inside Catholic has been kind enough to publish a reworked and hopefully more coherent account of my thoughts on Locke and Catholic political thought. For those who didn't want to wade through my verbose musings, this ought to be more readable.
Some questions have been raised in the discussion on my posts on Locke & Catholic political thought about the extent to which Locke's political theory conforms to or detracts from natural law. This follow-up post, which will be relatively brief, should serve to answer such questions at least in part.
In the previous part of this series, I gave a detailed comparison of the views of John Locke and Pope Leo XIII on the state of nature, the origin of private property, and the proper use of private property. In this final part, I want to make a few more points regarding what I think can be called "Lockean" thought, at least as it exists in contemporary America, explore the relationship between the Catholic Church and the United States, and explain why I think all that has been considered thus far is relevant for our political situation today.
by Joe Hargrave
In the previous part I showed how Locke's argument for government by consent was similar to, and may have even been influenced by, that of St. Robert Bellarmine. I also showed how some of the more well-known early-modern political theorists who dreamed of powerful authoritarian regimes also dreamed of obliterating the Church as an obstacle to their fruition. Now I will argue that there is a clear overlap between the political theory of John Locke, and that of Pope Leo XIII, the pope who is responsible for Catholic social teaching as we know it today. In the final part of this series I will address why these overlaps are important, and what they mean in our contemporary political situation.
We here at The American Catholic, along with conservative Catholics in general, have been accused many times of "Calvinism" by certain writers at Vox Nova. I am going to go out on a limb and suggest that this accusation is nothing more than a massive projection made by people who harbor Calvinist theological assumptions themselves, of which they may or may not be fully aware. Particularly, I think in their constant shilling for big government programs, for slavishness before all forms of authority, for the unlimited extension of "rights" (i.e. entitlements), and the rest of the statist agenda, the leftists at Vox Nova and throughout American political landscape have absorbed a perverse Calvinist doctrine of their own, namely that of the total depravity of man.
I have actually written about this before: the process by which radical leftism transformed from a project rooted in optimism, in a fanatical belief in man's goodness and reason (apart from God of course), to one of utter pessimism and misanthropy. The first communists, and particularly Marx – for all of their deep flaws, errors, and hatreds – retained a belief in man's goodness that they had mistakenly come to believe Christianity had rejected through the heresies of the Protestant rebellion.
I'll begin by stating that part of the blame or praise for this post ought to go to Christopher Blosser and David Jones for their excellent overview and commentary on the ongoing political/economic dispute between Catholic Distributists and Catholic libertarians.
I wish I could easily come up with a logical, smooth flow to all of these points. But really I just want to get them out there, no matter how disjointed in appearance.
Finally, I really mean it this time: we will have a respectful discussion on this topic, or none at all. That means certain people and their comments will likely be banned from the discussion. It will not be possible to avoid charges of "being afraid" to debate with such indestructible champions of the one true political philosophy, given their amazing ability to rule out all other possible reasons, including their coarse and offensive personal behavior, as to why no one wishes to engage in discussions with them. C'est la vie.
The best way to contribute here, though, is to ask questions that I can answer for this FAQ!
*
Where does the word "Distributarian" come from?
The word "Distributarian" was pejoratively applied to me and a few others who have attempted to blend libertarian and Distributist ideas by those not so enamored with the project. Since I see it as a good thing, I don't mind wearing the label as a badge of honor.
What is a Distributarian?
It is one who does not see a necessary conflict between the basic propositions of Distributism and libertarianism, and insofar as possible, seeks to incorporate both of them into their social vision.
What are these propositions?
The following propositions are both necessary and sufficient for each ideology:
Of Distributism: property should be as widely distributed as possible.
Of libertarianism: social relationships should be as voluntary as possible.
Naturally some doctrinaires will dislike the wording "as ___ as possible"; why should we care about what is possible when great ideas are at stake? Either they exist full-fledged without imperfection in the world or they may as well not exist at all! If we move past this childish expectation and begin with the possible, I think we will find that there is no contradiction between these propositions.
Distributism and libertarianism challenge each other in a good way. Distributism challenges libertarianism to move beyond individual autonomy and articulate a vision of the common good; libertarianism challenges Distributism to clearly articulate how property distribution ought to come about – through force, or through consent?
Not only do they challenge each other; they compliment each other. Property owners will thrive in an environment of economic freedom; genuine liberty will thrive as it is rooted in solid social institutions based upon private property. As property ownership will increase the self-sufficiency of individuals, families, and communities, it will decrease dependency upon the state.
Read the rest and comment here.
And please note that this is a work in progress!
This article originally appeared on The New Theological Movement written by Reginaldus on July 29, 2010 Anno Domini.  Re-posted with permission.
18th Sunday in Ordinary Time, Luke 12:13-21
The rich man of this Sunday's Gospel is blessed with a bountiful harvest. Rather than thanking God for this gift, he hoards the grain in his barns – his heart is possessed by his possessions. At the moment of death, the Lord calls him a fool, for he was not rich in what matters to God.
The Fathers of the Church, and St. Thomas Aquinas following them, see in this parable a strong teaching of social justice. Their teachings have in turn been integrated into the Social Doctrine of the Church. Here we will consider St. Thomas' exposition of the doctrine as well as several important quotations from the Church Fathers.?
The common destination of all goods and right to private property
We must first affirm that man has a right to own private property. All men have a natural right to make use of material goods. According to positive human law, men also have a right to private property – this is necessary for the good order of society and the proper care of the goods themselves, it also serves as a means of restraining greed and inciting toward generosity (a man can give alms only if he has some property of his own).
However, it is equally clear in the Church's Tradition, as expressed by the Fathers of the Church and magisterial teachings, that the right to private property is subordinate to the universal destination of all goods. That is, the right to private property cannot be extended to the point of depriving others of the basic material necessities of life. Every man has the right to the material necessities of life – when he is deprived of these, while another has excess wealth, a grave injustice has occurred.