Catholic Church
Sadly it often takes tragedies for religious faith to grow. It seems an unfortunate part of our fallen nature. We have been hit by a spate of tragedies as of late; in its wake we often see churches full of worshippers seeking answers where once there were but a few. Following both world wars, there existed a religious resurgence that unlike the recent tragedies did not ebb and flow. It remained constant due in large part to the horrific loses of human life.
Modernism was alive and well and condemned by the likes of Pope Pius X even before the Guns of August began in 1914. The Catholic and Protestant churches were increasingly seeing relativistic elements entering their seminaries. However unlike recent times, they were quickly addressed. Though we are gaining the upper hand, it has been 40 years since Pope Paul VI lamented that "The Smoke of Satan" had entered the Church. In my just released book; The Catholic Tide Continues to Turn, I speak about the positive events occurring within the Church, as well as those movements who aim to do us harm. In addition, the book delves into how we got into this mess in the first place.
Following World War I there was a great return to religious devotions, especially those having to do with the Blessed Mother. The events of Fatima which had occurred during the war and were being followed closely around the Catholic globe. As I mentioned in my article on the Schoenstatt Movement, the likes of Father Josef Kentenich chastised theological authorities who were giving short shrift to these devotions as well as those who dismissed popular devotions to those who recently passed away like the future Saint Therese of Lisieux (The Little Flower.) Father Kentenich reminded these scoffers that Jesus did indeed say that we must become like little children if we are to enter the Kingdom.
The well heeled of Europe and many American ex pats found their way to Paris to rebel against the religious side of the equation. On the whole, they were a gloomy lot who seemed to drown their sorrows in all matter of drink and sexual exploits which only made them more unbearable. Some even found their way to more exotic locales like Casablanca, as did the fictional Rick Blaine (Humphrey Bogart) in the epic film Casablanca. Continue reading →
Let me explain, in as clear and precise terms as I can, why social conservatives are not going anywhere, nor should they go anywhere, but should remain right at the heart of the conservative movement and gain acceptance among libertarians as well, and should reject as the foolish garbage that it is all suggestions to the contrary.
First, our principles are not electoral losers. Leftists believe they are on "the right side of history", comparing the campaign for "marriage equality" with every civil rights struggle of past eras. They believe that this fact is reflected in the way the youth vote splits and the purported reasons why. At the same time, they gloat and brag about the size of the Democratic share of the minority vote.
The merits of the "marriage equality" campaign don't need to be discussed here. I've discussed them to death on this blog in previous posts. The fact remains that minorities are opposed to "marriage equality." If Hispanics can be won over to the GOP on the immigration issue, it will put a stop to this "wrong side of history" nonsense for a generation. The uncomfortable alliance between racial minorities who hold socially conservative views and white liberals will finally be blown apart. Unlike them, when racial minorities finally do side with the GOP en masse, we won't attribute white liberal hatred for them to "racism" (even though it sure looks like it sometimes). This is a battle of values, not skin colors, and a failure to see that is one of the reasons why the white liberal left will never win the future they mistakenly believe to be theirs.
Some six years ago my first book; The Tide is Turning Toward Catholicism came out, which detailed the Good news happening in the Catholic Church.  Since then and especially this year, I am often asked is the tide still turning? Rest assured I am not looking at the world and the Catholic Church through rose colored glasses, the book not only gives positive spin on what is going on through stories and anecdotal evidence, but I outline a lot of statistical and demographic data to prove my point.
Honestly writing a book requires a great deal of time and patience, and though I had enough material for about half a book, I was waiting for the right time to finish it. However last summer, I felt God really pushing me to get this out. Providentially many events within the Church and the political realm helped to convince me that now was the time. I am glad I listened and finished the book this spring because recently my wife and I welcomed another baby into our home, and with two small children, writing a book would have been very difficult.
The Catholic Tide Continues to Turn (Aquinas and More publishing) picks up where my previous book left off detailing the Good News occurring in the Church, but also, and this is very important, I address why the Catholic Church and religion in general is coming under attack in our modern world.  Readers of my articles and first book continually asked my why we are facing these attacks? This is nothing new. Ever since the French Revolution in 1793 the Catholic Church and religion in general in the Western world has come under attack from powerful forces that for some demented reason have a problem with God.
In the book, I take a look at timelines in World History and examine revolutions like the American Revolution where religion was embraced compared to those like the French Revolution where it was attacked. This helps us in 2012 figure out why some in government and academia don't like the Catholic Church and for that matter most religious institutions. The book also looks at the HHS Mandate and the political upheaval that unjust mandate has brought. Continue reading →
President Barack Obama's debate performances could never equal the expectations of the secular faithful. Many on the far left envisioned an American society where religion was about as important to the populace and politically influential as it is in Sweden. The land of the midnight sun has been a great hope to liberals ever since religion began to erode there in the 1950s and abortion became commonplace in the 1960s. Governor Michael Dukakis famously poured over Sweden's great Welfare state enterprise to see what he might learn, which of course led to his electoral demise in 1988.
With all of his rhetorical skills, President Obama could never make Americans have a come to Pierre Trudeau, Willy Brandt, Jose Luis Zapatero (pick your favorite Western Democratic Socialist) moment like many Americans have a Come to Jesus moment over failings in their lives. Instead of realizing that not everyone can be suckered into buying Big Government swampland, the Left has taken their frustrations out on the President. If only he were talking more about rising and falling oceans and making them believe we are the ones we have been waiting for; the Left attacks the messenger and not the message.
Frank Rich, the New York Times columnist laments about this in a long New York magazine  article. The writer for the Old Gray Lady states the Americans are somehow too dumb to become like Europeans and surrender their lives to government and not God. He sees little hope and concludes the Tea Party will always prevail in the American persona rather than government control. Talk about a brain trust, can you imagine the anti-religious nuggets thrown around the water cooler when Bill Keller, the former New York Times editor was present. You may recall Keller infamously dubbed himself a "Collapsed Catholic," fortunately reported to us by former Newsweek Religion Editor Kenneth Woodward, who is not Catholic and hardly a friend of conservatives, but a principled man who couldn't take any more of the Times' hypocrisy directed at the Church. I would strongly suggest you read this The New York magazine article for if conservatives mouthed these same thoughts about minorities instead of suburbanites and rural residents, we would be blacklisted.
In my just released book, The Catholic Tide Continues to Turn, I note how the Left turned on Al Smith (the first Catholic standard bearer) after he formed the Liberty League in the mid and late 1930s and told Americans he could no longer support President Roosevelt. This startling development occurred after a number of questionable instances came to light including the Supreme Court Packing Case and the Roosevelt 1938 purge of Conservative Democrats. By 1940 unemployment was still at 14% and if had not been for World War II who knows how long unemployment would have remained in double digits. Continue reading →
A few years ago I would have thought the title of my piece was too extreme- I bought into the charisma of Barack Obama- never publicly supported him- but I thought he was someone who could bridge some of the serious difficulties that pro-life Democrats faced within my political party. I read his books, I thought he respected the Catholic Church as much as a secular political liberal could be expected to. Around that time I was trying to work from the inside of the Democratic party- running for Florida State House as a pro-life Democrat, and later serving as Vice President for the Florida Democats for Life organization. This was also the time period where I was invited to become part of a national Catholic Democrats listserve which included such notaries as : Vicki Kennedy, Lisa Sowle Cahill of Boston College, Rev. William D'Antonio and Rev. Anthony Pogorel of the Catholic University of America, Peggy Steinfels of Fordham University, Rev. Thomas Reese of Georgetown, Vincent Miller of Georgetown/U. of Dayton, Dan Maguire of Marquette, Doug Kmeic of Pepperdine, Suzanne Morse of NCR, Chris Korzen of Catholics United, Alexia Kelly of Catholics in Alliance for the Common Good, Steve Callahan of the AFL-CIO, and others (Eric LeCompte, Nicholas Carfardi, James Salt, Morna Murray, Fred Rotondaro, Kari Lundgren). I never agreed to keep all that passed before my eyes confidential, but I never publicly revealed the basic content until now.
 
My reason for going public now is due to the recent event where the Worcester Bishop Robert McManus weighed in to prevent Vicki Kennedy from speaking at the Anna Maria College commencement. The press I read portrayed the Bishop as being overly vindictive and Kennedy milked the rejection, playing innocent, as though she is doing nothing to try to upend the Catholic Church as we know it- as a Hierarchical Institution. It was my experience on the Catholic Dem listserve that Vicki Kennedy was essentially my nemesis. I defended the Church as a Hierarchy, and the official teachings on abortion et al, and she took me to task almost every time I wrote pro-orthodox Catholic commentary- with plenty of Amens from her fellow travelers on the listserve. I did receive a few positive private emails from some on the listserve, but on the whole it was a very discouraging experience trying to defend the Church as a convert, who would be at a total loss if the Catholic Church put no stock in the teaching authority of the Pope and the Bishops, and taught that contraceptives, legal abortion, and gay marriage were just fine and dandy things. So Soon after posting this on the listserve-
 
"It is deeply troubling to me that this Catholic Democrats listserve membership seems more intent on finding reasons to pull some kind of palace coup against the Catholic Church Magisterium and Hierarchy in general, than to address specific issues related to the Catholic interests in American politics. I am a convert to Catholicism, I knew what I was signing up for in becoming a Catholic, I accepted the teachings and authority lines as prescribed by the latest Catechism. I simply cannot understand why those who seem to relish openly trashing the Apostolic successors retain membership in the Church- that is something that I can only address as an appeal to someone else's good conscience. Most of my family is of the Protestant variety, I understand that thinking and worldview but reject it, but they are acting in good conscience- they don't believe what the Catholic Church teaches about her role, so they don't invest in the Catholic narrative and authority line. Maybe what I'm finding here at Catholic Democrats are many good protestants but not orthodox Catholics as I understand things?
You can remove me from your rolls if it displeases many here that I don't conform to the groupthink on display here, otherwise I will continue to offer my two bits to challenge the establishment views of liberal, anti-Catholic Hierarchical voices which parallel the hard Catholic Right- in their wrongheadedness- in my humble opinion anyway. One is certainly free to criticize the clerical/Hierarchical handling of sexual abuse cases over the years- but how this all fits in with being a Democratic Party member is something I can't fathom. Tim Shipe"
My offer to leave was accepted after Vicki Kennedy wrote a smack-down on me; and shortly thereafter I severed my own Democratic party membership and ended my leadership role with Florida Dems for Life- I took Archbishop Chaput route of becoming a political Independent and remain such today.
 
To come up to speed- back a couple of years ago- I knew that the most powerful and connected Catholic Democrats in our country were interested in more than just getting more traction on Catholic social justice issues in our American political system- I would describe the agenda/mind-set of Vicki Kennedy et al for the most part as the following:
 1. Obama embodies the Catholic social tradition- he's a better guide than the out-of-touch Pope/Bishops 2. Democrats for Life leaders were not welcome – despite my own inclusion for a time- Kennedy seemingly successfully squashed the idea of Kristen Day being invited to be part of the listserve 3. The Bishops who were outspoken for advocating the primacy of the right to life for the unborn were demonized, mocked, ridiculed, and at times the idea of trying to bring on an IRS investigation on these type of Bishops was being encouraged by some ( especially if they dared to consider withholding Communion from Pro-choice Dem leaders) 4. Bishops were described as "self-designated custodians of 'the tradition'". 5. Catholic Dems could aptly be self-described for the most part as "intra-Catholic warriors" 6. The Clergy Scandals were to be used to help bring the end of the Bishops line of authority- teaching and otherwise 7. This authority should pass to those who know best- the secular-minded Catholic professors and their liberal political activist friends- since there really can't be such a thing as a Holy Spirit-guided Catholic Church with Popes and Bishops playing a key role- I suppose they could still hold onto ceremonial roles like the Kings in Europe.
 
I can see clearly now that President Obama has been very conscious of this war for control within the Church- and his choice of Vice President and HHS Secretary- Biden and Sebelius, respectively, was a conspicuous power move to set in place the acceptability of dissenting Catholic leaders and thought into the mainstream of American societal structures and popular imaginations. The fact that Obama "evolved" on Gay Marriage with help from his Catholic buddy Joe Biden, and his determination to mandate contraception as a must-have "medicine" through the offices of Catholic Kathleen Sebelius- all of this plays right into the larger goals of the Catholic Democratic party elite. There has been no such evolution in his comprehension and compassion for the thousands of unborn humans killed every day in abortions, and the threat to religious liberties is finely focused on the authority of Catholic Bishops and the official teachings of the Catholic Magisterium. I believe the Catholic Dems elite would like to re-make American Catholic Bishops in the image of the Anglican church in England- with Obama playing a kind of King Henry VIII role in forcing power transfers ( counting on public/Catholic lay apathy).
 
My conclusion is this- I am not in disagreement with the Catholic Dems elite on an across-the-board basis- I am not a conservative ideologue any more than I am a liberal one. There are political issues where I go left and others where I go right or down the middle- I make the honest effort to stay as close to the official social doctrine teachings of principles, and even the prudential judgment application of those principles as the Bishops and Vatican officials advise. I find that the same powers-that-be that are given Holy Spirit assistance to teach firm principles, are also pretty darn good at putting forth ideas for applying those principles into the real world of political legislation and the like- but I acknowledge it's not an exact science with one formula fits all simplicities, however. That's how I would describe my own efforts in being a wanna-be orthodox, faithful Catholic on matters of social doctrine. Others may disagree- I have no doubt that the Catholic Dem elites I list above are well-intentioned- but I believe they are threatening great harm to many souls and to the future of our Catholic Church as the Hierarchical Institution – founded by Jesus Christ. Reforms should be taken up in a spirit that respects the obedience of Faith. I don't abide by clergy abuses and incompetent administrative decisions made by Catholic bishops- but you don't throw the baby out with the bathwater- just as you don't kill babies in the womb to solve the problems of women and their mates.
The divide between the truth of the election results and the punditry of the mainstream media is seemingly growing every major primary election night. Perhaps none more than the recent Super Tuesday results, especially those of Ohio. How could it possibly be that Rick Santorum, the former Pennsylvania Senator won the youth vote, all voters under 44, and the married women vote? If one listens to the mainstream media, especially that of NBC, MSNBC and the New York Times one would think the only people voting for Rick Santorum would be rust belt pre-Vatican II ordained Catholic priests, and an amalgamation of southern characters such as Jed Clampett, Mr. Haney, as well as some assorted extras from the set of Deliverance. However, the true exit poll results tell us something quite different.
The mainstream media seemed shocked that Rick Santorum didn't win the Catholic vote and won the Evangelical Vote as well as the others I indicated earlier; young people and married women. I want to delve into the nitty grtty of the statistics and demographics in a few paragraphs but first let me give you some background on those in the heartland who became liberals even though they grew up in GOP circles and folks like myself who became conservative after growing up in a Democratic household.
I grew up in a working class steel and railroad town in Ohio. My family, like many around us was Democrat in party affiliation and social conservative in our mindset. I was educated in Catholic schools (during the 1970s & 80s) and though it was the warm fuzzy era of Catholic education, our nuns and lay teachers never completely bought into the liberal model that was so the rage in cool, upscale areas. Continue reading →
"Put you on the armour of God, that you may be able to stand against the deceits of the devil.  For our wrestling is not against flesh and blood; but against principalities and powers, against the rulers of the world of this darkness, against the spirits of wickedness in the high places. Therefore, take unto you the armour of God, that you may be able to resist in the evil day and to stand in all things perfect"  Epistle of St. Paul to the Ephesian 6: 11-13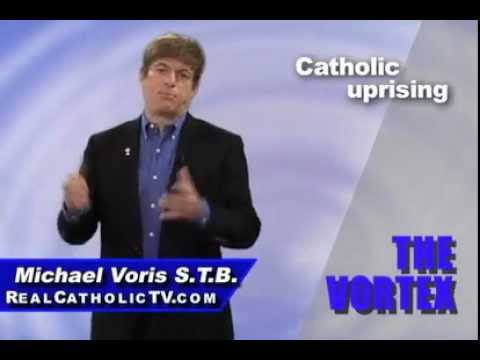 Mr. Voris is exactly right.  The American bishops are asking for a fight after having failed to feed, train and arm their military.  There is no way a single letter, as well intentioned and necessary as it is, read from the pulpit on a single Sunday, urging us to call our elected representatives, is going to save our freedoms and protect our right to practice the faith that Christ handed to us.  It will not help catechize the silly young woman mentioned in the Real Catholic video, nor will it educate the nation as to why the Church teaches abortion, artificial contraception and sterilization are evils.
I hate to say this but in many ways the bishops almost deserve to be ignored. Truth be told, they have lost an immense amount of respect among the devout laity (the non-devout obviously having no respect for them). This is not a loss of respect for the position,  but for the men and the way they hold it; weak and timidly.  The result is a wasteland of liberalism and heresy that is to be found in so many parishes across our nation.  Now, after having the President of the US attempt to force them into committing mortal sin, they want the help of those few who actually believe, practice and uphold the faith to come to the rescue. Continue reading →
We have all seen the supposed polls indicating that 99% of Catholic women use birth control. However, has anyone ever bothered to look at who conducted the poll? It was the Guttmacher Institute; the driving force behind abortion and other leftist social movements.  Finally someone in the Mainstream Media (The Washington Post) has weeks after the fact realized the untruthful nature behind this canard. This is just one of many red herrings thrown at religious conservatives to discredit and mock them. It seems some in mainstream media are making it their mission to ask former Pennsylvania Senator and Republican Presidential candidate Rick Santorum every question imaginable with regard to birth control. Whatever happens to Santorum in the primary race, it does seem as if the Hand of Providence is helping bring up the topic of birth control and the faithful alternative of Natural Family Planning.
While there is some dispute between Catholics and some Evangelicals on birth control; there are signs that many Evangelicals are seeing what Catholics and some Orthodox Jews have long believed about birth control. In my previous book and forthcoming book; The Tide Continues To Turn Toward Catholicism, I cite quotes from Chuck Colson and R Albert Mohler, two towering figures in the Evangelical world. They have genuine affection for Pope Paul VI's 1968 prophetic encyclical Humanae Vitae which cemented the Catholic view on birth control in the modern birth control pill era. If you want to really rile up a militant secularist you might mention that it wasn't until 1930 that the first religious group (the Anglican Church) even approved of birth control. The Progressive Teddy Roosevelt said the idea of birth control was "ridiculous" and even liberal hero Dr Sigmund Freud said the whole concept was "narcissistic."
Dorothy Day (1897-1980) the late women's rights activist, who used birth control back before any religious group approved of it, spoke out forcefully against abortion and birth control once she converted to Catholicism later in life. She told men and women that in using birth control they were becoming engaged in a culture that was disconnecting them from God's plans, along with not using their bodies in accordance with the Holy Spirit. Though her women's rights and libertarian economic views remained, she became a social conservative, who lashed out at Margaret Sanger and Planned Parenthood, something you aren't likely to hear or read in the mainstream media.
Families that adhere to the clinically proven facts of Natural Family Planning are treated as if they are some sort of religious nuts. Militant secularists in the corridors of power (Legislative and Fourth Estate) have even thrown out their favorite term "sexually repressed." Now this term is so widely repeated in our popular culture, perhaps we should examine where it came from. Herbert Marcuse (1898-1979) of the infamous Marxist "Frankfurt School" came up with the term. Marcuse left pre-World War II Germany and taught at Columbia. Marcuse believed in free love and surmised that the more narcissistic society was with regard to sexual relations, the better the world would become. Before his death, he claimed his prized student was 1960s militant radical Angela Davis. Marcuse was way out in left field in his day and yet the militant secularists in our pop culture have made him seem as mainstream as Dr. Phil. When societies turn away from religion they embrace the crazies like Marcuse; sadly something has to fill the vacuum and it is usually the ideas which come from the half baked among us that do so. Continue reading →
In a bizarre way President Barack Obama, through his Health and Human Services Mandate (HHS) has united religious orthodoxy across the spectrum as never before. In its wake liberal religiosity is going the way of striped pants, bell bottoms and lava lamps; something that is only seen on rare occasions usually when too much alcohol is flowing. At the precipice stands liberal Catholicism, for soon there will be no need for them to retain any religious presence. Liberal Catholic mouthpieces like the National Catholic Reporter are destined to go the way of so many other products whose users outgrew the usefulness of what they read and believed.  Mainline liberal churches have imploded all the while the numbers of Catholics and Evangelicals continue to grow. Apparently the liberal religious elite are so smart, they have disappeared into the mists of history.  Even if the current baby boomers remain religious, their liberal minded children have by and large abandoned the faith to the whims of Hallmark and Deepak Chopra styled spirituality.
In my last book The Tide is Turning Toward Catholicism, I noted that having worked in the Church with a good deal of liberals I cannot think of a single instance in which their children retained their liberal views and also practiced their Catholic faith. I have met their children and while some have become Evangelicals and others have seen the light and come over to orthodox minded Catholicism; those who have remained liberal would only darken a church door if a close relative passed away. Sadly not only have they left their faith but many can't find a single good thing to say about it. Their compliments are reserved for Big Government and Libertinism.
I am not writing this to sound clever or flippant or negative, simply to relate what I see. In many ways, the tide is turning like never before, and we can't say that Jesus didn't tell us that wheat would be separated from the chaff. Indeed we can't serve two masters and the liberals by and large have thrown their lot in with the Herod's of the world. While the liberal elite pretend to live oh so sophisticated lives; they in reality are nothing more than a fallen character in a 1980s hair band ballad video, succumbing to the vices on Sunset Boulevard that the liberal elite relegated to some degenerative red state tourist. As angry as we may be at the religious left's venom and their apostasy, they most certainly need our prayers and we should never forget that supposedly wise people can be fooled as much as anyone by the dark side.
In my previous article, I noted the striking metaphor of the pall of smoke hanging over the Acropolis in Athens caused by rioting Greeks who could no longer pay for their extravagant lifestyle. They are merely the first example of a culture that has aborted and contracepted itself into oblivion, prophetically predicted by Pope Paul VI in his encyclical Humanae Vitae. For the Greeks, Big Government had the answers and their Epicurean ancestors had the lifestyle that seemed oh so appealing. However in reality they couldn't pay the bills because charged with the simple mission of reproducing they felt it too complicated of a task. Continue reading →