Black Adder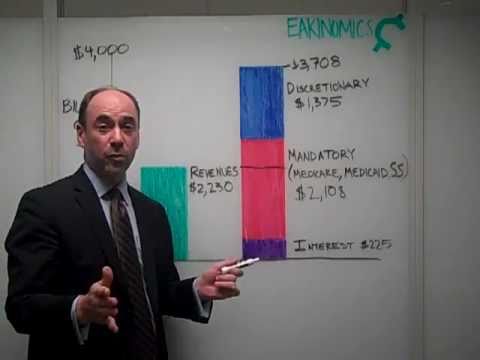 I understand the desire to cut back on government spending. Indeed, I share it. But politicians flirting with not raising the debt ceiling by the August 2nd deadline are playing a very dangerous game. And as the Reading Rainbow guy used to say, you don't have to take my word for it.
This post requires a bit of background explanation, so bear with me.
A few weeks ago, Paul Krugman made the following comment about conservatives and liberals:
[I]f you ask a liberal or a saltwater economist, "What would somebody on the other side of this divide say here? What would their version of it be?" A liberal can do that. A liberal can talk coherently about what the conservative view is because people like me actually do listen. We don't think it's right, but we pay enough attention to see what the other person is trying to get at. The reverse is not true. You try to get someone who is fiercely anti-Keynesian to even explain what a Keynesian economic argument is, they can't do it. They can't get it remotely right.
Krugman, of course, famously refuses to read conservative bloggers, and his work at the New York Times doesn't exactly display a deep understanding of conservative ideas (perhaps he is a good example of the Dunning-Kruger Effect in action). In any event, libertarian blogger and economist Bryan Caplan responded to Krugman by proposing the following test: Continue reading →
Writing in the Atlantic, Joshua Green notes that Michelle Bachmann's (now former) church holds some, shall we say, unflattering views about the papacy:
Bachmann was a longtime member of the Salem Evangelical Lutheran Church in Stillwater, Minn., which belongs to the Wisconsin Evangelical Lutheran Synod (WELS), a council of churches founded in 1850 that today comprises about 400,000 people. WELS is the most conservative of the major Lutheran church organizations, known for its strict adherence to the writings of Martin Luther, the German theologian who broke with the Catholic Church and launched the Protestant Reformation in the 16th century. This includes endorsing Luther's statements about the papacy. From the WELS "Doctrinal Statement on the Antichrist": "Since Scripture teaches that the Antichrist would be revealed and gives the marks by which the Antichrist is to be recognized, and since this prophecy has been clearly fulfilled in the history and development of the Roman Papacy, it is Scripture which reveals that the Papacy is the Antichrist."
Bachmann, it seems, never subscribed to the belief in question, and left the church sometime last year. Nevertheless, some are drawing comparisons between the views of Bachmann's former church and those of President Obama's former pastor, Jeramiah Wright.
I confess that I am of two minds about this story. Continue reading →
While the subject of usury used to be a hot topic in moral theology, the Church has not had much to say on the subject over the last couple hundred years. The Catholic Encyclopedia article on Interest ably sums up the current situation:
In our day, she [that is, the Church] permits the general practice of lending at interest, that is to say, she authorizes the impost, without one's having to enquire if, on lending his money, he has suffered a loss or deprived himself of a gain, provided he demand a moderate interest for the money he lends. This demand is never unjust. Charity alone, not justice, can oblige anyone to make a gratuitous loan (see the replies of the Penitentiary and of the Holy Office since 1830) . . . . In practice, however, as even the answer of the Sacred Penitentiary shows (18 April, 1889), the best course is to conform to the usages established amongst men, precisely as one does with regard to other prices.
Periodically, however, someone will suggest that the Church's teaching on usury needs to be revitalized. Continue reading →
I recently finished Alan Brinkley's Voices of Protest, which is a dual biography of Louisana politician Huey Long and radio firebrand Father Coughlin. Father Coughlin is known for being virulently anti-semitic, yet Brinkley takes pains to note that a focus on Jews only occurred towards the end of Coughlin's career, long after he had ceased to be a major political figure. According to Brinkley, Coughlin is best understood as an heir to the midwestern populist tradition of William Jennings Bryan. And indeed there was quite a bit of overlap between the views advocated by Father Coughlin during the early 1930s and those of Bryan forty years earlier. The Principles of the National Union for Social Justice (Coughlin's organization) supported the living wage, support for unions, a "conscription of wealth" in the event of war, and the nationalization of "banking, credit and currency, power, light, oil and natural gas and our God-given natural resources,"
Like Bryan, though, Coughlin's main focus was on monetary policy. Continue reading →
Recently, Rep. Paul Ryan wrote to New York's Archbishop Timothy Dolan to "to provide facts about [Ryan's proposed] Budget to help advance an informed debate in light of social teachings about the well-being of the family, subsidiarity, the preferential option for the poor, and the dignity of the human person." The letter outlined some of the main features of the Ryan plan, and suggested ways in which this plan was designed to meet the goals and principles of Catholic Social Thought. Here's a snippit:
Nothing but hardship and pain can result from putting off the issue of the coming debt crisis, as many who unreasonably oppose this Budget seem willing to do. Those who represent the people, including myself, have a moral obligation, implicit in the Church's social teaching, to address difficult basic problems before they explode into social crisis. This is what we have done, to the best of our ability, in our Fiscal Year 2012 Budget Resolution.
Yesterday Archbishop Dolan responded: Continue reading →
First up, Matt Yglesias on How to Run America Like a Business:
If you're trying to look at America from a balance-sheet perspective the problem is very clear. It's not "entitlements" and it's not "Social Security" and it's not "Medicare" and it's not "health care costs" it's the existence of old people. Old people, generally speaking, don't produce anything of economic value. They sit around, retired, consuming goods and services and produce nothing but the occasional turn at babysitting. The optimal economic growth policy isn't to slash Social Security or Medicare benefits, it's to euthanize 70 year-olds and harvest their organs for auction. With that in place, you could cut taxes and massively ramp-up investments in physical infrastructure, early childhood education, and be on easy street.
There's an element of satire involved here, of course. But in my view the growing entitlement crisis is one of the reasons I worry about the eventual acceptance of euthenasia throughout the United States (the other being the temptation the children of baby boomers will have to euthanize their parents as a kind of revenge for killing off their brothers and sisters via abortion). Continue reading →
At the risk of losing some of my libertarian street cred, I have to say that I feel a lot of sympathy for the public employee members in Wisconsin. Even if you think that their salaries and benefits are excessive, those benefits and wages were contractually agreed to by their employers, and I'm sure that in many cases people have planned their retirements on the assumption that these contracts would be honored.
On the other hand, if having public employee unions leads to workers receiving promises of future pensions and benefits that can't or won't be met, then that could be a reason to reconsider whether public employee unions are such a great idea going forward. The Church recognizes the right of workers to unionize, but this right is fundamentally based not on any the supposedly good consequences that unions have for workers, but rather as an application of the right of private association. As John Paul II noted in Centesimus Annus, ("the Church's defence and approval of the establishment of what are commonly called trade unions [is] certainly not because of ideological prejudices or in order to surrender to a class mentality, but because the right of association is a natural right of the human being, which therefore precedes his or her incorporation into political society."
I'm willing to accept correction on this, but it seems to me that if the right to unionization is based in the right to association, then it would seem that the union relationship ought to be voluntary for all the parties involved. Forcing workers to join a union or forcing an employer to deal with a union on certain terms strikes me as being contrary to people's association rights, not a fulfillment of them. In the case of public employee unions, the government is the employer, and so should have a wide latitude to decide to what extent it is willing to bargain with unions and to what extent it isn't.
Over at the Corner, Michael New draws attention to a recent op-ed by Frances Kissling of the oxymoronic group Catholics for a Free Choice:
In a column that appeared in last Friday's Washington Post, Frances Kissling, who served as president of Catholics for a Free Choice, offers some advice for supporters of legal abortion. Kissling acknowledges that recent pro-life efforts — specifically our focus on fetal development and our efforts to pass incremental laws — have been effective in shifting public opinion in a pro-life direction. She acknowledges that supporters of legal abortion are now losing, and that the pro-choice arguments that were persuasive in the 1970s are no longer working today.

As a result, Kissling suggests a shift in strategy. Specifically, she urges her pro-choice allies to support some restrictions on late-term abortions. She states that supporters of abortion rights need to "firmly and clearly reject post-viability abortions, except in extreme cases." She even says that abortions in the second trimester "need to be considered differently." Kissling encourages an approach that would mandate counseling for women seeking abortion in these circumstances.
There is a saying among logicians: one man's modus ponens is another man's modus tollens. In english, the idea is that different people often respond to the same argument by reaching opposite conclusions. If you see that an argument is valid, a logical response is to accept its conclusion. But another, equally logical response is to reject the argument's premise.
That seems to be the situation with a recent post by David Curz-Uribe of the blog Vox Nova. David begins by contrasting two different views of the relationship between human beings and the rest of creation:
In the first account God tells Adam and Eve: "Be fertile and multiply; fill the earth and subdue it. Have dominion over the fish of the sea, the birds of the air, and all the living things that move on the earth." The sense here is of total control, ownership, "dominion." On the other hand, in the second account it says that "The LORD God then took the man and settled him in the garden of Eden, to cultivate and care for it." Here the sense is of stewardship: caring for something that they do not own.

I do not want to read too much into these short passages, but I think that this tension still affects our current understanding of the world around us. If the world is "ours" in the sense we have complete control over it, then we can do what we want, subject only to our prudential judgment of how to treat our property. On the other hand, if the world is God's, then our decisions must show deference to God's own plan. We are stewards, and presumably (like all stewards) have a great deal of autonomy and authority, but in the end we are constrained by the plan of the actual Master of creation.
In the abstract I am more inclined towards the stewardship interpretation than the dominion interpretation given above (if for no other reason than that "stewardship" sounds nice while "dominion" sounds bad). Yet as David notes, the stewardship interpretation has some unusual implications: Continue reading →
Beginning in 1969 the Centers for Disease Control and Prevention collected data on legal abortions carried out in the United States through its Abortion Surveillance System. The report based on this data ordinarily appeared as an article in CDC's professional journal, The Mortality and Morbidity Weekly Report (MMWR) the week after Thanksgiving. The report lagged the data by three years, i.e., the 2006 data were printed in 2009.

While not comprehensive, the CDC report provided the best single estimate of abortions in the US, as well as providing detailed breakdowns: the age of the baby at the time of abortion, age of the mother, number of abortions the mother had previous to the current one, etc. People on both sides of the abortion debate have cited these statistics to make their points.

Last year, contrary to the long-established practice, November came and went with no report posted on the CDC's website. Over the following weeks, multiple visits to the site proved fruitless. The possibility the report was not merely delayed, but had in fact been axed from higher up, had to be considered.

Last week, RedState began investigating by calling those in DC who might have some answers. After several attempts, we finally received confirmation from Rhonda Smith at the CDC's press office in Atlanta that the report has been buried indefinitely; the CDC "will not have stats available at any time in the near future" and there "are no plans for them to come out any time soon."
More. This is outrageous, and raises the question of why the Obama Administration wouldn't want the report published.
Bryan Caplan asks, a propos of events in Egypt, why some revolutions end up making things better while others make things worse. His answer (which he admits is unconvincing) is that revolutions make things better when they are against totalitarian regimes and worse when they are against authoritarian regimes, because "the point of totalitarian regimes is to give people less freedom than the median voter wants, but the point of authoritarian regimes is often to give people more freedom than the median voter – or at least the median man of violence – wants."
I don't think that works. Marcos wasn't a totalitarian, for example, and neither was Milosevic. When I consider which revolutions turned out badly and which turned out well, the thing that really jumps out at me is the degree to which the revolution in question was achieved by peaceful as opposed to violent means. There are exceptions, of course, but for the most part violent revolutions have tended to end badly (very often making things even worse than before), whereas largely non-violent revolutions have tended to make things better. Violent revolutions end up being led by violent men, and once in charge they have a tendency to turn their talents on others. Whereas the leaders of non-violent revolutions tend to be better at democratic politics (and if they aren't they don't try to hold onto power by killing their opponents).
Something to think about.