Ted Kennedy
Solicitor General Elena Kagan, President Obama's nominee to the Supreme Court, is already being painted as a moderate by the media and some political interest groups. This portrayal of Kagan is difficult to dispute comprehensively because of her lack of a public record and accompanying statements that delineate her actual personal views on judicial philosophy, thus, complicating the venture of placing her on an ideological spectrum. 
Despite this hermeneutical difficulty, allegedly confident political portraits have been made with the details that we do know about Elena Kagan. The New York Times on May 11 published a piece—"As Clinton Aide, Kagan Recommended Tactical Support for an Abortion Ban"—by Peter Baker discussing a memorandum authored by Kagan while she was working for the Clinton Administration. Kagan in the memo counseled President Clinton to support an amendment, authored by Senator Tom Daschle (D-SD), to Republican-sponsored legislation to ban partial-birth abortion that would include an exception for the "health" of the pregnant women in a ban—so broad an exception that it could be easily employed as a loophole that would prevent few, if any, partial-birth abortion procedures.
President Clinton and his advisors (in this case, Kagan) anticipated that the Daschle amendment would not secure enough votes to pass, but White House support could provide enough political cover for Democratic lawmakers who could reiterate their alleged support of the partial-birth abortion ban, but justify their vote against it because of the lack of inclusion of the broad "health" exception for the pregnant woman. In the end, the Daschle amendment failed and the Republican-sponsored partial-birth abortion ban, endorsed by the National Right to Life, was successfully sent to President Clinton who consequently vetoed it.  Kagan's advice to the President was successful and held up the passage of a partial-birth abortion ban for six years.
Douglas Johnson, the legislative director of the National Right to Life, before a joint-hearing before the U.S. Senate Judiciary Committee and the Constitution Subcommittee of the U.S. House Judiciary Committee in 1997 said:
"The Clinton-Daschle proposal is a political construct, designed to provide political cover for lawmakers who want to appear to their constituents as if they have voted to restrict partial-birth abortions, while actually voting for a hollow measure that is not likely to prevent a single partial-birth abortion, and which therefore is inoffensive to the pro-abortion lobby."
In other words, a better reading of the facts is not that Kagan is "in the middle" on abortion, but rather she was advising President Clinton of the pragmatic steps (endorsing a pseudo-ban on partial birth abortion) needed to defeat the actual pro-life measure. Kagan may very well be a "legal progressive" as was recently claimed from the White House defending the nominee from the political left suspicious of her liberal credentials. Continue reading →
There is a undercurrent in American society that somehow believes that if the mafia ran things, the country would be better off. There was one city (Newark, New Jersey) where the mafia once controlled much of the city. When their grip on power was done, the city was in tatters. The same could be said for liberals running religion.
Go here to see the last polls on the Senate race in Massachusetts.  The seat that is up has been in the hands of the Kennedy family since 1953, four years before my birth.   The last time the Republicans won a Federal senate race in Massachusetts was in 1972 when I was 15 years old.  Against all the odds Scott Brown has engineered the political upset of this century.  In November he trailed Martha Coakley by 30 points.  He has run a superb campaign and she has run an abysmal one, but the key issue has been his opposition to ObamaCare.  If ObamaCare is  a losing issue in Massachusetts, in what State in the Union can it be a winning issue?  Brown 52;  Coakley 47;  Kennedy 1.  That is my prediction.   What is yours?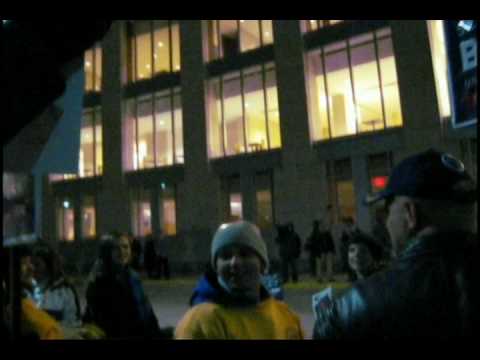 A Republican may be elected to serve out Ted Kennedy's unexpired term?  It could happen! Public Policy Polling, a Democrat leaning polling outfit shows the election a toss up between the Democrat Coakley and the Republican Brown.  Scott Rasmussen, the best political pollster in the business in my opinion, shows Coakley up by two.  Last week he showed her up by nine.  On Monday Brown raised over a million dollars in one day in internet donations.
If Brown wins the Senate race in the Peoples' Republic of Massachusetts, it will send a political shock wave across this country the like of which hasn't been seen in many a year.  If Ted Kennedy's senate seat isn't safe, what seat is safe for the Democrats?  Oh, I don't believe that I should call it Ted Kennedy's seat per Mr. Brown.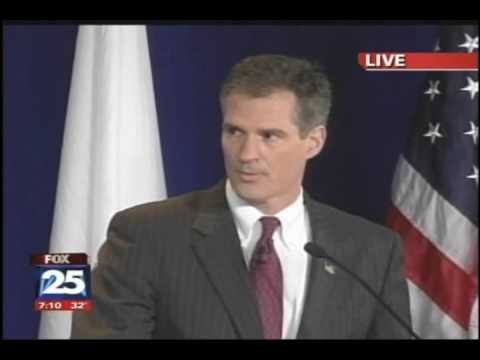 The Catholic Church has always had a bull's-eye attached to it, and in truth many of us wouldn't want it any other way, for when we are almost universally loved, as has happened a few times in the last 40 years we have become "of the world," instead of suffering for the world."  Lately, during the pontificates of Pope John Paul II and now Pope Benedict XVI dark forces have gathered at the gates of truth attacking the Church for a variety of long held beliefs.  These beliefs can range from the theological to the social. However, following the US Election of 2008 a tidal wave seems to have inundated the Church from the mainstream media, the political realm and even the entertainment world. The Church's 2,000 year old teachings and beliefs have been attacked in the United States and Western Europe from elected officials, the mainstream media and well known entertainment celebrities. Some of the faithful have become discouraged and questioned me as to how the thesis of my book, The Tide is Turning Toward Catholicism, could possibly be true in light of this news.
The truth of the matter is that against this troubling backdrop the Church continues to grow around the world, especially in African and Asia but even in North America, where much of the onslaught against the Church has emanated. Seminaries and Mother Houses often have no room for those pursuing a vocation and those young African and Asian men and women are often sent to the US or Europe to explore their vocation. Even in the US and pockets of Europe seminaries are experiencing a mini boom. One seminary rector told me that in the 40+ plus years of being affiliated with the Church, he has never seen a longer sustained period of top notch orthodox minded young men coming in and being ordained as he has seen in the last 10 years. Perhaps this is why the powers that be are so angry.
It seemed the US midterm Election of 2006 emboldened the cause of those militant liberals and secularists who have contempt for much of what orthodox minded Catholicism holds dear. Following the results of the Election of 2008, many pundits proclaimed the results as a sea change for America. Agnostics and atheists gleefully announced that a world where religion and especially conservative or orthodox minded Catholicism held sway was being replaced by a humanist brand of religion where age old teachings were replaced by the ideas of "enlightened" religious leaders, agnostic thinkers, and pop culture celebrities. It seemed this new brand of liberal thinker was less idealistic than their 1960s peers and displayed an anger and hostility that was a far cry from the utopian idealism displayed some 40 years ago. Yet, beneath the surface and below the radar screens of many news organizations, lies the hope of the Catholic faithful who hold on to the ideas  imparted by Christ, His Apostles, Popes, Bishops, Priests, Women Religious, Saints and holy laymen and laywomen throughout the centuries. Continue reading →
Father Roger J. Landry concludes here that the strategy of the Church to privately persuade Catholic pro-abort pols of the errors of their ways has been a flat failure.
"Let us take an honest look at the numbers. When we survey the long list of pro-choice Catholic politicians from both parties — Kennedy, Kerry, Giuliani, Schwarzenegger, Daschle, Dodd, Durbin, Leahy, Mikulski, Pelosi, Delahunt, Capuano, Markey, McGovern, Meehan, Granholm, Sebelius, Pataki, Richardson, Cellucci, Cuomo, and Biden to name just a handful — is it possible to say that the strategy has worked with any of them? Over the last three and a half decades, can we point to even one success story?
Another way to assess the results of the education-alone strategy is to measure the direction that pro-choice Catholic politicians have moved over the years. Even if they haven't experienced a total conversion, have they moved closer toward limiting abortions or toward making abortions easier to access? The facts show that the vast majority of personally opposed, publicly pro-choice Catholic legislators have become far less personally opposed and far more publicly in favor over the duration of the strategy.
In the initial years after Roe versus Wade, publicly pro-choice Catholic legislators generally whispered their support for abortion. They displayed a palpable sense of shame, letting their abortion position out just enough so that it wouldn't cost them the votes of abortion supporters. That discomfort began to dissipate after Governor Mario Cuomo's 1984 pro-choice defense at Notre Dame. We've now come to a situation when pro-choice Catholic legislators vigorously curry the favor of Planned Parenthood, NARAL Pro-Choice America and Emily's List;  scores of Catholics in Congress have the chutzpah to co-sponsor the Freedom of Choice Act, which would eliminate almost every abortion restriction ever passed at the federal or state level; and 16 out of 25 Catholic Senators vote against conscience protections to prevent their fellow Catholics in the medical field from being forced to participate in abortions and sterilizations."
Father Landry ends by suggesting a new approach, perhaps we might call it the "more than hot air" approach:
"Jesus spoke of a different way in the Gospel (Mt 18:15-18). It involves not merely general educational statements that we hope offenders will apply to themselves in conscience, but the type of one-on-one instruction traditionally called fraternal correction. If that fails, and fails repeatedly, Jesus enjoined us to regard the offender as someone who no longer belongs to the community, who is no longer a member in good standing. This may seem harsh, but we should remember that Jesus always seeks nothing but the best for his Church and for individual sinners, even obstinate sinners. Implied in Jesus' strategy is that education involves not just information, but formation, and that you can't form disciples without discipline. This is a lesson that, after four decades of the undeniable failure of another approach, we need to consider anew."
Hattip to my friend the ever vigilant Jay Anderson at Pro Ecclesia,  and please go here to read his comments on Father Landry's argument.
Cardinal O'Malley of Boston defends his participation at the funeral Mass for Ted Kennedy here.  Erin Manning at her blog and sometimes tea, gives his remarks a fisking to be remembered here.  The master of the fisk, Father Z, also puts the Cardinal's remarks through his patented fisk machine here.
The simple truth of the matter of course is that Ted Kennedy, in so many ways, was a disgrace to the Catholic Church in this country.  As a Catholic who received the Last Rites, it was right to give him a funeral Mass.  It was wrong to allow that Mass to be transformed into a "Tribute for Teddy" and a Democrat Party infomercial.  Archbishop O'Malley sat there and allowed this to take place and now he has the audacity to defend his nonfeasance.  One would have thought that silence would have been a wiser course rather than attempting to defend the indefensible.
Well, I've read and talked more than I ever cared to about Ted Kennedy recently, may he rest in peace. And Darwin has already ably responded to this defense of the late Senator Kennedy from Michael Sean Winters. But something about Mr. Winters response has been ringing in my ears, and I think it's because it summarizes in a few sentences what I perceive to be the tragedy of Catholic Democrats in the U.S.: they could have taken a stand for unborn life but were unwilling. As a result, faithful Catholics have either been driven into the Republican Party, become independents, or become disconcertingly comfortable with the status quo on abortion. Currently I think both the first and last options are incompatible with Catholic thought – at least without substantial departure from party orthodoxies. Where familiarity (with both parties) should have breed contempt, it has instead yielded unconscionable familiarity and acceptance. And Mr. Winters' post provides a clear illustration of this reality:
To dismiss his [Senator Kennedy's] career because of his stance on abortion is to be ignorant of the complicated way the issue of abortion manifested itself in the early 1970s: I think Kennedy got it wrong but I do not find it difficult to understand why and how he got it wrong.
With the media participating in adulation of Ted Kennedy, Ross Douthat calls our attention to "a different kind of liberal", the late Eunice Kennedy Shriver (New York Times August 30, 2009):
Liberalism's most important legislator probably merited a more extended send-off than his sister. But there's a sense in which his life's work and Eunice's deserve to be remembered together — for what their legacies had in common, and for what ultimately separated them.

What the siblings shared — in addition to the grace, rare among Kennedys, of a ripe old age and a peaceful death — was a passionate liberalism and an abiding Roman Catholic faith. These two commitments were intertwined: Ted Kennedy's tireless efforts on issues like health care, education and immigration were explicitly rooted in Catholic social teaching, and so was his sister's lifelong labor on behalf of the physically and mentally impaired.

What separated them was abortion.
Read the rest. (HT: Alan Phipps).
The past week has given me pause for thought on the Kennedy Mystique and what it means in Catholic circles today. I'd intended to remain silent on the topic of Senator Edward Kennedy, he wasn't someone I had much admiration for, but death is a great equalizer. While it certainly doesn't put someone beyond criticism, it's polite not to take the opportunity to attack someone while those who loved him are mourning. And yet, in the end I made some rather strong comments on the topic. Why?
Ted Kennedy isn't himself the sort of figure one would expect to arouse more than normal political feelings — a sometimes boorish and boozy character, but a party loyalist able to bring a fair amount of rhetorical power to pushing his party's line and able to bring a self effacing charm into play (when he tried) which softened his partisan edges. The the sort of person I'd tend to admire, but also not someone I'd feel called upon to rail against.
I think the issue is that the combination of the Kennedy name and the Democratic party-line positions holds a certain place in American Catholic history which causes strong reactions among various Catholics depending on how they reacted to that period in Catholic history in this country. JFK was elected at a point when it seemed Catholics had finally "arrived" in the US. They'd made it out of the ethnic ghettos, through college, and into mainstream American society. And while public schools were heavily Protestant, and Catholic "smells and bells" still looked very strange to WASP eyes, Catholicism had become a large and mainstream religion in the US complete with famous converts and Fulton Sheen as a major TV personality. Continue reading →
During a crisis within the Roman Empire, Emperor Theodosius I slaughtered 7,000 of his own citizens in 390 AD.  Shortly after this massacre Emperor Theodosius arrived in Milan where Saint Ambrose resided as bishop.  Upon hearing of the emperors arrival Saint Ambrose refused to meet nor offer the Holy Sacrifice to him.  Instead he castigated the emperor and demanded he repent for his sins.
Emperor Theodosius quickly obeyed [emphasis mine],
"and, being laid hold of by the discipline of the Church, did penance in such a way that the sight of his imperial loftiness prostrated made the people who were interceding for him weep more than the consciousness of offence had made them fear it when enraged". "Stripping himself of every emblem of royalty", says Ambrose in his funeral oration, "he publicly in church bewailed his sin. That public penance, which private individuals shrink from, an Emperor was not ashamed to perform; nor was there afterwards a day on which he did not grieve for his mistake."[1]
Ted Kennedy was the leading proponent of abortion on demand.
Millions of innocent humans died due to the policies that Ted Kennedy championed.
Ted Kennedy passed away without repenting nor showing remorse for his direct actions in the death of millions.
Instead of performing his duty as Archbishop of Boston and teaching Ted Kennedy the errors of his ways, Cardinal O'Malley does absolutely nothing and then presides at his funeral.
Saint Ambrose, ora pro nobis!
_._
(photo from WPIX)
[1] Loughlin, J. (1907). St. Ambrose. In The Catholic Encyclopedia. New York: Robert Appleton Company. Retrieved August 30, 2009 from New Advent: http://www.newadvent.org/cathen/01383c.htm