Senator Marco Rubio
Hattip to commenter Greg Mockeridge for bringing this matter to my attention.  Yesterday the Senate defeated by 5 votes the attempt to ratify the UN Convention on Disabilities Treaty.  Go here to read the text.  It is the usual type of windy, gaseous formulation that one expects from the UN.  It is overwhelmingly popular among the permanent government class in most Western nations.  It has been passed by most of the nations of the world.  It will be ignored by most of the nations of the Earth where the rulers are masters at mouthing feel good platitudes while doing as they please.  In the West it will provide jobs for pressure groups through the filing of unending law suits to enforce the terms of this glop of political correctness, socialism, fuzzy thinking and lawyer full employment .  I am opposed to such treaties as a matter of principle.  American rights should be determined by Americans and not by temporary majorities at the UN, that modern Tower of Babel.
The main reason why the treaty failed was abortion.  Among the many twisting and often contradictory provisions was this gem at Article 25 (a):
Provide persons with disabilities with the same range, quality and standard of free or affordable health care and programmes as provided to other persons, including in the area of sexual and reproductive health and population-based public health programmes;
Reproductive health of course is a euphemism for contraceptives and that form of child murder that goes by the term abortion.    This conflicts with Article 10 of the treaty:
 States Parties reaffirm that every human being has the inherent right to life and shall take all necessary measures to ensure its effective enjoyment by persons with disabilities on an equal basis with others.
Senator Marco Rubio (R. Fla.) attempted to take abortion out of the treaty with this amendment:
The United States understands that the phrase 'sexual and reproductive health' in Article 25(a) of the Convention does not include abortion, and its use in that article does not create any abortion rights, cannot be interpreted to constitute support, endorsement, or promotion of abortion, and in no way suggests that abortion be promoted as a method of family planning. Continue reading →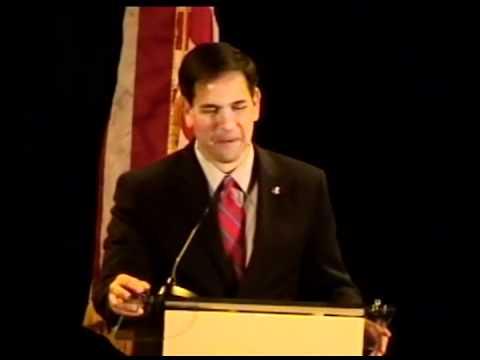 This is an issue that, especially for those that enter the public arena and refuse to leave our faith behind, speaks to more than just our politics. It speaks to what we want to do with the opportunity we have been given in our life, to serve and to glorify our Creator.
                                                                         Marco Rubio
Video of Senator Marco Rubio (R. Fla.) delivering the keynote address on February 1, 2012 at the Susan B. Anthony List Fifth Gala for Life.  If  Rubio isn't the Republican vice-president nominee this year, despite his disclaiming of any interest in the office, the GOP leadership is crazy.  He is eloquent, youthful and a brilliant defender of life.  His nomination will seal up Florida, gain the Republicans a larger share of the Hispanic vote than they have ever garnered before in a Presidential race and bring enthusiasm and hope to the ranks of social conservative voters.
Tying this speech in with his sponsorship of  the Religious Freedom Restoration Act of 2012 this week, Rubio is clearly signaling that if he is placed on the ticket he intends to champion issues near and dear to the hearts of Catholics.  Obama decides to use the Church as a punching bag in order to appease his leftist base.  Rubio counters with a defense of the Church and Life to draw a stark contrast.  Obama will soon have his Yamamoto moment:
Continue reading →