Sarah Palin
Once in a while the political news circuit gets stuck on a topic so amazingly trivial and foolish that the spectacle of such a large tempest raging in such a small teapot makes it hard to look away. This week, the leading ladies of the right and left have decided to fight it out over breastfeeding.
I picked this for obvious reasons, but the parent in me says "No diaper and white dress: Watch Out!"
How, you might ask, could something like breastfeeding become a hot political issue? It seems that as part of her Let's Move program to reduce childhood obesity, Michelle Obama has decided to promote breastfeeding. A nurse-in at the White House? No, that might actually be interesting. Rather, the proposal is for the IRS to grant a tax deduction for breast pumps and other nursing supplies.
Seeing a chance to turn a phrase, Michele Bachmann and Sarah Palin have weighed in, saying that getting the government involved in breastfeeding is the ultimate in "nanny state" politics. And this has given political commentators on the left the chance to weigh in with "Palin attacks breastfeeding" and "Bachmann says government has no business telling women what choices to make about their bodies" type headlines.
Continue reading →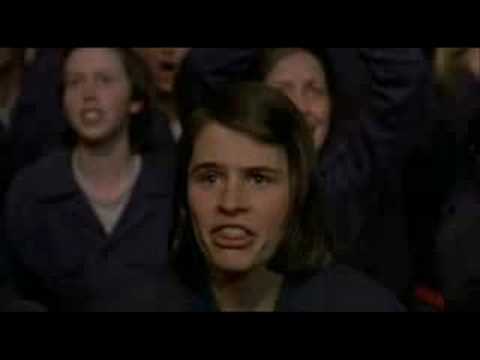 Orwell's two minute hate from 1984 is brought to film in the above video.  Below is a video montage of tweets calling for the death of Sarah Palin which went out after the Giffords shootings.  (Strong content advisory:  many of the tweets are very vulgar and obscene and all of them are examples of congealed hate.) Continue reading →
Let's make this short.
Sarah Palin uses the phrase "blood libel" in her response to the round-the-clock assertions that she was directly responsible for the shooting of Gabrielle Giffords.
Everyone accuses Sarah Palin of insensitivity and even in some extreme cases, anti-Semitism.
Every leftist or left-leaning publication declares – once again – that Sarah Palin's presidential chances are ruined.
Are you bored yet?
Sarah Palin WAS the target of some kind of "blood libel", for two reasons.
First, what else do you call it when one of the first articles to come out in a major publication is titled "Rep. Gabrielle Giffords' blood is on Sarah Palin's hands after putting cross hair over district?" That was Michael Daly of the NY Daily News. And our old friends Krugman and Olbermann, not to mention dozens of other left-wing commentators, kept the libel going over the next few days.
No one thought that using the word "blood" while actually engaging in libel would be combined as "blood libel" because no one was thinking at all when they made these morally repugnant and shameless accusations. As everyone on the left is forced in the most begrudging manner to admit, Palin was probably only borrowing the phrase from earlier conservative commentators such as Glenn Reynolds.
Secondly, scores of leftists have expressed their desire to murder Sarah Palin in the most vicious ways, to spill her blood. This video contains graphic and vulgar language – it is a reel of tweets that display of the sort demonic rage and hate that Palin inspires in many leftists, who sound as if they really might not mind using her blood to bake a cake.
I think Palin's response was about as rational as one can be under this sort of constant attack. The level of psychopathic dishonesty it takes to a) first make the shooting entirely about Palin and then b) criticize Palin for making her response mostly "about her" is unfathomable. It takes reserves of bad-will and malice that I am glad I wouldn't know how to muster if I wanted to.
Whether or not I would support her as a presidential candidate, I have to say, on this matter, I am firmly with Sarah Palin. Sometimes you can just judge a person's worth by the nature of those who hate her the most.
Sarah Palin has released a statement on the Giffords shootings.  The above video accompanied the statement.  Here is the text of the statement: Continue reading →
I will not tone down my rhetoric.
I will not apologize for my political views.
I will not give up my guns, or my right to purchase more.
I will not give up my right to free speech.
I will not take responsibility for the actions of a dope-smoking, devil-worshiping, Marx and Hitler-loving psychopath.
I will not take seriously anyone who blames an old political ad posted on Facebook for those actions.
I will reject as the contemptible hypocrites and cowards that they are those who refuse to acknowledge the hate and violence in the rhetoric of the left, including the violent phrases and metaphors used repeatedly by Barack Hussien Obama.
I will not listen to lectures on violence by anyone who supports increasing the coercive power of the state over the lives of American citizens, families, and communities.
I will not listen to lectures on violence by anyone who is a sycophantic apologist for the party that escalated the Vietnam War or cheered the bombing of Serbia.
I will not listen to lectures on violence and a "climate of hate" from people who have made the most horrible, violent, and threatening statements imaginable regarding Sarah Palin and her family. There is no hatred more intense in this country than the hate that leftists have for Sarah Palin.
I will not listen to lectures on violence by anyone who supports the "right" to violently dismember innocent unborn children in their mother's wombs.
I will never again listen to calls not to "rush to judgment" when a Muslim fanatic murders American citizens from anyone on the left.
I will not trade God-given, constitutionally-protected liberties for a false and futile sense of security.
I will not accept the idiotic belief that more laws, more regulations, and more police can solve problems of the human soul.
I will continue to advocate for limited government, state's rights, popular sovereignty, free markets, individual and family rights, religious liberty, and a Culture of Life.
I will not be silenced.
Who's with me?
In a recent column Washington Post columnist, E J Dionne noted that the Tea Party movement is a great scam. Quite an indictment coming from the self described progressive Catholic who still thinks government can never be big enough and the Church should tell the faithful more about the teachings of the agnostic Saul Alinsky than that of 2,000 year old teachings of the Catholic Church. Dionne has made it his business to comment on all matter of politics and religion for quite some time. His partner in left wing chicanery is New York Times columnist Maureen Dowd who never hesitates to go for the jugular.  Though she says he she comes from humble Washington DC roots, you would never know it by how she mocks those who really came from humble surrounding and never forgot it. She probably grew up with many Sarah Palin's and Christine O'Donnell's around her. Yet, I doubt she mocked many to their face as she gleefully does now to the backs of Palin and O'Donnell.
Dionne and Dowd seem to have it backwards, they don't think citizens should voice their views about the fallacies of liberal Big Government, but they do believe everyone knows better than the divine about religion. This is quite common for liberals who often seem to think they are divine. Dionne and Dowd are part of a movement who thinks they should control government and religion, and those who disagree with them are often labeled as unintelligent; the worst sin as far as liberals are concerned. However, who is the unintelligent one? Big Government has never worked. It has only brought huge debt which has to be repaid by future generations. Individuals who go into debt face a series of tough measures. Yet Dionne and Dowd seem oblivious to this and advocate the same disastrous path for the government, the end result being tough measures for everyone.  In other words Big Government is a disaster that doesn't work.
However, Big Government isn't the only disaster Dionne and Dowd advocate. They want the Catholic Church to turn her back on its 2,000 year old teachings and embrace the Dictatorship of Relativism, so named by Pope Benedict XVI. Dionne and Dowd are happy to embrace dissident Catholics who espouse this sort of thinking. It seems Dionne and Dowd are more comfortable with the views of Marx, Alinsky and Freud than they are with Christ, St Paul, St Thomas Aquinas, St Joan of Arc and Pope Benedict XVI. Continue reading →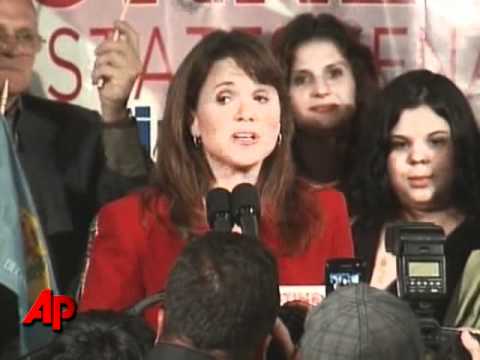 In a year of political stunners, last night's result in the GOP primary in Delaware still stood out.  Christine O'Donnell, Palin-endorsed tea party activist, upset Mike Castle, former two-term Governor of Delaware and long term GOP congressman, who, until last week, was expected to be an easy victor, both in the primary and in the general election.  Castle is the archetypal Republican Rino and O'Donnell a life long conservative activist, and the GOP Delaware voters decided that counted for more than electability.  I view O'Donnell as a highly flawed candidate due to instances of bizarre behavior in her life, but nevertheless if I lived in Delaware I would have voted for her.  James Antle of of the American Spectator explains why:
For how is it a victory to elect a liberal with an "R" next to her name rather than a "D?" What does it profit a movement to win an election but lose its soul? Conservatives are saying to the Republican Party: for years you have taken us for granted. Now you can either win with us or lose without us. And if a conservative candidate loses anyway, so be it.
Rank-and-file conservatives no longer trust the Republican establishment. They don't trust big-spending incumbents. They don't even trust conservative magazines, websites, and commentators who in their view run down conservative candidates.
Are there drawbacks to this approach? As one Mama Grizzly might say, "You betcha." Ideology and values are vital, but qualifications matter too. So do local conditions and regional differences, where one size doesn't fit all.
Finally, few RINOs are as brazen as Castle or Scozzafava. They now have learned to talk like conservatives and check the right boxes on conservative litmus tests even as they expand government once in power. The George Romneys have become Mitt Romneys, the George Bushes George Ws. Will conservatives be as demanding of them?
But for now, this much is clear: Grassroots conservatives picked Christine O'Donnell over Mike Castle, electoral consequences be damned. If it can happen in Delaware, it can happen anywhere. Continue reading →
This is meant to be a fun post speculating about who might run for the Republican Presidential Nomination. Here's my list, who do you think will run?
Likely Running:
Rick Santorum-former Senator from Pennsylvania
Tim Pawlenty- Governor of Minnesota
Mitt Romney-former Governor of Massachusetts
Still looking into it:
Mike Huckabee- former Governor of Arkansas
Mitch Daniels-Governor of Indiana
Sarah Palin-former Governor of Alaska
Newt Gingrich-former Speaker of the House
Long shots:
Bobby Jindal-Governor of Louisiana
Paul Ryan- Congressman from Wisconsin
Mike Pence-Congressman from Indiana
Tom Tancredo-former Congressman from Colorado
Ron Paul-Congressman from Texas
John Thune-Senator from South Dakota
Jeb Bush-former Governor of Florida
Analysis:
I think potential candidates like Huckabee and Palin have to be considered front runners in Iowa because of that state's social and culture conservative leanings. Pawlenty may have an advantage in Iowa since he governs a neighboring state.  Meanwhile, I think potential candidates like Romney and Daniels will play well in New Hampshire. I think all the candidates are going to have to build their war chests for the remaining candidates. I don't really see any one of the current candidates running away with the nomination early on, so it may be a long drawn out battle. I don't think it will go the distance like Obama-Clinton, but its not going to be wrapped up in a few primaries. What do you think?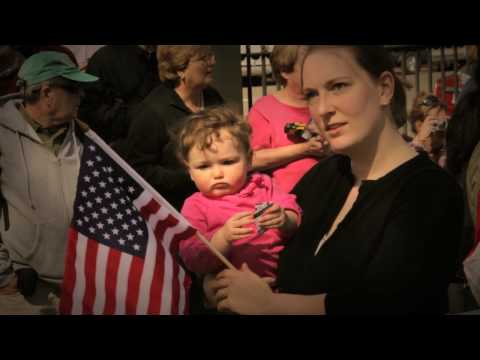 One of the more notable events in November this year will likely be the election of a record number of conservative pro-life Republican women to Congress, statehouses and state legislatures.  Their impact could be enormous.   Sarah Palin launched a movement in 2008 which may well be, long term, the most significant political event of our time:  conservative pro-life women running for political office. 
Of course every movement has its critics.  Emily's List, the pro-abort group that supports female candidates who hold sacred the right to choose to slay kids in the womb, has put together the video below, which I believe should be entitled:  "WHEN EWOKS ATTACK!" Continue reading →