Saint Thomas Aquinas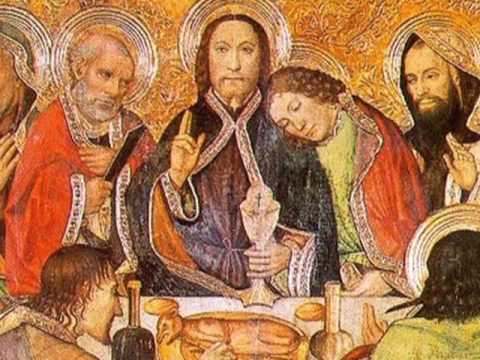 Saint Thomas Aquinas composed Sacris Solemnis at the command of Pope Urban IV for the new feast of Corpus Christi in 1264.  The last two stanzas have become the hymn Panis Angelicus.  I have always viewed this as the heart of the Summa set to music.
When he was canonized in 1323 some objections were raised because of a lack of miracles relating to the Angelic Doctor.  Pope John xxii responded that every question Saint Thomas answered was a miracle.
The cross-blog discussion that was initiated on the topic of "social sin" has now evolved into a debate over the origins and causes of sin. In response to my post on social sin, Nate Wildermuth at Vox Nova posted his own ideas about the relationship between society and sin, forthrightly admitting that he was going to "venture into heretical pastures" in doing so.
My intention here is not to beat up on Nate. He has expressed to me that he feels I may not be understanding his argument, though I do believe I have made the attempt in earnest. Rather than dissect in detail his argument once again, I am going to put forth here what I already placed in a com-box, but would like to open up to wider discussion – that is, my own view of sin and human freedom. Then Nate or anyone else may issue whatever challenges they like to any of my premises or conclusions, and perhaps we will have some clarity on the issue.
Justice exalteth a nation: but sin maketh nations miserable. – Proverbs 13:34
Is there such a thing as a "social sin"? It is out of a respect for my friend Brendan/Darwin that I want to examine and critique his rejection of the idea of social sin, with which I partially agree, but which I believe also leaves out some crucial facts. This is not a point against Brendan/Darwin, since I don't believe he intended his post to be a treatise on the issue. It is rather a point in his favor, since his general considerations give us the opportunity to explore the question in greater detail.
It must be said at the outset that there are obviously different things that one might mean by "social sin." Brendan/Darwin begins his argument with the observation that there are those who become "frustrated" with the emphasis many Christians place on individual failings to the neglect of "social or political sin." There is a significant difference, however, between social and political behavior. My intention is not to split-hairs in order to undermine a valid point (which it is), but rather to highlight the extent to which society and the body politic have become indistinguishable from one another. In my recent essay on the social effects of abortion, I make a distinction between organic and artificial social bonds; the former are those that necessarily follow from man's social nature, while the latter are those created through politics, i.e. laws. Because we are imperfect and often malicious beings, some artificial authority will always be required for men to attain "the highest good." But human laws are not foundational – they are supplemental to natural and divine laws, or at least they were in most places in the Western world until the 19th century.
Tantum Ergo sung by the Daughters of Mary.  Tantum Ergo  is the final two verses of the hymn Pange Lingua Gloriosi written by Saint Thomas Aquinas at the request of Pope Urban IV  for the new feast day of Corpus Christi. Continue reading →
January 28th, is the feast day St. Thomas Aquinas, my chosen saint as a convert. (It was a toss-up between Thomas the philosopher-theologian and Thomas Merton, the not-quite-saintly Trappist — both exercising an influence on my journey to Rome).
Here is a favorite prayer of mine, by St. Thomas Aquinas — for a holy life. It was said that he prayed this every day before the image of Christ:
Grant me, O merciful God, that what is pleasing to Thee I may ardently desire, prudently examine, truthfully acknowledge, and perfectly accomplish for the praise and glory of Thy name.

Ordain, O my God, my whole life, and what Thou requirest that I should do, grant me to know it and to fulfill as is meet and profitable to my soul.

Give me Thy grace, O Lord my God, that I may not fail in prosperity or in adversity, avoiding pride in the former and discouragement in the latter.

May I rejoice in nothing but what leads to Thee, grieve for nothing but what turns away from Thee. May I wish to please or displease n one but Thee.

May I despise, O Lord, all transitory things, and prize only that which is eternal. May I shun ant joy that is without Thee, nor wish for anything outside of Thee.

May I delight in any work taken up for Thee, and tire of any rest which is without Thee. Grant me, O my God, to direct my heart toward Thee, and in my failings constantly grieve, with the purpose of a amendment.

Make me, O Lord, my God, obedient without contradiction, poor without depression, chaste without corruption patient without murmuring, humble without pretence, cheerful without dissipation, mature without dullness, prompt without levity, fearing Thee without despair, truthful without duplicity, doing good without presumption, correcting my neighbor without haughtiness, and edifying him by word and example without hypocrisy.

Give me, O Lord God, a watchful heart, which no curious thought will turn away from Thee; a noble heart, which no unworthy affection will drag down; a righteous heart, which no irregular intention will twist aside; a firm heart, which no tribulation will break; a free heart, which no violent affection will claim for itself.

Grant me finally, O Lord my God, science in knowing Thee, diligence in seeking Thee, wisdom in finding Thee, a conduct pleasing to Thee, a perseverance trustfully awaiting Thee, and a confidence finally embracing Thee. May I endure Thy punishments by penitence; profit by Thy benefits by grace in this world, and enjoy Thy blessedness by glory in the next; Who livest and reignest, true God, forever and ever. Amen
Hattip to my friend Jay Anderson at Pro Ecclesia who reminded me that today is the feastday of Saint Thomas Aquinas, aka the Angelic Doctor, aka the Dumb Ox, perhaps the greatest intellect to ever live.
Some time ago, someone asked me:
Suppose–just for the sake of argument–you were convinced that an honest reading of the Tradition of the Church required you to believe that the initial chapters of Genesis were historical. Would you be able to do it, or do you think that Darwinism is so irrefutable that you would have to abandon or radically redetermine your faith?
I think this is the question that worries a lot of Catholics without a strong scientific background as they watch the evolution/creationist/ID debate on Catholic blogs. Here are these otherwise solid Christians taking common cause with the likes of the Richard Dawkins against their brother Christians. What gives? Are these folks really Christian? Do they care more about science than about faith? Do they only accept Catholicism so long as it agrees with science?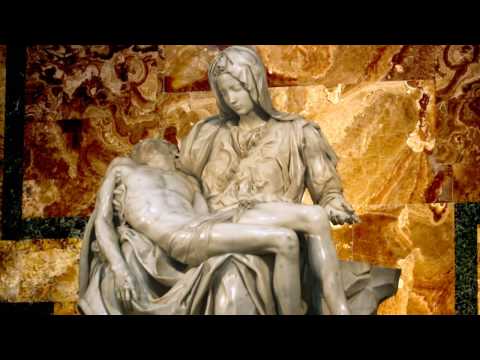 Composed by Saint Thomas Aquinas for the Office of Corpus Christi (see CORPUS CHRISTI, FEAST OF). Including the last stanza (which borrows the words "Genitori Genitoque"—Procedenti ab utroque, Compar" from the first two strophes of the second sequence of Adam of St. Victor for Pentecost) the hymn comprises six stanzas appearing in the manuscripts
Pange, lingua, gloriosi corporis mysterium,
Sanguinisque pretiosi quem in mundi pretium
Fructus ventris generosi Rex effudit gentium.
Written in accentual rhythm, it imitates the triumphant march of the hymn of Fortunatus, and like it is divided in the Roman Breviary into stanzas of six lines whose alternating triple rhyming is declared by Pimont to be a new feature in medieval hymnody. In the  Roman Breviary the hymn is assigned to both Vespers, but of old the Church of Salisbury placed it in Matins, that of Toulouse in First Vespers only, that of Saint-Germain- des-Prés at Second Vespers only, and that of Strasburg at Compline. It is sung in the procession to the repository on Holy Thursday and also in the procession of Corpus Christi and in that of the Forty Hours' Adoration.[1]
_._
[1] Henry, H. (1911). Pange Lingua Gloriosi. In The Catholic Encyclopedia. New York: Robert Appleton Company. Retrieved September 3, 2009 from New Advent: http://www.newadvent.org/cathen/11441c.htm
Note: For more information click here.

Today is the feast day of one of the greatest saints of the Church, and one of the greatest intellects to ever walk this globe: Saint Thomas Aquinas.  Here is an essay on Saint Thomas written by G.K. Chesterton before he wrote his biography of the Dumb Ox.  Amazing what a great mind, and a greater faith, can accomplish in one brief life.