Joe Biden
I'm sure many of you will disagree with me, seeing as how this is a mostly conservative blog, but I do not think Paul Ryan won tonight's debate. In fact, I was disappointed in his overall performance, particularly his weak answers on abortion.
Yes I'm glad he raised the religious liberty issue, but he should have taken a moment to insist that opposition to abortion is rooted in the belief that all innocent human beings, born and unborn, deserve protection under the law. We all know that "life begins at conception." The question is not when life begins, but when the right to life begins. Ryan's hands may be tied to a certain extent by Romney's position, which admits for various exceptions – conditions under which it is ok to butcher an innocent unborn child. Even so, he could have answered much better than he did.
That aside, I believe Biden dominated the debate. I know I am not the only one making this comparison, but it looked like a Thanksgiving dinner. To some it looked like mean old uncle Joe trying to beat up on nephew Paul, who held his own. To others, including myself, it looked like mean but knowledgeable Uncle Joe schooling a somewhat intimidated whippersnapper.
What I think, fortunately, doesn't matter. Some post-debate polls, such as CNN's, said Ryan won the debate, while others, such as CBS's, had Biden winning. It appears that the debate was a tie game, with Biden having met his primary objective and Ryan having (mostly) stood his ground. Perhaps I am more disappointed than most because I expected much more from Ryan. I didn't expect him to be a foreign policy whiz, but I expected more fight out of him on economic issues and certainly a whole lot more on social issues, particularly abortion.
Maybe he could take lessons from Ron Paul on how to respond next time (if there is a next time, in 2016 perhaps).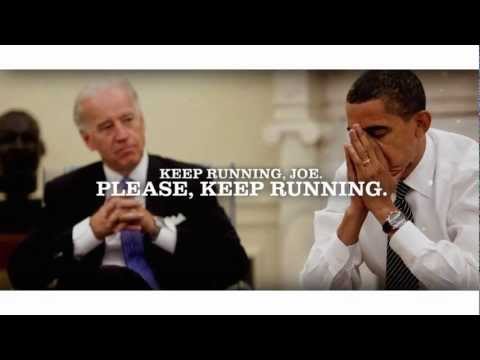 Lately our beloved national clown and veep, Joe Biden, has come under attack.  Light-heartedly attempting to whip up racial hatred and paranoia in a speech before a predominantly black audience in Danville, Virginia, Biden said that Romney and the Republicans would "put y'all back in chains!"
These remarks were denounced by various people including Douglas Wilder, a former Democrat governor of Virginia.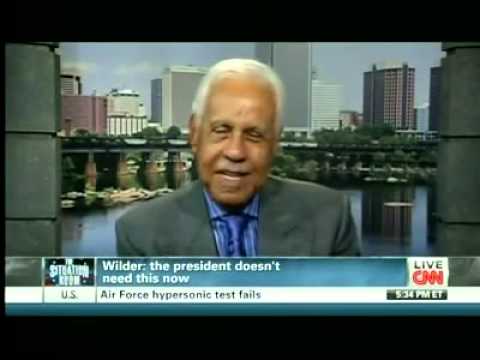 This is all so wrongheaded.  I could understand such recriminations if Biden were a serious politician of an ordinary sort, but he is not.  His entire gaffe-ridden political career has been one long extended comedy routine.  His purpose as Veep has been to relieve the public mood during the Great Depression II, much as his intellectual peers, The Three Stooges, did during the original Great Depression. Continue reading →
Rumors have been afloat lately that Obama is set to dump Biden.  Judging from the frenzied, one might say hysterical, tone of Biden in the speech earlier this week featured in the video clip above, one might well believe that Biden is looking at the political hook coming toward him.  This might explain why Biden forced Obama's hand on gay marriage by coming out in favor of it before Obama did.  Rule one of being Veep is never upstaging the POTUS.  Presumably Biden believes that if he is beloved of the base of the Democrat party, Obama will not dump him.  Alas, strategizing, indeed thinking of any sort, has never been Biden's strong suit.

Unfortunately Biden matters not one whit to the Democrat base, and by acting out he merely convinces Obama that perhaps it is time that Joe meet the acquaintance of the many individuals and groups that Obama has thrown under the bus in his political career.
This is all so unfair.  Joe Biden, as beloved national clown, has been one of the few success stories of this administration.  Imagine how much grimmer the past four years would have been without the comic stylings of Jollie Joe.  Poltical pratfalls and endless gaffes, a tireless willingness to play the complete buffoon, nothing has been beneath Biden in his endless task to lighten the mood of the nation.  I therefore announce the formation of the Biden Forever Superpac.  We will do everything in our power to keep Joe on the ticket.  Save Joe!  I pray that we prevail, but if we fail, we will always have YouTube to remember Joe by! Continue reading →
No, seriously, our Vice President knows next to nothing about history.  Speaking about the raid that killed Osama bin Laden, ole Joe said:
"You can go back 500 years. You cannot find a more audacious plan. Never knowing for certain. We never had more than a 48 percent probability that he was there."
William Tecumseh Sherman, George Washington, Robert E. Lee, Dwight Eisenhower, Napoleon Bonaparte, Winston Churchill, and Ulysses S. Grant could not be reached for comment, but surely they would have agreed.
Sure was a good thing we didn't elect that idiot Sarah Palin, or else we would have had a Vice President who continuously made completely idiotic remarks.
Oh Joe, Joe, Joe, Joe.  God love ya.
But as I was talking to some of your leaders, you share a similar concern here in China.  You have no safety net.  Your policy has been one which I fully understand — I'm not second-guessing — of one child per family.  The result being that you're in a position where one wage earner will be taking care of four retired people.  Not sustainable.
That's right.  The Vice President of the United States of America, a good old Catholic, was speaking in China and couldn't bring himself to criticize China's one child policy.  No, he went so far as to say that he understands the policy.   This comes a mere few moments after he had expended some hot air about human rights.
 I recognize that many of you in this auditorium see our advocacy of human rights as at best an intrusion, and at worst an assault on your sovereignty.  I want to tell you directly that this is not our intention.  Yes, for Americans there is a significant moral component to our advocacy.  And we observed where we have failed, as well.  But it is who our people are.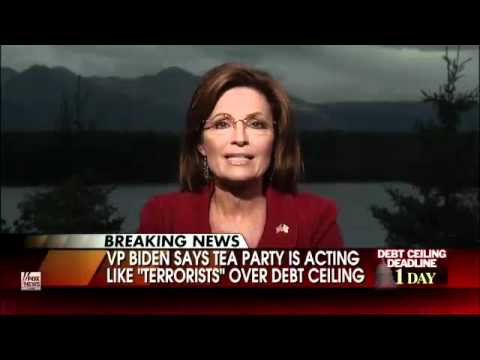 In these dark days of the credit downgrade of the nation, an economy falling back into recession, a crashing stock market, etc, one man shines out as a beacon of hope:  Veep and Beloved National Clown Joe Biden.  As the Three Stooges lightened the American mood during the Great Depression with their comic pratfalls and buffoonish antics, so Biden lightens the national mood by constantly, and deliberately I am sure, saying the stupidest things imaginable.
When Congresswoman Gabrielle Gifford recently returned to Congress after being shot in the head, Biden welcomed her as a fellow  member of the "cracked head club".  As the nation was still howling at that, he dauntlessly followed up with the gutbuster that the members of the Tea Party were "acting like terrorists".
Note the master at work.  Joe of course realizes that calling people who organized peacefully, won the Congressional elections in 2010, and whose representatives in Congress are seeking to enact legislation embodying the beliefs they campaigned on as terrorists, is absurd.  He therefore willingly makes himself absurd and a national joke in order to give us all something to laugh about in these dark days.  What a true patriot!
However, in the event that I am wrong and that Joe really meant that tea party members are acting like terrorists, below are depicted the intellectual godfathers of this dangerous movement, and perhaps Homeland Security needs to put them under surveillance pronto: Continue reading →
Go read Jonah Goldberg's NRO post on the disgusting media hypocrisy when it comes to cries of civility.  Like Jonah, I do tire of playing the media blame game, but today the media's double standard was in full glare.  Gabby Giffords has made a remarkable recovery and is back in Congress, and the morning news show focused on this story.  That's wonderful.  And of course they completely ignored the fact that Joe Biden called tea partiers terrorists (or nodded along when the terminology was applied), and also failed to discuss the columns written by guys like Tom Friedman and Joe Necera that also use the language of jihad and terrorism to describe the tea party.
But think about this for a second. The Giffords shooting sent the media elite in this country into a bout of St. Vitus' dance that would have warranted an army of exorcists in previous ages. Sarah Palin's Facebook map was an evil totem that forced some guy to go on a shooting spree. The New York Times, The Washington Post, all three broadcast networks, particularly NBC whose senior foreign affairs correspondent — Andrea Mitchell — devotes, by my rough reckoning, ten times as much air time to whining about Sarah Palin as she does about anything having to do with foreign affairs, flooded the zone with "Have you no shame finger wagging." A memo went forth demanding that everyone at MSNBC get their dresses over their heads about the evil "tone" from the right. Media Matters went into overdrive working the interns 24/7 to "prove" that Republicans deliberately foment violence with their evil targets on their evil congressional maps.

. . .

So flashforward to this week. Tom Friedman — who knows a bit about Hezbollah — calls the tea partiers the "Hezbollah faction" of the GOP bent on taking the country on a "suicide mission." All over the place, conservative Republicans are "hostage takers" and "terrorists," "terrorists" and "traitors." They want to "end life as we know it on this planet," says Nancy Pelosi. They are betraying the founders, too. Chris Matthews all but signs up for the "Make an Ass of Yourself" contest at the State Fair.  Joe Nocera writes today that "the Tea Party Republicans can put aside their suicide vests." Lord knows what Krugman and Olbermann have said.

Then last night. on the very day Gabby Giffords heroically returns to cast her first vote since that tragic attack seven months ago, the Vice President of the United States calls the Republican Party a bunch of terrorists.

No one cares. I hate the "if this were Bush" game so we're in luck. Instead imagine if this wasDick Cheney calling the Progressive Caucus (or whatever they're called) a "bunch of terrorists" on the day Giffords returned to the Congress. Would the mainstream media notice or care? Would Meet the Press debate whether this raises "troubling questions" about the White House's sensitivity? Would Andrea Mitchell find some way to blame Sarah Palin for Dick Cheney's viciousness? Would Keith Olberman explode like a mouse subjected to the Ramone's music in "Rock and Roll High School?"  Something inside me hidden away shouts "Hell yes they would!"

The Today Show even had Debbie Wasserman Schultz on this morning for five minutes talking about Giffords. No one thought to ask her what she thought of Biden's comments? It's not like she's the Democratic Party's national spokesperson or anything. Oh, wait. She is!
I have to give a hearty "AMEN" to Jonah's concluding sentences.
Well, go to Hell. All of you.
I find all of this particularly laughable considering that I spent time in the eye doctor's office this morning straining to read Rolling Stone with my contacts out.  I'm not sure what was rougher on the eyes – the drops they put in them or reading that trash.  At any rate, there was a rather long feature story on, what else, but the evils of Fox News.  Yes, that bastion of journalistic integrity, Rolling Stone, is calling Fox News a propaganda arm of the GOP.  It was your typical hysterical screed about Fox's bias, made all the more ironic considering the author's failure to note the 2×4 stuck in his eye.
Vice President Joe Biden was in Rome today to mark the 150th anniversary of Italy's unification. While there, he met privately with Pope Benedict XVI. Biden is a Mass-attending Catholic who supports "abortion rights". Many of the Catholic faithful have called for his excommunication due to his support for abortion. No official announcement has been made, as of this writing, in regard to this visit.
In February, 2009, pro-abortion Congresswoman and then-House Speaker Nancy Pelosi met privately with Pope Benedict XVI. The Vatican issued a statement afterward that was widely considered to be a scolding.
"His Holiness took the opportunity to speak of the requirements of the natural moral law and the Church's consistent teaching on the dignity of human life from conception to natural death which enjoin all Catholics, and especially legislators, jurists and those responsible for the common good of society, to work in co-operation with all men and women of good will in creating a just system of laws capable of protecting human life at all stages of its development."
Official announcements from the Vatican are available at the Vatican Information Service blog.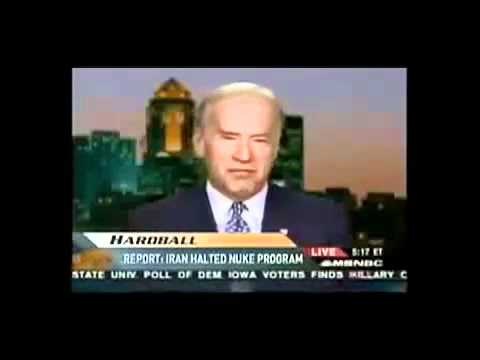 Perhaps President Obama can put Joe, Veep and beloved National Clown, in charge of answering the following letter from Speaker of the House Boehner? Continue reading →