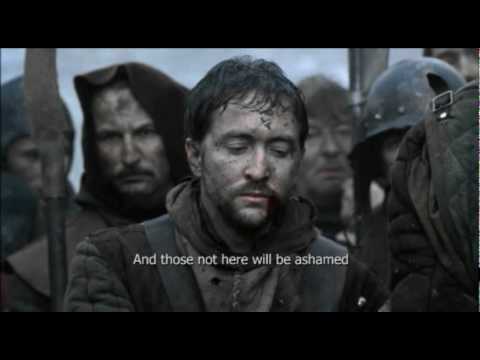 Something for the weekend.  Agincourt by the ever talented folks at History for Music Lovers, to the tune of As Tears Go By, by Marianne Faithful.
October 25, 1415 was an amazing day for the English.  The English longbow had long proved in the Hundred Years War to be a devastating weapon in the hands of skilled archers, but rarely had the English faced such long odds as they did at Agincourt.  Approximately 6,000 English, exhausted and worn from their march, faced approximately 30,000 French.  About five out of six of the English were archers with the remainder men-at-arms, knights and nobility.  The French had about 10,000 men-at-arms, knights and nobility, and 20,000 archers, crossbowmen and miscellaneous infantry.
The English established their battle line between the woods of Agincourt and Tramecourt, which offered excellent protection to both of their flanks.  The English archers made up the front line with stakes set in the ground before them to impale charging horses.  Archers were also placed in the woods to provide flanking fire against advancing French.  The men at arms and knights and nobility, were divided into three forces behind the archers.  They fought on foot.
The terrain between the woods that the French would have to cross in their attack of the English consisted of newly ploughed, and very muddy, fields.  Having walked through muddy fields on several occasions in rural Illinois, I can attest that simply getting from point A to point B in such terrain can be exhausting, let alone fighting at the end of the tramp through the morass. Continue reading →