Christmas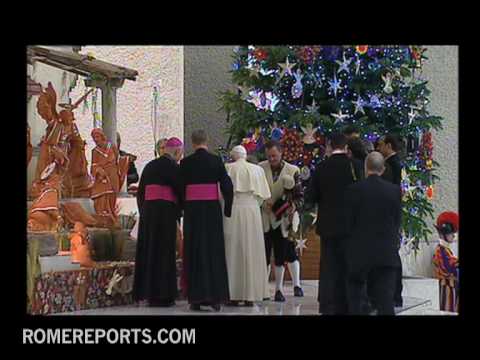 Here is the text of Pope Benedict's Christmas Eve Homily:
Dear Brothers and Sisters! "A child is born for us, a son is given to us" (Is 9:5). What Isaiah prophesied as he gazed into the future from afar, consoling Israel amid its trials and its darkness, is now proclaimed to the shepherds as a present reality by the Angel, from whom a cloud of light streams forth: "To you is born this day in the city of David a Saviour, who is Christ the Lord" (Lk 2:11). The Lord is here. From this moment, God is truly "God with us". No longer is he the distant God who can in some way be perceived from afar, in creation and in our own consciousness. He has entered the world. He is close to us. The words of the risen Christ to his followers are addressed also to us: "Lo, I am with you always, to the close of the age" (Mt 28:20). For you the Saviour is born: through the Gospel and those who proclaim it, God now reminds us of the message that the Angel announced to the shepherds. It is a message that cannot leave us indifferent. If it is true, it changes everything. If it is true, it also affects me. Like the shepherds, then, I too must say: Come on, I want to go to Bethlehem to see the Word that has occurred there. The story of the shepherds is included in the Gospel for a reason. They show us the right way to respond to the message that we too have received. What is it that these first witnesses of God's incarnation have to tell us?
Little Drummer Boy is one of my favorite Christmas songs of all time and I surprisingly stumbled across the Celtic Woman version of this song.  Celtic Woman is an all-female musical ensemble which I came across on YouTube earlier this year and they are delightfully good!
This version of the popular Christmas song has Gregorian chant in it, I'm not sure who scored this, but it works very well with Celtic Woman's version of Little Drummer Boy.

Here is the original music by the Harry Simeone Chorale: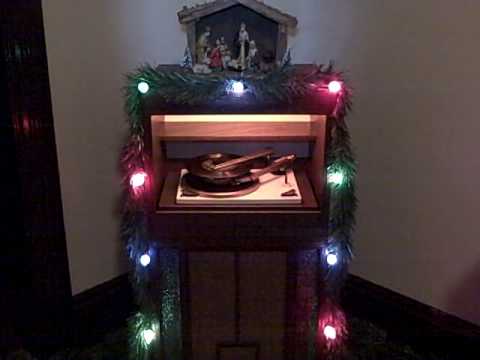 And finally here is the Vienna Boys Choir rendition of this song:
My favorite line of the song is "then He smiled at me".
Gets me every time.
Long live Christ the King!
Have a blessed Christmas.
There is an old tradition that Washington prayed in the snow at Valley Forge on Christmas Day 1777.  Certainly the wretched condition of the Continental Army in December of 1777, with a hungry winter beginning, would have driven commanders less pious than Washington to their knees.  However, Washington was pious and prayed every day.
The tradition rests on this account of the Reverend Nathaniel Randolph Snowden, a Presbyterian Minister in Philadelphia who lived from 1770-1851 and who wrote the following: Continue reading →
In my brief life on earth I have not experienced such high unemployment amongst my family and friends this year than ever before.  As each week passes I hear of another friend or acquaintance who has lost his or her job.
This is the worst recession I have seen and I don't see any signs that it will let up for the next 9-12 months.  So I find it appropriate that a simple request to all our readers to make time this evening prior to going to bed and include those that are unemployed, especially those with families and dependents in your prayers.
With extra time on our hands the unemployed can remain steadfastly busy by working on their faith through prayer and service.  For when work does come around there will not be time for such activities.
The following prayer is a traditional Catholic prayer that I have used from time to time due to the nature of my work of being an independent contractor and one that helps to put life in proper perspective and order:
Dear Lord Jesus Christ,
You wanted all who are weary
To come to You for support.
Lord, I am worn out
By my inability to find work.
Guide my steps to a righteous path;
Give me the patience
To find opportunities with a future.
Calm my worries and fears
As my financial responsibilities mount.
Strengthen my resolve;
Embolden my heart to open doors;
Open my eyes to see life beyond rejections.
Help me believe in me.
Let me realize other ways
To bring about Your kingdom on earth.
Let me grow as a person
That I may be worthy
For Your greater glory.
In the name of the Father, Son, and Holy Spirit,
Amen.
Saint Joseph has been especially helpful for me and I strongly recommend him for those seeking employment:
Dear Saint Joseph, you were yourself once faced with the responsibility of providing the necessities of life for Jesus and Mary. Look down with fatherly compassion upon me in my anxiety over my present inability to support my family. Please help me to find gainful employment very soon, so that this heavy burden of concern will be lifted from my heart and that I am soon able to provide for those whom God has entrusted to my care. Help us to guard against bitterness and discouragement, so that we may emerge from this trial spiritually enriched and with even greater blessings from God.
Amen.
Hattip to Ed Morrissey at Hot Air.  As someone who received an undergraduate degree in the teaching of social studies, I am never very surprised when a school administration decides to engage in an act of public stupidity, however, this incident is in a class all by itself.
A second grade student at the Maxham Elementary School in Taunton, People's Republic of Massachusetts, was sent home from school after drawing a picture of Jesus on the cross.  The student made the drawing in response to a class assignment that the students draw something that reminded them of Christmas.  Apparently the student's dullard teacher decided that the drawing of the cross was too violent.  The school administration, in a move which hearkens back to the old Soviet Union placing dissidents in psych wards, decreed that not only would the child be sent home, but that he would have to undergo a psych evaluation.
In recent years Halloween has gone from a primarily child-oriented holiday to an occasion of commercial importance comparable to Christmas or Easter. National retail sales figures indicate that Halloween is the 6th biggest holiday for retailers — behind Christmas, Valentine's Day, Easter, Mother's Day and Father's Day — and rapidly gaining ground, particularly among young adults.
The trend has now sparked a movement of sorts — led by the Spirit Halloween retail chain — to move Halloween permanently to the last Saturday in October. Their online petition at this link (http://www.spirithalloweekend.com/ ) asks Congress to lend its official endorsement to the change, although that would not be strictly necessary since Halloween is not a federal or national holiday.
"Let every heart prepare Him room …"
The twenty-fifth day of December.
In the five thousand one hundred and ninety-ninth year of the creation of the world
from the time when God in the beginning created the heavens and the earth;
the two thousand nine hundred and fifty-seventh year after the flood;
the two thousand and fifteenth year from the birth of Abraham;
the one thousand five hundred and tenth year from Moses
and the going forth of the people of Israel from Egypt;
the one thousand and thirty-second year from David's being anointed king;
in the sixty-fifth week according to the prophecy of Daniel;
in the one hundred and ninety-fourth Olympiad;
the seven hundred and fifty-second year from the foundation of the city of Rome;
the forty second year of the reign of Octavian Augustus;
the whole world being at peace,
in the sixth age of the world,
Jesus Christ the eternal God and Son of the eternal Father,
desiring to sanctify the world by his most merciful coming,
being conceived by the Holy Spirit,
and nine months having passed since his conception,
was born in Bethlehem of Judea of the Virgin Mary,
being made flesh.
The Nativity of our Lord Jesus Christ according to the flesh.
For this Holy Night, O Holy Night sung by Renee Fleming.
One of the things I love most about our country is that it is not a state built to give expression to a particular "nationality" in the sense that swept the world like an plague in the 19th and 20th centuries. Our country shares a set of political ideals and cultural touchstones, but it is also a glorious mix of different traditions which we, as a nation of immigrants, have brought with us and continued to develop here.
In honor of which — and because it seemed to me that perhaps we could use a "getting to know each other" thread around here — I take the liberty of cross posting the following from my personal blog:
The feast of the nativity of Our Lord has traditionally been a time for feasting and the gathering of family and friends. And since taste and smell are powerful hooks for memory, many of us have intense connections to various Christmas foods and drinks. The other holiday here in the US which is heavily food-centric is Thanksgiving, yet with a few familial variations, the Thanksgiving food palette is pretty well defined. Christmas food traditions, however, are pretty various.
It is Christmas time, and as become increasingly frequent in past years, we have atheists who are quite upset about the whole Christmas gig. This time, they have posted a sign next to a nativity scene erected at the state capitol in Olympia, Washington, which states in part:
"There are no gods, no devils, no angels, no heaven or hell. Religion is but myth and superstition that hardens our hearts and enslaves our minds."