Admiral David G. Farragut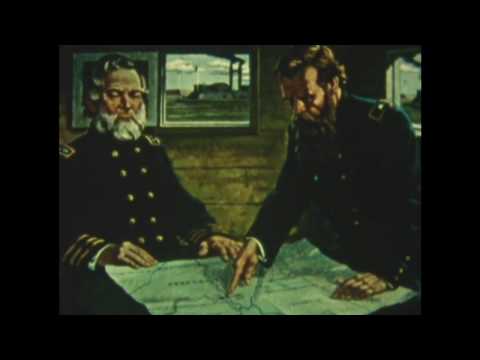 The largest city of the Confederacy, New Orleans also controlled all shipment from the Mississippi and into the Mississppi.  Even a cursory look at a map would indicate that New Orleans was a crucial city for the Confederacy and a crucial target for the Union.  In early 1862 the Union assembled a force to take this prize:  18,000 soldiers commanded by Major General Benjamin Butler, and a naval armada under Flag Captain David G. Farragut, 6o years old, but possessed of energy that few men in their twenties possess, and a veteran of over half a century of service in the Navy.
In Mid-March Farragut began moving his fleet into the mouth of the Mississippi.  The approach to New Orleans up the Mississippi was guarded by two Confederate forts:  Jackson on the west bank and Saint Philip on the east bank.    The Confederate defenses were aided on the river by three ironclads:  the CSS Manassas, the CSS Mississippi, and the CSS Louisiana, backed up by an improvised fleet of converted merchant vessels, gunboats and rams, none of which stood any chance against the might of the Union fleet.  If Farragut's force was going to be stopped, it would have to be by the forts.
From April 18-April 23 the forts were bombarded by 26 mortar schooners under the command of Farragut's foster brother Captain David Porter, with whom Farragut had an uneasy relationship.  Porter had used his influence in Washington to require Farragut to give him the chance to reduce the forts by bombardment.  Farragut was sceptical and he was right.  Although the bombardment was fierce, the forts remained in action.  On the 24th, Farragut successfully had his ships run past the forts, destroying the Confederate fleet in the process.  Almost defenseless New Orleans surrendered to the fleet after three days of negotiation on April 29.  Butler's army took the forts bloodlessly on the 29th, aided by a mutiny of the Confederate troops at Fort Jackson.  The richest strategic prize of the War fell to the Union swiftly, and with amazingly few casualties.  Farragut was promoted to Rear Admiral for this feat, the first admiral in US history.  The Union took a large step to victory with the fall of the Crescent City. Continue reading →