Monthly Archives:
March 2012
Recently I followed the twitter feed of the National Institute of Marriage (NOM), an organization that is fighting efforts to permit gay marriage.  There is another twitterer with the blog handle Ifollowhate, and he (or she, or maybe they) follows every person who follows the NOM account, and promptly tweets to said person, "why do you follow a hate group?"  I thought little of it and didn't bother to respond, so I just blocked this account.  Then I thought about this.  There is a person (again, maybe more than one person is attached to the account) who spends their entire day parked on twitter, seeing who follows another twitter user, ready to pounce on any individual who dares follow this group.  (NOTE: Not exactly – see comments.  This is an automated program, though the Ifollowhate twitter account does followup with other twitter users.)
What a sad existence.  Imagine if your entire life was spent devoted to nothing more than harassing people you disagree with politically, accusing them of being (or following) a hate group.  Yet the mentality that drives such a person (or group) is more and more common.
In Los Angeles, the City Council passed a resolution that condemns certain types of speech on the radio. Continue reading →
Charles Sykes, of the Wisconsin Policy Institute, has a superb article on the Entitlement Mentality which is sinking the country:
The cultural shift has become so pronounced today that even some progressives are showing signs of unease. Were it not for her impeccable ideological pedigree, Alexandra Pelosi, daughter of Nancy Pelosi, former Speaker of the House, might have irreparably damaged her standing with her mother's friends when she produced a brief video for HBO about her recent encounters outside a New York welfare office. In the Pelosi video, a man waiting in line is drinking beer and smoking cigarettes as he admits that he's fathered five children by four different mothers. "I'm here to get a check … whatever they've got to offer," he explains. "It's not like they've got a checklist … I'm just here to get what I can get."
Of course he was. 
In the video, Alexandra Pelosi quizzes one man: "Why should I help you? Why should my tax dollars be going to you?" He replies, "Because my ancestors came here to help build this place – my ancestors, the slaves." The last time the man worked, he says, was "half a decade" ago. Continue reading →
There is some excitement that oral arguments are going well for opponents of Obamacare.  Though oral arguments are not perfectly indicative of how the Supreme Court will vote in the end, there is some cause for guarded optimism.  That being said, even if the Court completely strikes down Obamacare, it will be something of a hollow victory.
Don't get me wrong.  There is no other correct course of action for the Court to take than to strike down the individual mandate and thus effectively kill Obamacare.  It is one of those remarkable monstrosities that happens to be both bad policy and unconstitutional.  The problem is that something this monumental is essentially being decided on the whims of a single Justice.  How did we reach the point where our basic liberties come down to what Anthony Kennedy may have had for breakfast one day?
I don't mean to be flip, but it feels like we've taken a very wrong turn somewhere along the line.  Continue reading →
Our progress in degeneracy appears to me to be pretty rapid. As a nation, we began by declaring that "all men are created equal." We now practically read it, "all men are created equal except negroes." When the Know-nothings get control, it will read, "all men are created equal except negroes and foreigners and Catholics." When it comes to this, I shall prefer emigrating to some country where they make no pretense of loving liberty–to Russia, for instance, where despotism can be taken pure, and without the base alloy of hypocrisy.
ABRAHAM LINCOLN, letter to Joshua F. Speed, Aug. 24, 1855
SHADOWED so long by the storm-cloud of danger,
Thou whom the prayers of an empire defend,
Welcome, thrice welcome! but not as a stranger,
Come to the nation that calls thee its friend!
Bleak are our shores with the blasts of December,
Fettered and chill is the rivulet's flow;
Throbbing and warm are the hearts that remember
Who was our friend when the world was our foe.
Look on the lips that are smiling to greet thee,
See the fresh flowers that a people has strewn
Count them thy sisters and brothers that meet thee;
Guest of the Nation, her heart is thine own!
Fires of the North, in eternal communion,
Blend your broad flashes with evening's bright star!
God bless the Empire that loves the Great Union;
Strength to her people! Long life to the Czar!
So Oliver Wendell Holmes wrote in 1871 in honor of the visit of Grand Duke Alexei, fourth son of Tsar Alexander II, as a good will ambassador to the US.  He encountered in the Northern states a vast reservoir of good will towards Russia for its steadfast support of the Union during the Civil War.  Russia and Great Britain were enmeshed in the cold war known as the Great Game for control of Central Asia.  The Russians viewed the United States as a power traditionally hostile to Great Britain and viewed the Civil War with alarm as a possible diminution of the power of the United States, along with a potential Anglo-Confederate alliance if the South achieved independence.  From the beginning the Russian government publicly proclaimed its support for the Union and its opposition to any attempt by other powers to intervene in the conflict. Continue reading →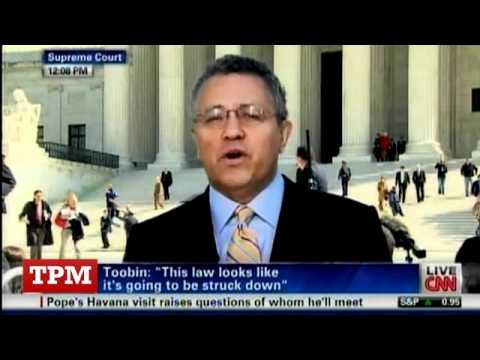 Day 2 of oral argument on ObamaCare.  Go here to read the transcript.  Go here to listen to an audio recording of the oral argument.  Today's argument focused on the constitutionality of the individual mandate and the argument did not seem to observers to go well for the Obama administration.   Jeffery Tobin, CNN's legal analyst, put it succinctly:
"This was a train wreck for the Obama administration," he said. "This law looks like it's going to be struck down. I'm telling you, all of the predictions including mine that the justices would not have a problem with this law were wrong… if I had to bet today I would bet that this court is going to strike down the individual mandate."
Toobin added that he felt that U.S. Solicitor General David Verrilli simply wasn't prepared for the conservative justices.
"I don't know why he had a bad day," he said. "He is a good lawyer, he was a perfectly fine lawyer in the really sort of tangential argument yesterday. He was not ready for the answers for the conservative justices."
Toobin also said he thought Justice Kennedy, the perennial swing vote, was a "lost cause" for supporters of the health care reform law. Continue reading →
Hattip to Ed Morrissey at Hot Air.  We have had a few hard core Gingrich supporters who have been commenting here recently.  If they have 50 bucks to shell out they can have a memento to remember the wild Gingrich for President campaign:
In a sign that his campaign is in need of fresh funds, Newt Gingrich on Monday began charging $50 to have a photograph taken with him following a campaign speech to Republican groups here in the northernmost part of the state.
It was the first time that the former House speaker has charged those attending one of his public speaking events to pose for a photograph with him. Lately, a member of his campaign staff has been snapping photos of any interested attendee and later posting them online at the campaign's website, newt.org.
On Monday night, those paying for a photograph were also told they could find their photos on Gingrich's website, after they had filled out a form providing their credit card information. Continue reading →
I would caution everyone from reading too much into the questions asked by the Justices on the first of three days of oral argument, but it was an interesting day of oral argument.  Go here to read the transcript.  Go here to listen to an audio recording of the oral argument.  My thoughts on the first day I will post this evening. Continue reading →