Monthly Archives:
April 2009
In honor of my son's first birthday this week:
Becoming a father has brought clarity to my soul- one could say spiritually and in other significant ways which relate back to the state of my eternal soul. I have always been political, but now I believe I really get what that means. Politics is treated like a game, a sport, a business; it is even viewed as a necessary evil by many. Politics and sex are similarly abused by many, and cheaply regarded by way too many. They aren't games, or sports, they are about loving others, taking care for the next generation. Politics and sex are holy, even if we do our best to undermine them and rob them of their inherent godly potential for good.
Consider the alternative to political organization- anarchy. Who benefits from that? The strong, the uncaring, the 'might makes right' crowd; certainly not the child, not the honest man looking for a stable situation to raise a family up in peace.
Previously I commented on the infantile morality of many on the left over the issue of abortion, particularly the 'double-standard' argument that says:
"If men get away with x, why can't women do it? If rich people can get x, why shouldn't the poor do it?"
I argued that instead of relaxing moral standards so that everyone can freely sin without shame or legal penalty, those who have indeed been guilty of getting away with offenses against people and society should somehow be held to account for it.
Now I face a different, yet equally infantile moral logic from some – I repeat, some – on the right. This time the issue is torture.
Pro-abort Republican Senator from Pennsylvania Arlen Specter is now pro-abort Democrat Senator Arlen Specter.  He does this of course because he realized that Pat Toomey would have creamed him in the Republican primary in 2010.  Instead, assuming that the Democrats are deluded enough to nominate him, Toomey will cream him in the general election.  This should be a prime race for all pro-lifers around the nation next year.
Update I: Hattip to Hot Air.  Here is Specter last month on the prospect of his switching parties:
"I am staying a Republican because I think I have an important role, a more important role, to play there. The United States very desperately needs a two-party system. That's the basis of politics in America. I'm afraid we are becoming a one-party system, with Republicans becoming just a regional party with so little representation of the northeast or in the middle atlantic. I think as a governmental matter, it is very important to have a check and balance. That's a very important principle in the operation of our government. In the constitution on Separation of powers."
Normally, I'd berate someone like this as a self-serving turncoat.  However my reaction is simple joy to have this political hack finally out of the GOP.
Update II:  The ever perceptive reptilians at Big Lizards Blog have an intriguing look at the upcoming Toomey-Specter match up in their post A Specter Is Haunting the Democratic Party.
UpdateIII: The Cranky Conservative has some thoughts here on Specter, including the observation that after 30 years in Washington Specter is the poster child for term limits.
Mary Ann Glendon, Learned Hand Professor of Law at Harvard, is in the limelight now for her decision to deprive Jenkins of his fig-leaf over his invitation to honor Obama on May 17, 2009.  I am not surprised by this development.  She has long been an eloquent defender of the unborn in a completely hostile environment.  She has written many articles on the subject.
For a number of years I have read the opinion pieces of a writer known only as "Spengler" in the Asia Times Online.  I enjoy his wit and his tight reasoning on many topics.  "Spengler" has now revealed that he is David P. Goldman, the new associate editor of First Things.  I am glad to see Mr. Goldman coming to First Things, but I confess to sadness that "Spengler" is no longer a mystery.   As bloggers know, a nom de plume can take on a life, and a character, separate from the keyboarder who creates it.  The substance of the writing of course remains, and that is most important, but a certain element of fun dies when the writer behind the assumed name is revealed.
Graduations are just around the corner, and I would assume that most high school seniors heading on to college next year have already picked their schools and are now navigating the treacherous waters of financial aid forms. However, 'tis the season, and with Catholic colleges somewhat in the news at the moment (and the realization that despite my thinking of myself as recently down from college I am in fact eight years out — with my eldest daughter likely heading off to college herself in eleven years) I thought it might be an appropriate time to assess the practicalities of Catholic higher education — or more properly, of higher education for Catholics.
In our social circle, I know a number of parents who proclaim that no child of theirs shall ever go to any but one of 3-5 approved, orthodox Catholic colleges. (The contents of these lists vary slightly depending on the speaker, but Thomas Aquinas, Steubenville, Ave Maria, Christendom, University of Dallas and Benedictine are names one hears often.) I find myself less of one mind on the question, in part because my wife and I both actually went to Steubenville (class of '01). My goal here is not to advocate one specific course as the only wise one for serious Catholics, but to lay out the advantages and disadvantages of all. I think there are basically two sets of concerns that parents have in these discussions, moral and academic. I shall begin with the moral.
Hattip to Hot Air.  Notre Dame's reaction to the stunning Glendon withdrawal:
"We are, of course, disappointed that Professor Glendon has made this decision. It is our intention to award the Laetare Medal to another deserving recipient, and we will make that announcement as soon as possible."
Now who could Jenkins get at the last moment?  Hmmm, someone on board with Obama, doesn't mind ticking off the bishops, nominally Catholic, nominally pro-life.  I have it!  The perfect candidate for Jenkins is here.
As Brendan noted a while back, the Notre Dame controversy, "has all the staying power of an inebriated relative after a dinner party." I'm loathe to post on it again, but there has been a fairly significant development: Harvard Law Professor Mary Ann Glendon has decided not to attend the graduation or accept the Laetare Medal. Here, via First Things is the text of her letter to Father Jenkins:
April 27, 2009
The Rev. John I. Jenkins, C.S.C.
President
University of Notre Dame

Dear Father Jenkins,

When you informed me in December 2008 that I had been selected to receive Notre Dame's Laetare Medal, I was profoundly moved. I treasure the memory of receiving an honorary degree from Notre Dame in 1996, and I have always felt honored that the commencement speech I gave that year was included in the anthology of Notre Dame's most memorable commencement speeches. So I immediately began working on an acceptance speech that I hoped would be worthy of the occasion, of the honor of the medal, and of your students and faculty.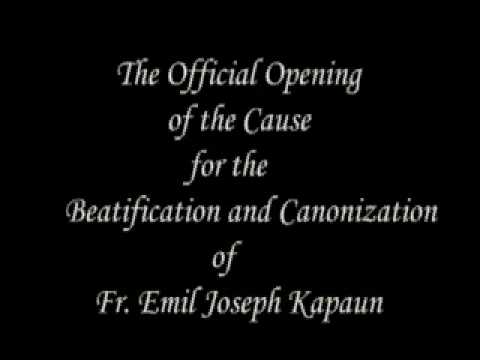 In the midst of a World War, Emil Kapaun was born in peaceful Pilsen, Kansas on August 20, 1916.  His parents were Czech immigrants and virtually everyone in the area spoke Czech.  From an early age Emil knew that he wanted to be a priest and would play mass with his younger brother. Continue reading →