In the wake of Sandra Fluke's testimony before several Democrat members of Congress, Mark Steyn has written what The Motley Monk believes is a superb analysis.  It's close to being one of those "come from behind, two outs, 1-and-2 count, bottom of the ninth inning, grand-slam homeruns" that wins the ballgame for the home team.
Sandra Fluke
Georgetown University Law Student
Steyn's article is well worth the read.  He's articulate, witty, and forcible, demonstrating the product of a truly liberal education: Conversancy with intellectual culture and taking no prisoners when engaging in the battle of the intellect.
Concerning Fluke's testimony and the ensuing brouhaha, Steyn writes:
…the most basic issue here is not religious morality, individual liberty, or fiscal responsibility. It's that a society in which middle-aged children of privilege testify before the most powerful figures in the land to demand state-enforced funding for their sex lives at a time when their government owes more money than anyone has ever owed in the history of the planet is quite simply nuts.
As good as Steyn's analysis and economic judgment is, The Motley Monk disagrees with one point Steyn makes:
Where was I? Oh, yes. The brave middle-aged schoolgirl had the courage to stand up in public and demand that someone else pay for her sex life.
No, sorry.  Ms. Fluke didn't demand that someone else pay for her sex life…and that's where Rush erred egregiously.  The Motley Monk believes Ms. Fluke was demanding something much more than simplistic "economic redistributionism."
Ms. Fluke wants taxpayers to foot the bill so that she won't have to deal with the consequences of satiating her sexual appetite.
The Motley Monk thinks this a very big "difference with a distinction," one to the heart of the anti-life agenda that many of those on the political left wholeheartedly embrace as dogma.
As adherents of that agenda would have it, there should be absolutely no consequences for satiating one's sexual appetite.  And that goes so far as to include murdering an innocent human life that has been conceived but has not yet been brought to term while satiating one's sexual appetite.
And that, The Motley Monk believes, is the significance of this flukey Congressional "hearing" and its ensuing fallout.
The Democrats who invited and hosted Ms. Fluke—especially U.S. House Minority Leader Nancy Pelosi—have given a name and a face to an agenda that is not primarily about religious morality, individual liberty, or fiscal responsibility.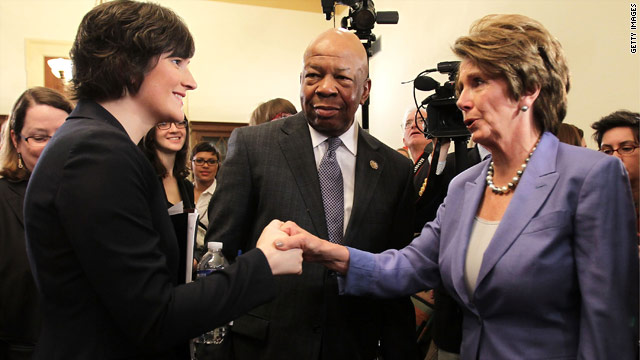 Important as those issues may be, the real agenda concerns Nature's law and personal responsibility.
Left or right.  Liberal or conservative.  It matters not.  Human beings are not free to violate Nature's laws and, then, to expect that there will be no consequences.  To quote the late-19th century American botanist Luther Burbank:
If you violate Nature's laws you are your own prosecuting attorney, judge, jury, and       hangman.
To read Mark Steyn's article, click on the following link:
http://www.nationalreview.com/articles/293094/fluke-charade-mark-steyn
To read The Motley Monk's daily blog, click on the following link:
http://themotleymonk.blogspot.com/