World War II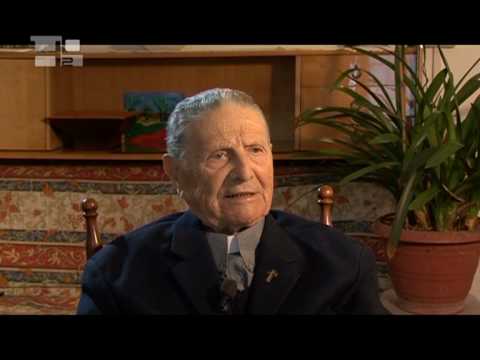 Christopher Johnson at The Midwest Conservative is at it again.  He is a non-Catholic who has taken up the cudgels so ofen in defense of the Faith that I have designated him Defender of the Faith.  He enters the lists now on behalf of the most unjustly maligned man of the last century, Pope Pius XII:
or, Whoops There Goes Another Liberal Cliche:
Pius XII has long been vilified as "Hitler's pope", accused of failing publicly to condemn the genocide of Europe's Jews. Now a British author has unearthed extensive material that Vatican insiders believe will restore his reputation, revealing the part that he played in saving lives and opposing nazism. Gordon Thomas,
Whoa, whoa, whoa, whoa.  Who is this guy, some trad Catholic?  Dude, that's special pleading, that's not genuine research, you blithering idiot.
a Protestant,
Never mind.
was given access to previously unpublished Vatican documents and tracked down victims, priests and others who had not told their stories before.
The Pope's Jews, which will be published next month, details how Pius gave his blessing to the establishment of safe houses in the Vatican and Europe's convents and monasteries. He oversaw a secret operation with code names and fake documents for priests who risked their lives to shelter Jews, some of whom were even made Vatican subjects.
Thomas shows, for example, that priests were instructed to issue baptism certificates to hundreds of Jews hidden in Genoa, Rome and elsewhere in Italy. More than 2,000 Jews in Hungary were given fabricated Vatican documents identifying them as Catholics and a network saved German Jews by bringing them to Rome. The pope appointed a priest with extensive funds with which to provide food, clothing and medicine. More than 4,000 Jews were hidden in convents and monasteries across Italy.
During and immediately after the war, the pope was considered a Jewish saviour. Jewish leaders – such as Jerusalem's chief rabbi in 1944 – said the people of Israel would never forget what he and his delegates "are doing for our unfortunate brothers and sisters at the most tragic hour". Jewish newspapers in Britain and America echoed that praise, and Hitler branded him "a Jew lover". Continue reading →
The last of the Andrews Sisters, Patty Andrews, died yesterday at 94.  The daughters of a Greek immigrant and a Norwegian-American mother in Minnesota, the Andrews Sisters were an amazingly successful singing act, selling over 75 million records.  They were also ardent patriots.
During World War II the Andrews Sisters tirelessly performed for the USO stateside and in Africa and Italy.  They were enormously effective at selling war bonds with their rendition of Irving Berlin's Any Bonds Today.  They helped found The Hollywood Canteen and donated their time to perform there, a memorable pleasant stopping off point for sailors, marines, soldiers and airmen on their way to the hell of war in the Pacific.  When they were entertaining troops they often would pick three servicemen at random to dine with them after the show.  Performing so frequently on Armed Forces Radio, they were designated the Sweethearts of the Armed Forces Radio Service.  They recorded millions of V-Disks for distribution of their songs to the troops.  Continue reading →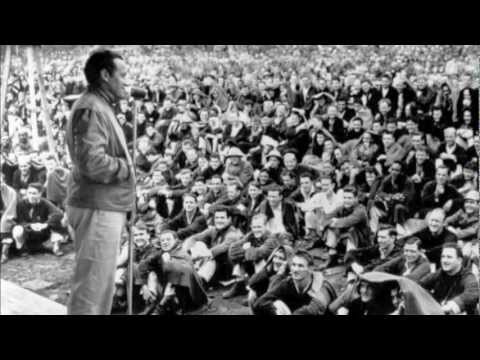 Something for the weekend.  The song Thanks for the Memory made immortal by comedian Bob Hope.  One of the great stand up comedians of all time, Hope was also a true patriot: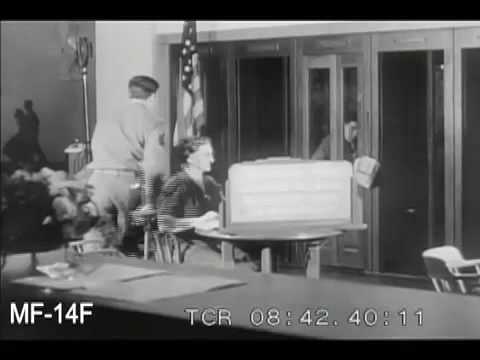 For fifty years Bob Hope entertained US troops, from 1941-1991, from World War 2 to the Gulf War.  He brought old jokes, delivered in an unforgettable style, beautiful starlets, and a touch of home to troops far away from home.   As long as there is a US military Bob Hope will never be forgotten.  I have had many veterans tear up when recalling attending a Bob Hope show in a war zone, a bright moment in a fairly grim period of their lives. Continue reading →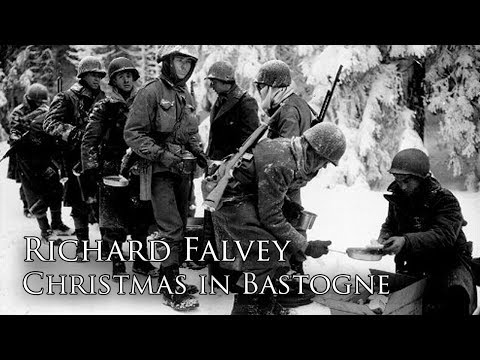 Sixty-eight years ago at Christmas the American and German armies were fighting it out in the Battle of the Bulge, the last German offensive of the War.
Patton's Third Army fought its way through to relieve the Americans desperately fighting to defeat the attacking German forces.  The weather was atrocious and Allied air power was useless.  Patton had a prayer written for good weather. The skies cleared after Patton prayed the weather prayer, and Allied air power was unleashed on the attacking Germans.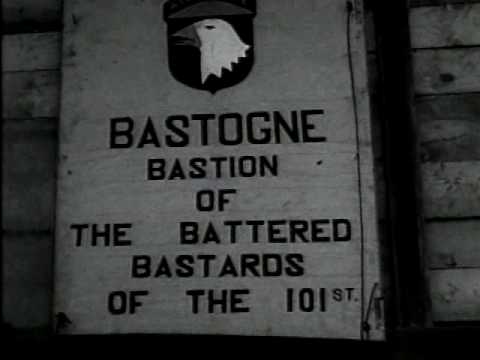 During the Battle of the Bulge, the 101st Airborne Division made a heroic stand at Bastogne from December 20-27 which helped turn the tide of the battle. Massively outnumbered, battle weary from already having done more than their share of fighting in Normandy and Operation Market Garden and short on food and ammo, they stopped the advancing Germans cold in their tracks.
On December 25, a packed midnight mass was held in Bastogne, with Brigadier General Anthony McAuliffe, who commanded the 101st troops at Bastogne, in attendance.  Afterwards the General listened to German POWS singing Silent Night, and wished them a Merry Christmas.
General McAuliffe issued a memorable Christmas message to his troops:
Continue reading →
Sadly it often takes tragedies for religious faith to grow. It seems an unfortunate part of our fallen nature. We have been hit by a spate of tragedies as of late; in its wake we often see churches full of worshippers seeking answers where once there were but a few. Following both world wars, there existed a religious resurgence that unlike the recent tragedies did not ebb and flow. It remained constant due in large part to the horrific loses of human life.
Modernism was alive and well and condemned by the likes of Pope Pius X even before the Guns of August began in 1914. The Catholic and Protestant churches were increasingly seeing relativistic elements entering their seminaries. However unlike recent times, they were quickly addressed. Though we are gaining the upper hand, it has been 40 years since Pope Paul VI lamented that "The Smoke of Satan" had entered the Church. In my just released book; The Catholic Tide Continues to Turn, I speak about the positive events occurring within the Church, as well as those movements who aim to do us harm. In addition, the book delves into how we got into this mess in the first place.
Following World War I there was a great return to religious devotions, especially those having to do with the Blessed Mother. The events of Fatima which had occurred during the war and were being followed closely around the Catholic globe. As I mentioned in my article on the Schoenstatt Movement, the likes of Father Josef Kentenich chastised theological authorities who were giving short shrift to these devotions as well as those who dismissed popular devotions to those who recently passed away like the future Saint Therese of Lisieux (The Little Flower.) Father Kentenich reminded these scoffers that Jesus did indeed say that we must become like little children if we are to enter the Kingdom.
The well heeled of Europe and many American ex pats found their way to Paris to rebel against the religious side of the equation. On the whole, they were a gloomy lot who seemed to drown their sorrows in all matter of drink and sexual exploits which only made them more unbearable. Some even found their way to more exotic locales like Casablanca, as did the fictional Rick Blaine (Humphrey Bogart) in the epic film Casablanca. Continue reading →
The gratitude of every home in our Island, in our Empire, and indeed throughout the world, except in the abodes of the guilty, goes out to the British airmen who, undaunted by odds, unwearied in their constant challenge and mortal danger, are turning the tide of the World War by their prowess and by their devotion. Never in the field of human conflict was so much owed by so many to so few.
Prime Minister Winston Churchill
The last of the few who helped save Western Civilization in the Battle of Britain 72 years ago has died.
Flight Lieutenant William Walker, who has died aged 99, was shot down in his Spitfire during the Battle of Britain and wounded. Late in his life, having become the oldest surviving pilot of the Battle, he wrote poetry in memory of his fellow aircrew.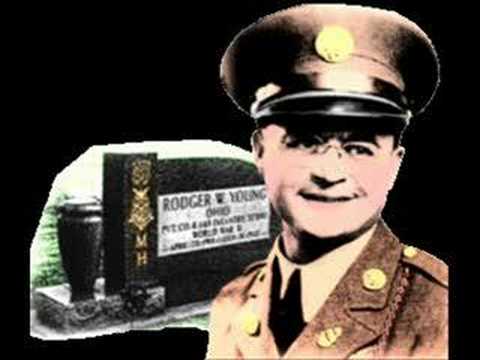 Something for the weekend.  The Ballad of Roger Young.  Born on April 28, 1918 in Tiffin, Ohio, Rodger Young had a happy childhood until in a basketball game in high school he received a head injury which affected his hearing and his eyesight.  He dropped out of high school in his sophomore year because he could not hear the teachers and could not see the blackboards.
A small man physically, along with his hearing and eyesight problems, Young would have seemed to have been totally unsuited to be a soldier.  Nevertheless, Young joined the National Guard in Ohio in 1938.  He made a good soldier and rose to the rank of Sergeant. He was assigned to Company B of the 148th Infantry Regiment.  With the coming of World War II his regiment was assigned to fight on New Georgia.
Shortly before his unit arrived in New Georgia Young took a voluntary demotion to private.  He was by now almost completely deaf and his eyesight was worse and he didn't think under these conditions he could perform the duties of a squad leader.  With these disabilities his commanding officer wanted to send Young to the hospital.  Young pleaded his case to remain with his unit with such passion, that he was allowed to stay with Company B.
A week after his unit landed in New Georgia, Young was part of a 20 man patrol near Munda that ran into a Japanese ambush.  What he did next earned Young the Medal of Honor and cost him his life.  Here is the text of his Medal of Honor citation:
Continue reading →
Something for the weekend.  Fanfare for the Common Man by Aaron Copland.  Composed seventy years ago, it was Copland's reaction to the US entering World War II.  Watching the video above, a salute to the soldiers of World War II, brought back memories from 36 years ago for me.
Back in the summer of 1976 I was on vacation between my freshman and sophomore years at the University of Illinois.  My father ran the steel shears at a truck body plant in Paris, Illinois.  They were hiring summer help and I got a job working on the factory floor.  Although I liked the idea of earning money, I was less than enthused by the job.  The factory floor was not air-conditioned, and the summer was hot.  Additionally I had never worked in a factory before, had no experience with heavy machinery and did not know what to expect.
I was placed under the supervision of a regular worker at the plant.  He looked like he was a thousand years old to me at the time, but I realize now that he was younger than than I am now at age 55.  I would assist him at a press in which we would manhandle heavy sheets of steel and use the press to bend them into various shapes.  Before we began he pointed to a little box and said that if I lost a finger or a part of a finger as a result of the press, I should toss it in the box and proceed with the job.  Thus I was introduced to his macabre sense of humor.
I didn't appreciate it at the time, but he was engaged in a rough and ready form of instruction.  He had to take a completely green kid, and teach me various tasks, all the while keeping up with the jobs the press was assigned.  He did it pretty skillfully, and I learned.  I never got to like the job, but I learned how to do it.  I also learned to grudgingly respect my mentor.  He obviously wasn't well read, but he was handy with machinery, and under his tutelage I learned how to operate the press without losing one of my digits, or costing him one of his.  He kept me out of trouble at the factory, and included me in his conversations with his fellow veteran workers.  All in all I probably learned more that summer of future value for me in life, than I learned from any of my courses in college.
One day during the half hour we had for lunch, I asked him if he had served in World War II.  I was in Army ROTC at the University, and I had a keen interest in military history.  He told me that he had been an infantryman in the Army and that he had participated in Operation Torch. Continue reading →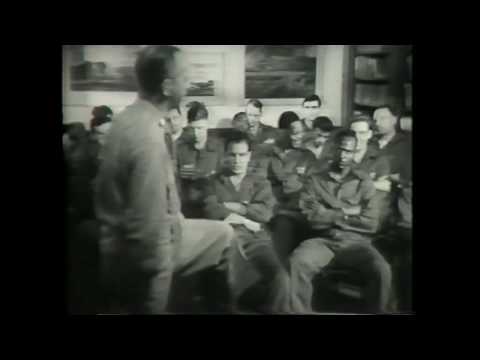 to care for him who shall have borne the battle
Abraham Lincoln
During World War II director John Huston produced three films for the US government.  Let There Be Light was shot for the Army Signal Corps.  It covers the treatment of 75 US soldiers traumatized by their combat experiences in World War II.  The film is narrated by Walter Huston, the academy award-winning actor father of John Huston.  The Army brass did not like the finished product, thinking that its focus on men who suffered psychological damage from their service could be demoralizing to the troops, and banned the film on the grounds that it invaded the privacy of the soldiers featured in the film and that the releases they signed had been lost.  (This reason was pretextual, but as a matter of law I would not place any reliance on a release signed by someone undergoing mental treatment standing up for an instant in court.)
Continue reading →