World War I
Sadly it often takes tragedies for religious faith to grow. It seems an unfortunate part of our fallen nature. We have been hit by a spate of tragedies as of late; in its wake we often see churches full of worshippers seeking answers where once there were but a few. Following both world wars, there existed a religious resurgence that unlike the recent tragedies did not ebb and flow. It remained constant due in large part to the horrific loses of human life.
Modernism was alive and well and condemned by the likes of Pope Pius X even before the Guns of August began in 1914. The Catholic and Protestant churches were increasingly seeing relativistic elements entering their seminaries. However unlike recent times, they were quickly addressed. Though we are gaining the upper hand, it has been 40 years since Pope Paul VI lamented that "The Smoke of Satan" had entered the Church. In my just released book; The Catholic Tide Continues to Turn, I speak about the positive events occurring within the Church, as well as those movements who aim to do us harm. In addition, the book delves into how we got into this mess in the first place.
Following World War I there was a great return to religious devotions, especially those having to do with the Blessed Mother. The events of Fatima which had occurred during the war and were being followed closely around the Catholic globe. As I mentioned in my article on the Schoenstatt Movement, the likes of Father Josef Kentenich chastised theological authorities who were giving short shrift to these devotions as well as those who dismissed popular devotions to those who recently passed away like the future Saint Therese of Lisieux (The Little Flower.) Father Kentenich reminded these scoffers that Jesus did indeed say that we must become like little children if we are to enter the Kingdom.
The well heeled of Europe and many American ex pats found their way to Paris to rebel against the religious side of the equation. On the whole, they were a gloomy lot who seemed to drown their sorrows in all matter of drink and sexual exploits which only made them more unbearable. Some even found their way to more exotic locales like Casablanca, as did the fictional Rick Blaine (Humphrey Bogart) in the epic film Casablanca. Continue reading →
I must admit a certain reticence to writing this article because I don't think in one article I can truly do the Schoenstatt Movement justice, but the movement's nearly 100 year old story and that of its founder Father Josef Kentenich really needs to be told. In 1914 a young German priest Father Kentenich started a movement that was so unique it took nearly 50 years before many would understand the groundbreaking effects it could have on the Church. This future saint would not only survive the suspicions of some on the theological left and right, but he would also survive Dachau. He died in 1968, the same year as another misunderstood priest, Saint Padre Pio.
When writing my just released book, The Catholic Tide Continues to Turn,  even I was stunned about the new movements that keep cropping up within the Church, even as so many have written off the Church. Indeed this is the History of the Church, when one thinks she is coming under attack by the dark side, she only grows stronger in faith due to her burgeoning movements.
However, Father Kentenich left behind an amazing outlook which every believer should emulate and a perseverance that few could imagine. In a modern world full of individuals making millions of dollars on self help, pep talks and new age "spiritual guidance," Father Kentenich reminded everyone that Jesus is our true Spiritual Guide and His Blessed Mother the model for us all to follow. Continue reading →
When You Go Home, Tell Them Of Us And Say, For Your Tomorrow, We Gave Our Today
Inscription on the memorial to the dead of the British 2nd Infantry Division at Kohima.
World War I was a ghastly conflict with tens of millions of men slaughtered in all the horrors that war in the industrial age was capable of mustering.  After the War which ended on the eleventh hour of the eleventh day of the eleventh month, Veterans Day was set aside on November 11 to honor those men who had fought with courage for their country.  In our country Veteran's Day eventually came to honor all those who had served in the military.  As Lincoln said at Gettysburg, "It is all together fitting and proper that we do this."  Why it is important that we do that I will leave to Father Francis P. Duffy who served as a chaplain with the Fighting 69th in France in World War I.  You may read prior posts about him here and here.  Father Duffy was a man of faith and courage, so much courage that it was proposed that he be nominated for the Medal of Honor until he laughed at the idea.  His leadership skills were so valued that General Douglas MacArthur even briefly considered placing him, a chaplain, in command of the 69th, which would have been a first in American military history.  When the 69th got back to New York after the War Father Duffy wrote about its reception and why it was important to honor the men who had served, and, especially, the silent victors who remained in graves in France:
It was a deserved tribute to a body of citizen soldiers who had played such a manful part in battle for the service of the Republic. The appreciation that the country pays its war heroes is for the best interest of the State. I am not a militarist, nor keen for military glory. But as long as liberties must be defended, and oppression or aggression put down, there must always be honor paid to that spirit in men which makes them willing to die for a righteous cause. Next after reason and justice, it is the highest quality in citizens of a state. Continue reading →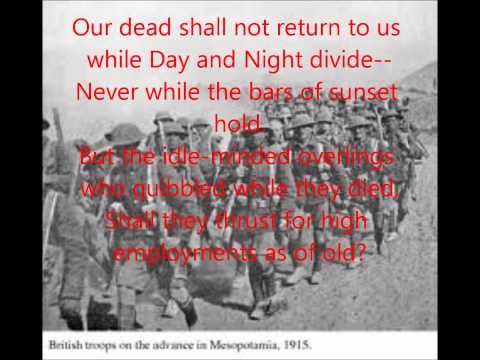 The fifteenth in my ongoing series examining the poetry of Rudyard Kipling. The other posts in the series may be read here, here , here , here,  here , here, here, here, here , here, here, here , here and here.
At National Review Online they had the superb idea of taking Kipling's poem Mesopotamia and applying it to the Benghazi debacle.  The Mesopotamian, modern day Iraq, Campaign had been a disaster for the British in 1916 with a British army surrendering to the Turks at Kut.  British public opinion was outraged at the incompetence that led to the defeat.  When a report by the government on Kut was published in 1917, Kipling responded with his devastating poem.  (Ironically the British in 1917, under the able General Frederick Maude, had succeeded in capturing Baghdad by the time the poem appeared.)  The lines of the Kipling poem do seem to apply word for word to the Benghazi shame: Continue reading →
Joao Baptista DeValles was born in 1879 in Saint Miquel in the Azores.  At the age of 2 his family moved to New Bedford, Massachusetts.  His first name anglicized to John, he quickly proved himself a brilliant student, eventually being fluent in six languages.  Ordained a priest in 1906 he served at Falls River at Espirito Santo Church, founding the first Portuguese language parochial school in the United States while he was there.  He later served at Our Lady of Mount Carmel in New Bedford and was pastor at Saint John the Baptist Church, also in New Bedford.
After the entry of the US into World War I, he joined the Army as a chaplain, serving with the 104th regiment, a Massachusetts National Guard outfit, part of the Yankee (26th) Division, made up of National Guard units from New England.  The Yankee Division arrived in France in September 1917, the second American division to arrive "Over There".
The 104th was a hard fighting outfit, serving in all of the major campaigns of the American Expeditionary Force.  For heroic fighting at Bois Brule in April, 1918 the French government awarded the regiment a collective Croix de Guerre, an unprecedented honor for an American military unit.  There were quite a few very brave men in the 104th, and among the bravest of the brave was Chaplain DeValles.  For his heroism in rescuing wounded, he was awarded the Distinguished Service Cross, the second highest decoration for valor in the United States Army.  Here is the text of the citation:
104th Infantry Regiment, 26th Division, A.E.F. Date of Action: April 10 – 13, 1918 Citation: The Distinguished Service Cross is presented to John B. De Valles, Chaplain, U.S. Army, for extraordinary heroism in action near Apremont, Toul sector, France, April 10 to 13, 1918. Chaplain De Valles repeatedly exposed himself to heavy artillery and machine-gun fire in order to assist in the removal of the wounded from exposed points in advance of the lines. He worked for long periods of time with stretcher bearers in carrying wounded men to safety. Chaplain De Valles previously rendered gallant service in the Chemin des Dames sector, March 11, 1918, by remaining with a group of wounded during a heavy enemy bombardment. General Orders No. No. 35, W.D., 1920
Continue reading →
"If you want an example of how you ought to worship God, go over to the 69th.  You'll see hundreds of sturdy men kneeling on the ground hearing mass."
Father Francis P. Duffy in a letter to Cardinal Farley
A recent National Guard video on Father Francis P. Duffy.  I have written about Father Duffy here.  His courage as a chaplain with the Fighting 69th made him a legend in his own time.  However, courage was only one of his virtues.  Just as appreciated by the young soldiers he helped shepherd through the hell of trench warfare in World War I France was his sense of humor.  Here are a few samples:
Amongst the sturdiest and brightest of our recruits were two young men who had recently been Jesuit Novices. I amused one Jesuit friend and, I am afraid, shocked another by saying that they were exercising a traditional religious privilege of seeking a higher state of perfection by quitting the Jesuits and joining the 69th.
The newcomers are not yet accustomed to the special church regulations relieving soldiers of the obligation of Friday abstinence. Last Friday the men came back from a hard morning's drill to find on the table a generous meal of ham and cabbage. The old-timers from the Border pitched into this, to the scandal of many of the newer men who refused to eat it, thus leaving all the more for the graceless veterans. After dinner a number of them came to me to ask if it were true that it was all right. I said it was, because there was a dispensation for soldiers. "Dispensation," said a Jewish boy, "what good is a dispensation for Friday to me. I can't eat ham any day of the week. Say, Father, that waiter guy, with one turn of his wrist, bust two religions."
I asked one of the men how he liked the idea of going to confession to a priest who cannot speak English. "Fine, Father," he said with a grin,  "All he could do was give me a penance, but you'd have given me hell."
Continue reading →
When I was 12 or so, my father picked up a newly released album of World War One music entitled, after the most famous American song of the war, Over There. It is now long out of print (though still occasionally available used). As is sometimes the case with highly singable songs one heard as a youth, several of these songs had been on my mind lately, and so when the breakdown of the dishwasher the other night set everyone to washing and drying dishes, I put it on and we sang along to the oddly cheerful songs inspired by one of the world's darker interludes.
"Over There", written in 1917 by George M. Cohan (I didn't like the historical versions I found on YouTube as much, so I made my own with the Feinstein rendition of the song.)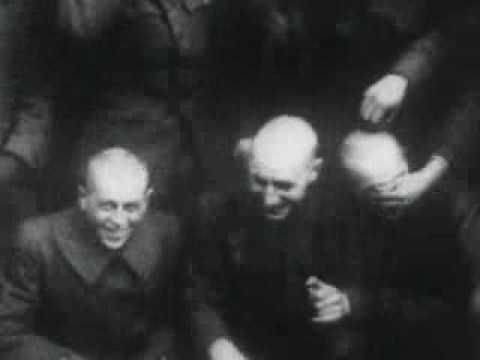 It is hard to believe they all gone now, the millions of Americans who fought against the Kaiser in the American Expeditionary Force.  Frank Woodruff Buckles, 110, America's last Doughboy, went to join his fellow soldiers on Sunday, February 17, 2011.  He lied about his age to enlist in the Army at age 16.  He served as an ambulance driver in England and France.  He left the Army in 1920, but that was not the end of his wartime adventures.  In World War 2 he endured three years as a guest of the Emperor, as a civilian POW in the Philippines.  God rest his soul.
Continue reading →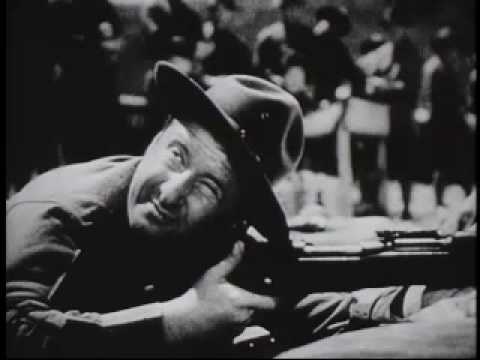 Continuing on from the first part of this post on Sergeant York and Gary Cooper.
Frank James Cooper, a\k\a Gary Cooper, was a child of the last century, being born into it on May 7, 1901, the son of Charles and Alice Cooper.  Unlike Alvin C. York, Cooper was born into a prosperous family, his father being a farmer turned attorney who would eventually serve on the Montana Supreme Court.  His parents were English immigrants from Bedfordshire, and from 1910-1913, Gary and his brother were educated in England.
After high school, Cooper went on to study at Grinnell College for a few years, although he did not receive a degree.  After an unsuccessful attempt to earn a living as an editorial cartoonist in Helena, he followed his parents out to Los Angeles where they had retired.  Cooper later said that if he was going to starve, he might as well do it where it was warm rather than where it was freezing.
Out in the land of fruits and nuts, Cooper tried his hand at many things in order to earn a living:  promoter for a  photographer, a seller of electrical signs and even applied for work as an ink-stained wretch at a newspaper.  Out of desperation for employment rather than any burning desire to be an actor, Cooper began to work as an extra in movies.  A friend, Nan Collins, advised him to change his name to Gary after her hometown of Gary, Indiana, and Cooper took her advice.  After several years as an extra, Cooper achieved early stardom in the western, The Virginian.   Although he would appear in every type of film imaginable in his career, Cooper always appeared most comfortable in Westerns, a genre which fit his understated, laid back acting style, and his laconic speech.  Cooper specialized in playing ordinary decent men, trying to do their best in extraordinary situations.  He also had a flair for comedy where his dead pan delivery, combined with a dry wit, ensured laughter whatever "funny" lines he was attempting to deliver.
The archetypal film during this period of his career for Cooper was The Westerner where he played a cowboy who tangled with "Judge" Roy Bean, "Law West of the Pecos", magnificently portrayed by Walter Brennan who appeared with Cooper in several films, including Sergeant York as York's pastor.  The film is a skillful mixture of comedy and drama, with Cooper giving a bravura performance.
Alvin C. York had been approached by Hollywood producer Jesse Lasky several times, beginning in 1919, to make a movie of his life.  Each time he refused, summing up his position simply with the phrase, "This uniform ain't for sale."