Winston Churchill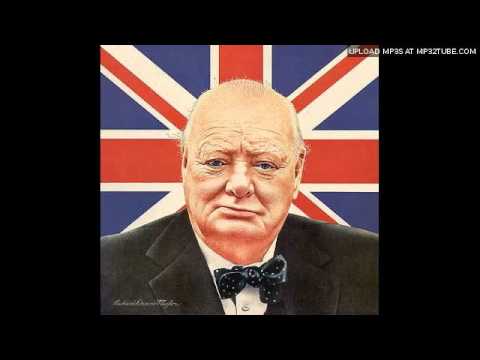 We must never cease to proclaim in fearless tones the great principles of freedom and the rights of man which are the joint inheritance of the English-speaking world and which through Magna Carta, the Bill of Rights, the Habeas Corpus, trial by jury, and the English common law find their most famous expression in the American Declaration of Independence.
Sir Winston Churchill
America has had fewer firmer friends among foreign leaders than the Great Commoner, Winston Churchill, the Prime Minister who heroically led Great Britain to victory in World War II.  Half American courtesy of his mother, Churchill was often regarded as having a brash American style according to more staid English politicians.   The first person to be granted honorary American citizenship by an Act of Congress, Churchill had a life long fondness for his maternal native land.  During World War II he was ever grateful for America as an ally which saved Great Britain.  Here is what he wrote about his reaction to the news of Pearl Harbor: Continue reading →
The gratitude of every home in our Island, in our Empire, and indeed throughout the world, except in the abodes of the guilty, goes out to the British airmen who, undaunted by odds, unwearied in their constant challenge and mortal danger, are turning the tide of the World War by their prowess and by their devotion. Never in the field of human conflict was so much owed by so many to so few.
Prime Minister Winston Churchill
The last of the few who helped save Western Civilization in the Battle of Britain 72 years ago has died.
Flight Lieutenant William Walker, who has died aged 99, was shot down in his Spitfire during the Battle of Britain and wounded. Late in his life, having become the oldest surviving pilot of the Battle, he wrote poetry in memory of his fellow aircrew.
 
"There is not one single social or economic principle or concept in the philosophy of the Russian Bolshevik, which has not been realised, carried into action, and enshrined in immutable laws a million years ago by the White Ant."
                                                              Winston Churchill
Let us pray today for Pope Benedict while he is in Cuba that, like Moses, he may help lead a people in bitter bondage out of slavery.  Pope Benedict XV named Our Lady of Charity patroness of Cuba in 1916, and therefore we will beseech her aid:
Our Lady of Charity, we humbly ask you to intercede with Our Lord, Your Son, for your suffering people in Cuba.  Inspire the hearts of your people to turn to God and pray for their deliverance from sin and from the tyranny that has deprived them of their freedom for more than five decades.  Strengthen Pope Benedict as he brings the truth of Christ to your people of Cuba longing for that truth and for spiritual and temporal freedom.  Let this year O Lady, if it be the will of God, be a year of Jubilee and Freedom for all Cubans.  We ask this in the name of the Father, and of the Son and of the Holy Spirit.  Amen.
"Socialism is a philosophy of failure, the creed of ignorance, and the gospel of envy, its inherent virtue is the equal sharing of misery."
Winston Churchill
Those of us of a certain vintage may recall Rocky IV where Rocky fought a Soviet Superman, Captain Ivan Drago, portrayed with robotic efficiency and inhumanity by Dolph Lundgren.  I therefore found it interesting to come across the interview below in which Dolph Lundgren relates why his father advised him to come to America:
Continue reading →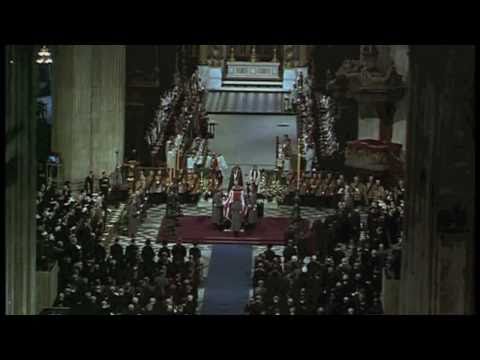 The Guardian is a singularly obtuse Left-Wing tabloid in Great Britain, but they outdid themselves in a story about the most overrated people in history.
In regard to Winston Churchill, this gem was delivered in the story:
Quite a few of his Tory colleagues might have concurred with Lee's view of Churchill's hopeless judgment and over-zealous use of the military, at least right up until the summer of 1940. "If it had not been for the fact that he led Britain to victory in the second world war we would have scant memory of [him]," Lee reckons.
Yeah, that whole leading Great Britain to victory in World War II does seem to spoil the meme that the story is pushing doesn't it?  Let's see figures we could say were overrated from American history based upon this "standard'.
Continue reading →
At the end of the epic movie Tora, Tora, Tora, Admiral Isoroku Yamamoto, the head of the combined Japanese fleet, after the successful attack on Pearl Harbor, refuses to join in the elation of his staff, and makes this haunting observation: "I fear all we have done is to awaken a sleeping giant and fill him with a terrible resolve."  The line is almost certainly apocryphal.  The director of the film, Elmo Williams, claimed that Larry Forester, the film's screenwriter, had found the line in a 1943 letter written by Yamamoto.   However, he has been unable to produce the letter, and there is no other evidence that such a letter exists.
However, there is no doubt that Yamamoto would fully have endorsed the sentiment that the line contained.  He had studied at Harvard in 1919-1921, and served two tours as a naval attache at the Japanese embassy in Washington DC.  He spoke fluent English, and his stays in the US had convinced him of that nation's vast wealth and industrial power.  He had also developed a fondness for both America and Americans.
In the 1930′s Yamamoto spoke out against Japan allying with Nazi Germany and Fascist Italy, fearing that such an alliance would lead inevitably to a war with the US that Japan would lose.  He received frequent death threats as a result from fanatical Japanese nationalists.  These were not idle threats, as such nationalists did assassinate a fair number of Japanese politicians and military men during the Thirties who were against war with the US.  Yamamoto ignored the threats with studied contempt, viewing it as his duty to the Emperor and Japan to speak out against a disastrous course.  Yamamoto wrote in a letter to one nationalist:
Should hostilities once break out between Japan and the United States, it would not be enough that we take Guam and the Philippines, nor even Hawaii and San Francisco. To make victory certain, we would have to march into Washington and dictate the terms of peace in the White House. I wonder if our politicians (who speak so lightly of a Japanese-American war) have confidence as to the final outcome and are prepared to make the necessary sacrifices.
Continue reading →
"We shall go on to the end, we shall fight in France, we shall fight on the seas and oceans, we shall fight with growing confidence and growing strength in the air, we shall defend our Island, whatever the cost may be, we shall fight on the beaches, we shall fight on the landing grounds, we shall fight in the fields and in the streets, we shall fight in the hills; we shall never surrender, and even if, which I do not for a moment believe, this Island or a large part of it were subjugated and starving, then our Empire beyond the seas, armed and guarded by the British Fleet, would carry on the struggle, until, in God's good time, the New World, with all its power and might, steps forth to the rescue and the liberation of the old. "
Seventy-one years ago today, on June 4, 1940, British Prime Minister Winston Churchill rallied Great Britain to the coming Battle of Britain with his "We Shall Never Surrender" speech.  In the face of an overwhelming  defeat in France, Churchill gave no thought of peace with Hitler, but rather called his people to a hard uphill fight against evil.  It is simple to call a nation to take an easy, expedient, at least for the short term, path.  It is difficult to call a nation to a path filled with danger, and with the issue of the struggle quite in doubt, in order to defeat a great evil.  Any politician can do the former;  only a statesman can do the latter.  Here is the text of the speech: Continue reading →
My sainted father was 8 years old on December 7, 1941.  He told me how the next day men and older boys, ranging in age from 60-16, gathered in long lines in front of the recruiting offices in Paris, Illinois to sign up to fight.  I think those of us who weren't alive at that time have difficulty grasping the impact Pearl Harbor had on the nation, as it launched the country on a crusade to break the power of the Empire of Japan and Nazi Germany.
Continue reading →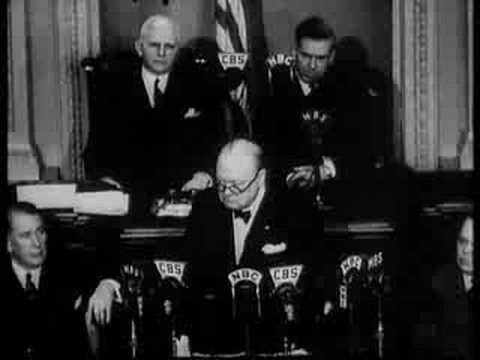 From Churchill's speech to Congress on December 26, 1941.  A great leader and a great orator.  Sadly, our times have a lack of both. Continue reading →