Vice President Joe Biden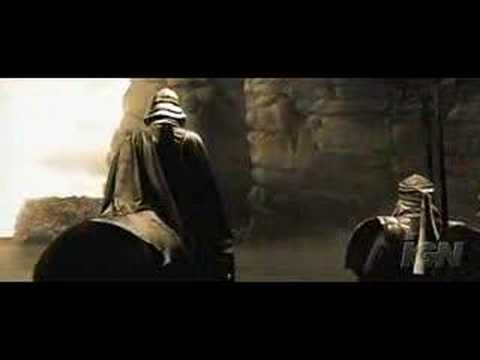 "While Leonidas was preparing to make his stand, a Persian envoy arrived. The envoy explained to Leonidas the futility of trying to resist the advance of the Great King's army and demanded that the Greeks lay down their arms and submit to the might of Persia. Leonidas laconically told Xerxes, "Come and get them.(Molon labe)."
                              Plutarch, Leonidas
Vice President Joe Biden revealed that President Barack Obama might use an executive order to deal with guns.
"The president is going to act," said Biden, giving some comments to the press before a meeting with victims of gun violence. "There are executives orders, there's executive action that can be taken. We haven't decided what that is yet. But we're compiling it all with the help of the attorney general and the rest of the cabinet members as well as legislative action that we believe is required."
Biden said that this is a moral issue and that "it's critically important that we act."
You know, if we have domestic unrest during the second term of this administration, I wouldn't be surprised if it starts from Joe Biden shooting off his mouth and giving us glaring insight into how Obama would proceed if he thought he could get away with it.  Obama has nothing but contempt for American liberties and Biden merely idiotically repeats what he has heard. Continue reading →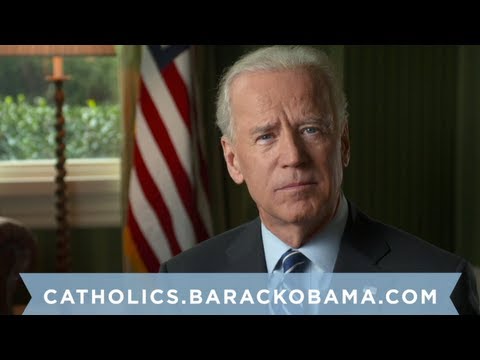 I have long praised our Veep, and Beloved National Clown, for his efforts to keep up our national morale during these dismal economic times by endless gaffes and verbal pratfalls.  Now he has outdone himself!
In the above video the completely pro-abort Biden tries to portray himself, get this, as a faithful Catholic!  Howlingly funny.  I  am sure Joe of course understands full well that a man with his voting record is as far from a faithful Catholic as it is possible for a politician to be.  I am certain he is aware of this section of a letter written by Cardinal Ratzinger:
1. Presenting oneself to receive Holy Communion should be a conscious decision,  based on a reasoned judgment regarding one's worthiness to do so, according to  the Church's objective criteria, asking such questions as: "Am I in full  communion with the Catholic Church? Am I guilty of grave sin? Have I incurred a  penalty (e.g. excommunication, interdict) that forbids me to receive Holy  Communion? Have I prepared myself by fasting for at least an hour?" The practice  of indiscriminately presenting oneself to receive Holy Communion, merely as a  consequence of being present at Mass, is an abuse that must be corrected (cf.  Instruction "Redemptionis Sacramentum," nos. 81, 83).
2. The Church teaches that abortion or euthanasia is a grave sin. The Encyclical  Letter Evangelium vitae, with reference to judicial decisions or civil laws that  authorize or promote abortion or euthanasia, states that there is a "grave and  clear obligation to oppose them by conscientious objection. [...] In the case of  an intrinsically unjust law, such as a law permitting abortion or euthanasia, it  is therefore never licit to obey it, or to 'take part in a propaganda campaign  in favour of such a law or vote for it'" (no. 73). Christians have a "grave  obligation of conscience not to cooperate formally in practices which, even if  permitted by civil legislation, are contrary to God's law. Indeed, from the  moral standpoint, it is never licit to cooperate formally in evil. [...] This  cooperation can never be justified either by invoking respect for the freedom of  others or by appealing to the fact that civil law permits it or requires it"  (no. 74).
3. Not all moral issues have the same moral weight as abortion and euthanasia.  For example, if a Catholic were to be at odds with the Holy Father on the  application of capital punishment or on the decision to wage war, he would not  for that reason be considered unworthy to present himself to receive Holy  Communion. While the Church exhorts civil authorities to seek peace, not war,  and to exercise discretion and mercy in imposing punishment on criminals, it may  still be permissible to take up arms to repel an aggressor or to have recourse  to capital punishment. There may be a legitimate diversity of opinion even among  Catholics about waging war and applying the death penalty, but not however with  regard to abortion and euthanasia.
4. Apart from an individual's judgment about his worthiness to present himself  to receive the Holy Eucharist, the minister of Holy Communion may find himself  in the situation where he must refuse to distribute Holy Communion to someone,  such as in cases of a declared excommunication, a declared interdict, or an  obstinate persistence in manifest grave sin (cf. can. 915).
5. Regarding the grave sin of abortion or euthanasia, when a person's formal  cooperation becomes manifest (understood, in the case of a Catholic politician,  as his consistently campaigning and voting for permissive abortion and  euthanasia laws), his Pastor should meet with him, instructing him about the  Church's teaching, informing him that he is not to present himself for Holy  Communion until he brings to an end the objective situation of sin, and warning  him that he will otherwise be denied the Eucharist.
6. When "these precautionary measures have not had their effect or in which they  were not possible," and the person in question, with obstinate persistence,  still presents himself to receive the Holy Eucharist, "the minister of Holy  Communion must refuse to distribute it" (cf. Pontifical Council for Legislative  Texts Declaration "Holy Communion and Divorced, Civilly Remarried Catholics"  [2002], nos. 3-4). This decision, properly speaking, is not a sanction or a  penalty. Nor is the minister of Holy Communion passing judgment on the person's  subjective guilt, but rather is reacting to the person's public unworthiness to  receive Holy Communion due to an objective situation of sin. Continue reading →
Go here to view a prophetic video from Saturday Night Live four years ago predicting just how crazy the Obama years have been.  Note the dead on impersonation of our Beloved National Clown!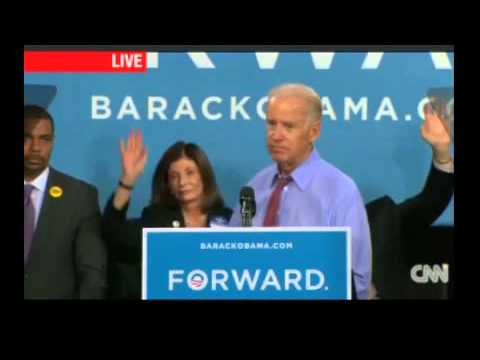 In the above video our beloved National Clown lauded our veterans who served in Iraq and Iran.  What do you think?
1.  Bone headed Biden being bone headed Biden.
2.  Give Joe a break, they both begin with I!
3.  Joe let the cat out of bag in regard to the October Surprise!
4.  Sure there was a war with Iran.  That is where "Blood and Guts" Biden got his brain injury!
5.  Biden was unable to plagiarize in his Geography course in college. Continue reading →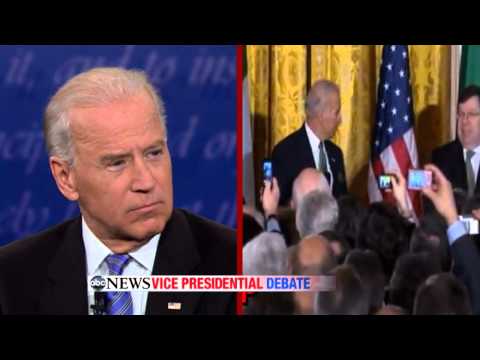 Hattip to John Hinderaker at Powerline.  Biden, our Veep and Beloved National Clown, reacts to some of the wilder things that he has said over the years.
Smitty at The Other McCain has a brilliant riff on The Gettysburg Address in regard to the debate last night:
Four score and five interruptions ago our zany uncle brought forth on this continent a new indignation, conceived in contempt for liberty, and dedicated to the proposition that all men are created to serve the state.
Now we are engaged in a soft civil war, testing whether that indignation, or any indignation, so conceived and so dedicated, can long endure. We are met on a great debate-field of that war. We have come to dedicate a portion of that field, as a blog post for he who here gave 90 minutes of his life that that nation might live. It is altogether fitting and proper that we should blog this. Continue reading →
Indicating the seriousness with which our Bishops view this electoral contest, they wasted no time in taking Biden to task for his lie about the HHS Mandate in the debate last evening: Continue reading →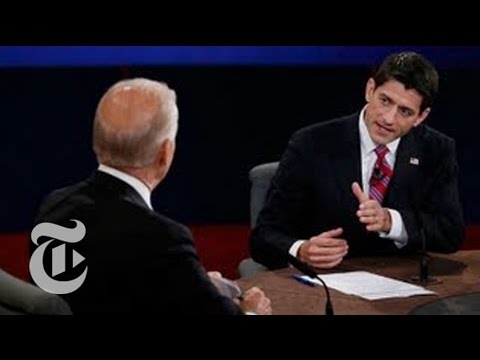 If, as I expect, the Obama-Biden ticket goes down in flames on election day, Biden in his debate performance has ended his political career with a bizarre coda.  How bizarre?  Let us go point by point, along with my other thoughts on the debate.
1.  Hyena Joe- Throughout the debate when Ryan was talking Biden was laughing and smirking.  I assume Biden forgot about the split screen coverage on television.  Judging from the talking heads post-debate, it made a very bad impression.
2.  Manic-Depressive-Joe began the debate very manic as if he had swallowed a crate of jolt cola.  By the end he was completely wound down, like a wind up toy at the end of its cycle, or someone had shot him with an animal tranquilizer.  Very odd.
3.  Canned Responses-Biden obviously had a checklist of points he had to mention:  47%, check, etc.  The problem with having a checklist is that it takes fairly quick wits to put the list seamlessly into a debate performance, and I thought Biden's interjections were far from seamless.
4.  Joe Making Things up Again-As he has throughout his career,  Biden simply made things up when he was in a tough spot in the debate.  In response to the Libya question which clearly had him flustered, Joe claimed that the intelligence community initially thought that the Benghazi attack was preceded by a protest over the Mohammed  video.  That is completely at variance with the facts.
5.  Wildman v. The Professor-Obviously the Democrats were reacting to passive Obama from the first debate.  Biden was always interrupting, some 82 times or thereabouts. The"moderator" was completely useless.  Ryan was too much the professor in manner and should have reacted more to the out of control Biden. Continue reading →