Venerable Pope Pius XII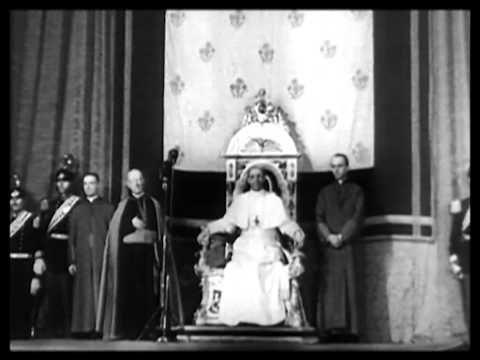 The things you can find on Youtube!  Pope Pius XII blesses 4000 American soldiers after the liberation of Rome in 1944.  Here is what the Pope said:
It is a real joy for us to welcome you all here to the very own house of the Eternal Father of the Christians. You know very well you have experience now of the dangers and uncertainties of life in the midst of war. Make one thing certain, that you always keep close to God.
Pope Pius was quite popular among servicemen with huge numbers flocking to the Vatican to receive his blessing:  Catholics, Protestants and Jews.  Many soldiers wrote that it was a highlight of their service in Europe, and more than a few converted as a result.  The Pope had a special fondness for those in the military who were risking their lives, and he made himself availabe in frequent audiences for them.   Pius was grateful for the liberation of Rome, as he indicated to General Mark Clark when he first met the Pope. Continue reading →
"A few days after the liberation of Rome, Lieutenant General Mark Clark, Commander of the Fifth Allied Army, paid his respects to the Pope: "I am afraid you have been disturbed by the noise of my tanks. I am sorry." Pius XII smiled and replied: "General, any time you come to liberate Rome, you can make just as much noise as you like.""
The show What's My Line makes a rather good time capsule for informal looks at major figures in mid twentieth century  American history.  On February 19, 1956 General Mark Clark, commander of the US Fifth Army in the Italian campaign during World War II, and commander of the United Nations forces in Korea from May 12, 1952 to the truce ending the conflict., appeared on the show.
It is an ironic commentary on the relative obscurity of the Italian campaign during World War II that the panelists were unable to guess his identity.  Clark was nominated by President Truman to be the first ambassador of the United States to the Vatican due to his excellent personal war time relationship with Pope Pius XII.  Opposition by Protestant groups and powerful Senator Thomas Connolly of Texas caused Truman to shelve the plan.  Continue reading →
Neither praise nor threats will distance me from God.
Blessed Clemens von Galen
The Nazis hated and feared Clemens August Graf von Galen in life and no doubt they still hate and fear him, at least those now enjoying the amenities of some of the less fashionable pits of Hell.  Going into Lent, I am strongly encouraged by the story of Blessed von Galen.  I guess one could come up with a worse situation than being a Roman Catholic bishop in Nazi Germany in 1941, and confronting a merciless anti-Christian dictatorship that was diametrically opposed to the Truth of Christ, but that would certainly do for enough of a challenge for one lifetime for anyone.  (Hitler privately denounced Christianity as a Jewish superstition and looked forward after the War to "settling accounts", as he put it, with Christianity in general and Roman Catholicism in particular.)
Priests who spoke out against the Third Reich were being rounded up and shipped off to concentration camps.  What was a bishop to do in the face of such massive evil?  Well, for the Bishop of Munster, Clemens von Galen, there could be only one answer.
A German Count, von Galen was from one of the oldest aristocratic families in Westphalia.  Always a German patriot, the political views of von Galen would have made my own conservatism seem a pale shade of pink in comparison.  Prior to becoming a bishop, he was sometimes criticized for a haughty attitude and being unbending.  He was chosen Bishop of Munster in 1933 only after other candidates, no doubt recognizing what a dangerous position it would be with the Nazis now in power, had turned it down.  I am certain  it did not hurt that he was an old friend of Cardinal Eugenio Pacelli, the future Pope Pius XII.
Von Galen immediately demonstrated that he had not agreed to become Bishop of Munster in order to avoid danger.  He successfully led a fight against the Nazi attempt to take over Catholic schools, citing article 21 of the Concordat between the Vatican and Nazi Germany.  He then began a campaign, often using humor and ridicule, against the Aryan racial doctrines proposed by Alfred Rosenberg, chief Nazi race theorist, and a man even some high level Nazis thought was little better than a crank.  Von Galen argued that Christianity totally rejected racial differences as determining how groups should be treated, and that all men and women were children of God and brothers and sisters in Christ.  The Bishop spoke out against Nazi attacks on the "Jewish Old Testament" stating that Holy Writ was Holy Writ and that the Bible could not be altered to suit current prejudices.
In early 1937 he was summoned by Pope Pius XI to confer with him on an encyclical in German, highly unusual for an encyclical not to be written in Latin as the primary language, that the Pope was in the process of drafting.  The encyclical was the blistering Mit Brennender Sorge (With Burning Heart) that the Pope ordered be read out in every parish in Germany on Palm Sunday 1937.  A head long assault on almost every aspect of National Socialism, it may be read here.
The language in the encyclical was blunt, direct and no doubt benefited from von Galen's input and his experience from the battles he was waging with the Nazis. Continue reading →
1. The most bountiful God, who is almighty, the plan of whose providence rests upon wisdom and love, tempers, in the secret purpose of his own mind, the sorrows of peoples and of individual men by means of joys that he interposes in their lives from time to time, in such a way that, under different conditions and in different ways, all things may work together unto good for those who love him.[1]
2. Now, just like the present age, our pontificate is weighed down by ever so many cares, anxieties, and troubles, by reason of very severe calamities that have taken place and by reason of the fact that many have strayed away from truth and virtue. Nevertheless, we are greatly consoled to see that, while the Catholic faith is being professed publicly and vigorously, piety toward the Virgin Mother of God is flourishing and daily growing more fervent, and that almost everywhere on earth it is showing indications of a better and holier life. Thus, while the Blessed Virgin is fulfilling in the most affectionate manner her maternal duties on behalf of those redeemed by the blood of Christ, the minds and the hearts of her children are being vigorously aroused to a more assiduous consideration of her prerogatives.
As the New York Times remembers Hiroshima, Richard Fernandez asks us to name the two greatest losses of civilian life in the Pacific war. ("Hint. In both cases the civilian casualties were greater than Hiroshima's. In one case the event took place on American soil.")
Meanwhile, Donald Sensing (Sense of Events) thinks it's past time for Western churches to stop treating Japan as victim every Aug. 6 and 9:
I refuse on principle to pollute God's ears with prayers dedicated only to Hiroshima Day and the dead of those cities while ignoring the tens of millions of Japanese-murdered souls who cry for remembrance, but do not get it, certainly not from the World Council of Churches and its allies who have no loathing but for their own civilization. If the prayers of the WCC's service are to be offered, let them be uttered on Aug. 14, the day Japan announced its surrender, or on Sept. 2, the day the surrender instruments were signed aboard USS  Missouri. Let our churches no longer be accessories to Japan's blood-soaked silence but instead be voices for the  millions of murdered victims of its bloodlust, imperialist militarism.
(HT: Bill Cork).
A new film, Under the Roman Sky, starring James Cromwell as Pius XII, details the heroic efforts of Pius XII to save the Jews of Rome from the Nazis, after Rome came under Nazi occupation subsequent to the fall of Mussolini following the Allied invasion of southern Italy in 1943.
Rabbi David G. Dalin, in his review of a Moral Reckoning, a tome by Daniel Goldhagen which sought to blame Catholicism for the Holocaust, details the efforts of the Pope to save the Jews of Rome:
Goldhagen's centerpiece is the outrageous allegation that Pius XII "did not lift a finger to forfend the deportations of the Jews of Rome" or of other parts of Italy "by instructing his priests and nuns to give the hunted Jewish men, women and children sanctuary."  Much of this is lifted straight from anti-Pius books like Susan Zuccotti's Under His Very Windows–and thus Goldhagen repeats the errors of those books and adds extras, all his own, in his determined attempt to extend their thesis into over-the-top railings against the sheer existence of Catholicism.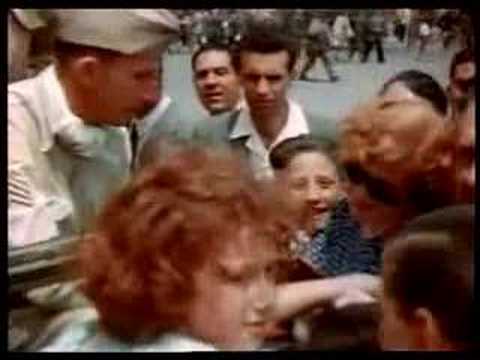 Today is the 66th anniversary of the D-Day landings.  If the D-Day landings hadn't occurred, the big news would have been the liberation of Rome.  The above video is color footage showing the entrance of some of the American troops into Rome on June 5, 1944, and an audience they had with Pope Pius XII.
The Pope, like almost all Romans, was joyous to be free from Nazi occupation, and he made that clear when he met with General Mark Clark.
"A few days after the liberation of Rome, Lieutenant General Mark Clark, Commander of the Fifth Allied Army, paid his respects to the Pope: "I am afraid you have been disturbed by the noise of my tanks. I am sorry." Pius XII smiled and replied: "General, any time you come to liberate Rome, you can make just as much noise as you like.""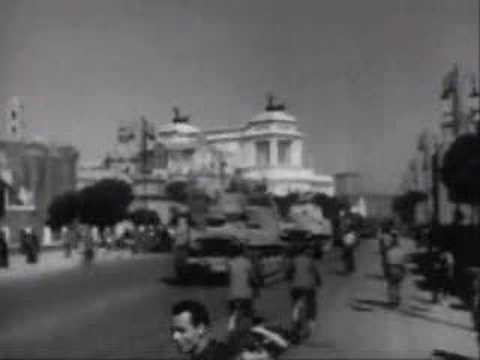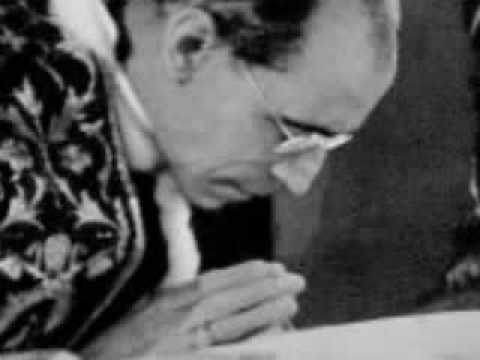 Venerable Pius XII always believed that it was part of his duties as Pope to be accessible to virtually everyone who wished to see him.  His audiences would normally be crowded as a result.  In the autumn of 1941 he held an audience which was no different.  Italians, pilgrims of all nations, German soldiers (German soldiers flocked to see the Pope until the Nazis forbade such visits, fearing the influence the words of the Pope, in direct contradiction to the doctrines of National Socialism,  might have on the Landsers.), humanity from across the globe, all eager to see, and perhaps have a word with, the Vicar of Christ on Earth.
If were to ask you what some Catholic traditionalists and some radical leftists had in common, you might be left scratching your head for a few moments. On most matters you wouldn't expect them to agree on much of anything. But there's one issue they do tend to converge upon, and that is their take on American history.
When I read some Catholic trad descriptions of American history and Catholicism's place in it, I find myself wondering if I'd accidentally picked up and began reading something by Charles Beard or Howard Zinn. I'm not associating these tendencies in order to delegitimize the Catholic trad critique – which contains, as do most critiques which catch on with at least some people, elements of truth. But the trad critique, in its shrillness and its refusal to engage historical facts that may falsify or at least cast reasonable doubt upon its substantive claims, deserves to be set alongside the vulgar leftist critique of American history. And bear in mind, I say this as a Catholic trad myself, albeit one who is more of a romanticist than a true reactionary.
I also say it as someone who once bought into this whole idea. As a young man emerging from a long and involved commitment to Marxism, both academic and political, into Catholicism, a religion I had little to do with since the age of 13, I had sort of stumbled upon this narrative on my own. There was still something romantic and alluring about rejecting "Americanism", now from a Catholic perspective.
After all, the two critiques often make use of a lot of the same themes – a rejection of individualism, of bourgeois Protestant values, a savage critique of the Enlightenment, invocations of slavery and other manifestations of racism and inequality, and perhaps more specific to the Catholic angle, reminders of Freemasonry and the Illuminati (though to be fair, Mozart was a Freemason too, back in the days when it wasn't yet forbidden by the Church. I don't think that's ever stopped a trad from enjoying his Requiem, but I digress).
Now, given the popularity of this critique, not only among trads, but also among the Catholic left, the "peace and justice" crowd – of course, for much different reasons and to much different ends – one would surely expect to find a solid foundation or at least an implied resonance within Church history, tradition, and teaching.
If you hold that expectation, prepare to be utterly disappointed. Or delighted, as the case may be.