Vatican
Vice President Joe Biden was in Rome today to mark the 150th anniversary of Italy's unification. While there, he met privately with Pope Benedict XVI. Biden is a Mass-attending Catholic who supports "abortion rights". Many of the Catholic faithful have called for his excommunication due to his support for abortion. No official announcement has been made, as of this writing, in regard to this visit.
In February, 2009, pro-abortion Congresswoman and then-House Speaker Nancy Pelosi met privately with Pope Benedict XVI. The Vatican issued a statement afterward that was widely considered to be a scolding.
"His Holiness took the opportunity to speak of the requirements of the natural moral law and the Church's consistent teaching on the dignity of human life from conception to natural death which enjoin all Catholics, and especially legislators, jurists and those responsible for the common good of society, to work in co-operation with all men and women of good will in creating a just system of laws capable of protecting human life at all stages of its development."
Official announcements from the Vatican are available at the Vatican Information Service blog.
The Miracle of Caring and Sharing – Mark Shea, National Catholic Register
Permanent Deacons Taking Role Away From Priests – Father John Zuhlsdorf
Infiltration Evangelization – Giuseppe Ambrose, The Three Bs
Of All the Rutten Ideas (Tim Rutten of the LA Times) – Phil Lawler, CC/OTC
If JP2 Can Be a Saint, Really, Anybody Can – John Norton, Our Sunday Visitor
Getting Off the Misery-Go-Round of Scrupulosity – Trent Beattie, Cthlc Lane
Vatican Surprises Bloggers with Successful Meeting – Father Tim Finigan
On Infertility and Adoption – This Cross I Embrace
Imminence, Unlawful Aggressors, & Proportionality in Self-Defense – M. D.
Things are Getting Airbrushed – Rich Leonardi, Ten Reasons
Congr'l Black Caucus Nuts in Asking Tax $ to Pay for Abortions – Lisa Graas
Why Religion Matters – Cindy Wooden, Catholic News Service
_._
If you liked this roundup of the best posts from around the Catholic blogosphere, visit ThePulp.it for daily updates twice a day.
For ThePulp.it click here.
When former Senator Rick Santorum, a faithful Catholic who appears to be preparing to run for president, made some comments recently in a speech in South Carolina, they were taken out of context in an article by Andy Barr at Politico. While Santorum's remarks about historical revisionism of the Crusades were highlighted, Politico left out clarifying remarks which express Santorum's views, albeit in a simple analogy, on what Christians should be doing to counter Islamic jihad. It should be noted that these remarks are in keeping with the advice of the Vatican for Christians faced with Islamic aggression.
'From my perspective, I run a Christian school that has a liberal arts-focused education,' said Oakbrook Headmaster Adair Hinds. 'The students we had here … We're trying to make them think. Having somebody make strong statements and take a stance, whether our students believe it or not or agree with it or not is not my concern. My concern is that our students are listening to what people say, listening to their opinions, and running it through their own mind, and basing their decisions on integrity.'
In other words, Santorum endorses the free exchange of ideas in an environment that is not hostile to dissent. This is an important point that was missed, probably because the leftist media really has no earthly idea what we are dealing with in the Islamic version of fundamentalism, not to mention ignorance of both history and the Vatican's official position on these matters.
There is talk of "Crusades" in the air, as of late. We see hype in leftist political media, warnings in anti-Catholic Christian media, and Islamopologetics about the historic Crusades in leftist Catholic media. Considering the reality of continuous Christian slaughter in the Muslim world by Islamists who kill even for what they define as blasphemy, it's time to set the record straight.
There will be no 'Crusades' ordered by the Pope. Anyone who believes otherwise is delusional. It's important to understand why this is so, in order to put this talk to rest, so that we can understand the reasonable way to 'fight' Islamic jihad.
On the Crusades, Santorum's main point was that they were defensive wars, which is true. Further, the history of mankind has been a very long journey of coming to a fuller understanding of what human rights are. The idea of human rights began with the Creation story in Judaism and has progressed over time. It is the Judeo-Christian ethic upon which all human rights have their foundation through the course of history. History shows mankind evolving in his coming to a fuller knowledge about human rights gradually over time, beginning from the basic due process that God offered Adam and Eve in the Garden.
The fact of the matter is that the world was once a place where few human rights were recognized. It is not reasonable, then, for us to apply our understanding of human rights to the people of the Medieval Age.
What we can do is look at the core teachings of Judaism, Christianity and Islam and see what they are. Forced conversions have never been a part of the teachings of Judaism and Christianity, no matter what any of their members may have done as a result of their fallen nature and ignorance. For this reason, we can be sure that nothing like the popular understanding of the "Crusades" (as "Christian conquest" carried out by the Catholic Church) ever really did happen because the lens the vast majority of us are looking through distorts the picture.
If Andy Barr of Politico paid attention to the Vatican as much as I expect Santorum does, he might have been able to sort out what Santorum was attempting to present despite Santorum's fumbling a bit over the issue. The actual plan of the Vatican is in keeping with what Santorum stated in regard to his Christian school. In order to 'combat' Islamic jihad, we must all commit to using our gift of reason in a manner that respects basic human dignity. In other words, we must commit to debating our disagreements in an atmosphere that is devoid of hostility. It should be called a "Crusade of Words" as it is limited to the arena of ideas. This is what Pope Benedict XVI has continually spoken out for during these troubling times by encouraging countries around the world — particularly Iraq, Egypt and Pakistan — to please respect religious freedom and provide security for religious minorities.
In a controversial speech delivered at Regensburg in 2006, Pope Benedict XVI pointed out that Christian theology requires the use of reason whereas Islamic theology rejects reason. In his 2010 "state of the union address" to the Catholic Cardinals, Pope Benedict warned of an 'eclipse of reason' that is advancing now in the world. Though human beings in diverse cultures may disagree on many things, one thing is certain: if we lose our ability to reason with each other in a manner that respects human dignity — which, at minimum, includes our commitment not to kill each other because we disagree — then we will not prevail against the Islamists who have rejected both human dignity and the importance of reason in debates about that dignity.
This is the only 'crusade' that you will see promoted by the Vatican — a 'Crusade of Words' that acknowledges the basics of the dignity of the human person. In lands where Christians are being brutalized, you can be sure that they will ask for their religious freedom wherever there is hope in attaining it. Otherwise, they will flee, as in Libya, or die as so many are dying now in Egypt, Pakistan, Sudan and elsewhere in the Muslim world.
I am a contributor at NewsReal Blog and I disagree with some of my compatriots there on many issues. Many of these issues are serious issues that have to do with human dignity. One thing is certain, though. If you ask anyone at NewsReal Blog if the use of reason is important in order to defend basic human dignity — though we may define human dignity differently — I am certain that they will all answer in the affirmative. This is a 'crusade', of sorts, and we continually call on others to join us. We must arm ourselves not with violence but with reason and with true tolerance in the arena of ideas. Otherwise, the Islamists win.
It really is that simple.
~~~
[Updated Below]
Wikileaks information has been disclosed by Rome Reports that the U.S. intelligence services were completely caught off guard and surprised at the election of then Joseph Cardinal Ratzinger, now Pope Benedict XVI.
[Found another YouTube video that works]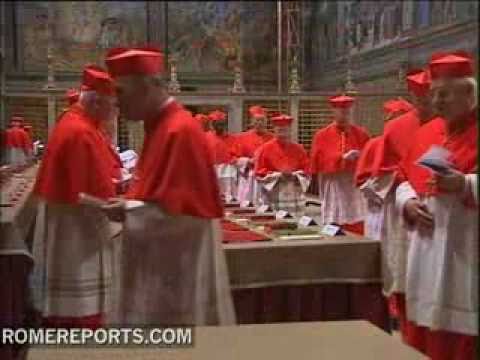 Updated as of 10:40am Central time, 11-30-2010 AD:
U.S. intelligence was expecting a Latin American as the next pope, and predicted that then Joseph Cardinal Ratzinger would have lost in the first round voting.
The rest from Father Zuhlsdorf:
Before the election the staff of the US embassy to the Holy See sent speculations to Washington about the one to be elected.
"The first factor will be age, the cardinals will seek someone who is neither too young nor too old, because they don't want to have another funeral and conclave quickly" but "they also want to avoid having a long pontificate like that of John Paul II."  Furthermore, "it will be a person in reasonably good health".  Another element will be "linguistic ability" and he will have to know Italian.
The text of Benedict's keynote speech on his trip to the UK is here; video of the speech can be found here.
Obviously, you read or watch the speech in its entirety, but I will present a few highlights for readers:
And yet the fundamental questions at stake in Thomas More's trial continue to present themselves in ever-changing terms as new social conditions emerge. Each generation, as it seeks to advance the common good, must ask anew: what are the requirements that governments may reasonably impose upon citizens, and how far do they extend? By appeal to what authority can moral dilemmas be resolved? These questions take us directly to the ethical foundations of civil discourse. If the moral principles underpinning the democratic process are themselves determined by nothing more solid than social consensus, then the fragility of the process becomes all too evident – herein lies the real challenge for democracy.
A Profile of Daniel DiNardo
by Jeff Ziegler
On June 17, Cardinal Daniel DiNardo expressed "grave concern over the FDA's current process for approving the drug Ulipristal (with the proposed trade name of Ella) for use as an 'emergency contraceptive.' Ulipristal is a close analogue to the abortion drug RU-486, with the same biological effect — that is, it can disrupt an established pregnancy weeks after conception has taken place."
Cardinal DiNardo expressed these concerns as chairman of the U.S. bishops' Committee on Pro-Life Activities, the latest in a line of responsibilities he has assumed in recent years. As recently as 1997, he was simply "Father Dan," a 48-year-old Pittsburgh parish priest, before he was appointed coadjutor bishop of a small Iowa diocese. At the age of 54, he was appointed coadjutor bishop of Galveston-Houston, and at 58, Pope Benedict created him a cardinal — the first cardinal from a diocese in the South, and the youngest American cardinal since Cardinal Roger Mahony received his red hat in 1991.
Following the consistory of 2007, Pope Benedict appointed Cardinal DiNardo a member of the Pontifical Council for the Pastoral Care of Migrants and Itinerant People (2008) and the Pontifical Council for Culture (2009). In the fall of 2009, he assumed the leadership of the U.S. bishops' pro-life efforts. He will take part in any conclave that occurs before his eightieth birthday in 2029 and appears destined to be one of the leading American ecclesial figures of the next two decades.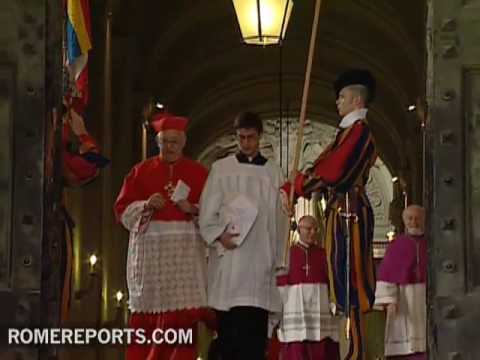 The Catholic News Agency reports on this new development:
Monsignor Charles Scicluna took part in a press briefing on Thursday for the release of modified Vatican norms on how to examine and punish cases involving the "most serious sins." He fielded a number of questions as to its content but underscored the importance of ongoing action for successfully bringing about change in the Church.
Journalists in the Holy See's Press Office spoke of the encounter as "unseen since the days of Cardinal Ratzinger." The Maltese promotor of justice of the Congregation for the Doctrine of the Faith fielded questions on complex matters with apparent ease, answering journalists' queries regarding many aspects of the updates to the Motu Proprio of 2001 in both English and Italian.
About the concern in the media that sexual abuse against minors was being equated with the attempted ordination of women in the eyes of canon law, Msgr. Scicluna said in English, "They are not on the same level." Serious sins are divided into those against Christian morality and those committed during the administration of the sacraments, he explained.
The most evil inspired man in the world, attorney Jeffrey Anderson, plans to "sue the sh-t out of [the Catholic Church] everywhere". Because the U.S. Supreme Court refused to hear an appeal from the Vatican, a court case will move forward allowing for the Vatican to be sued.
"I have known for 25 years that all roads lead to Rome," said Jeff Anderson, the Minnesota attorney who represents the plaintiff. "This is the beginning for us of a new journey, a uniquely difficult odyssey."

Anderson, who has represented hundreds of abuse victims and has tried for years to sue the Vatican, said he hoped to persuade a judge that he should be allowed to depose Vatican officials.

…
This past week, Belgian police raided the headquarters of the Catholic Church in Belgian, as well as the home and office of recently retired Archbishop Godfried Danneels, during an investigation into the sexual abuse of children.
Rorate Caeli provides the full text of Pope Benedict's letter to Abp. André Joseph Léonard, Archbishop of Mechlin-Brussels and President of the Belgian Episcopal Conference, responding to the unfortunate series of events:
I wish to express to you, dear Brother in the Episcopate, as well as to all Bishops of Belgium, my closeness and my solidarity in this moment of sadness, in which, with certain surprising and deplorable methods, searches were carried out in Mechlin Cathedral and in places where the Belgian Episcopate were assembled in plenary session. During that meeting, aspects related to the abuse of minors by members of the clergy were to have been treated, among other things. I have myself repeated numerous times that these grave facts should be treated by the civil order and by the canonical order in reciprocal respect for the specificity and autonomy of each one. In this sense, I wish that justice will follow its course, ensuring the rights of persons and institutions, in respect for victims, with the recognition, without prejudices, of those who wish to collaborate with it and with the refusal of everything that could darken the noble duties that are ascribed to it.
As Rorate Caeli notes, there is a "one-sideness" and "tone-deafness" to the papal remarks. The impression is exacerbated by Cardinal Secretary of State Tarcisio Bertone,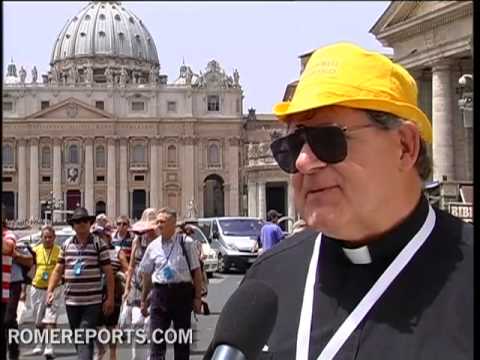 I enjoyed the response of one priest in which he told his parents it just became clear to him at the moment.  His parents responded by saying that's how they felt about each other when they first met (and decided to get married)!
For the Rome Reports website click here.
For the Rome Reports YouTube Channel click here.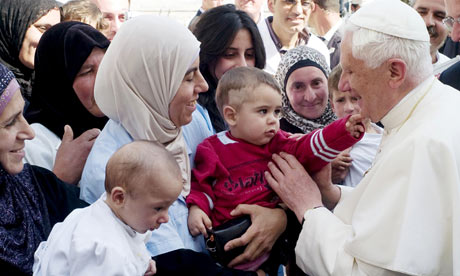 The Vatican  released a working paper during Pope Benedict XVI's pilgrimage to Cyprus to prepare the way for a crisis summit of Middle East bishops in Rome. What I take away from this- along with the Holy See's call for lifting the blockade of Gaza- is something of a vindication for my more raw views urging for a sea change in American Catholic opinion and action regarding the overall situation in the Middle East, and in Israel-Palestine in particular.