University of Notre Dame's Obama Scandal
In the spirit of the Obama Worship Day at Notre Dame in 2009, Notre Dame Professor of Philosophy Gary Cutting has a recent article in the New York Times, the high worship rag for all liberal apostate Catholics, in which he explains why Catholics should not pay attention to the Bishops and the silly fuss they are making over the HHS Mandate, which, among other things, rips to shreds freedom of religion enshrined in the First Amendment.  I was going to give the article a fisking to remember, but Christopher Johnson, a non-Catholic who has taken up the cudgels so frequently in defense of the Church that I have named him Defender of the Faith, has beaten me to it:
Roman Catholics will be interested to learn that Gary Gutting, a philosophy professor at Notre Dame and someone who claims to be a Catholic, recently discovered that the Reformation is finally over and that the Protestants won:
What interests me as a philosopher — and a Catholic — is that virtually all parties to this often acrimonious debate have assumed that the bishops are right about this, that birth control is contrary to "the teachings of the Catholic Church." The only issue is how, if at all, the government should "respect" this teaching.
Good question since Gutting thinks that Catholics have pretty much plowed it under and sowed the furrows with nuclear waste.
As critics repeatedly point out, 98 percent of sexually active American Catholic women practice birth control, and 78 percent of Catholics think a "good Catholic" can reject the bishops' teaching on birth control.  The response from the church, however, has been that, regardless of what the majority of Catholics do and think, the church's teaching is that birth control is morally wrong.  The church, in the inevitable phrase, "is not a democracy."   What the church teaches is what the bishops (and, ultimately, the pope, as head of the bishops) say it does.
The bishops aren't the boss of us!!
But is this true?  The answer requires some thought about the nature and basis of religious authority.  Ultimately the claim is that this authority derives from God.  But since we live in a human world in which God does not directly speak to us, we need to ask, Who decides that God has given, say, the Catholic bishops his authority?
Who died and made the bishops religious leaders?
It makes no sense to say that the bishops themselves can decide this, that we should accept their religious authority because they say God has given it to them.  If this were so, anyone proclaiming himself a religious authority would have to be recognized as one.  From where, then, in our democratic, secular society does such recognition properly come?  It could, in principle, come from some other authority, like the secular government.  But we have long given up the idea ("cujus regio, ejus religio") that our government can legitimately designate the religious authority in its domain.  But if the government cannot determine religious authority, surely no lesser secular power could.  Theological experts could tell us what the bishops have taught over the centuries, but this does not tell us whether these teachings have divine authority.
Out: cujus regio, ejus religio.  In: vox populi vox dei.
In our democratic society the ultimate arbiter of religious authority is the conscience of the individual believer. It follows that there is no alternative to accepting the members of a religious group as themselves the only legitimate source of the decision to accept their leaders as authorized by God.  They may be wrong, but their judgment is answerable to no one but God.  In this sense, even the Catholic Church is a democracy.
You know that joke I like to make about how in the future, everybody, to paraphrase Andy Warhol, will be an Episcopal bishop for fifteen minutes?  As far as Gutting is concerned, every single Roman Catholic is a bishop right now. Continue reading →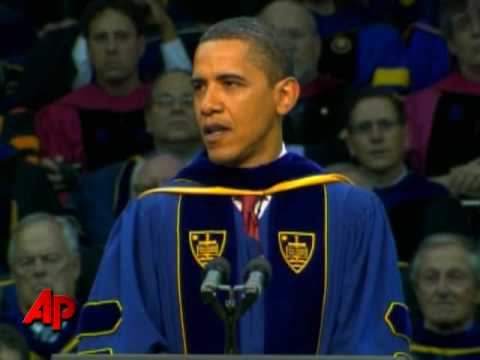 Archbishop Thomas Wenski points out that pro-Obama Catholics were played as chumps by President Obama in an essay which appeared on December 2 in the Miami Herald.  Here is his essay interspersed with my comments:
In May 2009, President Obama gave the commencement address at Notre Dame  University and received an honorary degree. That Notre Dame would confer an  honorary degree on an elected official who advances abortion rights in  contradiction to Catholic teaching caused no small controversy among many  Catholics throughout the United States.
To say the least.  That event demonstrated the de facto schism that exists in the Church between those who follow the teaching of the Church in regard to abortion and those who do not.
Those who supported Notre Dame felt vindicated, however, when in his speech  the president promised to "honor the conscience of those who disagree with  abortion," stating that his administration would provide "sensible" protections  for those who wanted no involvement in the procedure. This would presumably  include healthcare providers, social-service providers, and consumers who might  otherwise have to pay through their healthcare plans for other people's  abortions.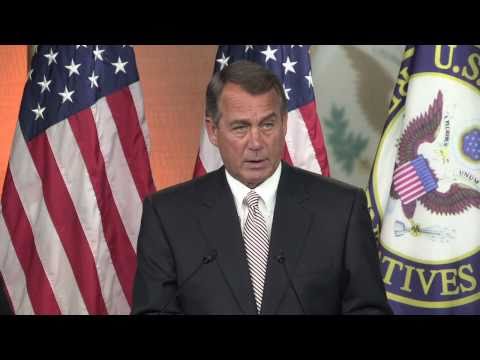 For many years Catholic universities and colleges have disgraced themselves by honoring pro-abort speakers.  The indispensable Cardinal Newman Society has taken upon itself the onerous task of keeping track of this ongoing betrayal of the Church and their latest report may be read here.  A prime example was Obama as commencement speaker at Notre Dame in 2009, a debacle which was covered in full by many posts here at The American Catholic.   These affairs have often drawn protests by Catholics who realize that honoring pro-aborts is no part, or rather should be no part, of what it means to be a Catholic institution of higher learning.  
Speaker of the House John Boehner, a pro-life stalwart and a Catholic, has been invited to deliver the commencement address at Catholic University of America on May 14.   81 professors at Catholic colleges and universities, organized by some CUA profs, have decided to try a little bit of payback by protesting Boehner speaking at CUA by claiming that Boehner, because he is in favor of budget cuts, is against the poor and therefore in defiance of Church teaching. Continue reading →
With the recent scandals rocking the Catholic Church here in America as in President Obama receiving an honorary degree at the University of Notre Shame to House Speaker Nancy Pelosi claiming that abortion is an open-ended issue in the Church, we have seen a reemergence of ecclesial leadership on behalf of our shepherds.  Many bishops have awoken to the fact that being "pastoral[1]" has been a remarkable failure in resolving the deviancy emanating from Catholics and Catholic institutions.
The upsurge of young adults rediscovering their faith to the excellent parenting of Catholic families in raising fine orthodox Christian children, we have seen what is only the beginning of a Catholic renaissance here in America.  And let us not forgot the ever faithful cradle Catholics among us that have contributed in keeping the faith in the tumult arising from the Second Vatican Council to today.
Father John Jenkins, C.S.C., released a message to the University of Notre Dame family outlining two pro-life initiatives to recompense for the scandal of awarding President Obama an honorary degree.
1.  Father Jenkins plans to attend the March for Life Anniversary of Roe v. Wade event in Washington D.C.

2.  Establish a Task Force on Supporting the Choice for Life.
These two initiatives are a good first start in adhering to the teachings of the Catholic Church established by Jesus Himself.
[Updated as of 8-26-2009 AD at 6:01 pm CST, see below]
Bishop D'Arcy pens an article in the dissident Catholic Jesuit-run magazine, America, by rapping the University of Notre Dame in it's failure in being a witness to the Gospel by honoring the most anti-life president in the history of the United States.
He goes on to single out Father John Jenkins for his failure in leading as a man of faith and to the board of trustees for their deafening silence.
Finally he asks the University of Notre Dame, but also other Catholic universities, whether they will follow the Land O'Lakes Statement, which proclaimed in ambiguous language that it was 'ok' to dissent from Catholic teaching, or adhere to Ex Corde Ecclesiae, where Catholic teaching and identity must be a priori.
After months of discussion, Obama finally gave his commencement address at Notre Dame University today.  Due to a near fascistic exercise on the part of the ND administration, the event was virtually free of any signs of protest, and Obama made full use of the event to do his "don't you wish you could be as moderate and measured as I am" shtick which we know so well from the campaign.  The text is as follows:
Jenkins has found someone to substitute for Mary Ann Glendon.  John T. Noonan, Jr., a Reagan appointee to the United States Court of Appeals for the Ninth Circuit.
Before he was elevated to be Archbishop of Newark, John J. Myers was Bishop of Peoria, my diocese.   I always liked him.  He was vibrant and orthodox and attracted many men to the priesthood during his tenure.  Earlier this month he released this statement in regard to Obama Day at Notre Dame on May 17, 2009: