Unions
Last night marked the darkest hour in all of human history. Humanity has seen pestilence, wars, famine, genocide, and atrocities of all shapes and sizes. But all of that paled in comparison to Scott Walker's "surviving" a recall victory by a "narrow" 7-point margin.
Why was this the darkest day in human history? Because it was the day democracy died.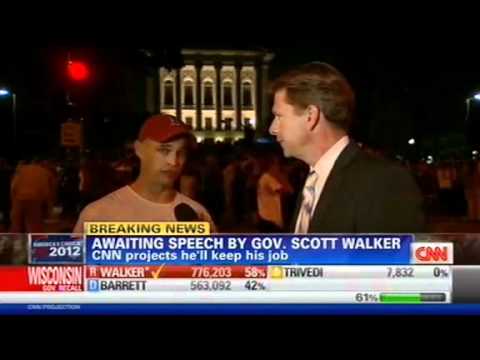 It's the end of the USA as we know it, but strangely I feel fine.
According to Democrats, the recall election was either the moment western civilization marked its inevitable decline or a great sign that Barack Obama is going to roll to re-election. While the truth is probably somewhere in between, either way Democrats expressed tremendous outrage over this election that was bought by Scott Walker and the evil Rethuglicans. Evidently spending a lot of money on elections is a bad thing. Unless of course you're Barack Obama.
The narrative shift demonstrates a couple of things about the progressive left, neither particularly positive. The first is the blatant dishonesty. It's quite amusing to listen to these people complain about "the death of democracy" when they've spent the better part of the past 18 months organizing, busing people in from other states, staging rallies and sit-ins, ushering their representatives out of the state in the middle of the night to shut the legislature down, and basically just throwing giant hissy fits because they aren't getting what they wanted.
More importantly, it highlights something that has been an essential fabric of the left since the Enlightenment: their utter contempt for people. According to their vision of how the world should work, Scott Walker would easily have been thrown out on his keister were it not for all the money funneling into Wisconsin on his behalf. The implication is that the people are so dumb that they forgot how angry they are supposed to be with Walker just because of a bunch of 30 second advertisements. I wonder if these people even realize how arrogant and snobbish they sound. Because there is a rather nasty undercurrent to all this talk that makes it seem that they don't have too high an opinion of most other individuals.
As I said, this really dates back to the Enlightenment, particularly the philosophes of the French Enlightenment. As Gertrude Himmelfarb wrote, it was a common tendency among the philosophes to generalize the virtues and elevate "the whole of mankind" over the individual. The most striking example of this wariness towards real, live, human beings was Jean-Jacques Rousseau. Throughout his writings, but especially in his Confessions, he continually wrote of other people in a manner that demonstrated his contempt for them. He felt so isolated from the world that he wrote:
I am now alone on earth, no longer having any brother, neighbor, friend, or society other than myself.  The most sociable and the most loving of human has been proscribed from society by unanimous agreement.  In the refinements of their hatred, they have sought the torment which would be cruelest to my sensitive soul and have violently broken all the ties which attached me to them.  I would have loved men in spite of themselves.  Only by ceasing to be humane, have they been able to slip away from my affection.  They are now strangers, unknowns, in short, nonentities to me – because that is what they wanted.
And yet his entire philosophy was geared towards improving the lot of mankind.
This succinctly summarizes the attitude of much of the left throughout history: they love humanity, but they hate people. Much of what I have read and seen over the past 24 hours has made that abundantly clear.
In the 2012 election, Ohio will once again be a key battleground state at the presidential level. This will be a new experience for me, now an Ohio resident, as I've spent my voting live up until now in California and Texas — two states so solidly in their opposite party's columns that one at times wondered if it was worth the time to stand in line and vote.
The Ohio vote froom yesterday getting national and international headlines was the rejection of Issue 2, repealing a law which limitted collective bargaining for state employees including teachers, police and firemen. State employee unions poured huge amounts of money into the "No on 2″ campaign and focused heavily on scare tactics. The most frequent claim was that if unions could not negotiate over staffing levels, that police or paramedics would not arrive when you needed them. "Vote no on Issue 2. It could save your life."
The victory in the No on 2 campaign is being taken as a positive sign by Democrats nationally, but it is likely to be a bad sign for the actual state workers who campaigned so hard for their unions. In the same election, voters rejected a number of local tax levies (both new and renewals) which in combination with the striking down of Senate Bill 5 (via the No on 2 campaign) means that local government will be stuck with old, more expensive contracts and also come up far short on revenues. This means that voters are still very much in a low tax, low budget mood (probably a positive for Republicans come next year) and that unions just spent an unprecedented amount of money in order to get more of their members laid off. Oops.
In yet another state-wide referendum, voters, by a 2-to-1 margin, voted to ammend the state constitution to ban any form of health insurance mandate in Ohio. Given that state constitutions cannot override federal laws, this is mostly a symbolic gesture, however with the ammendment getting a majority in every single county, it underscores how unpopular some of the key ideas of ObamaCare remain with voters.
It remains to be seen which of the two statewide issue votes prove to be the more suggestive of how Ohio voters will lean in the 2012 election.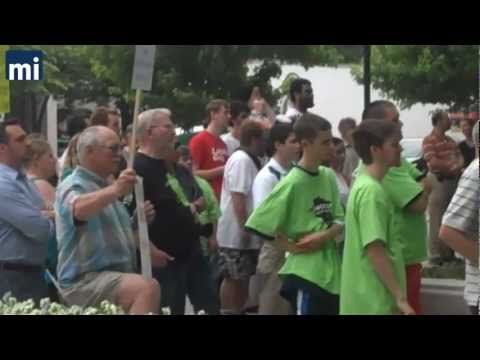 Hattip to Christopher Johnson at Midwest Conservative Journal. With one of my sons being autistic, it is little surprise that one of my favorite charities is Special Olympics.  It allows people who too often spend much of life on the sidelines  to compete as athletes and to be admired for what they can accomplish in overcoming the handicaps that life has dealt them.  The whole Special Olympics program is magnificent for special people and their parents, relatives and friends.  One would think that such an organization would be respected by all.  I guess not. Continue reading →
All of the discussion in the Catholic blogosphere, and the wider public square, about unions (and public employee unions in particular) has given me cause to think a bit about my attitude towards organized labor. There are a lot of rational political, economic and moral reasons I can give for why I don't like labor unions as they exist in the US, but as is so often the case with deeply held opinions, my most basic reaction to unions has a lot to do with my personal experiences relation to work and to unions. As such, it seemed like a good way to address the issue is through the lens of the experiences which have helped shape my opinion of unionization.
1. Most of my exposure to unions was through my father, who held a staff position at a community college for twenty-five years, retiring just a month before losing a multi-year battle with cancer. (In a state college, the major divide is between staff — which includes basically everyone who is neither an instructor nor a manager — and faculty, who are the actual instructors. Since he only had a bachelor's degree, Dad's position was classified as staff, and staff positions were represented by a state school employees union which is a member of the AFL-CIO.) The college was not unionized when Dad got his job, but it became a union shop half-way through his time there, via an election which he always wondered about the validity of. (Union members and non-union members were given different colored ballots, so it certainly would have been easy to cheat if someone had wanted to.) Not only were the union's politics diametrically opposed to my father's (he always used their "state issues" political mailing to decide how not to vote) but the union supported people for the college board of directors who hired a college president who eventually drove the college into the financial ditch, resulting in constant fear and occasional layoffs. His more daily frustration, however, was the effect of the union's vigorous protection of people who did not do their jobs well.
Continue reading →
From the "you can't make this stuff up" files, comes a story of those great champions of the American working man, unions. It can be tough to ask union workers to take time out of their busy days to picket businesses who hire non-union workers, but not to be deterred some unions have followed their arch nemeses in the business world into the realm of outsourcing: hiring non-union low-wage workers to do the protesting union members won't do.
Billy Raye, a 51-year-old unemployed bike courier, is looking for work.

Fortunately for him, the Mid-Atlantic Regional Council of Carpenters is seeking paid demonstrators to march and chant in its current picket line outside the McPherson Building, an office complex here where the council says work is being done with nonunion labor.

"For a lot of our members, it's really difficult to have them come out, either because of parking or something else," explains Vincente Garcia, a union representative who is supervising the picketing.

So instead, the union hires unemployed people at the minimum wage—$8.25 an hour—to walk picket lines. Mr. Raye says he's grateful for the work, even though he's not sure why he's doing it. "I could care less," he says. "I am being paid to march around and sound off."
As it turns out, unions are just the most ironic example of a wider trend — long term joblessness allows well-funded political action groups to stage visible protests by hiring picketers where the enthusiasm of their supporters doesn't extend to spending time holding signs. Continue reading →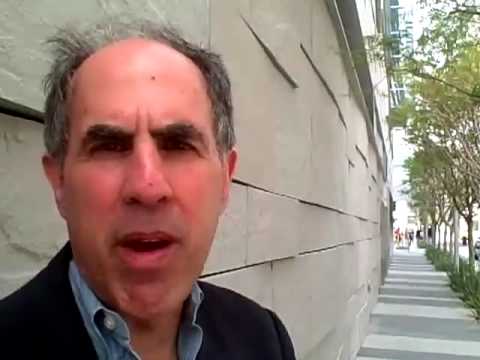 Mickey Kaus, blogger and writer, is running against Barbara Boxer in the Senate primary in California.  I have read with enjoyment his KausFiles for years.  Alas, Mr. Kaus is not pro-life.  If he were, I could imagine myself possibly voting for him.  He is taking on some of the major shibboleths of his party.  Here are a few examples:
"Yet the answer of most union leaders to the failure of 1950s unionism has been more 1950s unionism. This isn't how we're going to get prosperity back. But it's the official Democratic Party dogma. No dissent allowed.
Government unions are even more problematic (and as private sector unions have failed in the marketplace, government unions are increasingly dominant). If there are limits on what private unions can demand — when they win too much, as we've seen, their employers tend to disappear — there is no such limit on what government unions can demand. They just have to get the politicians to raise your taxes to pay for it, and by funding the Democratic machine they acquire just the politicians they need.
From NPR's "Watching Washington" Blog:
The Supreme Court Scrambles Politics — Again

Many people will hear about Thursday's landmark Supreme Court decision freeing corporations to mount political campaigns and say the court has blown up politics as we know it.

By bringing corporations (and by extension, labor unions) back into the electioneering fray, the court has restarted a spending war Congress had tried to restrain over the past generation — most recently with the Bipartisan Campaign Reform Act of 2002, best known for its co-sponsoring senators, John McCain (R-AZ) and Russell Feingold (D-WI).

So long as they do not give to candidates directly, corporations can spend whatever they wish to support or oppose candidates for president or Congress. They are free to exercise their rights of free speech under the First Amendment. Just like citizens. Their rights cannot be suppressed on the basis of their "corporate identity," wrote Justice Anthony Kennedy.

The ramifications for this year's congressional elections and the 2012 presidential contest are sure to be profound. What does it mean, for example, for an investment bank such as Goldman Sachs, which had the cash to pay $16 billion in compensation to its employees for 2009, when a major issue before Congress this year is a tax on those bonuses? (Read the whole column here).
Rep. Alan Grayson (D-FL) has launched an online petition against the decision. The text reads:
Unlimited corporate spending on campaigns means the government is up for sale and that the law itself will be bought and sold. It would be political bribery on the largest scale imaginable.

This issue transcends partisan political arguments. We cannot have a government that is bought and paid for by huge multinational corporations. You must stop this.
From The Courthouse News Service:
WASHINGTON (CN) – The Supreme Court today killed a central part of the McCain-Feingold campaign finance law and ruled that corporations may spend as much as they wish to support or oppose candidates for president and Congress. The 5-4 vote left intact limits on corporate gifts to individual candidates (read the whole story here).
Following the decision, George Will declared the ruling as a radical defense for freedom of speech. In reply, E.J. Dionne argues that will amount to a corporate take over of politics.
Also see here for the story on the Court's ruling on campaign finance reform from RealClearPolitics.
Occasionally unions are a good tool for righting genuine injustices in the working world, but often they later become organizations focused on their own self-perpetuation. Because all union members pay the same dues, this self perpetuation often takes the form of protecting bad workers from the consequences of their actions. The good workers, after all, will almost certainly be treated well by their employers anyway, so the only service the union can provide when there are no real injustices to fight is to take care of workers who are incompetant or just don't care — allowing them to do the minimum and still get annual raises rather than pink slips.
According to this recent article from the New Yorker, hardly a conservative publication, the New York City teachers union has clearly reached that point and then some.
In a windowless room in a shabby office building at Seventh Avenue and Twenty-eighth Street, in Manhattan, a poster is taped to a wall, whose message could easily be the mission statement for a day-care center: "Children are fragile. Handle with care." It's a June morning, and there are fifteen people in the room, four of them fast asleep, their heads lying on a card table. Three are playing a board game. Most of the others stand around chatting. Two are arguing over one of the folding chairs. But there are no children here. The inhabitants are all New York City schoolteachers who have been sent to what is officially called a Temporary Reassignment Center but which everyone calls the Rubber Room.

These fifteen teachers, along with about six hundred others, in six larger Rubber Rooms in the city's five boroughs, have been accused of misconduct, such as hitting or molesting a student, or, in some cases, of incompetence, in a system that rarely calls anyone incompetent.
Continue reading →
It's been an interesting week in the world of American politics.  With the arrogance of congressional Democrats and the White House attempts at discrediting a grassroots movement, the passions will certainly continue to climb after the weekend is over.
Here are some highlights from these past few days:
1. At a town hall last week in Dallas, an elderly "mob" with "manufactured" outrage questioned AARP's support for nationalized health care, asking: "Do you work for us or do we work for you?"
There were no swastika-wearing grannies at Tuesday's meeting, as House Speaker Nancy Pelosi might claim. Nor were they "taking their cues from talk show hosts, Internet rumor-mongers . . . and insurance rackets," as Senate Majority Leader Harry Reid has said.
But they were mad as hell at the perception that AARP was selling them out in the name of government-run medical insurance. That perception was not helped when the AARP town hall on the subject was shut down by the seniors outfit once the members dared to ask questions. The AARP representatives did not want to hear from the members at all. Just send in your dues, granny, and be quiet.
To read the rest of this IDB Editorial click here.
2. You've heard a lot about this crazy, scary, vicious mob on some shadowy GOP payroll. By the way the DNC, Rachel Maddow, and President Obama talk, you'd think it was a motley crue of Hell's Angels.
Let me introduce you to the mob:
[Updates at the bottom of this posting.  Most recent update at 7:41 pm CST]
On Thursday, August 6, the White House call to arms by Deputy Chief of Staff David Axelrod, "punch back twice as hard", at the growing grass roots movement opposing government single-payer health care produced the first violent incident later in the day.  During a Town Hall Meeting with U.S. Rep. Russ Carnahan at Bernard Middle School gym in south St. Louis County, Service Employees International Union (SEIU) members dressed in dark purple shirts, though they look blue in the video below, attacked a black American protester by savagely beating him.  The protester ended up in the Emergency Room of St. John's Mercy Medical Center.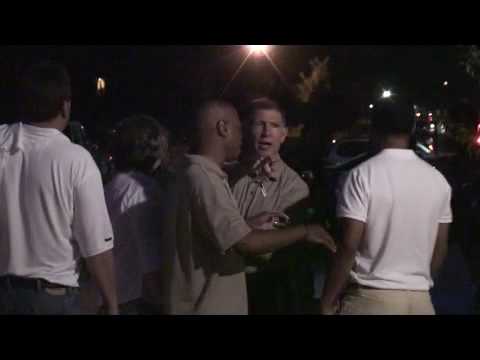 Lots of videos of townhalls here where members of Congress face outraged constituents.
Liberals can relax however.  The AFL-CIO is going to send out union members to restore order at the townhalls.  I look forward to the footage when a union leg breaker decides to take a swing at someone who is not enamored of ObamaCare.  In the age of cell phone videos nothing will escape being placed on video.   Conservative union members, your dues money at work.   My late father was a member of Allied Industrial Workers for 30 years, and it used to anger him intensely that his dues were used to support political causes he adamantly opposed.  If you don't like this and you are a member of a union, you might want to attend a townhall meeting!  Although maybe they won't let you in.  At the Russ Carnahan town meeting in Saint Louis over a thousand protesters were locked out and only Carnahan supporters were allowed in. Similar tactics were used at a townhall in Tampa.  That will solve the problem!  Lock people out who disagree with the person purporting to represent them in Congress!
The Left  is completely misreading this situation.  This isn't a matter of just Republicans and Conservatives.  There is a prairie fire of anger burning in this country, and it is not going to be stopped by biased media, attempts at intimidation, White House calls for informants or locking citizens out of townhall meetings.
Update: An  update here from Gateway Pundit on the violence at the Carnahan town meeting.