Unintentional Humor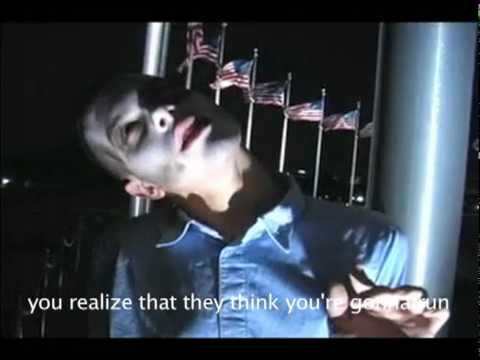 Hattip to Southern Appeal.  Hard to believe that the above video is actually pro-Obama rather than  a spoof.  It is produced by Campus Progress, a George Soros funded leftist group.  An odd thing about the video is the riff on Michael Jackson's Thriller, a song that came out in 1982, long before most college students were born.  This would be rather like a leftist campus group in 1968 using "Big Band" music from 1940 to make a political ad.  Oh well, I guess it is easier to make a fairly useless video for Obama than dealing with the fact that young people searching for jobs that simply are not there are increasingly soured on the South Side Messiah.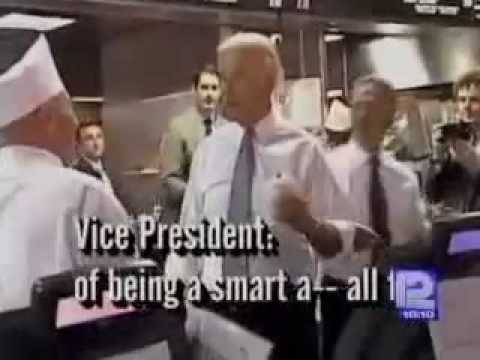 The antics of our unofficial national clown continues.  Thank you for always being willing to create comedic situations to lighten our mood Mr. Vice President in these dire economic times.  Additionally, rest assured that no one will ever call you a smart "donkey". Continue reading →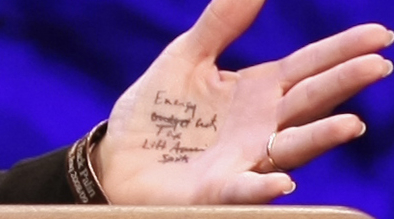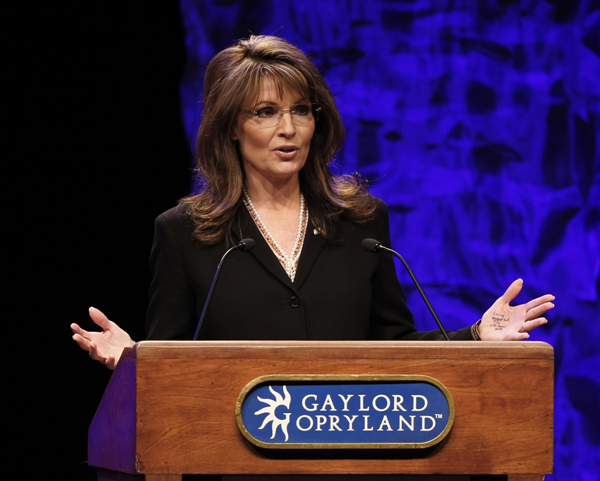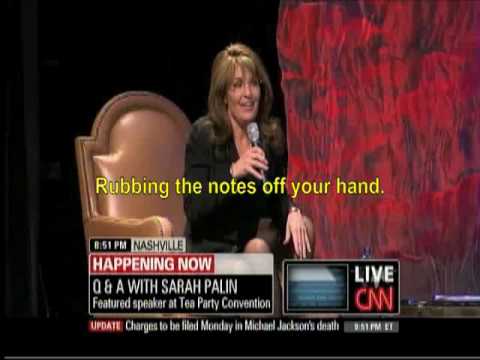 Sarah Palin in her speech at the Tea Party Convention mocked President Obama's use of teleprompters. She herself was however caught with notes written on her left hand. The words "Energy", "Tax," and "Lift American Spirits" are clearly visible. There also appears to be the phrase "Budget Cuts" with the word "budget" crossed out.
To be clear, these notes were not for her speech, for which she used prepared remarks, but for the Q&A session that followed afterward, during which she glanced at her hand. Inevitably one must ask, how is this not worse?
Nothing in her hand is specific, but rather just general concepts of things that she supports as a political conservative. This same woman on "FOX News Sunday" declared she won't "close the door" on a presidential bid in 2012.
Put another way: the leading contender, according to a recent poll, for the GOP nomination in 2012 cannot remember her own core principles as a conservative and must employ a cheat-sheet when asked about her beliefs.
In all honesty, I would vote for copy toner before I would ever think of voting for this woman.
Surely every parent has moments when he or she think that the toy obsession at Christmas has got far out of control. Some turn to religion, seeking to "put the Christ back in Christmas", but that big, cuddly man of the people Hugo Chavez has a better idea:
Venezuelan President Hugo Chavez called for an end of Christmas "consumption insanity" and replace presents for children with stories about national independence hero Simon Bolivar, local media reported.

"For the love of God, let's halt this, let's put the brakes on this consumerist, capitalist insanity, that leads us to lose our spiritual values," said Chavez.

Chavez suggested to stop buying toys "that as mothers and fathers we are practically forced" to buy. He also said that there is little sense in buying new clothes each December before Christmas Eve as these sales do not benefit the small merchants, but "their owners, the wealthy, the big distributors that make a bundle squeezing people."

"Let's sit with the children and tell them stories of Bolivar, of the motherland," the Venezuelan President said, adding that he makes this appeal from his heart "to put aside these vices."
Somehow, I'm not sure that "Bolivar and the motherland are the reason for the season" has quite the same ring to it. But surely Chavez's heart is in the right place.
Have a happy Boxing Day/St. Steven's Day/ Second Day of Bolivar!
Greg Craven, who is the Vice-Chancellor of Australian Catholic University (ACU), wrote a serious, yet funny, article.  The article comes from my favorite Australian newspaper, The Sydney Morning Herald.  In the article, A plague of Atheists has Descended and Catholics are the Target, Greg Craven explains the rise of a new group of atheists that would rather engage in polemics and attacks on the Catholic faith than engage in serious dialogue.  These attacks are so vitriol that they descend beyond reason and become humorous to read, but they aren't intentional.
I'm not normally the guy putting up political YouTube videos, but this was just too funny to pass up. Ill. rep Baron Hill talks down to a journalism major about why she's not allowed to record video during his town hall: because videos invariably end up showing compromising moments on YouTube. And now here he is, hectoring the girl, on YouTube.
Lesson: For politicians, life is like the Internet. If you do something stupid, it will always be there for everyone to see.
Joe Biden, Veep-in-charge-of-public-amusement , continues his one man war against national gloom.  Hattip to Ed Morrissey at Hot Air. In regard to a question about the new Hudson river rail tunnel on June 8, Joe said, ""Look, this is designed, this totally new tunnel, is designed to provide for automobile traffic.  It's something, as you know, up your way, that's been in the works and people have been clamoring for for a long time."  The tunnel is solely for trains.
Hatip to Drudge Report.  Biden, that never failing source of unintentional humor in dark times, in addition to being Veep is apparently de facto Surgeon General based on this rather alarmist advice that he gave in regard to swine flu.  Perhaps he believes the swine flu is the crisis he warned about last year?
Update:  Dale Price at Dyspeptic Mutterings has more health tips from the Veep.