U.S. Supreme Court
Get ready for Obama appointment, Round 2.
Supreme Court Justice Stevens announces he will retire in the summer.
Not sure how the timing will work on this, especially as Obama and the Democrats try to avoid being too contentious right before the November elections. That might play in our favor as far as getting a more moderate nominee. It will also be interesting to see if the GOP can or will delay the nominee as they have the 41 votes to filibuster.
The names being thrown around are the same ones being thrown around before; we'll see where he goes with this pick. Time to start praying again.
I have to say something about the latest Supreme Court ruling upholding "corporate personhood", declaring that corporations and unions (when was their "personhood" established?) can contribute as much money to political campaigns they like in the name of free speech.
I am not a judicial scholar, but this argument looks absolutely rotten to the core. News articles tell me that Republicans are actually happy about this decision, mouthing the words "this is a victory for free speech", and apparently believing them too.
Because of my limitless capacity for self-doubt, I suppose I can always leave the door open slightly ajar to the possibility that there really is some moral and social good or benefit to allowing multinational corporations and Mafia-infested labor unions to ride roughshod over the American electoral process.
However, because of my sanity, which normally tells me that "an artificial being, invisible, intangible, and existing only in contemplation of law" (to quote dissenting Justice Stevens, quoting John Marshall) isn't a real person, I think this decision is one of the most anti-democratic, nakedly plutocratic I have ever heard of. Arguments for corporate personhood, and the freedom of speech that follows, ultimately give one a sense of what it is like to live in Oceania in Orwell's 1984 and hold the revolutionary thought that 2+2 might actually equal 4, even when Big Brother says it equals 5. War is peace, slavery is freedom, and the freedom to buy politicians and elections is "freedom of speech." Insanity is sane!
In his encyclical Aeterni Patris, Pope Leo XIII sought to advance the restoration of Christian philosophy against the modern trends of secular philosophy, emerging from Enlightenment rationalism. The critique of modern intellectual errors and the way in which such false thinking manifests itself in the world has deeply shaded my personal reflection on the tragedy of legal abortion.
From NPR's "Watching Washington" Blog:
The Supreme Court Scrambles Politics — Again

Many people will hear about Thursday's landmark Supreme Court decision freeing corporations to mount political campaigns and say the court has blown up politics as we know it.

By bringing corporations (and by extension, labor unions) back into the electioneering fray, the court has restarted a spending war Congress had tried to restrain over the past generation — most recently with the Bipartisan Campaign Reform Act of 2002, best known for its co-sponsoring senators, John McCain (R-AZ) and Russell Feingold (D-WI).

So long as they do not give to candidates directly, corporations can spend whatever they wish to support or oppose candidates for president or Congress. They are free to exercise their rights of free speech under the First Amendment. Just like citizens. Their rights cannot be suppressed on the basis of their "corporate identity," wrote Justice Anthony Kennedy.

The ramifications for this year's congressional elections and the 2012 presidential contest are sure to be profound. What does it mean, for example, for an investment bank such as Goldman Sachs, which had the cash to pay $16 billion in compensation to its employees for 2009, when a major issue before Congress this year is a tax on those bonuses? (Read the whole column here).
Rep. Alan Grayson (D-FL) has launched an online petition against the decision. The text reads:
Unlimited corporate spending on campaigns means the government is up for sale and that the law itself will be bought and sold. It would be political bribery on the largest scale imaginable.

This issue transcends partisan political arguments. We cannot have a government that is bought and paid for by huge multinational corporations. You must stop this.
From The Courthouse News Service:
WASHINGTON (CN) – The Supreme Court today killed a central part of the McCain-Feingold campaign finance law and ruled that corporations may spend as much as they wish to support or oppose candidates for president and Congress. The 5-4 vote left intact limits on corporate gifts to individual candidates (read the whole story here).
Following the decision, George Will declared the ruling as a radical defense for freedom of speech. In reply, E.J. Dionne argues that will amount to a corporate take over of politics.
Also see here for the story on the Court's ruling on campaign finance reform from RealClearPolitics.
To ask some questions is to answer them, and via Commonweal, I see that UCLA history professor emeritus Joyce Appleby has penned a lovely exercise in anti-Catholicism entitled, Should Catholic Justices Recuse Selves On Certain Cases?. Here is an excerpt:
But because of the Catholic Church's active opposition to abortion, same-sex marriage and capital punishment, it raises serious questions about the freedom of Catholic justices to judge these issues. Perhaps the time has come to ask them to recuse themselves when cases come before their court on which their church has taken positions binding on its communicants…

…Recusal sounds like a radical measure, but we require judges to withdraw from deliberations whenever a personal interest is involved. Surely ingrained convictions exert more power on judgment than mere financial gain. Many will counter that views on abortion, same-sex marriage, and the death penalty are profound moral commitments, not political opinions. Yet who will argue that religious beliefs and the authority of the Catholic Church will have no bearing on the justices when presented with cases touching these powerful concerns?
Imagine a white male conservative making the same comments that Judge Sonia Sotomayor made:
A wise White man with his experiences would more often than not reach a better conclusion than a Latina female,"
The mainstream media (old media) would have a field day recounting how racist Republicans are.  It would be nonstop media coverage not seen since Trent Lott's infamous statements.
Now here are Judge Sonia Sotomayor's comments.  Keep in mind that when she said these comments that she was dead serious:
A wise Latina woman with her experiences would more often than not reach a better conclusion than a white male,"
The protests around Obama's honorary degree from Notre Dame University had many of the more politically progressive Catholic voices complaining that pro-life advocates had moved into a practice of loudly protesting absolutely everything that seemed vaguely positive for Obama without regard for whether it was an important issue.  As someone who cares about the integrity of Catholic education, I think they were wrong in regards to Notre Dame's decision to give Obama an honorary law degree — it was a big deal and it was appropriate to decry the choice.
However, I think that Jay Anderson and Feddie are right in making the case that the nomination of Sonia Sotomayor to the Supreme Court is not something that pro-life groups should be knocking themselves out to contest.
Given how early it is in his presidency and how high his political approval ratings are, Obama could have decided to spend political capital and put a top notch, liberal intellectual ideologue on the court who could work to shift the balance strongly to the left. Instead, he made the fairly bland, identify politics "first" pick which had been conventional wisdom in Democratic circles for some time, despite the doubts of those who wanted to see a more intellectual and ideological pick. As pro-lifers, we certainly don't need to praise this pick. She is doubtless pro-choice and will work to support Roe and other Culture of Death decisions. But we also don't need to pick this to raise a stink over. She will be confirmed regardless, given the composition of the senate, and if we can both conserve our political energy and provide Obama with some positive reinforcement that sticking to bland conventional wisdom candidates will be rewarded with a lack of partisan rancor, so much the better.
Again, I'm not saying that pro-lifers need to praise or support Sotomayor, but Obama could have stuck it to us a lot worse — and since kicking a fuss will achieve nothing other than encouraging the administration to play only to their base next time with a strictly ideological pick (and win the pro-life movement more of a reputation for constant shrillness) this would be a good time for us to hold our fire and concentrate on other things, like the next crop of pro-life candidates.
Doug Kmiec has a rather bizarre article up at America entitled The Case For Empathy: Why a Much-Maligned Value Is a Crucial Qualification for the Supreme Court. If the article is any indication, I suppose we should be thankful Obama didn't make any off-hand remarks suggesting 'creativity' or 'imagination' were traits he would look for in a potential Supreme Court justice, if only because it might have lead to more essays like this one. After some preliminary gushing about, you guessed it, empathy, Kmiec explains what an empathetic justice would accomplish:
To do this, it is possible that [Obama] will mine for legal talent in unusual places, but it is more likely he will attempt to find a nominee with appellate court experience whose skill set also shows the capability of challenging methods of interpretation that otherwise wouldn't give empathy the time of day. If Obama succeeds even with this more limited challenge,he will have exploded the notion  that swapping out a Souter for a new, most likely younger and intellectually energetic, justice is without effect.
With the announced retirement of Supreme Court Justice David Souter President Obama wasted no time in addressing the issue of what he's looking for to fill this vacancy.  In so many words he clearly stated his desire for an activist judge with an eye towards reengineering America [emphasis and comments mine].
"It is also about how our laws affect the daily realities of people's lives [meaning he wants a Justice who holds fast to the Living Constitution Theory,ie, an activist judge finding invisible law where none existed], whether they can make a living and care for their families, whether they feel safe in their homes and welcome in their own nation."
The following excerpt clearly reveals President Obama's contempt for legislative history in effect eliminating a potential nominee that adheres to the theory of original intent.
"I will seek someone who understands that justice is not about some abstract legal theory or footnote in a casebook."
One thing is for sure, it will be an extremist liberal and pro-abortion nominee.
The Cranky Conservative has two first rate posts on his site here on what he regards to be the ten worst US Supreme Court decisions of all time.  Having read hundreds of Supreme Court decisions, I have to salute Cranky for narrowing them down to ten.  So many appalling decisions to choose from!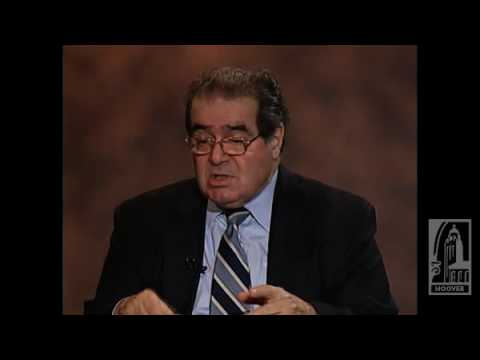 Hattip to the ever eagle eyed Jay Anderson at Pro Ecclesia.   Justice Antonin Scalia on stare decisis and Roe.  By the way, Scalia's low estimate of Roe as a legal opinion is pretty nearly universal in the legal world.  Liberal attorneys and judges, even though they support abortion on demand, will frequently agree in private, and sometimes in public, that Roe was a shoddy piece of legal work, and that Harry Blackmun, the author of Roe, was a poor excuse for a jurist.  This of course does not prevent them from supporting Roe since they approve of the result, but it does mean that all of the many cases following Roe are based on an intellectually, and of course constitutionally, rotten foundation.  We can see this in the opinions that strain to make sense of Roe, which, as Judge Bork famously noted, is completely devoid of legal argument.