U.S. Constitution
There are many political fault lines that run through American society, perhaps more today than any point in recent history. We can all probably name a few of the ideological, cultural, and religious lines, but there is one in particular that I wish to explore with you today: divisions over whether or not, and to what extent, it is legitimate to resist the government. By resist, or rebel, I mean a refusal to comply with laws, though in the future it may mean something else entirely.
When "left" and "right" are set aside,  what appears to separate the "mainstream" from "extremism" is the position they take on this vital question.
Naturally, in a country with revolutionary origins, whose founding document establishes the right of the people to overthrow governments that break their end of the social contract, talk of resistance or rebellion in general cannot be dismissed as insane, though some undoubtedly try to argue along those lines. There is also a broad political consensus in the mainstream that civil disobedience against overt racial injustice is legitimate; few Republicans these days have anything other than praise for the aging heroes of the Civil Rights movement of the 1960s.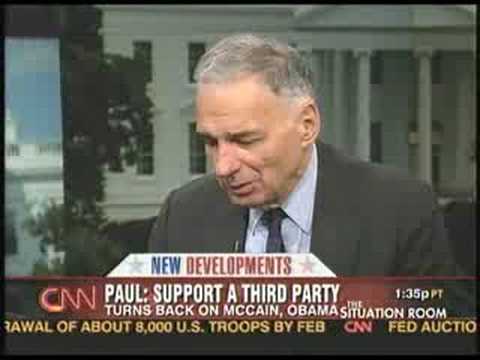 I just watched the documentary "One Percent" with my wife and I have been reading Ron Paul's book – End the Fed. Very interesting points of contact and dissonance between the two viewpoints.
In a tribute to common sense, the U.S. Supreme Court has ruled that a Cross raised in 1934 as a tribute to U.S. soldiers who died in World War I may stay at the Mojave National Preserve.  The depressing part of this news was that the vote was 5-4.  Stevens, who is retiring, voted with the four justices who viewed the Cross as a threat to our constitutional order.
In my last post, I wrote about tensions, existing or potential, between the libertarian and social conservative elements in the tea party movement. Whereas before I was speaking of Christians in a broad and general sense, I will now turn to what I think the Catholic response to the tea party ought to be.
As I looked into this topic, I was dismayed by the utter predictability of responses from across the Catholic spectrum. The rad-trad response was irrational as always; the leftist response as arrogant and contemptuous as ever; and the mainstream response was unimaginative. Granted this is a very small sampling, but I wouldn't be surprised if it was accurately representative of these currents.
28% of the tea party movement, according to the one poll we have so far, is Catholic. This means Catholics are slightly over-represented in the movement. As I also reported last time, 68% of tea partiers attend religious services regularly; for Catholics, that ought to mean they go to Mass every Sunday. Now one thing I think I can say that isn't very controversial is that when it comes to fidelity to the Church's teaching on non-negotiable issues, such as abortion, marriage, and parental education rights, Catholics that regularly attend Mass are doing a heck of a lot better than Catholics who don't. So these Catholics that are faithful to Church teaching on important issues are also supporting the tea party; that to me is an indicator that there is little in the tea party that fundamentally contradicts Church teaching.
In my previous post, I argued at length against both traditionalist Catholic and left-Catholic critiques of American history, and Catholicism's place within it. Now I believe it is time to shift from the historical to the contemporary. A recent article in Politico by Ben Smith, "Tea parties stir evangelicals' fears" (which might have been better titled, "Ben Smith seeks to stir evangelicals' fears"), makes what I consider to be a rather weak attempt to stir the pot and inflame tensions between libertarians and evangelical Christians. You know he's reaching when he's hunting down "Christian conservatives" whose primary concern with the tea party is that it is unduly harsh on the noble personal character of President Obama, who, according to one of these evangelical leaders, "provides a tremendously positive role model for tens of millions of African-American men."
My eyes were rolling so hard I could practically hear them squishing around in their sockets.
The more substantive claim worth addressing is that there is a secular libertarian streak in the tea party movement that is partially or wholly incompatible with the conservative Christian social agenda, which one of the evangelical critics claims has "a politics that's irreligious". When Smith was schooled by an article covering a poll that broke down, and dispelled some of the more ridiculous myths about the tea party movement, he continued to maintain that the tensions he pointed out could become problems in the future. So they may.
In the third installment of my proposal for a libertarian-distributist alliance, I explore why libertarians ought to be open to distributist ideas. An excerpt:
Chief among the reasons to support a greater distribution of property is the simple truth that the maximum sphere of individual liberty is not to be found in an individualist utopia, but a strong localism that provides individuals in a moral and efficient way that which they would otherwise turn to a powerful state or crime syndicate to provide.
In his encyclical Aeterni Patris, Pope Leo XIII sought to advance the restoration of Christian philosophy against the modern trends of secular philosophy, emerging from Enlightenment rationalism. The critique of modern intellectual errors and the way in which such false thinking manifests itself in the world has deeply shaded my personal reflection on the tragedy of legal abortion.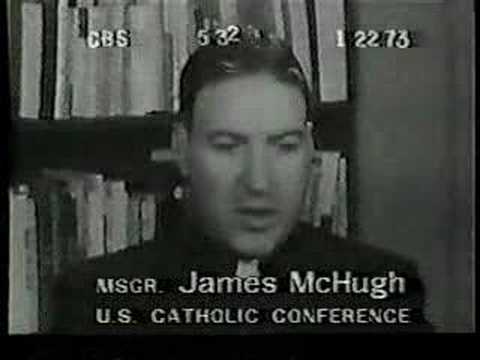 As we observe the sad thirty-seventh anniversary of Roe v. Wade, the Supreme Court decision that overturned all state laws banning abortions and effectively served as a judicial death warrant for tens of millions of innocents, I think it is appropriate to pay tribute to the two dissenting Justices, Byron White, a Democrat, and William Rehnquist, a Republican.  Here are the texts of their dissents:
MR. JUSTICE WHITE, with whom MR. JUSTICE REHNQUIST joins, dissenting.
At the heart of the controversy in these cases are those recurring pregnancies that pose no danger whatsoever to the life or health of the mother but are, nevertheless, unwanted for any one or more of a variety of reasons — convenience, family planning, economics, dislike of children, the embarrassment of illegitimacy, etc. The common claim before us is that, for any one of such reasons, or for no reason at all, and without asserting or claiming any threat to life or health, any woman is entitled to an abortion at her request if she is able to find a medical adviser willing to undertake the procedure.
The Court, for the most part, sustains this position: during the period prior to the time the fetus becomes viable, the Constitution of the United States values the convenience, whim, or caprice of the putative mother more than the life or potential life of the fetus; the Constitution, therefore, guarantees the right to an abortion as against any state law or policy seeking to protect the fetus from an abortion not prompted by more compelling reasons of the mother.
With all due respect, I dissent. I find nothing in the language or history of the Constitution to support the Court's judgment. The Court simply fashions and announces a new constitutional right for pregnant mothers [410 U.S. 222] and, with scarcely any reason or authority for its action, invests that right with sufficient substance to override most existing state abortion statutes. The upshot is that the people and the legislatures of the 50 States are constitutionally dissentitled to weigh the relative importance of the continued existence and development of the fetus, on the one hand, against a spectrum of possible impacts on the mother, on the other hand. As an exercise of raw judicial power, the Court perhaps has authority to do what it does today; but, in my view, its judgment is an improvident and extravagant exercise of the power of judicial review that the Constitution extends to this Court.
As freezing temperatures continue to grip the nation and the world I thought this political cartoon apropos to the many climate change proponents that continue to peddle this pseudoscience.
Which is why I am promoting the possibility of an amendment to the U.S. Constitution for the Separation of Science and State.  The new law would make it possible to separate the radical environmentalists and their socialist allies from imposing their false faith in scientism upon Americans.
(Biretta Tip: Lucianne)
Representative Todd Akin (R-MO) lead the Pledge of Allegiance at a rally protesting the Democratic health care reform bills. He gave a short statement beforehand on the importance of the phrase "under God." He then invited everyone to join in the recitation of the Pledge because it "drives the liberals crazy." This statement shouldn't be surprising coming from a member of a party committed to nationalist overtones and calling into question the patriotism of anyone who dares to dissent from their claims of what is "patriotic." Yet Rep. Akin made a fool out of himself when it was time to actually recite the Pledge.
Sure, he simply had an honest stumble. I am sure we all do it. But it is quite hilarious that it took place after he sanctimoniously claimed some sort of patriotic high ground for conservatives because liberals apparently hate our country. So much for his credibility. . .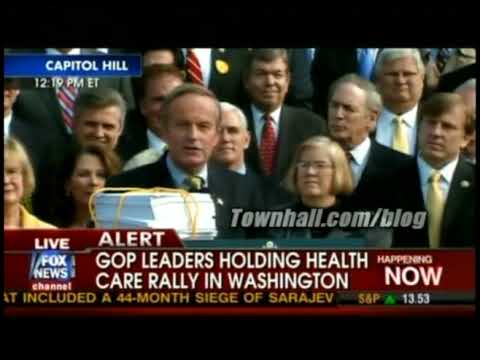 Similarly, House Minority Leader John Boehner was fired up against the Democrats at a Tea Party rally. He went to invoke the Founding Fathers who wrote in the preamble of our Constitution: "We hold these truths to be self-evident…"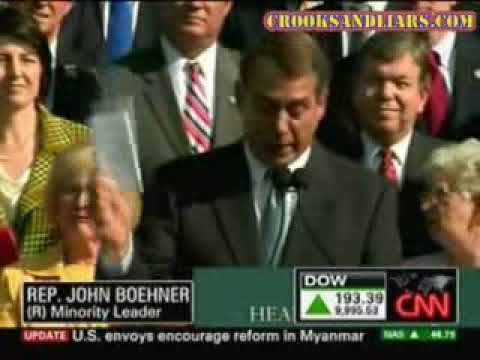 Oops.
Mr. Boehner does not appear to know the difference between the United States Constitution and the Declaration of Independence. Better luck next time.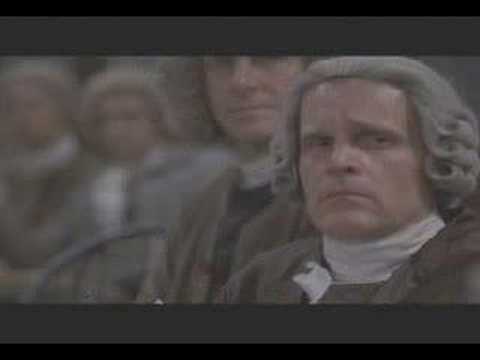 John Adams, second President of these United States, was a man of very firm convictions.   Once he decided to support a cause, most notably American independence, nothing on this Earth could convince him to change his mind.  In regard to religion he was raised a Congregationalist.  Although described as a Unitarian, I find the evidence ambiguous in his writings and I suspect he remained at heart a fairly conventional Protestant.  As such he was unsympathetic to the Catholic faith by heredity, creed and conviction.  However, he did attend Mass on occasion, and his writings about these visits show attraction mixed with repulsion.
On October 9, 1774 Adams and George Washington attended a Catholic chapel in Philadelphia during the First Continental Congress.  He reported his thoughts about the visit to his wife and constant correspondent Abigail:
"This afternoon, led by Curiosity and good Company I strolled away to Mother Church, or rather Grandmother Church, I mean the Romish Chapel. Heard a good, short, moral Essay upon the Duty of Parents to their Children, founded in justice and Charity, to take care of their Interests temporal and spiritual.
This afternoon's entertainment was to me most awful (Adams here means awe-inspiring and not the more colloquial use of the term common in our time.) and affecting. The poor wretches fingering their beads, chanting Latin, not a word of which they understood, their Pater Nosters and Ave Marias. Their holy water– their crossing themselves perpetually– their bowing to the name of Jesus wherever they hear it– their bowings, and kneelings, and genuflections before the altar. The dress of the priest was rich with lace– his pulpit was velvet and gold. The altar piece was very rich– little images and crucifixes about– wax candles lighted up. But how shall I describe the picture of our Saviour in a frame of marble over the altar, at full length, upon the cross in the agonies, and the blood dropping and streaming from his wounds.
The music consisting of an organ, and a Choir of singers, went all the afternoon, excepting sermon Time, and the Assembly chanted– most sweetly and exquisitely.
Here is everything which can lay hold of the eye, ear, and imagination. Everything which can charm and bewitch the simple and the ignorant. I wonder how Luther ever broke the spell."