U.S. Constitution
Via the Right Scoop comes this video from Steven Crowder, exposing some of the more ridiculous argument from those who support the decriminalization (or legalization) or marijuana: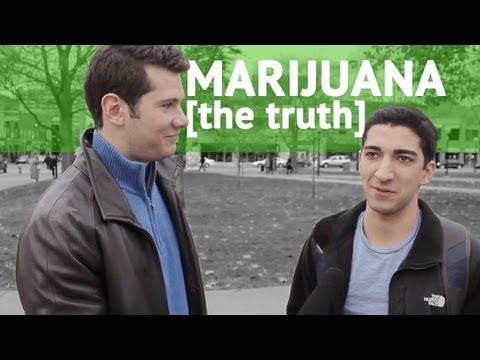 Please note that Crowder does not address the constitutional issue surrounding federal marijuana prohibition. In fact he goes out of his way to emphasize that there are legitimate arguments to be made that this is not an issue that justifies federal intervention. But as the video highlights, none of the people he interviewed brought up the constitutional argument. Instead, his interviewees relied on tropes that are untrue. He also makes a point about prohibition that I have often made: namely, that the 18th Amendment prohibited the use of a substance that was already legal and widely used by most Americans. Marijuana legalization would make available a previously criminalized substance used by a minority of Americans.
Like Crowder, I believe that the constitutional arguments against federal marijuana prohibition are, at a minimum, compelling. But if you are going to take up the cause of decriminalization, at least make better arguments than these people.
A woman to Benjamin Franklin at the close of the Constitutional Convention:
"Well, Doctor, what have we got—a Republic or a Monarchy?"
  Benjamin Franklin "A Republic, if you can keep it."
September 17 of this week was the 225th anniversary of the signing of the Constitution on  September 17, 1787 at the close of the Convention.  The speech of Benjamin Franklin on this occasion has always struck me as being chock full of wisdom.  Here is the text of his address:
Continue reading →
The federal DREAM Act failed to pass Congress; however, President Obama has never been one to let a pesky little thing like the U.S. Constitution to get in the way of achieving his policy objectives.
The Obama administration will stop deporting and begin granting work permits to younger illegal immigrants who came to the U.S. as children and have since led law-abiding lives. The election-year initiative addresses a top priority of an influential Latino electorate that has been vocal in its opposition to administration deportation policies.

The policy change, described to The Associated Press by two senior administration officials, will affect as many as 800,000 immigrants who have lived in fear of deportation. It also bypasses Congress and partially achieves the goals of the so-called DREAM Act, a long-sought but never enacted plan to establish a path toward citizenship for young people who came to the United States illegally but who have attended college or served in the military.
Let's take a look at Article II of the Constitution (the article dealing with the presidency, for those of you in Rio Linda). Hmmm, we've got length of term, eligibility requirements, the electoral college, Commander-in-Chief, state of the Union, adjourning Congress . . .  don't see anything here about just ignoring the will of Congress when they don't implement policies you approve of.
Oh. Wait. There it is. It's right between the penumbras and emanations guaranteeing the right to privacy and abortion. My bad. Clearly my Ph. D training was incomplete.
Now you might be upset with this decision, but do not question President Obama's fealty to the Constitution. This is a man who has been a zealous guardian of the Executive Branch's duties and responsibilities. And if you don't believe me, just take a closer look at the tremendous work the Justice Department has done in fighting for the Defense of Marriage Act. No, that president would never let partisan politics prevent him from faithfully upholding the laws of our land.
In all seriousness, this is another power grab that would be impeachable in a saner world. Make no mistake, this is not about the policy itself. That is a topic for another discussion, and is absolutely not the point of this post. The merit of the policy is irrelevant to the concerns over constitutional authority and power. Last I checked this was still a constitutional republic, not an autocracy, and the president of the United States cannot simply make policy absent a grant of legislative authority.
What's troubling to me is seeing a handful of Catholics applauding this decision, including Archbishop Schnurr of Cincinnati. I understand why these individuals support the overall policy, but again, the policy itself is beside the point. You should not applaud a policy when the manner in which it is implemented so flagrantly violates the Constitution.
So let me say this bluntly: if you approve of the president's actions in this particular case, then you have absolutely no standing whatsoever to to complain about the constitutionality of the HHS mandate. If you support this action but think the HHS mandate is a tyrannical show of force, then you are a complete hypocrite. You're essentially signalling that you are okay with usurpation of constitutional authority when you agree with the policy outcome. Just as we can't be cafeteria Catholics, we don't get to be cafeteria constitutionalists either. You don't get to pick which parts of the Constitution you uphold. Now of course constitutions, unlike dogma, can be amended and changed, though I suspect permitting the president of the United States to do whatever he likes whenever he likes would not be an advisable change.
This president has absolutely no regard for the Constitution, and this action only helps underscore this undeniable fact.
And they were right.
For those who didn't watch the video, skip to about the 3:35 mark where Secretary of Defense Leon Panetta responds to a question about creating a no-fly zone over Syria.  He states that the administration would seek international approval and then inform Congress about its actions.
That's right – international sanction for military action would take precedence over Congressional authority.  And that makes complete sense, because in the United States Constitution it clearly states right there in Article I, Section 8 that international bodies shall have the power to declare war and therefore bring the United States into armed conflict.
Oh.  Wait.  It's Congress that has the power to declare war.  Silly me.  But we live in an international age, and if the Supreme Court can rely on international law in order to decide cases, then by golly the President of the United States should be able to commit American troops to armed conflict with a nice note from the U.N. or some other international body.
And at least he'll be nice enough to let Congress know.  Maybe he'll text Speaker Boehner about it, but only after he gets off the phone with Sandra Fluke.  Priorities.
George Will has a superb column on Obama's rhetoric in the State of the Union Address:
Obama, an unfettered executive wielding a swollen state, began and ended his address by celebrating the armed forces. They are not "consumed with personal ambition," they "work together" and "focus on the mission at hand" and do not "obsess over their differences." Americans should emulate troops "marching into battle," who "rise or fall as one unit."

Well. The armed services' ethos, although noble, is not a template for civilian society, unless the aspiration is to extinguish politics. People marching in serried ranks, fused into a solid mass by the heat of martial ardor, proceeding in lock step, shoulder to shoulder, obedient to orders from a commanding officer — this is a recurring dream of progressives eager to dispense with tiresome persuasion and untidy dissension in a free, tumultuous society.

Progressive presidents use martial language as a way of encouraging Americans to confuse civilian politics with military exertions, thereby circumventing an impediment to progressive aspirations — the Constitution and the patience it demands. As a young professor, Woodrow Wilson had lamented that America's political parties "are like armies without officers." The most theoretically inclined of progressive politicians, Wilson was the first president to criticize America's founding. This he did thoroughly, rejecting the Madisonian system of checks and balances — the separation of powers, a crucial component of limited government — because it makes a government that cannot be wielded efficiently by a strong executive.
Wilson is of particular importance here.  Wilson's dissatisfaction with the Constitution stemmed from the many limitations said document placed on the government.  Not only did the Framers grant few specified powers to Congress, they instituted various mechanisms that made it even more difficult for government to enact the reforms that Progressives like Wilson so desired.  Wilson wanted to convert the United States government into a parliamentary system.  Under this kind of design, instead of a legislature-dominated government complicated by checks and balances, we would have an executive-led government with few checks on the Prime Minister's power.
Wilson was unable to transform the government to his liking.  The Constitution still divides power in so many ways that it would be theoretically be difficult for the Progressive reformers to get all that they wanted.  So instead of working within the system, the left has basically just ignored that pesky ancient document.
Franklin Roosevelt agreed. He complained about "the three-horse team of the American system": "If one horse lies down in the traces or plunges off in another direction, the field will not be plowed." And progressive plowing takes precedence over constitutional equipoise among the three branches of government. Hence FDR's attempt to break the Supreme Court to his will by enlarging it.

In his first inaugural address, FDR demanded "broad executive power to wage a war against the emergency, as great as the power that would be given to me if we were in fact invaded by a foreign foe." He said Americans must "move as a trained and loyal army" with "a unity of duty hitherto evoked only in time of armed strife." The next day, addressing the American Legion, Roosevelt said it was "a mistake to assume that the virtues of war differ essentially from the virtues of peace." In such a time, dissent is disloyalty.

Yearnings for a command society were common and respectable then. Commonweal, a magazine for liberal Catholics, said that Roosevelt should have "the powers of a virtual dictatorship to reorganize the government." Walter Lippmann, then America's preeminent columnist, said: "A mild species of dictatorship will help us over the roughest spots in the road ahead." The New York Daily News, then the nation's largest-circulation newspaper, cheerfully editorialized: "A lot of us have been asking for a dictator. Now we have one. .?.?. It is Roosevelt. .?.?. Dictatorship in crises was ancient Rome's best era." The New York Herald Tribune titled an editorial "For Dictatorship if Necessary."
Commonweal. Some things never change.
And so now we've arrived at Obama's America, and the left's impatience with the Constitution manifests itself again.
Obama, aspiring to command civilian life, has said that in reforming health care, he would have preferred an "elegant, academically approved" plan without "legislative fingerprints on it" but "unfortunately" he had to conduct "negotiations with a lot of different people." His campaign mantra "We can't wait!" expresses progressivism's impatience with our constitutional system of concurrent majorities. To enact and execute federal laws under Madison's institutional architecture requires three, and sometimes more, such majorities. There must be majorities in the House and Senate, each body having distinctive constituencies and electoral rhythms. The law must be affirmed by the president, who has a distinctive electoral base and election schedule. Supermajorities in both houses of Congress are required to override presidential vetoes. And a Supreme Court majority is required to sustain laws against constitutional challenges.

"We can't wait!" exclaims Obama, who makes recess appointments when the Senate is not in recess, multiplies "czars" to further nullify the Senate's constitutional prerogative to advise and consent, and creates agencies (e.g., Obamacare's Independent Payment Advisory Board and Dodd-Frank's Consumer Financial Protection Bureau) untethered from legislative accountability.

Like other progressive presidents fond of military metaphors, he rejects the patience of politics required by the Constitution he has sworn to uphold.
I can't tell you how many times that, when I've asked someone to cite the constitutional authority for the point they are arguing, they vaguely give me an Article and Section number without explaining how said article justifies their favored course of action.  Well, you will all be happy to know that our representatives in Congress are not any better at offering specifics.
At the beginning of the 112th Congress, as part of an effort to inject more transparency into the legislative process, the House adopted a rule requiring that each bill be accompanied by a Constitutional Authority Statement.  The purpose of the rule was to expose the cavalier attitude of those members who desire to legislate 'just because they can.'

Well, after a year of legislating under this rule, it appears that we are in serious need of accountability measures to provide some clarity and specificity to the authority statement.  Otherwise, the rule will be regarded as yet another "transparency" gimmick of Congress.

Republican congressional staffers combed through almost 3800 bills and joint resolutions that have been introduced this year, in an effort to gauge the clarity and specificity of the Constitutional Authority Statements.  For the most part, the results are pretty pathetic.  Here are some of their key findings:

Overall, 945 bills contained authority statements which do not reference a specific power granted by the Constitution.  Many of these merely cited "Article 1" or "Article 1 Section 1" "Article 1 Section 8." In other words, they just cited the fact that Congress has the power to legislate, but failed to divulge which constitutional power or specific clause is supporting their legislation.
There were 732 bills which only referenced the commerce clause, 660 which only referenced the general welfare clause, and 321 which mentioned the necessary and proper clause without reference to a previous Constitutional clause to which the necessary and proper clause might apply.
In total, there were 2658 Constitutional Authority Statements that were either questionable or vague.  That represents roughly 69% of all bills and resolutions introduced in the 1st Session of the 112th Congress.
While more of the vague citations are attributable to Democrat bill sponsors, many Republicans were lax in offering meaningful authority statements.  Almost as many Republicans used the inexplicit commerce clause as Democrats.
This highlights a number of problems with both Congress and our understanding of the Constitution in general.  First of all, attempts to reign in Congress are almost always futile because Congressmen are adept at skirting around clear legislative language.  After all, we're dealing with a bunch of lawyers – both on staff and in Congress itself.  Lawyers are masters of finding, and then abusing the fine print.
But let's not just chalk up to maliciousness what we can also chalk up to laziness.  Yes, these are all smart people, but they're also lazy.  When staff drafts legislation* they don't have enough time to be rummaging around 100-year old, dry old documents like the U.S. Constitution.  They can vaguely remember their Con Law class and some decision handed down by some FDR-appointed judge that says that the commerce clause covers that, and so VOILA!  Constitutional justification.
*: And, by the way, make no mistake about it – it's Congressional staff that writes legislation.  Do you think Congress critters are the ones hammering away at their laptops drafting this minutiae?  Of course not.   Do you really think they're busy putting together 2,000 page documents?  Uh uh.  No, we are governed by 30 year olds fresh out of law school who are just biding their time until they get a job with a K Street firm that will lobby Congress on the labyrinth legislation that said staffer just penned.  Meanwhile, the people who actually have to vote on these bills have, at best, skimmed them, trusting their personal staffers to give them the gist of what is written on paper.  Just what our Framers envisioned, right?
Finally, let's be honest – the FDR appointed judge probably just muttered something about the commerce clause in the ruling, offering barely much more substance than the Congressional staffer.  Over the years the judiciary, through the beneficence of broad interpretation, has often stretched Constitutional meaning beyond the breaking point.  If staff were inclined to beef up their Constitutional Authority Statements, we would be no more satisfied with the end result.  It would still likely be utter malarkey, just better sourced and more specific-sounding malarkey.
Still, I think this exercise has one useful purpose.  We all knew that Congress was just making it up as it went along, and now we have written proof of that.
President Obama does his best Hugo Chavez impression as he chucks the U.S. Constitution for election gain.
Election 2012 can't come soon enough for this tin teapot to get booted out of office.
There is an effort underfoot in the Pennsylvania legislature to change the way the state awards its electoral votes.
PA Senate Majority Leader Dominic Pileggi wants to allot Pennsylvania's electoral college votes on a congressional district by district basis, rather than the current system of winner take all.

In a state like Pennsylvania, where Democratic candidates for President have won every election since 1988, it could be a way for Republicans to avoid a total loss.
For a number of reasons, I think this is a bad move.
My colleague Paul Zummo wrote recently here at TAC responding to presidential candidate Herman Cain's recent remarks about mosques: The Constitution Isn't a Suicide Pact. It is not my intention to either defend or criticize Herman Cain, nor to talk about radical Islam, per se, but Zummo's article touches on a topic that is too frequently ignored. Whether we are talking about abortion, terror-supporting mosques, so-called 'gay marriage', pornography, or any other topics where issues of morality come up in politics, we should recognize that people of faith are always going to be butting heads in the public sphere with those who claim that the Constitution gives us the freedom to do evil. Does the Constitution give us the freedom to do evil? No. It doesn't.
Does the Constitution give religions the freedom to preach terror? I would argue that the answer to that is no. This is what I'm sure Herman Cain was referring to, and I agree with him on the point, however ineloquent he may have been.
The Constitution must not be read in a vacuum. It was authored by people of faith, for people of faith. It proceeded from the Declaration of Independence and has foundation in the Declaration's principle that all men are created equal by the one Creator recognized by Jews and Christians universally. The Founders were certainly aware of Islam, but I doubt they would have thought that Americans would stand for allowing Islamists to put our lives at risk under the guise of 'freedom of religion'.
Jews and Christians to this day continue in their shared acknowledgment that we owe our rights to the same Creator. This is why we say that America is a Judeo-Christian state. Even so, we should welcome those of other faiths, provided that they live in the same respect for human dignity that is inherent in the Judeo-Christian ethic.
Because the vast majority of Americans – whether Jew or Christian – understood from the beginning that our rights come from God alone, it was understood universally, as well, that we do not have freedom to do evil. Instead, we are all bound to be what we believe the Creator has called us to be. The first Americans understood this clearly, whereas today, the Constitution is frequently held up as a document that protects the freedom to do evil. As of late, the call is for evil to be enshrined as good, and for good to be condemned because it challenges evil. The latest clear example is the recent 'gay marriage' law passed in New York.
The primary example of this enshrinement was the 1973 Roe v Wade decision which legalized abortion. Slavery might have been similarly enshrined as a Constitutional "right" by the Dred Scott decision had people of good will not risen up to correct the wrong. As more and more people rise up to correct the wrong which was the Constitutional enshrinement of abortion, a new movement seeks to enshrine another evil: "gay marriage".
Let us not make the mistake of enshrining evil as good, be it in giving radical Islam protected status as "religion" or in giving gay marriage protected status as if it were a legitimate union for the good of society.
Much is at stake in our time. Let's pay attention and not throw any babies out with the bathwater.