Town Hall Meeting
My adult conversion to Catholicism came about through many converging spiritual streams, but one of the things I remember that had perhaps, the biggest positive impact, was my introduction to the Papal Social Encyclicals. I was immediately impressed by the non-ideological, Biblically-consistent worldview expressed by the Catholic Magisterium. As my initial conversion led to graduate Theological studies, teaching in Catholic high schools around the world, and a run for Florida State House; I have remained an ardent admirer of the Social Doctrine of the Church.
It is one of my lifetime goals to find ways to promote the social teachings of our Catholic Magisterium, and to find practical ways to cultivate Catholic political leaders who are similarly dedicated to the work of building civilizations of love founded upon the principles of our complete corpus of social doctrine teachings. As a candidate I discovered that most parishes are ill-equipped to nurture future Catholic leaders or even assist in the process of educating and informing the laity of how they can better influence elections on the basis of the many important moral issues (which have specific Magisterial guidance). It is great to pray for Christian Justice in our world, and it is necessary to take up the responsibility of voting when given that opportunity. But grace builds upon nature, and there is so much more that we could be doing as Catholics to better organize ourselves to have more positive collective impact on our communities and American society.
I urge that we work on two fronts simultaneously-1. Educating the Catholic laity to the Catholic social teachings and the guidance given by our Pope and Bishops' 2. Use our religious freedoms more effectively at the parish level. I often make use of the story of William Wilberforce, a Christian politician who fought tirelessly to stop the slave trade in Great Britain- he was eventually successful utilizing organizational tools which we could use today (as the Civil Rights Movement here in America demonstrated). I hope my practical advice will be of some use for all those interested in maximizing our public Catholic witness in the social (temporal) realm.
Here are some specific practical proposals:
1. Every parish should organize "Social Doctrine Nights" where specific issues are discussed in the context of the social doctrine, as taught in official sources like Papal Encyclicals, the Compendium of Social Doctrine, the Catechism, US Bishop Pastoral Letters, and so forth. The parish priest should be front and center publicizing the Nights from the pulpit and being present for the meetings to put teeth into the promotion.
2. It would also be good if every parish started a "Compendium of the Social Doctrine of the Church book club". This would help to locate a core group of lay persons who are truly interested in fulfilling their responsibility to the Temporal Order, to reform the world according to Christ's teachings and will, as revealed by our Church's authoritative documents. These hardy souls will go far in sharing their knowledge on those Social Doctrine Nights. At the least, we will give the laity many chances to inform their consciences on public policy matters.
3. As the election cycle nears, every parish should start scheduling town hall meetings and Candidate Forum events. Political candidates should be held accountable before the election takes place. They need to go on record with their thoughts on the issues that our parishioners deem important. The only requirement for such forums is that all candidates are invited with no
obvious bias during the event. Town hall meetings should be convened on singular issues of great importance, and local leaders and potential leaders should be invited to participate or attend.
4. Documents from the U.S. Bishops' Conferences should be distributed widely in every parish. These documents can easily be inserted into every Sunday Bulletin.
5. Questionnaires for candidates from Catholic Conferences and reputable Catholic Pro-Life organizations should be distributed with information on the issues providing the reader with a clear idea of what the official Church is advising/teaching on the political issue being raised. These questionnaire results should be widely distributed well in advance of the actual Election Day.
6. Potential Catholic political leaders need to be groomed and supported by the Church by all legal means. We cannot be hamstrung by laws that seem bent on keeping an artificial (and false) wall of separation between Church and State. Both the Church and State have particular functions in society, they are not the same, but they are not to be pitted against one another. One way to cope with the reality here, in the United States, is to help private Catholic action groups and organizations, to form apart from the official dioceses and Catholic conferences. These private Catholic organizations could form PACS and contribute directly to Catholic individuals who are seeking to serve the common good first and foremost. They should be committed to serving the official Church social doctrine.
7. Catholic schools should also do more to promote the social doctrine among the youth. I once organized a debate for all congressional candidates in the Catholic high school where I was teaching. The students wrote the questions and had a chance to mingle with the candidates afterwards. It was the only such debate for those candidates in the entire election cycle and many students were positively impacted by the experience. Another area of improvement would be in the development of textbooks with a Catholic perspective, and that covered such areas as Literature, History, Media, Social Studies and so forth. The Catholic worldview and social doctrine have been confined to religion classes, and this has contributed to the compartmentalization of Catholic understanding and expression. Catholic students, with rare exceptions, are not graduating and moving the public debate beyond the narrow partisan/ideological confines of Political Left/Right.
I offer these suggestions because I believe that, as Catholics, we have the blueprint for building a civilization of love at every level of human society. The blueprint is our social doctrine and the gift of our Magisterium in guiding the principles and teachings of Christ into our complex world. As a candidate for public office I discovered a huge void in our Catholic parishes for offering a
place of contact between budding political leaders and the Catholic laity. Nurturing orthodox Catholics to become political leaders in our society is something that also seems missing from the average parish. Having a unique Blueprint (our Social Doctrine) but not having sound organization to carry out the plan is a terrible waste of potential. It is time to go from the drawing phase to building and implementing- to make visible this civilization of love our beloved popes write about with such strong conviction. This is our potential, this is an essential part of our Catholic evangelization. There are a lot of Catholic groups and organizations who lobby politicians after the fact of their election, but we should be intervening in the process from the beginning- nurturing leaders, educating every generation of voter, and providing candidate forums and town hall meetings in our churches (all perfectly legal!).
Once again, these strategies involve the following precepts:
- social doctrine promotion
- town hall meetings
- candidate forums
- encouragement of private Catholic PACS
- Catholic youth mentoring
Pope John Paul II insisted that was necessary for Catholics "to seek the Kingdom of God in dealing with temporal realities and in ordering them in accordance with the divine will." And he urged us to be courageous in giving witness to our faith in the public arena.
Quoting from "Lumen Gentium", No.36, Pope John Paul II said that lay men and women, after receiving a sound catechesis and continuing formation, have a clear mission "to extend the Kingdom of God in and through their secular activity, so that 'the world will be imbued with the Spirit of Christ and more effectively attain its purpose in justice, in love and in peace" (No.3). Hence, the faithful need to receive clear instructions on their duties as Christians, and on their obligation to act in accordance with the Church's authoritative teachings, the Pope added. And to those who object that such instruction has overly political tones John Paul II stated clearly: "While fully respecting the legitimate separation of Church and state in American life, such a catechesis must also make clear that for the faithful Christian there can be no separation between the faith which is to be believed and put into practice and a commitment to full and responsible participation in professional, political and cultural life" (No.3).
I'm not normally the guy putting up political YouTube videos, but this was just too funny to pass up. Ill. rep Baron Hill talks down to a journalism major about why she's not allowed to record video during his town hall: because videos invariably end up showing compromising moments on YouTube. And now here he is, hectoring the girl, on YouTube.
Lesson: For politicians, life is like the Internet. If you do something stupid, it will always be there for everyone to see.
Liberals and Democrats have accused many Americans of overreacting to the speech that President Obama will be delivering to school children today (at 11:00 am Central Daylight Time).
On the surface this would seem a fair evaluation but if you dig a little deeper, those on the Left may well be making another crucial misdiagnosis of the source and cause of this reaction.
First lets examine the prism that those on the Left have viewed this reaction.
[Update at the bottom as of 7:39 pm CST for 8-21-2009 AD]
President Obama's Health Care push has suffered a couple of setbacks.  First they removed the end-of-life provision and
now the President has removed the public option.
The Democrat and Liberal attempts at demonizing the American people having failed, President Obama could be beginning to understand that we don't want socialized medicine.
Now come reports that the Obama Joker poster artist is a left-wing extremist, and a Dennis Kucinich supporter to boot.  Not the white, conservative, racist that the mainstream media was accusing the artist of being.
In other news CBS News has reported that the liberal-oriented A.A.R.P. has lost approximately 60,000 members since the video showing an A.A.R.P. representative belittling members at a town hall meeting.  The American Seniors Association has gained 5,000 new members, a rival organization to the A.A.R.P. and significantly less liberal.
CBS News reported that the A.A.R.P. response to the exodus of members as 'with 40 million members that adds hundreds of thousands each month, losing 60 thousand is just a drop in the bucket.'
Update I:  I forgot to place the American Seniors Association weblink here.
Update II: The 60 Plus Association is experiencing a spike in members following A.A.R.P.'s endorsement of ObamaCare.
There are two observations I have noticed during this health care debate that President Obama and Congressional Democrats have been pushing.
One, there is anger from the American people concerning the direction and the destination of health care 'reform'.  Genuine anger.  The unfortunate problem is that a small minority have chosen to shout down congressional leaders in Town Hall meetings that have proven to be a distraction at best and a public relations disaster at worst.  Those that oppose any health care 'reform', especially the socialist laden package that is currently being drafted, should respect the opposition and engage in constructive dialogue.  Showing anger and disrespect to your elected officials is simply wrong and uncalled for and should be stopped now.
Which leads to my second observation and the accusations that this grass roots opposition to health care 'reform' is being labeled as astroturf.  Due to the cooperation of the mainstream media in failing to provide unbiased programming of the health care debate in addition to leading Democrats from President Obama to House Speak Nancy Pelosi having mislabeled genuine American concern of government intrusion via health care 'reform' as artificial.  If leading Democrats continue to mischaracterize the opposition as such, they will do this to their own detriment.  Meaning a possible loss of one or both chambers of congress in the 2010 Congressional Elections and possibly the executive branch in 2012.  They need to take the American people seriously, not ignore the problem.
Just my two cents worth.
The American Association of Retired Persons, A.A.R.P., Vice-President Drew Nannis refused to apologize for how his organization treated their members in a recent town hall meeting.  In that town hall meeting, the A.A.R.P. representative refused to listen to the members and abruptly ended the meeting after what seemed to me as frustration on her part.
Drew Nannis referred to those A.A.R.P. members that voiced their disagreement with A.A.R.P.'s support of ObamaCare as "a bunch of people yelling."
If you take Mr. Nannis' word, he did say that they recently had another town hall meeting, which he refers to as a listening tour, in Dallas where the same moderator and many of the same members did meet and have a much more cordial exchange of views and ideas.
Philip Klein of The American Spectator noted A.A.R.P.'s cozy relationship with President Obama:
Its CEO, Barry Rand, who was a major Obama donor, has gotten cozy with the administration, and along with the rest of the top brass at the Washington headquarters, has decided to support liberal policies.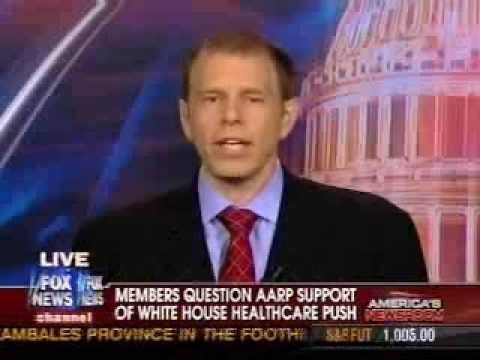 [Updates at the bottom of this posting.  Most recent update at 6:54 pm CST 8-10-09]
Nancy Pelosi, the liberal Democratic Representative from San Francisco, wrote early this morning in a special USA Today
editorial that those protesting against government run health care are "un-American".
It is clear to Representative Pelosi and her cohorts that the majority of Americans do not want further government intrusion into their lives, hence Mrs. Pelosi's attempts at demonizing ordinary Americans.
Drowning out opposing views is simply un-American.
She is referring to the many town hall meetings where Americans were voicing their displeasure to government run health care.  Deliberately smearing Americans for voicing their opinions.
Sadly, the mainstream media is doing their part in painting these town halls as darkly as possible, regardless of the evidence that SEIU goons, Blueshirts, have already attacked health care protesters.
Let's wait until the 2010 congressional elections and see their opinions voiced in turning back European style socialism by voting these malefactors out of office.
Update I: House GOP Leader John Boehner (Ohio) ripped his Democratic counterparts Monday for labeling those disrupting lawmaker town halls as "un-American."  Read the rest of this here.
Update II: The guy that beat up Mr. Gladney:
Elston K. McCowan is a former organizer – now the Public Service Director of SEIU Local 2000 – and board member of the Walbridge Community Education Center, and is a Baptist minister, has been a community organizer for more than 23 years, and now, he is running for Mayor of the City of St. Louis under the Green Party.
McCowan accused the Mayor of setting fire to his van . . . because that's what big city mayors do in their spare time, I guess.  He also called [St Louis Mayor Francis] Slay a racist.  And, on election night, McCowan thanked the family who voted for him.  It was quite touching, actually.
McCowan is not a rank-and-file, card-carrying union guy.  He is a director with SEIU. He IS the union.  He ISSUES the cards. Andy Stern himself might as well have kicked Gladney.
Read the rest here.

The Anchoress is on fire here about the ham-fisted efforts of the Obama administration to stifle dissent.  Eventually someone in Obama's administration is going to have a "Yamamoto moment" and turn to him and say words to the effect of:    I fear all we have done is to rouse a sleeping giant and fill him with a terrible resolve.