Torture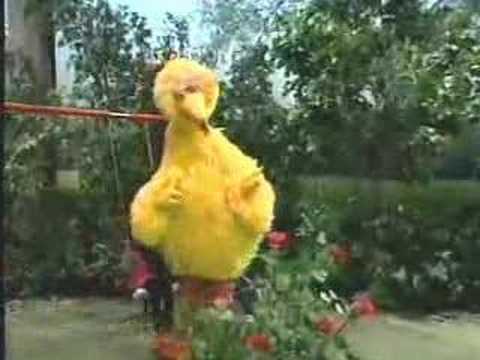 The longer I live, the more I am convinced that reality is so much more strange, and frequently hilarious, than any fiction:
According to Al Jazeera, prisoners at Guantanamo Bay were "tortured" with Sesame Street. Really. Prisoners reported to Al Jazeera that they had been forced to wear headphones playing music from Sesame Street on a continuous loop for days on end. Christopher Cerf, who composes for the show, was outraged. "My first reaction was this just can't possibly be true," he said. "Of course, I didn't really like the idea that I was helping break down prisoners, but it was much worse when I heard later that they were actually using the music in Guantanamo to actually do deep, long-term interrogations and obviously to inflict enough pain on prisoners so they would talk." Continue reading →
'You asked me once,' said O'Brien, 'what was in Room 101. I told you that you knew the answer already. Everyone knows it. The thing that is in Room 101 is the worst thing in the world.'
The door opened again. A guard came in, carrying something made of wire, a box or basket of some kind. He set it down on the further table. Because of the position in which O'Brien was standing. Winston could not see what the thing was.
'The worst thing in the world,' said O'Brien, 'varies from individual to individual. It may be burial alive, or death by fire, or by drowning, or by impalement, or fifty other deaths. There are cases where it is some quite trivial thing, not even fatal.'
He had moved a little to one side, so that Winston had a better view of the thing on the table. It was an oblong wire cage with a handle on top for carrying it by. Fixed to the front of it was something that looked like a fencing mask, with the concave side outwards. Although it was three or four metres away from him, he could see that the cage was divided lengthways into two compartments, and that there was some kind of creature in each. They were rats.
'In your case,' said O'Brien, 'the worst thing in the world happens to be rats.' [George Orwell's 1984 Part III, Chapter 5.]
Those familiar with Orwell's 1984 know what happens next. And if you haven't, here's the final scene of the movie adaptation (embedding disabled).
* * *
A scene which struck me, appropos of the following remarks from a recent exchange here at @ American Catholic:

"What John McCain suffered actually was torture. His bones were broken, for example. Induced panic isn't torture."

"I don't base the definition of torture on subjective determinations. Clearly it's an issue of prudential judgment and it is certainly clear to me, someone who has severe panic attacks, that panic is not torture."

"If we cannot induce panic in our enemies with the intention of saving millions of lives, we can't go to war at all. It's as simple as that."
Waterboarding is for pansies. If Ab? Zubaydah could withstand being waterboarded 83 times during August 2002, we're clearly not doing it right. Let's turn up the panic a few notches. Let's take it one step further. Let's put the fear of God almighty in these pathetic excuses for humanity.
Let's go Orwellian — "Room 101″ style.
Apparently there is a big flap between Rick Santorum and John McCain on the issue of waterboarding (enhanced interrogation) which was used to gain the cooperation of Khalid Sheik Mohammed — cooperation that led to his giving information which enabled our forces to find Osama Bin Laden.
Read "The Waterboarding Trail to Bin Laden: Former CIA Director Michael Hayden said that as late as 2006 fully half of the government's knowledge about the structure and activities of al Qaeda came from harsh interrogations"
I have been back and forth on the waterboarding issue, but I have come to the conclusion that this whole thing is being blown out of proportion due to a lack of understanding of what waterboarding is. Today, Mark Shea, who I love and respect, is engaging in some brutal ad hominem against Rick Santorum. So who is right and who is wrong here? Let's take a step back, a deep breath, and consider the facts.
Is waterboarding "torture"? I would agree with these remarks below from Fr. Brian Harrison at Catholic Culture:
Even deciding what exactly we mean by torture is not easy. The Catechism of the Catholic Church describes it as "physical or moral violence" (CCC 2297); the definition given by the 1984 United Nations Convention on Torture is "the intentional infliction of severe pain." The words violence and severe are themselves somewhat vague. Who draws the line — and where? — as to which specific practices are harsh enough to correspond to those words? What has become clear in the contemporary debate is that while many shudder-evoking practices (which needn't be spelled out here) are recognized by everyone as meriting the name torture, there is no consensus about whether other less extreme interrogation techniques really count as torture: for instance, sleep deprivation, being kept under harsh temperatures or in uncomfortable positions, or "waterboarding" (which causes a brief, panic-inducing sensation of being about to drown but no pain or injury). Since no Catholic magisterial intervention so far offers any real guidance for resolving this controversy, the only methods we can be sure are included under "torture," when that word appears in Church documents, are those in the former group.
"Inducing panic", such as we find in waterboarding, is not "torture". Considering that it is not torture in the first place, all other points appear to be moot.
Rick Santorum responded on the Mark Levin Show yesterday to the false claims that he endorses the use of torture. (CLICK HERE to watch video at The Right Scoop to hear his remarks.)
Again, I've been back and forth on the issue, because I did not understand fully what waterboarding is and how the Church defines "torture". Now, I know. It's not torture and it did gain information necessary to capture Osama Bin Laden. It was not used to force anyone to confess a crime but to gain information. The intent was to defend life and the action was not torture. Case closed.
Related at Catholic Online: Silence on Santorum is Deafening: Republican Establishment Sends Signals
Related at WMUR, New Hampshire: Conversation with the Candidate, Rick Santorum
Kyle Cupp has a brief post describing the dehumanizing moral effects of seeing human dignity and rights as springing entirely from a social contract (implied or explicit):
This reduction occurs when we understand and act upon our moral obligations to one another only within the framework of a social contract–when we limit our obligations to those who have entered into such contracts and consider ourselves obligated only to those who share our citizenship, have signed a treaty we have signed, or participate with us in some other contractual arrangement. I make this reduction when I don't care about torturing terrorists because they're not signers of the Geneva Conventions, when I wish to alienate the immigrant who enters my country against my country's laws, when I ignore my obligations to those not yet born because the laws of the land do not recognize their personhood, or when I insist that others shouldn't be given Constitutional rights when the rights I wish to withhold from them are basic human rights.
I think that he's right as far as he goes, but I don't think that his point that basic human rights and duties are inherent to humanity (rather than assumed via some sort of contract/relationship) is actually the point usually at dispute in our society. Rather, what seems often to be disputed is what the extent of basic human rights are — and which "rights" are merely agreed civic rights which we grant explicitly via the social contract.
Appropos of last week's torture post, some additional discussions on the web:
Lastly, one particular party, who had read over the recent exchanges on this blog, contacted me with the suggestion that, given my unfortunate reliance on "unreliable axe-grinding sources," it would do well to elicit the assistance of some conservative organizations "with credibility" to review the various charges (of prisoner abuse, deaths of detainees in U.S. custody, etc.) and publish a report.
Writing at Vox Nova, the author known as "Morning's Minion" has published a post calling for consistency in the application of canon 915 — the denial of Holy Communion to those who "obstinately persevere in manifest grave sin" — in this particular case, the public advocacy of abortion and torture. The post was occasioned by the recent appearance of Mark Thiessien on Raymond Arroyo's "The World Over", in which the duo lobbied vigorously in defense of waterboarding:
I think the analogy is clear. Arroyo and Thiessen are both Catholic public figures, and Arroyo in particular is a TV personality on a Catholic TV channel, making the scandal all the more grave. They are clearly "obstinately persevering" in support for an intrinsically evil act. Worse, they actually try to justify it on Catholic grounds. Thiessen has made it his life's work to claim that some forms of torture are virtuous. Arroyo, again and again, invites defenders of torture onto his show, and instead of confronting them with clear Church teaching, voices his agreement. As [Archbishop Raymond] Burke says, this is "public conduct" that is gravely sinful. I would go further and argue that it is even more scandalous than support for legalized abortion. Most public supporters of abortion do not go on television extolling the great virtues of abortion for women and society. Their argument is more with how it should be treated under the law. But the Arroyo-Thiessen-Sirico cabal are (i) claiming to the faithful Catholics while (ii) making public pronouncements on the positive value of torture.
Catholic debate over torture (and/or what the Bush administration has termed "extreme interrogation") has been going strong for several years now. It's online manifestation initiated — to my recollection — with the publication of Mark Shea's article in Crisis, "Toying with Evil: May a Catholic Advocate Torture?" and subsequent discussion at Amy Welborn's, in March 2005. From time to time I've personally blogged on the various vollies and controversies between various camps as the debate has asserted itself, time and again, over half a decade (has it really been that long?)
That EWTN ("Eternal Word Television Network") has hosted two explicit defenses of waterboarding — most recently by Thiessien, as well as Fr. Joseph Sirico of the Acton Institute, not to mention Q&A from Judy Brown of the American Life League questioning whether torture should be considered "intrinsically evil" — does not surprise me in the least. As I noted recently, there has been open dispute as to whether waterboarding constitutes torture from many prominent Catholics, including editor Deal Hudson, Catholic apologist Jimmy Akin, and Fr. Brian Harrison (in the pages of This Rock — the flagship publication of Catholic Answers, the largest largest lay-run apostolates of Catholic apologetics and evangelization in the United States). [Note: Austin Ruse of the Catholic Family and Human Rights Institute, a newcomer to the debate, has likewise made it known in the comments of this post where he stands on the matter].
Little wonder that a Pew Forum survey examining "the religious dimensions of the torture debate" found many white Roman Catholics, along with most frequent churchgoers, affirming that the use of torture against terrorists is "sometimes" or "often" justifiable.
With respect to abortion, readers may recall a number of opportune moments during the 2008 presidential elections when Catholic bishops were obliged to speak out, publicly, forcefully and collectively, in correction of blatantly false presentations of Catholic teaching on abortion by Nancy Pelosi and (then) Senator Joseph Biden.
There have been numerous missed "teaching moments" for our bishops and the Catholic Church on the matter of torture.
There's a new blog in town — "The Coalition for Clarity" — founded by Red Cardigan (And Sometimes Tea), with inspiration from Mark Shea; you can review their founding principles here.
Who could be a part of the Coalition for Clarity? — That's a good question, particularly when reviewing various attempts at "clarity" from the vast array of prominent Catholics who have weighed in on the subject.
Consider the following candidates … Continue reading →
Jay Anderson of Pro Ecclesia has a post up whose title says its all: Torture … Excuse Me … the Use of "Enhanced Interrogation Techniques" Works! And We Should STILL Oppose It.
In light of the CIA Inspector General report which indicates that, at least in the case of 9/11 mastermind Khalid Sheikh Mohammad, torture worked pretty well in extracting information, Jay says:
I've said before that Catholics (and others) opposed to torture should not resort to arguments against its effectiveness since: (a) when something is intrinsically evil, whether it works or not is completely irrelevant; and (b) those making the argument that torture is ineffective may turn out to be wrong, and then our ethical and moral arguments against torture are thereby undermined. See my comments here, here (agreeing with my friend Paul Zummo), and here for more details.
Continue reading →
It has become an oft repeated trope of Catholics who are on the left or the self-consciously-unclassifiable portions of the American political spectrum that the pro-life movement has suffered a catastrophic loss of credibility because of its association with the Republican Party, and thence with the Iraq War and the use of torture on Al Qaeda detainees. Until the pro-life movement distances itself from the Republican Party and all of the pro-life leadership who have defended the Iraq War and/or the use of "enhanced interrogation techniques" on detainees, the argument goes, the pro-life movement will have no moral authority and will be the laughing stock of enlightened Catholics everywhere.
Regardless of what one thinks about the Iraq War and torture (myself, I continue to support the former but oppose the latter) I'm not sure that this claim works very well. Further, I think that those who make it often fail to recognize the extent to which it cuts both ways.
Salvete AC readers!
Here are today's Top Picks in the Catholic world:
1.  Mark Shea has accused the pro-life anti-abortion torture defenders for creating the 'nightmare' of Patriot Act abuse.  A homeschooled kid was arrested under suspicion of sending death threats to President Obama via his computer.  It seems as if someone hijacked his IP address to issue those death threats.  As of now he is in jail and hasn't been allowed to meet his family nor lawyers.
To read Mark Shea's posting on this click here.
2.  Child molesters in the Church again?  Nope, but the mainstream media isn't picking up on the story of a Los Angeles school district 'repeatedly' returning child molesters to the classrooms.  In a front page story on May 10 the Los Angeles Times reported that the Los Angeles Unified School District (LAUSD) "repeatedly" returned teachers and aides credibly accused of child molestation back to classrooms, and these individuals then molested children again.  The major networks, MSNBC, and CNN have failed to pick up on this story.
For the full story by Dave Pierre of NewBusters click here.
3.  It seems that Fr. John Jenkins believes in the promotion of condom use to prevent the spread of AIDS.  Which is directly contrary to Pope Benedict XVI's (as well as the Magisterium's teaching) statement that condoms were not the solution to the problem of AIDS.  Fr. Jenkins, the President of Notre Dame, is a board member of Millennium Promise which promotes condom use to fight the spread of AIDS.
For the article click here.
[Update I:I want to make an addendum that so many of you insist I make.  I want to also add that Fr. John Jenkins seems to support abortion as well as condom usage.
Millenium Promise, the organization that Fr. John Jenkins is a board member of clearly states on their very own website the following:
(http://www.millenniumpromise.org/site/DocServer/Millennium_Development_Goals_Report_2008.pdf?docID=1841)
Which can be found on the main webpage of Millenium Promise.  Emphasis mine.:
Page 84 of Millenium Villages Handbook on condom usage:
Budget and Procurement. The budget for the HIV/AIDS response depends on a number of factors. On the treatment side, the major budgetary concern is the provision of ARV drugs to those in need. Beyond ARV costs, other costs include staffing, other medication, CD4 counts, prevention programming, condom provision, nutritional supplementation, and VHW support.
Page 85 of Millenium Villages Handbook on condom usage:
Communication for Preventing Disease and Changing Behavior: Behavior change communication plays a key role in preventing the spread of HIV and must be seen as a central element in any response to HIV/AIDS. This core intervention includes education, awareness building, advocacy, condom distribution, and education (both male and female), rights building, and voluntary counseling and testing (VCT) promotion among other activities.
Page 92 of Millenium Villages Handbook on condom usage:
Contraception and family planning: Family planning and contraception services are critical to allow women to choose family size and birth spacing, to combat sexually transmitted infections, including HIV infection, and contribute to the reduction of maternal morbidity and mortality. Services include: (1) Counseling; (2) Male and female condoms; (3) Pharmacologic contraceptives including oral, transdermal, intramuscular, and implanted methods; and (4) IUDs
Page 92 of Millenium Villages Handbook on abortion:
Abortion services: In countries where abortion is legal, safe abortion services in controlled settings by skilled practitioners should be established. In villages with a nearby district center with sound surgical capacity, these services can be referred. However, in instances where no district center or alternate post for safe abortion practices is accessible, abortion services can be offered at the village level, provided that sufficient surgical capacity exists.]
Somehow, I picked up the idea from a long exchange over torture on one of the Catholic websites I frequent that the Vatican has not issued a clear statement on torture. I repeated that 'meme' as if it were true, and it was a mistake on my part, at least partially.
Why? Because there is a pretty definitive collection of statements on torture, even modern torture in the context of information gathering in the 'War on Terror', from Catholic clergy going up to Pope Benedict, Catholic authors and thinkers, etc.
The whole thing can be read here.
It is called "Torture Is a Moral Issue: A Catholic Study Guide", put out by the U.S. Conference of Catholic Bishops or the USCCB.
Here is the highlight of the entire document, as far as I am concerned. The document quotes Pope Benedict in a talk he gave in 2007:
"Means of punishment or correction that either undermine or debase the human dignity of prisoners" must be eschewed by public authorities, he said. Immediately he added the following statement, which incorporates a quote taken from the Compendium of the Social Doctrine of the Church: "The prohibition against torture 'cannot be contravened under any circumstances'" (No. 404).