Thomas Jefferson
Chief Justice John Roberts' recent decision upholding the Affordable Care Act, as well as his vote to overturn much of Arizona's illegal immigration law, has made conservatives think that yet again a Republican president was bamboozled. Personally I think it's a bit early to completely write off the Chief Justice. For most of his tenure he's been a fairly reliable conservative vote, and there is still much time (presumably) before he retires. Then we will be better able to assess his legacy.
It did get me thinking, though. What are the worst Supreme Court selections in history? I'm looking at this question in terms of the president doing the selecting. Someone like Ruth Bader Ginsburg, a doctrinaire liberal, wouldn't make the cut because no doubt she has voted in much the way Bill Clinton would have wished when he picked her. Similarly, I do not include someone like John Paul Stevens. Though over time he veered much further to the left than Gerald Ford or his Attorney General , Edward Levi (who basically made the selection) could have anticipated, Stevens' jurisprudence was not that radically removed from Ford's own preferences. In fact, Ford wrote of Stevens:
For I am prepared to allow history's judgment of my term in office to rest (if necessary, exclusively) on my nomination thrity years ago of Justice John Paul Stevens to the U.S. Supreme Court. I endorse his constitutional views on the secular character of the Establishment Clause and the Free Exercise Clause, on securing procedural safeguards in criminal case and on the constitution's broad grant of regulatory authority to Congress. I include as well my special admiration for his charming wit and sense of humor; as evidence in his dissent in the 1986 commerce clause case of Maine v. Taylorand United States, involving the constitutionality of a Maine statute that broadly restricted any interstate trade of Maine's minnows. In words perhaps somewhat less memorable then, "Shouting fire in a crowded theater," Justice Stevens wrote, "There is something fishy about this case."

He has served his nation well, at all times carrying out his judicial duties with dignity, intellect and without partisan political concerns. Justice Stevens has made me, and our fellow citizens, proud of my three decade old decision to appoint him to the Supreme Court. I wish him long life, good health and many more years on the bench.
Well, if Ford was willing to base his legacy on his choice of John Paul Stevens, then I'm happy to call Gerald Ford a miserable failure.
This, then, is a list of the biggest mistakes in Supreme Court selection.  Continue reading →
In my previous post I may have given the impression that I was simply doing what I accused David Barton of doing, namely, cherrypicking quotes from Thomas Jefferson in order to paint him how I wished. So here are a few more selections from the Jefferson oeuvre that should put to rest any notions that Jefferson was in any way an orthodox Christian. Continue reading →
A couple of weeks ago a friend of mine sent me a link to David Barton's book, The Jefferson Lies: Exposing the Myths You've Always Believed About Thomas Jefferson. It's almost like my friend, knowing my academic interest in Thomas Jefferson, cast some bait in my direction. And two months later, I took it.
I can honestly say that I went into it with an open mind. Even if Barton misinterpreted Jefferson, maybe he would do so in at least a semi-convincing way. After all, it's possible for individuals to have high opinions of Thomas Jefferson without being historical hacks. I have tremendous respect for David Mayer, for example, and his opinion of Jefferson is completely different than mine.
Sadly, my low expectations were met. To be sure, Barton does offer enough arguments to rebut the most absurd and historically inaccurate claims about Jefferson. For example, Barton correctly points out the fallacy of the claim that it has been definitively proven that Thomas Jefferson fathered children by the slave Sally Hemings. I also believe that Barton's insinuations about the partisan motivations behind the claims have some merit. But this chapter exemplifies so much of what is wrong with Barton's methodology. While there can be no conclusive argument made that Jefferson fathered children by Hemings, it is also impossible to assert with any certainty that he did not. But Barton cannot leave well enough, and Barton distorts the findings of the commission tasked with determining the paternity of Hemings' children to make it appear that Jefferson almost certainly could not be the father. While it's certainly true that genetic testing at this stage of history cannot offer conclusive proof one way or the other, the idea that the father of Hemings' children can be any one of  a dozen men or so is also not really credible. Personally I am rather agnostic on the question, and don't think it is of huge historic import, but Barton stretches the truth almost as badly as those who adamantly insist that Jefferson was the father.
The real meat of the book focuses on the topic of religion. Again, Barton is incredibly frustrating to read. He asserts towards the beginning of the book that it is important to read primary sources, and to truly understand the historical context when judging historical figures. He is correct on both counts. He then incredibly proceeds to selectively cite dubious secondary sources in order to prove his assertions, and then ignores broader context when cherrypicking quotes from Jefferson.
A prime example of Barton cherrypicking Jefferson occurs in a chapter in which Barton tries to prove that Jefferson was no fan of the secular French Enlightenment. Barton offers as proof of this assertion a critical passage in one of Jefferson's letters regarding the French philosopher Guillame Raynal. Evidently one critical passage about one obscure thinker is all the evidence we need that Jefferson was at odds with French Enlightenment philosophy. Well then.
Barton's reliance on dubious sources bites him when discussing the supposed Jefferson Bible. Again, Barton is correct in the narrowest sense when he notes that Jefferson did not attempt to create a bible. Rather, two separate works by Jefferson - The Philosophy of Jesus and The Life and Morals of Jesus of Nazareth – were compilations of Gospel accounts of the life of Jesus. It wasn't a "bible," and Jefferson never attempted to pass these compilations off as such. But then Barton claims that neither work was as unorthodox as historians have claimed them to be. Jefferson did not cut out the supernatural elements from the Gospel, and indeed included some stories that referenced miracles and the afterlife. But as Warren Throckmorton and Michael Coulter demonstrate in Getting Jefferson Right, Barton's source declaring that Jefferson included the miracle stories in his compilations is just plain  wrong. As for the other examples of Jefferson including references to the supernatural, these were mainly concerned with the afterlife. Throckmorton and Coulter concede that Jefferson did believe in the afterlife, thus it isn't all that surprising that Jefferson would include these references. After all, Jefferson was not an atheist. He certainly believed in God, though he did not believe that Jesus Himself was a member of the Godhead.
And that is really the fundamental problem with Barton's work. Barton tries mightily to paint Jefferson as some kind of conventional Christian, suggesting that his heterodoxy developed late in life as he fell under the Unitarian influence. Barton has to ignore almost an entire lifetime of Jefferson's work in order to reach this conclusion. Here is how Jefferson expressed his views on Jesus:
The question of his being a member of the Godhead, or in direct communication with it, claimed for him by some of his followers, and denied by others, is foreign to the present view, which is merely an estimate of the intrinsic merits of his doctrines.

1.He corrected the Deism of the Jews, confirming them in their belief of one only God, and giving them juster notions of his attributes and government.

2.His moral doctrines, relating to kindred & friends, were more pure & perfect than those of the most correct of the philosophers, and greatly more so than those of the Jews; and they went far beyond both in inculcating universal philanthropy, not only to kindred and friends, to neighbors and countrymen, but to all mankind, gathering all into one family, under the bonds of love, charity, peace, common wants and common aids.  A development of this head will evince the peculiar superiority of the system of Jesus over all others.

3.The precepts of philosophy, & of the Hebrew code, laid hold of actions only.  He pushed his scrutinies into the heart of man; erected his tribunal in the region of his thoughts, and purified the waters at the fountain head.
That's pretty clearly not orthodox Christianity to me.
Jefferson would even call Jesus's teachings defective, though he praised Jesus as an ethicist. His compilations from the Gospels were meant to restore Christ's teachings to their original intent, as it were. Jefferson believed that Paul and the other Apostles had distorted Christ's work, so that is why he took out all accounts of miracles and references to Jesus being in any way part of the Godhead. Most importantly, his compilation ends at the death of Christ on the cross and his placement in the tomb. Jefferson rejected the resurrection.
Jefferson repeatedly excoriated Paul as one of the principle impostors who distorted Christ's teachings.
Of this band of dupes and imposters, Paul was the great Coryphaeus, and firm corrupter of the doctrines of Jesus.
Jefferson added that Paul was a "Platonist who had brought beclouding mysticism to Jesus' clear moral teachings."
Barton also glosses over Jefferson's disdain of the clergy. He cites some examples of Jefferson praising men of the cloth, but in almost every example Jefferson was praising a fellow heterodox Christian. It would be like trying to prove that someone is a faithful Catholic by highlighting their words of praise for Voice of the Faithful or Catholics for a Free Choice.
In several of his letters, Jefferson overtly criticized organized religion. "My opinion is that there never would have been an infidel, if there had never been a priest," he wrote to Samuel Smith, meaning that religion creates artificial guidelines which restrict freedom of thought. He added that clergy only lay down these rules in order to augment their own power. "The artificial structures they have built on the purest of all moral systems, for the purpose of deriving from it pence and power, revolts those who think for themselves, and who read in that system only what is really there."
Barton is correct to temper some of the more extreme claims about Jefferson and religion. Jefferson was no atheist, and it would not entirely be correct to say that he disdained Christianity as such. On the other hand, Barton glosses over much of Jefferson's more negative assessments of Christianity. Most importantly, his attempt to portray Jefferson's heterodox views as a late-life aberration is simply laughable.
Barton and those that follow him do neither conservatism nor Christianity any favors by distorting the historical record. Barton seems to be under the impression that each of the Founding Fathers must be protected from the slings and arrows of Progressive historians who would tear down these great men. I share Barton's distrust and even contempt for most contemporary historians. But Barton's pseudo-history is no way to counter this trend, and only provides ammunition to those who would mock conservative Christians. The progressive reading of Jefferson happens to be the correct one. Well, you know what they say about stopped clocks.
It's Easter, so naturally it's time for idiocy like Newsweek's cover story written by Andrew Sullivan.  It looks like Sullivan has added theologian to his list of other professions, which include pundit and gynecologist.  It's about what you'd expect from the combination of Newsweek and Sullivan.  Christianity is dying and it's because of all those stuffed-shirts who have distorted Jesus's message.
Fr. Barron is on the case, and he completely dismantles Sullivan.  A few highlights:
The solution Sullivan proposes is a repristinizing of Christianity, a return to its roots and essential teachings. And here he invokes, as a sort of patron saint, Thomas Jefferson, who as a young man literally took a straight razor to the pages of the New Testament and cut out any passages dealing with the miraculous, the supernatural, or the resurrection and divinity of Jesus.

The result of this Jeffersonian surgery is Jesus the enlightened sage, the teacher of timeless moral truths concerning love, forgiveness and non-violence. Both Jefferson and Sullivan urge that this Christ, freed from churchly distortions, can still speak in a liberating way to an intelligent and non-superstitious audience.

As the reference to Jefferson should make clear, there is nothing particularly new in Sullivan's proposal. The liberation of Jesus the wisdom figure from the shackles of supernatural doctrine has been a preoccupation of much of the liberal theology of the last 200 years.
The Jefferson "Bible" is, if nothing else, an impressive work of art.  Jefferson took passages from Scripture written in English, Latin, Greek, and French.  He carefully pasted the passages side-by-side.  It's an awesome display of craftsmanship.  Of course it completely distorts the life and mission of Christ and turns our Lord and Saviour into nothing more than a wise philosopher.  It's a good representation of Jefferson's uber-rationalistic mindset, and part of an extended effort to de-fang the real Christ.
Fr. Barron has more.
The first problem with this type of theorizing is that it has little to do with the New Testament. As Jefferson's Bible makes clear, the excision of references to the miraculous, to the resurrection, and to the divinity of Jesus delivers to us mere fragments of the Gospels.

Matthew, Mark, Luke, and John were massively interested in the miracles and exorcisms of Jesus and they were positively obsessed with his dying and rising. The Gospels have been accurately characterized as "passion narratives with long introductions."

Further, the earliest Christian texts that we have are the epistles of St. Paul, and in those letters that St. Paul wrote to the communities he founded, there are but a tiny handful of references to the teaching of Jesus. What clearly preoccupied Paul was not the moral doctrine of Jesus, but the resurrection of Jesus from the dead.
Indeed, by removing the miracles and resurrection from the account of Jesus's life you've almost completely stripped his mission of any meaning.
And this leads to the second major problem with a proposal like Sullivan's. It offers absolutely no challenge to the powers that be. It is precisely the bland and harmless version of Christianity with which the regnant culture is comfortable.

Go back to Peter's sermon for a moment. "You killed him," said the chief of Jesus's disciples. The "you" here includes the power structures of the time, both Jewish and Roman, which depended for their endurance in power on their ability to frighten their subjects through threats of lethal punishment.

"But God raised him." The resurrection of Jesus from the dead is the clearest affirmation possible that God is more powerful than the corrupt and violent authorities that govern the world — which is precisely why the tyrants have always been terrified of it. When the first Christians held up the cross, the greatest expression of state-sponsored terrorism, they were purposely taunting the leaders of their time: "You think that frightens us?"

The opening line of the Gospel of Mark is a direct challenge to Rome: "beginning of the good news about Jesus Christ, the Son of God" (Mk 1:1). "Good news" (euangelion in Mark's Greek) was a term used to describe an imperial victory. The first Christian evangelist is saying, not so subtly, that the real good news hasn't a thing to do with Caesar.

Rather, it has to do with someone whom Caesar killed and whom God raised from the dead. And just to rub it in, he refers to this resurrected Lord as the "Son of God." Ever since the time of Augustus, "Son of God" was a title claimed by the Roman emperor. Not so, says Mark. The authentic Son of God is the one who is more powerful than Caesar.

Again and again, Sullivan says that he wants a Jesus who is "apolitical." Quite right — and that's just why the cultural and political leaders of the contemporary West will be perfectly at home with his proposal. A defanged, privatized, spiritual teacher poses little threat to the status quo.
This is a great passage, and one of the reasons that Fr. Barron is truly a treasure.  I love how he completely turns around Sullivan's argument and makes him the champion of the status quo.  It's a really great insight, and one that completely sticks it to Dr. Sullivan.  Well played.
(Thanks RL for the tip.)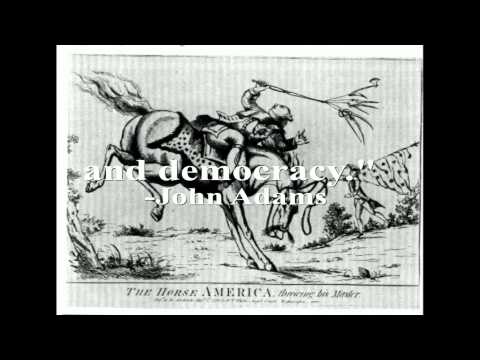 Students at Williams College this year are taking part in an experimental course on the history of American presidents from Washington and Lincoln by producing political attack ads.  Go here for a report on this novel way of learning about American history.
Continue reading →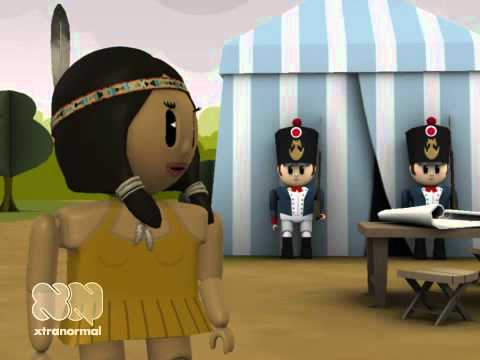 One of the more interesting aspects of the conflict between Jefferson and Adams is how little difference it made in the long run in American history, except, perhaps, for an early establishment of the two party tradition.  For all Jefferson's partiality to France, when he was in office he steered a strictly neutral course.  The economic development of the country was little changed by the switch in parties in power.  The battles over internal developments that marked the conflicts between Democrats and Whigs, were matters for a later time when expansion and technological progress brought them to the fore.  The Alien and Sedition Acts which loom large in the below video:
involved less of principle and more of politics.  Jefferson, for example, was in favor of prosecutions of federalists under state sedition laws in states which his followers controlled.  Continue reading →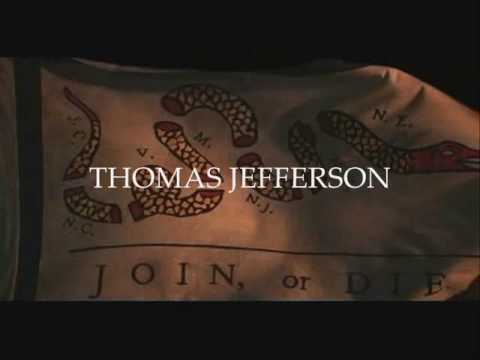 A very well done fan made "trailer" for a Thomas Jefferson miniseries, with the trailer consisting of clips from the John Adams miniseries.  Such a miniseries would be challenging.  Jefferson was one of the most complicated of the Founding Fathers, and there is plenty of his legacy to fight about still.  I love the Declaration of Independence, yet I think clearly Alexander Hamilton had the better plan for the economic development of the country.  I agree with Jefferson on his concern about too much federal authority over states, but he loses me with his embrace, prior to his presidency, of nullification. Jefferson spoke and wrote against slavery his entire life, yet he made no plans, as did Washington, to free his slaves after his death.  A man who railed against government debt, he was so profligate in his personal finances that all of his property, including his slaves, had to be sold after his death to pay his debts.  A man who deeply cherished the teachings of Christ, yet denied His divinity.  A man averse to standing armies and war, yet he supported the French Revolution at its bloodiest, and could talk glibly about the blood of patriots watering the tree of liberty, while he never served a day in the Continental Army.
Continue reading →
There's been some buzz lately about states kicking the idea of nullification around.  State legislators in Nebraska have been circulating a little tome by Thomas Woods on the subject, and there's been some news reports of states considering the idea with regards to health care.  Before conservatives go trumpeting this idea as some way of saving the republic, let's keep in mind something: it's a bad idea that happens to be unconstitutional.
Whenever the idea of nullification comes up we inevitably hear about Thomas Jefferson's Kentucky Resolution and James Madison's Virginia Resolution.  They were penned in response to the passage of the Alien and Sedition Acts of 1798.  The key passages from Jefferson's resolution is as follows: Continue reading →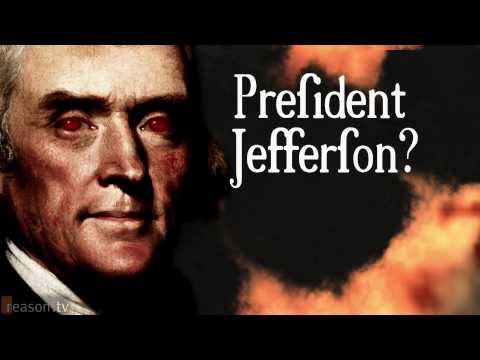 Reason TV reminds us that there is nothing new in regard to negative politics.  The most vitriolic election in US history was probably, as the above video indicates,  the election of 1800 between John Adams and Thomas Jefferson.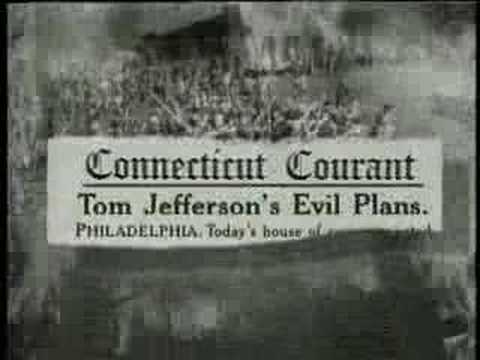 The above video is for my co-blogger Paul, not the biggest fan, to put it mildly, of the Third President of the United States.  Jefferson and Adams were accused of every vice imaginable except, perhaps, of cannibalism.   If  television had been available in 1800 the attack ads would have been sulphurous. Continue reading →
In the previous part of this series, I gave a detailed comparison of the views of John Locke and Pope Leo XIII on the state of nature, the origin of private property, and the proper use of private property. In this final part, I want to make a few more points regarding what I think can be called "Lockean" thought, at least as it exists in contemporary America, explore the relationship between the Catholic Church and the United States, and explain why I think all that has been considered thus far is relevant for our political situation today.
I see that my co-blogger MJ Andrew has already posted about the Christine O'Donnell-Chris Coons debate, and I thank him as that saves me the trouble of having to sort through a whole bunch of links.
I disagree with him, though somewhat reservedly.  Having listened to the entire clip it does seem to me that O'Donnell is questioning whether the concept of the separation of Church and State is in the First Amendment, not the Establishment Clause.  There was some crosstalk at this point in the debate, and it appears to me that she's just repeating her question with regards to the issue of separation.  It's debatable, though, and a candidate should do a better job clearly establishing what she's talking about in such a setting.
That being the case,  I was more intrigued by  Coons's own response to the question.  While O'Donnell possibly made a gaffe – an unfortunate one if indeed it was a gaffe – Coons's response is the more troubling aspect of this exchange. Continue reading →
by Joe Hargrave
One of the memes – the unconscious, uncritical, lazy thoughts that spreads from person to person like a virus – that has been particularly virulent during this ground-zero mosque controversy is that Christians have no standing to criticize the violence of Islam, given a supposedly violent Christian history. And no one event is more often invoked as an example of Christian hypocrisy than the so-called "Crusades" (so-called, because no one who fought in them called them that).
The latest and most appalling example appears in the NY Times, courtesy of a Nicholas D. Kristof. Among the many absurdities one can find in this column, including definitive claims as to the intentions and desires of Osama bin Laden, Kristof writes,
Remember also that historically, some of the most shocking brutality in the region was justified by the Bible, not the Koran. Crusaders massacred so many men, women and children in parts of Jerusalem that a Christian chronicler, Fulcher of Chartres, described an area ankle-deep in blood. While burning Jews alive, the crusaders sang, "Christ, We Adore Thee."
What could be more logical, more pertinent, more relevant, than to invoke thousand-year old wartime excesses as proof that Christians have no grounds to criticize Islam?