The Holy Mass
Assessing Benedict's views of the liturgy
In "Where Truth and Beauty Meet": Understanding Benedict (The Tablet August 14, 2010) – Eamon Duffy,
Professor of the History of Christianity, and Fellow and Director of Studies at Magdalene College, Cambridge, aptly summarizes Pope Benedict's view of the liturgy and his calls for reform
[Pope Benedict] believes that behind many celebrations of the new liturgy lie a raft of disastrous theological, cultural, sociological and aesthetic assumptions, linked to the unsettled time in which the liturgical reforms were carried out. In particular, he believes that twentieth-century theologies of the Eucharist place far too much emphasis on the notion that the fundamental form of the Eucharist is that of a meal, at the cost of underplaying the cosmic, redemptive, and sacrificial character of the Mass.

The Pope, of course, himself calls the Mass the "Feast of Faith", "the Banquet of the reconciled". Nevertheless Calvary and the empty tomb, rather than the Upper Room, are for him the proper symbolic locations of Christian liturgy. The sacrificial character of the Eucharist has to be evident in the manner of its celebration, and the failure to embody this adequately in the actual performance of the new liturgy seems to him one of the central problems of the post-conciliar reforms. … Continue reading →
Updated below with still photographs.
Christoph Cardinal Schonborn has had a series of blunders these past 18 months.  From his participation in a balloon Mass to criticizing a high ranking Cardinal of the Vatican.  He has been verbally and personally reprimanded by the Pope himself.
Now comes this 'Wild Western' Mass caught on video being celebrated in Austria with his explicit approval.
You be the judge:
A Mass is celebrated in Austria with the explicit approval of Cardinal Schonborn. Shown in this Mass being celebrated in German are sacrilegious, blasphemous, and unholy desecration's of the Holy Mass.
Tomorrow this Sunday, June 20th at 1:00pm, Houston's Annunciation Church (1618 Texas Street, Houston, TX 77003) will be hosting the Priestly Fraternity of Saint Peter as they celebrate a Solemn High Mass according to the Extraordinary Form of the Roman Rite.
Recently ordained Father John Rickert will be celebrating.  Deacon Michael Malain will be in attendance.
For those not familiar with the parking situation at Houston's Annunciation Church, parking will be available in the parish parking lot on Jackson Street, the street behind the church.  The Houston Astros will be playing Sunday afternoon in Minute Maid Park which stands right next o Annunciation Church, but attendees at that game are not to use any of the parish parking spaces.
This is something that will be an beautiful experience for all those interested in liturgy, music, history and the worship of the risen Lord.
Please try and attend this Mass.  Perhaps many of you have not had such an experience.   To witness and to participate in this Mass will be one of the great spiritual experiences of your life.
Karen L. Anderson of Online Christian Colleges wrote a timely piece on the many myths, misconceptions, and outlandish lies told about Catholics:
With nearly one quarter of the U.S. population Catholic, they make up a huge part of society and the largest Christian denomination. Yet with so many, how is it they are so misunderstood and characterized by films, television shows, etc.?
Failing to do the proper research explains a great deal of it. With a simple search on the internet, we were able to find many interesting answers to the top 15 misconceptions about Catholics. They are both from official sources, reporters, academics, and more.
1. Priests Are More Likely to be Pedophiles : The most dangerous of all myths concerning Catholics, this can lead to many negative and unfair consequences. Recently in a book entitled Pedophiles and Priests, an extensive study – and the only one of it kind – took a look at the pedophile statistics of over 2,200 priests. It found that only 0.3% of all Catholic clergy are involved in any pedophilia matter, guilty or not. This number is actually very low and according to Counter Pedophilia Investigative Unit, who reports that children are more likely to be victims of pedophile activity at school with nearly 14% of students estimated to be molested by a member of the school staff.
2. Everything in "The Da Vinci Code" is True : Even author Dan Brown himself doesn't agree to this. In this free film from Hulu, Mr. Brown admits to writing his novel as a step in his own spiritual journey. As he confesses to being swayed by his extensive research, the experts behind the research weigh in with facts. Simon Cox is the author of "Cracking the Da Vinci Code" and tells more about his work in this documentary. If you don't have 90 minutes to view it, you can get the real story behind Opus Dei, the villain organization in the novel, from ABC news.
3. Women Are Oppressed in the Catholic Church : Although women are still not eligible to become priests as explained by Pope John Paul II, they were still acknowledged as valued members of the church as far back as 1947. In a Papal Directive from then Pope Pius XII, he expressed his admiration of women "to take part in the battle: you have not sought to do so, but courageously you accept your new duties; not as resigned victims nor merely in a defensive spirit." Also, in 2004 then Pope John Paul II historically appointed two women theologians to the International Theological Commission and named another as the president of the Pontifical Academy of Social Sciences.
One of my most favorite saints, Saint Pio of Pietrelcina, or simply Padre Pio, is in this YouTube video I found where he is consecrating the Host.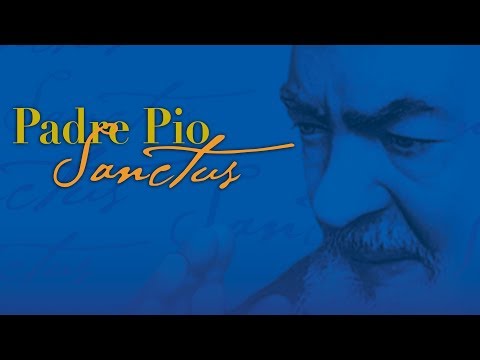 Saint Pio of Pietrelcina (May 25, 1887 – September 23, 1968), also known as Padre Pio, was a Capuchin priest from Italy. He was born Francesco Forgione, and given the name Pius when he joined the Capuchins, shortened to Pio; he was popularly known as Padre Pio after his ordination to the priesthood.
_._
Biretta tip to Taylor Marshall of Canterbury Tales.
Salvete AC readers!
Here are today's Top Picks in the Catholic world:
1. Since the passing of Father Richard John Neuhaus, the FIRST THINGS journal has gone through some changes that have enhanced their image.  The mysterious Spengler joined FIRST THINGS as Associate Editor and outed himself in his Asia Times column as David P. Goldman.  Then Elizabeth Scalia, who was once as mysterious as Spengler, with her popular political-Catholic blog The Anchoress joined FIRST THINGS as well.  Not to mention that prior to these two fine additions FIRST THINGS also initiated their very own blog a few months back.
2. David P. Goldman, a.k.a. Spengler, writes an intriguing article on how Israel can reconcile it's Jewishness with a liberal democracy and how this correlates with the West and its march towards secularism.  Mr. Goldman has this prescient conclusion to this article:
Defenders of the West democracies should take a deep interest in the outcome of what might seem to be arcane legal matters in Israel. Pushed to its extreme conclusion, the secular liberal model will exclude the sacred and the traditional from public life. Of all the things sacred in the thousands of years of pre-history and history that inform Western Civilization, surely Judaism and the Jewish people are the oldest and arguably the most pertinent to the character of the West. Eroding the Jewish character of Israel is an obsession of the secular project, precisely because the Jewish people in their Third Commonwealth in the Land of Israel have such profound importance for the Christian West.
For the article click here.
3. A very disturbing story coming from the Diocese of Savannah where Bishop John Kevin Boland is preventing an orthodox Catholic, Robert Kumpel of the very well written St. John's Valdosta Blog, from attending any Mass in his diocese.  Bishop John Kevin Boland is doing so in conjunction with a lawsuit leveled against by another layperson to Mr. Kumpel so as to prevent him from investigating allegations of multiple abuses by diocesan officials.  In other words it seems that Bishop Boland is frantically covering something up, but we don't know what that is because of a restraining order on Mr. Kumpel who was attempting to investigate this.
Bishop John Kevin Boland is the ecclesiastical equivalent of a Catholic politician who is personally opposed to abortion but publicly for it.  For example, Bishop John Kevin Boland is personally orthodox, but ecclesiastically heterodox in his application of Church teaching.  Such as Archbishop Donald Wuerl of the Archdiocese of Washington where he is known for his personal orthodoxy but is lacking in applying it in his pastoral and management style.
For the article click here.
For more background information click here, here,  here, and here.