Ted Kennedy
I know that I have been an imperfect human being, but with the help of my faith I have tried to right my path. I want you to know Your Holiness that in my nearly 50 years of elective office, I have done my best to champion the rights of the poor and open doors of economic opportunity. I have worked to welcome the immigrant, to fight discrimination, and expand access to health care and education. I have opposed the death penalty, and fought to end war. Those are the issues that have motivated me and been the focus of my work as a United States Senator.

I also want you to know that even though I am ill, I am committed to do everything I can to achieve access to health care for everyone in my country. This has been the political cause of my life. I believe in a conscience protection for Catholics in the health field, and I'll continue to advocate for it as my colleagues in the Senate and I work to develop an overall national health policy that guarantees health care for everyone.
Excerpt, Letter of Senator Edward Kennedy to Pope Benedict XVI, which President Obama delivered to the Pontiff in July, 2009.
* * *
While the deep concern of a woman bearing an unwanted child merits consideration and sympathy, it is my personal feeling that the legalization of abortion on demand is not in accordance with the value which our civilization places on human life. Wanted or unwanted, I believe that human life, even at its earliest stages, has certain rights which must be recognized — the right to be born, the right to love, the right to grow old. [...]

I share in the confidence of those who feel that America is willing to care for its unwanted as well as wanted children, protecting particularly those who cannot protect themselves. I also share the opinions of those who do not accept abortion as a response to our society's problems — an inadequate welfare system, unsatisfactory job training programs, and insufficient financial support for all its citizens.

When history looks back to this era it should recognize this generation as one which cared about human beings enough to halt the practice of war, to provide a decent living for every family, and to fulfill its responsibility to its children from the very moment of conception.
Excerpt, Letter of Senator Edward Kennedy to Thomas E. Denelly, August 1971.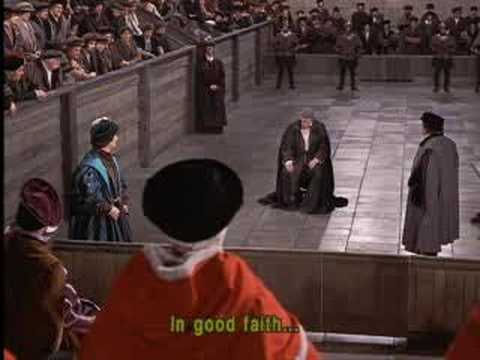 Doug Kmiec, betrayer of the pro-life cause, future ambassador to Malta and spiritual descendant of Richard Rich,  the subject of few posts on this blog, see here, has taken the opportunity of the death of Ted Kennedy to engage in some predictable spaniel like fawning over Obama and ObamaCare.  The ever cogent Erin Manning at her ever readable blog and sometimes tea, fisks the resulting mess here, so you don't have to.
Canon Lawyer Ed Peters has some thoughts here on the Ted Kennedy funeral.  Distressingly the funeral had on full display the tendency of modern Catholic funerals to have eulogies that "canonize" the deceased.  I prefer the traditional Catholic practice of banning eulogies and merely requesting prayers for the soul of the deceased.  There are other venues to praise the deceased.  The funeral Mass is not for praise, but rather for the sacrifice of the Mass and for prayers.  A good post on the subject is here.
Frances Kissling, former head of pro-abort Catholics For a Free Choice, mourns the passing of abortion champion Ted Kennedy here.
"On the right to choose abortion, he was fully pro-choice. He supported the right of women who got their medical care from the government whether they were federal employees, in the military or on Medicaid to the same right of conscience that women with their own money or private insurance have.  And, on every other issue related to reproductive health and rights, he voted for women.
I was struck by a section out of Michael Sean Winters' ringing (indeed, rather shrill) defense of Senator Ted Kennedy on the America Magazine blog.
To say that Sen. Kennedy was flawed is to say that he was a human being. To dismiss his career because of his stance on abortion is to be ignorant of the complicated way the issue of abortion manifested itself in the early 1970s: I think Kennedy got it wrong but I do not find it difficult to understand why and how he got it wrong. If the pro-life leaders would stop ranting for a second and study that history they might become more effective at advancing their cause. Besides, Ted Kennedy got many more things right than he got wrong.
Honestly, what does it mean to say that Kennedy "got many more things right than he got wrong"? I cannot tell that it means anything other than, "Kennedy is one of my political tribe, and so I find it easy to forgive his faults." What, surely Winters does not propose something so trivializing as a weighted check list: "Kennedy was in favor of expanding welfare, and we'll weight that at an 8. He was in favor of increased immigration, and we'll give that a 10. Unfortunately, he was in favor of abortion, we'll weight that at a 4. So far a +14 total, what next?"
Continue reading →
What secularists are saying on the passing away of Edward Moore Kennedy around the web:
Douglas Brinkley on Ted Kennedy's Life: 'He Did a Kind of a Redemptive Work' by Matthew Balan of NewsBusters
Democrats now seek to exploit Ted Kennedy's death by Jonah Goldberg
Larry King-like softball questions in a Q&A with Ted Kennedy Biographer Adam Clymer on Kennedy's Catholicism by Dan Gilgoff of U.S. News & World Report
Hattip to the ever alert Jay Anderson at Pro Ecclesia.   Michael Sean Winters at the Jesuit publication America launched a diatribe at Patrick Madrid for his response to Sister Maureen Fiedler's lament on the death of Senator Kennedy at National Catholic Reporter, He Made Me Proud to Be Catholic, in which Madrid pointed out the obvious:  Kennedy was a total pro-abort.  Poor Mr. Winters!  He didn't realize he was about to enter the fisk machine of Father Z!  You may read the results here.  Here is Madrid's response.  Note to liberal Catholics:  if you are going to lionize a person like Kennedy, who was ever deaf to the cries of the unborn since his switch on the issue, see above letter,  back in the early seventies, there are plenty of other Catholics who are going to point out this very unpleasant fact.
Day II of what Catholics are saying on the passing away of Edward Moore Kennedy around the web (will be continuously updated until tonight at 7:00 pm CST):
A Catholic Funeral for Ted Kennedy by Dr. Edward Peters of Canon Law
A Catholic Funeral for Ted? It's a Lie, a Sham, a Scandal, a Pretense, an Insult to faithful Catholics by Robert Kumpel of St. John's Valdosta Blog
Dissident Catholic America magazine doesn't want to talk about Ted Kennedy's stance on abortion and trashes Patrick Madrid by Father John Zuhlsdorf of What Does The Prayer Really Say?
Who can have a Catholic Funeral & more by Elizabeth Scalia of The Anchoress via First Thoughts
Ted Kennedy was a devoted father.
Many years ago, before my complete embrace of our Catholic faith, I used to read a lot on Ted Kennedy due to my fascination of his political career and of his father, Joseph P. Kennedy Sr.  There were many good and bad things I encountered, though what stood out above all was his devotion to his children.
Here are what Catholics are saying on the passing away of Edward Moore Kennedy around the web (updates from around the web have ended as of 8-26-2009 AD at 6:32 pm CST):
It's Already Started: The Party of Wellstone Uses Kennedy's Death for Political Opportunism by Jay Anderson of Pro Ecclessia
Mixed Record?! my hind end by Rich Leonardi of Ten Reasons
I had been praying for his spiritual health by Jean M. Heimann of Catholic Fire
[Update at the bottom of this post as of 8-26-2009 4:38 pm CST]
Edward Moore Kennedy, known as Ted Kennedy, passed away late last night in Hyannis Port after a battle with brain cancer at the age of 77.
A brief statement was released from his family:
"We've lost the irreplaceable center of our family and joyous light in our lives, but the inspiration of his faith, optimism, and perseverance will live on in our hearts forever,"
Requiescat in pace Teddy.
Elizabeth Scalia, a.k.a. The Anchoress, has an in-depth look at Ted Kennedy's life titled, Ted Kennedy, Healthcare & Purgatory.
Update I:   For reactions around the Catholic world click here.
Hattip to Instapundit.  As he notes, Chappaquiddick is one anniversary Google was certain to ignore.
Here is Ted Kennedy's non-mea culpa, notable for how little of the details of the incident he could recall, and an example of how to appear to take responsibility while not taking responsibility.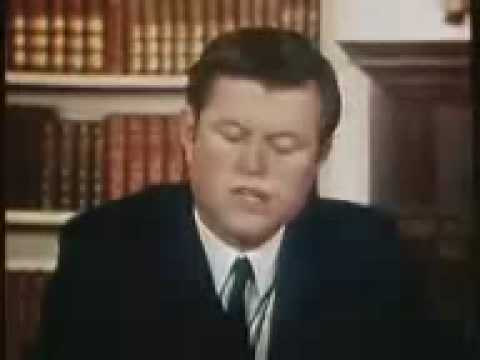 Any other American who failed to report a lethal accident such as this for such a lengthy period would probably have served some jail time, county or prison.  Any other politician would have had his career destroyed.  Something to keep in mind when Kennedy dies and he is referred to as "The Lion of the Senate".