Tea Party
Updated!!! – See breaking video below
Shooting fish in a barrel. . .
Hat Tip: Matthew Archbold
Update: Stephen Colbert runs jihad over innocent occupiers. . .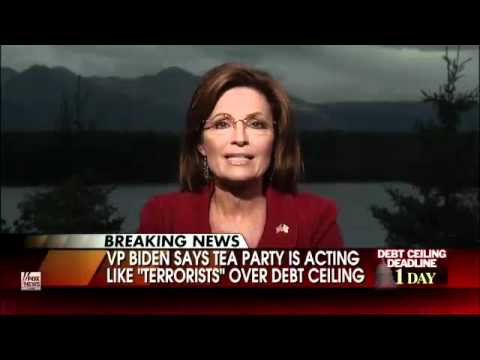 In these dark days of the credit downgrade of the nation, an economy falling back into recession, a crashing stock market, etc, one man shines out as a beacon of hope:  Veep and Beloved National Clown Joe Biden.  As the Three Stooges lightened the American mood during the Great Depression with their comic pratfalls and buffoonish antics, so Biden lightens the national mood by constantly, and deliberately I am sure, saying the stupidest things imaginable.
When Congresswoman Gabrielle Gifford recently returned to Congress after being shot in the head, Biden welcomed her as a fellow  member of the "cracked head club".  As the nation was still howling at that, he dauntlessly followed up with the gutbuster that the members of the Tea Party were "acting like terrorists".
Note the master at work.  Joe of course realizes that calling people who organized peacefully, won the Congressional elections in 2010, and whose representatives in Congress are seeking to enact legislation embodying the beliefs they campaigned on as terrorists, is absurd.  He therefore willingly makes himself absurd and a national joke in order to give us all something to laugh about in these dark days.  What a true patriot!
However, in the event that I am wrong and that Joe really meant that tea party members are acting like terrorists, below are depicted the intellectual godfathers of this dangerous movement, and perhaps Homeland Security needs to put them under surveillance pronto: Continue reading →
My colleague Michael Denton has a thought provoking post which may be read here, in which he contends that the film Mr. Smith Goes to Washington does not stand for the ideals of America, but rather that the Christian message of Love Thy Neighbor is what saves Senator Smith.  Michael makes many valid points in his cogent post, but I respectfully disagree that the film is as negative about America as Michael contends, and I think that if the fictional Senator Jefferson Smith were brought to life in our day, he would be a leader of the Tea Party movement.  Here are my reasons for making these statements:
1. The Founding Fathers:  Like the Tea Party movement, Jefferson Smith takes his inspiration and his political principles from the Founding Fathers (with Lincoln thrown in).  We see this clearly in this scene: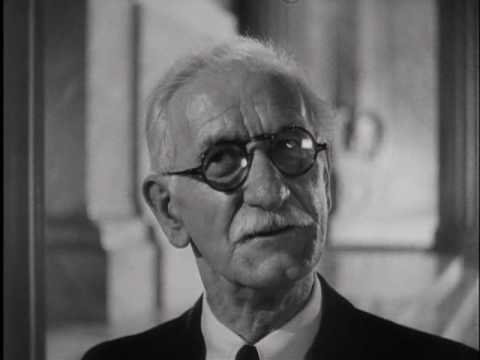 Smith is a reminder to a jaded world that, "Great principles don't get lost once they come to light. They're right here; you just have to see them again!"
When he momentarily loses his idealism about these principles he is reminded that the principles are true by his formerly cynical secretary Clarissa, stunningly portrayed by Jean Arthur, who he, unbeknownst to himself, has converted to his point of view:
"Your friend, Mr. Lincoln had his Taylors and Paines. So did every other man who ever tried to lift his thought up off the ground. Odds against them didn't stop those men. They were fools that way. All the good that ever came into this world came from fools with faith like that. You know that, Jeff. You can't quit now. Not you. They aren't all Taylors and Paines in Washington. That kind just throw big shadows, that's all. You didn't just have faith in Paine or any other living man. You had faith in something bigger than that. You had plain, decent, everyday, common rightness, and this country could use some of that. Yeah, so could the whole cockeyed world, a lot of it. Remember the first day you got here? Remember what you said about Mr. Lincoln? You said he was sitting up there, waiting for someone to come along. You were right. He was waiting for a man who could see his job and sail into it, that's what he was waiting for. A man who could tear into the Taylors and root them out into the open. I think he was waiting for you, Jeff. He knows you can do it, so do I."
2.  Faith in the People-This of course is an axiom of democracy.  Democracy makes absolutely no sense unless one believes that most people do wish to do the right thing most of the time, once they are sure of what is right.  Jefferson Smith has this faith as does the Tea Party with its populist appeals.  He believes that once the people of his state know the type of political corruption that controls their state, they will rise up to crush Taylor and his machine.  The villains of the film agree with him:
James Taylor to Senator Paine:  "If he even starts to convince those Senators, you might as well blow your brains out, you know that, don't ya? This is the works, Joe! Either we're out of business or we're bigger than we ever were before. We can't miss a trick. We can't stop at anything until we've smashed this yokel and buried him so deep…"
Taylor fears the people of his state and that is why he uses gangster tactics to keep the news of what Jefferson Smith is saying on the floor of the Senate from getting to them.
When Smith is confronted with Taylor's astroturfed messages denouncing him, he refuses to give up, his body giving way, but not his spirit.  Ironically, I think if a vote were cast thereafter in the Senate, Smith would have won.  The Senators are viewed in the film as listening to him intently towards the end of the filibuster and are portrayed in the film as increasingly sympathetic to him:
Senator:  "I didn't like this boy from the beginning. But most of us feel that no man who wasn't sincere could stage a fight like this against these impossible odds." Continue reading →
Now that tempers are cooling a bit, and the slanderous narrative promulgated by far-left media sources in the wake of the Giffords shooting has largely been rejected by the American public, perhaps we should reflect upon the role of violence in our history, culture, and political disputes.
Among the many perfectly reasonable points made by Sarah Palin when she addressed the blood libel manufactured against her by the media was that there is no time in history we can compare the present one to in the vain hope of finding  a more peaceful, less violent political tone. Andrew Jackson fought in 13 duels and even killed a man in one of them. He was far from the only US politician to engage in them.
I will not tone down my rhetoric.
I will not apologize for my political views.
I will not give up my guns, or my right to purchase more.
I will not give up my right to free speech.
I will not take responsibility for the actions of a dope-smoking, devil-worshiping, Marx and Hitler-loving psychopath.
I will not take seriously anyone who blames an old political ad posted on Facebook for those actions.
I will reject as the contemptible hypocrites and cowards that they are those who refuse to acknowledge the hate and violence in the rhetoric of the left, including the violent phrases and metaphors used repeatedly by Barack Hussien Obama.
I will not listen to lectures on violence by anyone who supports increasing the coercive power of the state over the lives of American citizens, families, and communities.
I will not listen to lectures on violence by anyone who is a sycophantic apologist for the party that escalated the Vietnam War or cheered the bombing of Serbia.
I will not listen to lectures on violence and a "climate of hate" from people who have made the most horrible, violent, and threatening statements imaginable regarding Sarah Palin and her family. There is no hatred more intense in this country than the hate that leftists have for Sarah Palin.
I will not listen to lectures on violence by anyone who supports the "right" to violently dismember innocent unborn children in their mother's wombs.
I will never again listen to calls not to "rush to judgment" when a Muslim fanatic murders American citizens from anyone on the left.
I will not trade God-given, constitutionally-protected liberties for a false and futile sense of security.
I will not accept the idiotic belief that more laws, more regulations, and more police can solve problems of the human soul.
I will continue to advocate for limited government, state's rights, popular sovereignty, free markets, individual and family rights, religious liberty, and a Culture of Life.
I will not be silenced.
Who's with me?
As we enter a new year, I want to offer some thoughts on both recent events pertaining to the struggle to roll back abortion and the Culture of Death, as well as the historical significance of these ongoing efforts. In a sense, I will be delivering first the somewhat bad news, but then the encouragingly good news.
The disappointment lies in the political defeats of the 2010 election season, though to be quite honest, I and many others fully anticipated these defeats. In Nevada, Missouri, California, Florida and Montana, and there may be other instances I'm not aware of, propositions that would establish that life begins at conception (known as "personhood" or "human life" initiatives/amendments) failed to even appear on the ballot. Activists could not obtain the required number of signatures in these states.
The one personhood/human life amendment that did make it to the ballot, Colorado's Proposition 62, was rejected by 70% of the voters in that state. One bright spot was to be found in Alaska, where a parental notification measure was passed with 55% of the vote. These defeats echo a similar wave of defeats suffered in 2008 across several states. Though this strategy has obviously failed, in almost every instance pro-life activists are preparing for another round of personhood propositions in 2012.
Please understand that I have nothing but admiration and respect for the pro-life activists who engage in these campaigns. They give up time and money to participate in the greatest moral cause of our generation, and for that alone they are to be commended.
But it is now time for the leaders and activists in the pro-life movement to reject the "personhood" ballot initiative movement.  These efforts have failed more than once, they have diverted scarce financial, political and human capital away from more realistic pursuits, and the continued defeats could easily lead to a chain-reaction of demoralization within and desertion from the pro-life ranks.
An English translation of the first portion of the above video.
Fidel Castro: Comrades, our nation is completely bankrupt! We have no choice but to abandon communism!
Castro's Aide #1, Castro's Associates: [sigh]
Fidel Castro: I know, I know, I know… but we all knew from day one this mumbo jumbo wouldn't fly! I'll call Washington and tell them they won.
Castro's Aide #1: But presidente, America tried to kill you!
Fidel Castro: Ah, they're not so bad. They even named a street after me in San Francisco!
[Aide #2 whispers something into his ear]
Fidel Castro: It's full of what?
Hattip to the Babalu Blog, the go to blog on the net to keep advised of the follies of the Castro regime in Cuba.  It seems the Bearded One views the Tea Party as "fascist": 
Speaking to a group of students visiting Havana, former Cuban leader Fidel Castro accused the Tea Party of leading the United States towards "fascism."
In his comments, Castro chided the United States as a "ruined nation" and derided the Tea Party as "extreme right."
Castro also announced that health concerns had forced him to step down from his position as head of the Cuban Communist Party.
Castro's exchange with the students was published in Granma, the state-run newspaper.
"I got sick and did what I had to do — delegate my powers." Granma reported.
Castro ceded the Presidency of Cuba in 2006 after 46 years in power. He was replaced by his younger brother Raúl.
Under both brothers, Cuba has been isolated from the international community, criticized for its lack of democratic elections and for its systematic abuse of human rights. Continue reading →
What other explanation could there be for this?
Why, it's quite obvious that in an attempt to pull the wool over the eyes of the nation's oppressed women and minorities, the racist and sexist Tea Party, along with the general swath of racist and sexist Republicans, elected two black conservatives to Congress, an Indian woman and a Mexican woman as governors, and a whole bunch of Latino guys to various offices. It is equally obvious that these misguided souls were duped by the cunning white man into becoming pawns for the perpetuation of the power and privileges of white Amerikkka.
In the previous part of this series, I gave a detailed comparison of the views of John Locke and Pope Leo XIII on the state of nature, the origin of private property, and the proper use of private property. In this final part, I want to make a few more points regarding what I think can be called "Lockean" thought, at least as it exists in contemporary America, explore the relationship between the Catholic Church and the United States, and explain why I think all that has been considered thus far is relevant for our political situation today.
by Joe Hargrave
With the political storm clouds gathering over the horizon for November, I want to take this opportunity to explain why I will be voting for GOP candidates (specifically Tea Party candidates when possible) at the midterm elections. It is not because I "believe in" the Republicans, or because I think that a Republican Congress is going to lead America into a new golden age. It is because the Obama/Democrat agenda must be slowed down, and more importantly, because I do not share the hierarchy of priorities or values of the left.
[Update:  There is already a Draft Cain 2012 website up!]
Oh wait, the picture doesn't follow the mainstream meme does it!
I guess Chris Matthews and Keith Olbermann's running narrative of extremists running the Tea Party doesn't quite fit the pic.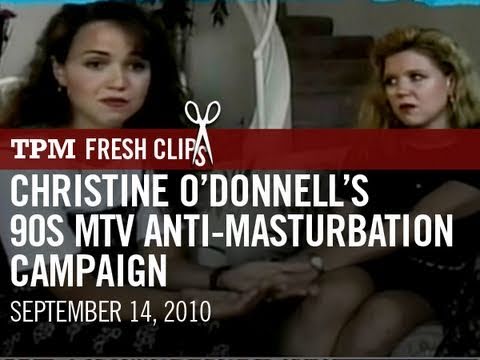 [Update: thanks to Michael Sean Winters for increasing my hit count today. Apparently this post makes me a "yahoo." I couldn't care less. He complains that it isn't what she said, but where she said it - on MTV. So remember that folks: when the secular media challenges you and asks you about Christian views on sexuality, turn coward and hide behind deference to parents instead of clearly stating what Christ taught. And please forget about Matthew 10:32-33 while you're at it. God understands how important is not to talk about embarrassing topics and to not be a "yahoo."]
Of all the stupid memes the media has tried to feed me about Christine O'Donnell in the last 24 hours, I finally came across one I found blog-worthy: Christine O'Donnell opposes masturbation. Of course in the eyes of the same media, this is bizarre, "kooky" behavior that can be used against the candidate in the general election. The geniuses at Yahoo News, for instance, write,
"O'Donnell, a perennial candidate who once argued against masturbation on a MTV special, is not likely to move toward the middle…"
Because nothing could be more partisan, right?  This video clip was dug up by Rachel Maddow, as part of a 1996 MTV special in which O'Donnell appears with a number of other Christian youth leaders offering some pretty basic Christian arguments against masturbation. The TMP article linked in the quote quips that she "considers looking at pornography akin to adultery."
Correction, TMP. It is Jesus Christ who considers lust in one's heart a form of adultery, a teaching to which O'Donnell, myself, and every other Christian ought to simply be faithful.
Of course it doesn't surprise me that our basic teachings on sexuality are mocked and despised by the MSM, and especially by the likes of Maddow and North Korean TV (h/t Ann Coulter for that apt nickname for MSNBC). The countless stories of families and marriages ruined by sexual addiction are not enough for people who are determined at almost any cost to assure us of the safety and normalcy of wanton, ceaseless, selfish sexual gratification. They seem to believe only some kind of weirdo could possibly be opposed to this behavior; I say only someone who is utterly blind to their own soul could possibly be in favor of it.
And no, morons, she is not calling for the outlawing of masturbation, as if such a thing were even possible. The stupidity of those who cannot imagine arguing that something is wrong without calling for it to be outlawed never ceases to amaze me.
Kudos to O'Donnell for speaking out on this topic, if she still holds these views. It shouldn't diminish her standing as a candidate one bit, and ought to raise it in the eyes of Christians, though what should or shouldn't happen, and what will happen are of course two very different things.