Tea Party Protests
[Updates at the bottom of this post as of 4-29-2010 at 8:24pm]
Apparently President Obama is doing his best to paint the Tea Party movement as a group of extremists and racists.
Witness the video below as an army of riot police in full riot gear and snipers on rooftops wield their weapons to intimidate the Tea Party protesters.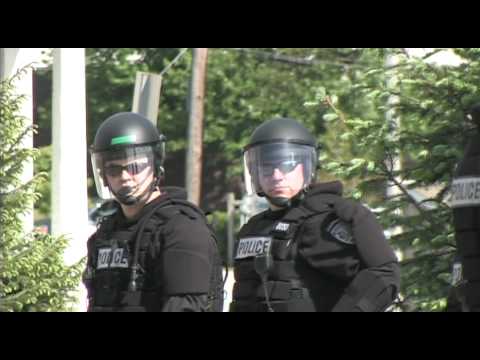 Nancy Pelosi, Harry Reid, and Barack Obama continue to spend, spend, spend away money we don't have.  With the public option now firmly established in the current Senate version of the health care bill, Election 2010 comes to mind.
Kick the bums out.
I love democracy.
(Biretta Tip: Glenn Foden of NewsBusters)
Representative Todd Akin (R-MO) lead the Pledge of Allegiance at a rally protesting the Democratic health care reform bills. He gave a short statement beforehand on the importance of the phrase "under God." He then invited everyone to join in the recitation of the Pledge because it "drives the liberals crazy." This statement shouldn't be surprising coming from a member of a party committed to nationalist overtones and calling into question the patriotism of anyone who dares to dissent from their claims of what is "patriotic." Yet Rep. Akin made a fool out of himself when it was time to actually recite the Pledge.
Sure, he simply had an honest stumble. I am sure we all do it. But it is quite hilarious that it took place after he sanctimoniously claimed some sort of patriotic high ground for conservatives because liberals apparently hate our country. So much for his credibility. . .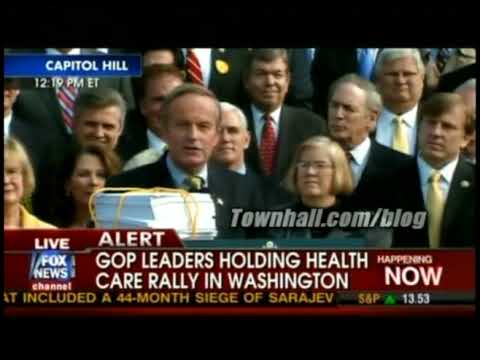 Similarly, House Minority Leader John Boehner was fired up against the Democrats at a Tea Party rally. He went to invoke the Founding Fathers who wrote in the preamble of our Constitution: "We hold these truths to be self-evident…"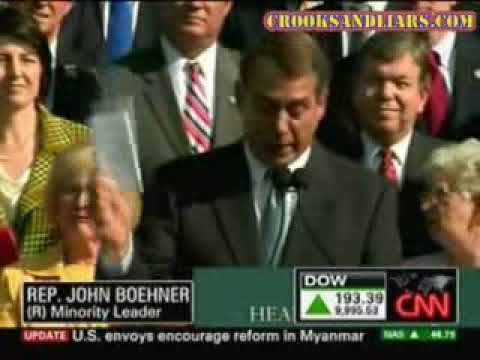 Oops.
Mr. Boehner does not appear to know the difference between the United States Constitution and the Declaration of Independence. Better luck next time.  
Under the surface, and largely unbeknownst to the mainstream media, the tide has been turning to Catholicism for some time. The pontificates of Pope John Paul II and Pope Benedict XVI along with events such as an increase in orthodox minded seminarians, young priests and young women religious, a return to devotions and a reform of the reform of liturgy have shown us that indeed the tide is turning. However, for some time now western culture has been moving in the opposite direction, where any, whim or opinion that holds that orthodox minded religious thought is antiquated and even harmful is held in high regard. How could this jibe with the turning tide within the Church? Who would win? Didn't Jesus promise that the gates of hell would not prevail against His Church after He gave Peter the keys (and the 265 subsequent popes) to lead it? The answer is the same answer that has always been, the Church eventually always wins and it will this time as well.
Following the Election of 2008 when liberalism was on the ascendancy, many in the mainstream media joyfully proclaimed a new era, where one could read between the lines and see that traditional views of society, family and religion were on their way out and big government was in. However, a funny thing happened on the way to the revolution, many Americans refused to go to the Bastille with pitchfork in hand. Americans view of revolution was almost always in line with George Washington's view of limited government and not Maximilien Robespierre's view of war against society, family and religion. Perhaps the Election of 2008 was a pox on both their big spending houses that was wrongly construed as a vote for Big Government.
Having a number of fairly liberal friends and acquaintances, it struck me recently how many blog posts and facebook updates I'd seen lately that began, "I was just watching one of the anti-health-reform protests and I'm just so angry right now."
I get that many on the progressive side are very, very excited about whichever of the major proposals in the congress at this point ends up being the chosen one by Obama (despite the fact that none of them actually get that close to being what progressives have wanted in regards to health care reform for all these years), if only because they're very excited to see Obama succeed at whatever he tries. But it strikes me that there's a difference in how people think about the state and about legislation at play here as well. Thinking back, I can't recall any example of a piece of legislation on any topic that I was so excited about that it made me angry to see people out protesting against it. Sure, there have been a few things that I've strongly supported (like the marriage amendment ballot initiative in California; the national partial birth abortion ban, etc.) or strongly opposed. But there's nothing I found myself so worked up about that I felt it necessary to watch the protests for or against and then get furious that there were opponents out there — whether their sentiments were fair and honest or not.
My thinking would tend to be, "Hey, it's just legislation. We win or we lose." But then, that springs from a basic assumption that things will not change very much from the status quo, that the government will work no miracles for us or against us, and that on a day to day basis the government basically is and should be invisible to us. That seems to be a set of assumptions which many on the more progressive side of the political realm do not share.
A controversy has blown up on the internet with claims that the 9/12 rally in Washington had about 60,000-90,000 people in attendance.  Charles Martin at Pajamas Media drives a stake through the heart of that claim here.
"Since I wrote that piece, though, we have two new sources of information. First, the ridership statistics from D.C. Metro became available after being delayed, apparently because of a fatal accident on the Metro tracks. The Heritage Foundation, using these figures, computed that Metrorail ridership was about 235,000 greater than the previous weekend. As they say, that in itself is more than three times the (unreliable and badly sourced) number reported in the legacy media.
Second, there is now a high-resolution photo from FreedomWorks, which you can see in the poster here.
His conclusions from all available evidence:
"What can we take away from this exercise? Here are the main points:
The estimate widely used in the legacy media is not from an authoritative source, and it isn't even consistent with itself: "full back to 3rd Street" is around 250,000 by Park Sevice methods, not a quarter of that.
Many estimates, using different assumptions and different methods, arrived at numbers well into the hundreds of thousands.
This is clearly consistent with the panoramic photo that we can source reliably.
With everything above, and with several more estimates, I don't think there is a plausible argument for any total attendance figure much less that 500,000 to 600,000. That is, nearly ten times the reported attendance."
I have had my eyes on the tea party movement protesting government spending since the beginning of the movement.  On Saturday a huge national tea party protest was held in Washington.  Estimates of crowd size range from 500,000 to 2.3 million.  Some organs of the mainstream media are attempting to downplay the significance of this event.  Politicians on both sides of the aisle are not so gullible.  They realize that a political storm is brewing.  Perhaps even more significant than this show of strength by the forces opposed to the drunken sailor spending of the Obama administration are the state tea parties taking place each week.  For example in the completely blue state of Illinois, my home state, there was a tea party at New Lennox near Joliet last week that drew 10,000 people.   This weekend a tea party at Quincy, Illinois drew 12000 people.   Receiving scant coverage from the national media, these parties are are becoming a real factor in the 2010 elections.
Charlie Cook is one of the best political prognosticators in the business.  Here is what he is seeing:
"Even in the best of times, Congress is unpopular. And now voters see Obama as having sent suggestions rather than proposals to the Hill, staking his future and reputation on a body that they hold in low regard. (On foreign-policy matters, where Congress plays a small role, Obama's job-approval ratings remain quite good. It's on the domestic side that his numbers are dismal.)
With 14 months to go before the 2010 midterm election, something could happen to improve the outlook for Democrats. However, wave elections, more often than not, start just like this: The president's ratings plummet; his party loses its advantage on the generic congressional ballot test; the intensity of opposition-party voters skyrockets; his own party's voters become complacent or even depressed; and independent voters move lopsidedly away. These were the early-warning signs of past wave elections. Seeing them now should terrify Democrats."
"A mob"
"Astroturf"
"Nazi's"
President Obama and Speaker Pelosi are trying their hardest at imitating an ostrich sticking its head in the sand.  It continues still today.
When White House Senior Adviser David Axelrod was asked for his opinion concerning the large number of protesters that marched on Washington on Saturday, he replied:
"I don't think it's indicative of the nation's mood . . . "You know, I don't think we ought to be distracted by that. My message to them is, they're wrong."
After tens of hundreds of tea party and town hall protests, the Obama administration seems to purposely be ignoring what Americans demand, no more government intrusion and spending.
The tone deafness of this administration and their proxies is simply stunning.
Liberals and Democrats have accused many Americans of overreacting to the speech that President Obama will be delivering to school children today (at 11:00 am Central Daylight Time).
On the surface this would seem a fair evaluation but if you dig a little deeper, those on the Left may well be making another crucial misdiagnosis of the source and cause of this reaction.
First lets examine the prism that those on the Left have viewed this reaction.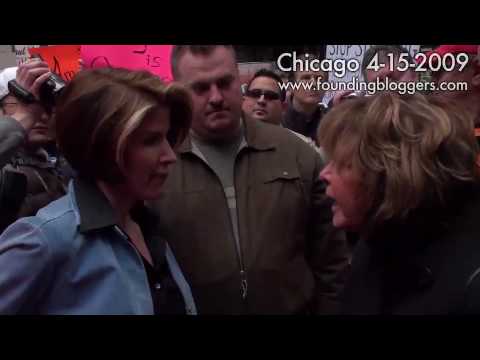 Yesterday in my Spirit of 09 post I linked to a video from CNN which depicted a clash between CNN reporter Susan Roesgen and tea party protestors in Chicago.
I'm a big fan of the personal finance speaker & author Dave Ramsey… when our oldest was born nearly five years ago and my wife prepared to stay home to take care of her and her siblings-to-come, I didn't know how we were going to manage on my income alone; Ramsey's book and radio show provided us with a straightforward, systematic approach to managing our finances, and for that, I am grateful… his is the talk radio show that I still listen to most.
But when it comes to politics, Dave is far too typical of many mainstream conservatives: he confuses principles for their application, just like Limbaugh, Hannity, et al.
Yesterday Americans rallied in hundreds of tea party protests against high government spending and taxation.  In my state 3000 people turned out in Peoria alone.  Good coverage of the tea parties is at Instapundit.  Much more at Tea Party online HQ. 
Elements of the mainstream media were openly contemptuous of the tea parties, perhaps one of the more obvious examples being here at Hot Air.