Tea Party Movement
So I guess that makes it neo-neocon.
The Washington Times reports on a poll released by Rasmussen on the relative popularity and unpopularity of various political labels.
• 38 percent of likely U.S. voters "consider it a positive" when a political candidate is described as "conservative," 27 percent say it's a negative.

• 37 percent say "moderate" is a positive label, 13 percent say it's a negative.

• 32 percent say "tea party" is a positive label.

• 56 percent of Republican voters agree.

• 38 percent of voters overall say the tea party label is a negative.

• 70 percent of Democrats agree.

• 31 percent of voters overall say "progressive" is a positive label, 26 percent say its negative.

• 21 percent say "liberal" is a positive label, 38 percent say it's a negative.
What jumped out at me is the disparity between how the term "conservative" is received versus the term "tea party."  The positive/negative spread for "conservative" is 38/27, but it's 32/38 for "tea party."  Now, conservative/tea party fares better than progressive/liberal, and that is probably worth a discussion in and of itself.*  But I want to focus on the conservative versus tea party aspect of this poll for a moment. Continue reading →
In the previous part of this series, I gave a detailed comparison of the views of John Locke and Pope Leo XIII on the state of nature, the origin of private property, and the proper use of private property. In this final part, I want to make a few more points regarding what I think can be called "Lockean" thought, at least as it exists in contemporary America, explore the relationship between the Catholic Church and the United States, and explain why I think all that has been considered thus far is relevant for our political situation today.
In a recent column Washington Post columnist, E J Dionne noted that the Tea Party movement is a great scam. Quite an indictment coming from the self described progressive Catholic who still thinks government can never be big enough and the Church should tell the faithful more about the teachings of the agnostic Saul Alinsky than that of 2,000 year old teachings of the Catholic Church. Dionne has made it his business to comment on all matter of politics and religion for quite some time. His partner in left wing chicanery is New York Times columnist Maureen Dowd who never hesitates to go for the jugular.  Though she says he she comes from humble Washington DC roots, you would never know it by how she mocks those who really came from humble surrounding and never forgot it. She probably grew up with many Sarah Palin's and Christine O'Donnell's around her. Yet, I doubt she mocked many to their face as she gleefully does now to the backs of Palin and O'Donnell.
Dionne and Dowd seem to have it backwards, they don't think citizens should voice their views about the fallacies of liberal Big Government, but they do believe everyone knows better than the divine about religion. This is quite common for liberals who often seem to think they are divine. Dionne and Dowd are part of a movement who thinks they should control government and religion, and those who disagree with them are often labeled as unintelligent; the worst sin as far as liberals are concerned. However, who is the unintelligent one? Big Government has never worked. It has only brought huge debt which has to be repaid by future generations. Individuals who go into debt face a series of tough measures. Yet Dionne and Dowd seem oblivious to this and advocate the same disastrous path for the government, the end result being tough measures for everyone.  In other words Big Government is a disaster that doesn't work.
However, Big Government isn't the only disaster Dionne and Dowd advocate. They want the Catholic Church to turn her back on its 2,000 year old teachings and embrace the Dictatorship of Relativism, so named by Pope Benedict XVI. Dionne and Dowd are happy to embrace dissident Catholics who espouse this sort of thinking. It seems Dionne and Dowd are more comfortable with the views of Marx, Alinsky and Freud than they are with Christ, St Paul, St Thomas Aquinas, St Joan of Arc and Pope Benedict XVI. Continue reading →
It would appear that those in the mainstream media who want to do hit pieces on Pope Benedict XVI need to take a number. The latest to engage in Yellow Journalism is CNN. The "network of record" dispatched Gary Tuchman to do the dirty work. One might recall that it was none other than Tuchman who remarked how distressing it was travelling in the heartland during the 2008 Election campaign. He complained that some who recognized him told him that their Middle American views and ideas were repeatedly mocked by the mainstream media, all the while those of the liberal establishment were hailed. Tuchman's words were quite revealing when it comes to this story.
CNN has been advertising their hit piece on Pope Benedict XVI as if he was already guilty of some sort of cover up, even though during the Abuse Scandal it was none other than the New York Times who praised then Cardinal Ratzinger for tackling the tough problems. What tough problems did he tackle? The most notable example being Father founder of the Legionaries of Christ. Father Marcial Maciel was one of the few prominent conservatives caught up in the Abuse Scandal, most of the abusers were Church liberals who wanted to change the Church. Cardinal Ratzinger took on Father Maciel at the height of his power and popularity. One might recall that Father Maciel was quite close to Pope John Paul II. So from this example we can see that Cardinal Ratzinger (now Pope Benedict XVI) showed no favorites and pulled no punches. The Legionaries of Christ were shaken to the core and as pontiff, Pope Benedict XVI removed their leadership and installed his own, hardly the work of someone who was timid.
The CNN piece was perhaps even more despicable than the New York Times hit piece, because in the interim much of the modus operandi of the Old Gray Lady was exposed. Still CNN used the same material and claimed that they had something new. There is nothing new here. The crux of their argument comes from material provided by Jeffrey Anderson the attorney who has made millions off the scandal. Anderson says he is one a mision to "reform the Church." What kind of reform would that be? Some Catholic dioceses have been forced into bankruptcy, which means the poor whom they dioceses assisted through their social programs are left in the cold. For all his concern of "reform"  Anderson hasn't provided a penny to these particular poor.
President Obama seems to carry the world view that of an elite academic, that all the problems this nation faces can be solved with government intervention through high taxes and and legislation that enacts social engineering of a society of independence to that of dependence.
Or as the average layman would say, President Obama is a socialist, plain and simple.
I understand the subtleties of his liberal leanings and his good intentions, but the path to Hell is often made with good intentions.  With the failed Communist experiment in Russia in 1988 and the current economic collapse of Greece with Spain and Portugal on the horizon to experience the same, I don't see how more spending with money we don't have for welfare programs that we don't need will solve our economic woes.
There are many political fault lines that run through American society, perhaps more today than any point in recent history. We can all probably name a few of the ideological, cultural, and religious lines, but there is one in particular that I wish to explore with you today: divisions over whether or not, and to what extent, it is legitimate to resist the government. By resist, or rebel, I mean a refusal to comply with laws, though in the future it may mean something else entirely.
When "left" and "right" are set aside,  what appears to separate the "mainstream" from "extremism" is the position they take on this vital question.
Naturally, in a country with revolutionary origins, whose founding document establishes the right of the people to overthrow governments that break their end of the social contract, talk of resistance or rebellion in general cannot be dismissed as insane, though some undoubtedly try to argue along those lines. There is also a broad political consensus in the mainstream that civil disobedience against overt racial injustice is legitimate; few Republicans these days have anything other than praise for the aging heroes of the Civil Rights movement of the 1960s.
Rand and Ron Paul are the true face of the Tea Party. I support them 100% in the months and years to come.
Though I agree that with Rand that we don't need to apologize to the world for our economic system, we do need to continually revise and update it in accordance with the demands of the moral law and human dignity. My hope is that Distributist ideas can continue to gain traction in America, and among the Catholics in the tea party and hopefully beyond.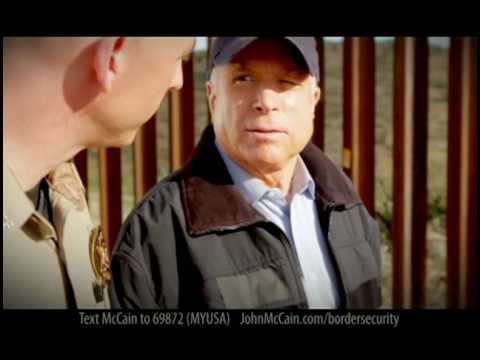 A wrap-up of various items of political interest.
1.  The video that heads this post is one of the reasons why my vote for McCain in 2008 was a two handed vote, with one hand holding my nose.  McCain has long been an ardent supporter of amnesty and open borders.  Now that he is in a tough primary race with J.D. Hayworth, he is a born again believer in locking down the border against illegal aliens.  I certainly favor in making it tougher for illegals to get across the border, but I do not favor politicians who embrace positions simply to save their political skin.  I hope that the voters in Arizona will finally bring McCain's political career to a screeching halt  by voting for his opponent in the primary.
2.  It looks like Hawaii will soon have a new Republican Congressman.  The Democrat Congressional Campaign Committee is pulling out of Hawaii 1 and basically conceding that Republican Charles Djou will win the special election on May 22. The Democrats have two candidates running who are splitting the vote and thus allowing the Republicans to take a Congressional seat that has been in Democrat hands for two decades.
3.  The tea party movement claimed another scalp by causing the defeat of Republican Senator Bob Bennett at the Utah Gop Convention in his attempt to get the Republican nomination for a fourth term in the Senate. This should be a warning for all politicians:  this year is different, no re-nomination or re-election can be taken for granted.
4.  Faithful readers of this blog will know that I have quite a bit of respect for blogger Mickey Kaus who is taking on Senator Barbara Boxer in the Democrat primary in California.   Shockingly last week the LA Times refused to endorse Boxer:
On the Democratic side, we find that we're no fans of incumbent Barbara Boxer. She displays less intellectual firepower or leadership than she could. We appreciate the challenge brought by Robert "Mickey" Kaus, even though he's not a realistic contender, because he asks pertinent questions about Boxer's "lockstep liberalism" on labor, immigration and other matters. But we can't endorse him, because he gives no indication that he would step up to the job and away from his Democratic-gadfly persona.
To have the LA Times refuse to endorse Boxer is a strong indication of just how weak she is this election year.  She is probably strong enough to defeat Kaus (sorry Mickey!) in the primary, but there is blood in the water for the general election. Continue reading →
With President Obama demonizing Tea Party protesters and the recent comments of New York Mayor Bloomberg speculating that the Times Square bomber was a tea party protester, it is mind boggling how the evidence continues to stack up against their arguments of Tea Party protesters being intolerant and racists.
Especially in the light of breaking news that thieves have stolen the Mojave Desert Cross that was built to honor Americans who died in World War I.  When  just less than two weeks prior the U.S. Supreme allowed that Cross to remain on the property.
I'll bet good money that some raving liberal removed the cross because of his or her dissatisfaction with the U.S. Supreme Court's ruling.
Yet where are the news of lynchings, swastikas painted on synagogues and burnt out black churches by Tea Party Protesters?
The cognitive dissonance on the Left is amazing.
Last night on the CBS Evening News, Katie Couric interviewed New York Mayor Michael Bloomberg, a non-affiliated party member, and asked him his thoughts on who it was that planted the bomb in New York's Times Square and what were the motives behind it.
Mayor Bloomberg's comments are incredulous to say the least (emphasis mine):
"Home-grown, maybe a mentally deranged person or somebody with a political agenda that doesn't like the health care bill…"
…the health care bill Mr. Bloomberg?
As in the Tea Party Movement participants?
[Updates at the bottom of this post as of 4-29-2010 at 8:24pm]
Apparently President Obama is doing his best to paint the Tea Party movement as a group of extremists and racists.
Witness the video below as an army of riot police in full riot gear and snipers on rooftops wield their weapons to intimidate the Tea Party protesters.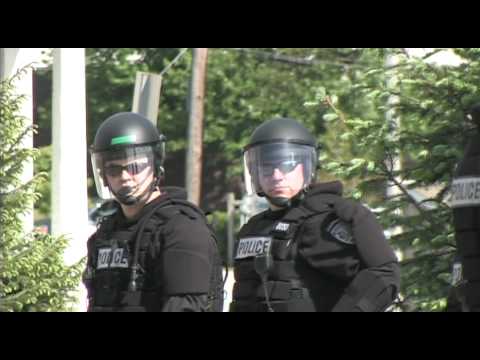 Hattip to my friend Paul Zummo, the Cranky Conservative.  When asked what type of conservative I am, I have usually responded "just conservative".  Like most conservatives I know, I am conservative on social issues, fiscal policies and foreign policy.  When one part of conservatism is ignored in a political race, electoral disaster often looms.  That is why I embrace completely what my fellow Illinoisan, Paul Mitchell said in a recent speech: