Spirit of Vatican II
Is dissident and disgraced theologian Hans Küng calling Pope Benedict a sedevacantist?
Hat tip: The Pulpit/Photo credit: The Curt Jester
The following is a press release from Fr. Michael Rodriguez concerning the unprecedented legal action taken by (his) Bishop Armando Ochoa against him (I formatted the press release to eliminate spaces, content has not been touched or changed):
On January 12, 2012, Most Rev. Armando Ochoa, Administrator of the Diocese of El Paso, filed a lawsuit against me.  Once again, I want to reiterate that his action is dishonest and unjust.  I pose the simple question:  over the course of the past 9 ½ years, who is the one who has been laboring, struggling, sacrificing day and night, and caring for the spiritual and material well-being of San Juan Bautista Catholic Church?  Has it been Fr. Michael Rodríguez or Most Rev. Armando Ochoa?  Based on the factual record, which of the two has greater credibility when it comes to protecting and furthering the spiritual and material patrimony of San Juan Bautista?

SPIRITUAL GOODS

Over the course of my 9 ½ years as parish administrator of San Juan Bautista, by the grace and mercy of God, the following spiritual goods were "achieved":

1) Restoration of the glorious Traditional Latin Mass

2) Gradual restoration of the Catholic Church's sacred language, Latin

3) Gradual restoration of Gregorian Chant and sacred music

4) Devout and worthy reception of the Holy Eucharist on the tongue and kneeling, accompanied by preparatory and thanksgiving prayers

5) Silence at Holy Mass and a real catholic sense of the sacred

6) Modest dress and reverent behavior at Holy Mass and inside church

7) Two daily Masses at 8:00 a.m. and 6:00 p.m.

8. Holy Hours with Exposition of the Blessed Sacrament at least four times per week

9) Regularly-scheduled Confessions at least five times per week;  Confession available at any time, day or night, by appointment

10) Stations of the Cross every Friday in both english (12:30 p.m.) and spanish (6:45 p.m.)

11) Parish Lenten Missions in both english and spanish

12) Numerous vocations to the priesthood and religious life

13) Christ the King, Corpus Christi, and Our Lady of Guadalupe Processions through the neighborhood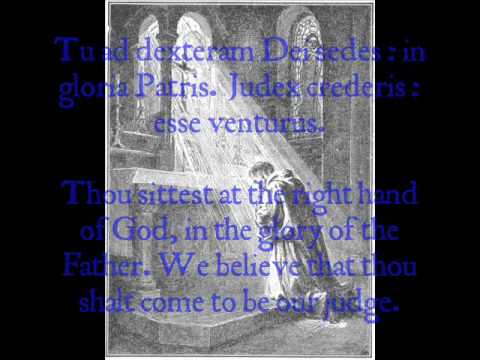 Something for the weekend.  Te Deum (To God) sung by the Benedictine monks of Saint Maurice and Saint Maur.  A song sung by Catholics in moments of triumph and thanksgiving, it was probably written by Saint Nicetas in the late Fourth century or early Fifth century.
One of the swear words common since Vatican II in the Catholic Church is triumphalism.  We are to avoid it at all costs, and it is a bad, bad thing.  In a small way this makes sense.  The Church is both a divine and a human institution.  As a divine institution the Church is always victorious and triumphant as result of the Triumph of the Cross, and proceeds serenely through time and eternity.  As  a human institution the Church consists of we sinful individuals here on Earth, and meets with victories and defeats as she seeks to spread the message of Christ, often on very stony fields indeed.  To view the Church here on Earth through rose colored glasses and to assume that simply because the ultimate victory will be claimed by the Church against the Gates of Hell that all is well within the Church is to mistake the Church Triumphant for the Church Militant.
A commenter, Dave Hahn, asked if anyone bothered to translate the gloria.tv report on the Unholy Mass.
Well someone did.
Here is a direct quote from the video of the priest in his homily:
In his homily, Father Faber made a point of saying that Cardinal Schönborn expressly approved this celebration. Despite the fact that Gloria TV had documented liturgical abuses during the previous years, Despite international exposure and world criticism, Cardinal Schönborn stands behind the event.
The following is the complete translation of the gloria.tv video of Cardinal Schonborn's expressly approved Unholy Mass:
On the 29th of June, the pastor of Vienna's Cathedral, Father Toni Faber celebrated the so called Western Mass at the Danube Island Festival, for the third time. The Danube Island Festival is an annual large open air music festival in Vienna.
Updated below with still photographs.
Christoph Cardinal Schonborn has had a series of blunders these past 18 months.  From his participation in a balloon Mass to criticizing a high ranking Cardinal of the Vatican.  He has been verbally and personally reprimanded by the Pope himself.
Now comes this 'Wild Western' Mass caught on video being celebrated in Austria with his explicit approval.
You be the judge:
A Mass is celebrated in Austria with the explicit approval of Cardinal Schonborn. Shown in this Mass being celebrated in German are sacrilegious, blasphemous, and unholy desecration's of the Holy Mass.
Imagine no Catholicism.
Answer:  You get today's Anglican Communion.
(Biretta tip:  Patrick Archbold of the Creative Minority Report)
Rome Reports puts the spotlight on a blog called Bad Vestments.
Bad taste along with the Smoke of Satan has invaded Catholic parishes.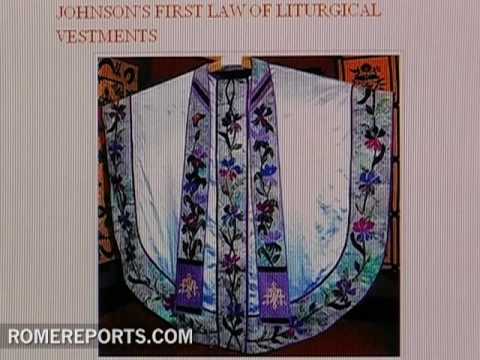 (Biretta tip:  Rome Reports)
Godfried Cardinal Danneels home was raided in Belgium by police searching for evidence in the sexual abuse of children.  Belgium police also raided the offices of the Archbishop of Brussels, Archbishop Andre-Joseph Leonard.  This came on the heels of Bishop Roger Vangheluwe's abrupt resignation after admitting to homosexual relations with a boy this past April.
Cardinal Danneels is well known as creative in his interpretations on Church teachings.  Cardinal Danneels participated in writing Sacrosanctum Concilium, a document which influenced the complete rewriting of the liturgy of the Second Vatican Council.  Which in turned fueled the liturgical abuse that most Catholic in the West are still being exposed to.
Under his watch as prelate of Belgium, a once devout and vibrant Catholic country, Belgium's Catholic faith has been all but eliminated.  Abortion, euthanasia, and homosexual unions have been legalized under his watch.  In addition church attendance and religious/secular vocations are at their lowest not seen since that part of Europe was pagan.
From the brilliant Paul Nichols at Catholic Cartoon Blog.  Hattip to my friend Paul Zummo, the Cranky Conservative.
First of all, I need to introduce myself: my name is Michael Denton and I'm from what Tito calls the People's Republic of Cajunland and what I call paradise: South Louisiana. As for my qualifications: well, like most other bloggers, I really have no idea what I'm talking about. If that's a problem for you…well, then you probably don't need to be reading blogs.
Anyway, today we heard the anticipated news that Los Angeles will soon see Cardinal Mahoney replaced with San Antonio's Archbishop Jose Gomez. To read all about it, I suggest you head over to Rocco Palmo's site, as he is one of the few bloggers who actually does know what he's talking about. In sum, Abp. Gomez is from the "conservative" order of Opus Dei and could be very different from his predecessor, who built a monstrous cathedral (not in a good way) and is known for hosting a Conference that annually provides Youtube clips for Catholics wishing to show others just how bad liturgical abuse can be. I don't know if that's very interesting though. While the liturgical element is certainly important, as the "Spirit of Vatican II" types are losing their foremost defender, I think we knew beforehand that Benedict was going install a replacement very different from Mahoney in liturgical views.
More important is how they're similar.
Father Edward L. Beck, a Passionist Priest, and a contributor to ABC, wrote a column for ABC in which he calls for Vatican III.  I think the article is worth a fisking.
April 2, 2010 —Surely this was originally intended for April 1?
As Christians begin their celebration of the Easter season, the Catholic  church seems stuck in Good Friday. No Father, the Catholic Church is always "stuck" in Easter. Just when some would like to turn  their attention to the profound mysteries of their faith, they are  instead mystified by yet another round of horrendous sex abuse storiesmaking headlines. Yeah, totally by accident, and too bad Father doesn't spend time mentioning how spurious this piece of tripe by the New York Times was.
Most Catholics in the United States were convinced that the issue of  sexual abuse by priests had been adequately dealt with after the last go round more than eight years ago.   I do not think this is the case.  Most Catholics in this country are still fuming about predator priests and the bishops who protected them. Many are also outraged by the ambulance chasing attorneys and the suspicion that some of the victims are merely cashing in on flimsy evidence.  There is still a lot of outrage about this whole mess. In many ways, it has been. U.S. bishops adopted strict policies of zero-tolerance after the abuse scandal exploded in 2002. Bishops are now required to comply with state laws for reporting abuse and to cooperate fully with authorities.   For the most  part the stories once again generating news in the United States concern old cases and the previous negligence of bishops to deal effectively and  justly with the crisis. New to the controversy has been the suggestion by some that the Pope himself bears responsibility for lapses. Actually such accusations have been flying around for years.  They have gotten nowhere because they lack substance.
The recent reports indicate this is not — and never has been — a distinctly American church problem.  I doubt if many Catholics in this country thought that it was. The European Catholic Church is now  experiencing what the U.S. Catholic Church did nearly a decade ago. Once reports from Pope Benedict's native Germany emerged that boys had been abused in a church-run school there, hundreds more from other European countries came forward admitting that they too had been victims of abuse decades ago. We have not heard the last of these stories. Africa and  Latin America have yet to weigh in, but they will. Reports from those parts of the world will eventually emerge to increase the dismay of those who expected more diligence and, indeed, holiness, from religious institutions.
What is readily observable from the avalanche of reports is that the sexual abuse of minors is a systemic, worldwide problem. But it is not exclusively a Catholic or ecclesial one. True. It cuts across all faiths, institutions and family systems. Presently, however, it is the Catholic church in the spotlight, so it must take the lead in dealing with this issue in a transparent, effective and ultimately transformative way. Though its halo has been dimmed by past negligence, if only the scandal of the criminal protection afforded by bishops to predator priests had been limited to mere negligence the church can still be a beacon of light to lead the way if it now proceeds with haste and unwavering conviction. We might start by ordaining only those who believe what the Church teaches when it comes to sexual morality.  We must also understand that a fair number of the people who attack the Church on this issue are motivated much more by raw hatred of the Church than concern for the victims.  The evil from our ranks must be excised, but let us not assume we will receive plaudits from the World for doing so.
So then, what is the best way for the church to move forward? Dramatic failure requires a dramatic solution. Nothing gets the attention of the church and, perhaps the world, like a Vatican Council. Here we get to the purpose behind this article. The last one, of course, ended more than 45 years ago in 1965. While some would maintain that we have yet to fully execute the decrees of that Council, the world and the church have changed dramatically in the interim.  When has the World not been changing?  As to Vatican II, all the turmoil in the Church since that Council should cause us to hesitate before calling the next one. The current crisis in the church can serve as the impetus for once again calling together the worldwide church community in pursuit of modernization, reform and spiritual integration for a new time and world.  Always be alarmed when anyone proposes a radical step for the sake of vague terms like modernization, reform and spiritual integration.
What issues might this Council address?  The death of the Faith in Europe?  Rampant immorality?  The failure of the Novus Ordo Mass to inspire many Catholics? Many to be sure, but chief among  them could be the current crisis confronting the priesthood.  Homosexuality?  Lack of fidelity to their vows?  A desire for a life of ease? Certainly the issue of sexual abuse and the devastating toll it has taken in the church might be examined and addressed definitively, once and for all. In addition, while pedophilia and the sexual abuse of minors and priestly celibacy are not organically related, the abuse crisis has once again raised the issue of the necessity and relevancy of mandatory celibacy for diocesan priests.  How long has celibacy been bugging you Father?  Wasn't that particular requirement spelled out clearly enough for you when you were ordained? The majority of Catholics and priests want an open discussion about this issue, but up to this point, that has not been permitted.  Rubbish.  This " issue" isn't even on the radarscope for most priests and laity.