Social Justice
The words "Ryan" and "poverty" are almost never more than a few words apart these days. Here at TAC, and elsewhere in the politosphere, Paul Ryan's views on government spending and poverty are just about all anyone can talk about. The main anti-Ryan talking point is that he is a heartless Objectivist who is fundamentally opposed to the interests of "the poor." If the definition of "racist" these days is "anyone who is winning an argument with a liberal", the definition of "Objectivist" these days might be "anyone who is winning an argument with a Catholic liberal."
Personally, I don't think Ryan is "against the poor." But not for the reasons you might think. Many people are defending his budget on the grounds that it does not harm "the poor." While I agree that his budget does not harm the interests of low-income Americans, this is not the primary reason I would defend Ryan's ideology. I have a different reason.
I do not believe poverty exists as a meaningful category in the United States, with some exceptions that I will make clear as I proceed. Very few people in the United States are truly poor, and most of those who are live an environment of such wealth and opportunity that simply defining them as "poor" does not tell us much about their objective status. Lest I suffer the fate of Todd Akin for appearing cruel and insensitive to those who struggle with problems associated with poverty, let me clarify.
Yesterday, I was having a discussion with some of my fellow Catholics about the presidential election, and there arose a brief debate about the concept of libertarianism. It never ceases to amaze me when I see committed Catholics embracing libertarianism…but then, I remember, most of them probably were not catechized very well. Also, we should take into consideration that for years many of us have been rightly troubled by a far-reaching government engaged in what the Catholic faithful invariably see as injustice. I suppose I can understand why many Catholics might think that libertarianism is a legitimate way to put that unjust government in check. Though well-intentioned, they have fallen into a snare.
Stephen Metcalf writes at Slate today about what he calls 'The Liberty Scam'. His article is essentially a rebuke of libertarianism, at least as he believes it was defined by Robert Nozik. David Boaz at CATO Institute takes issue with him on that point.
It's interesting that Boaz makes a couple of arguments against Metcalf's article that I've grown accustomed to hearing from libertarians in response to criticisms of their ideology. In a nutshell, first, we who are opposed to libertarianism are apparently not allowed to claim that one of their heroes can be said to have defined it with any certainty. We find this in Boaz's seeming annoyance with those who believe they have "grappled with libertarian ideas" if they have read Nozik. Secondly, if we disagree with the libertarian ideas set forth, it automatically means that we are misunderstanding it, hence Boaz's headline 'Misunderstanding Nozik, Again'.
Unfortunately, again, the libertarian runs up against the wall of reality and finds himself stunned.
As for Metcalf's final complaint that advocates of a more expansive state have been "hectored into silence" by the vast libertarian power structure, well, I am, if not hectored, at least stunned into silence.
Libertarians frequently cannot see the forest because the trees get in their way. How dare we think that libertarians have a shared value system that results in any kind of society that has power! Hence we see a self-refuting principle in libertarianism. Human beings are "social animals", if you will. They will, invariably, join together with like-minded people to bring about political change that reflects their views of justice. All such associations are "societies", whether or not they are governmental or political. One need look no further than one of the infamous episodes of astro-turfing for Ron Paul in straw polls and the various Campaign for Liberty rallies to see a libertarian act of "social justice", per se. The very act of joining a campaign is an act of joining a power structure to bring about one's sense of "justice". Granted, libertarian "social justice" is nothing like the Left's "social justice", but that is neither here nor there.
Metcalf paraphrases Nozik, the libertarian who apparently either doesn't speak for libertarianism or is misunderstood?:
To the entire left, Nozick, in effect, said: Your social justice comes at an unacceptable cost, namely, to my personal liberty…
This is, to be sure, the libertarians' basic argument. Ironically, the libertarian movement's social justice is similarly problematic in that it so frequently promotes license over liberty. As Mortimer Adler has written:
Herein lies the distinction between liberty and license. Liberty is freedom exercised under the restraints of justice so that its exercise results in injury to no one. In contrast license is freedom exempt from the restraints of justice and. therefore, injurious to others in infringing their freedom as well as violating other rights. When no distinction is made between liberty and license, the freedom of the strong an destroy the freedom of the weak.
Most Catholics still understand on some level that abortion and same-sex "marriage" are opposed to true justice. As such, they are opposed to authentic liberty. Just as we know that the word "choice" is misused in the abortion debate to preserve a license to kill, we should also understand that the word "liberty" is used by libertarians to preserve license on any number of issues, including abortion and the re-definition of marriage.
If you take nothing else away from this article, know this. There is a libertarian movement. It exists. It has arisen as its own society, a social group being made up of individuals who share a common definition of "justice". Their common view of "justice" is the act of joining together in a society to oppose those who would seek to bring about "social justice" which they view as a monster because the Left's version of "social justice" is, in fact, a monster. In other words, the libertarians have engaged themselves in an exercise in hypocrisy.
What's a Catholic to do? Well, we can begin by helping people to understand what authentic social justice is. (Sorry, libertarian Catholics, but that's the way it is.) Certainly, all Americans are able to make a decision to either be complacent (that is, to be the "sleeping giant") or to actively work through the political process to bring about a society that reflects our view of justice. Catholics are not free to be complacent. We each have a duty to be politically involved….to enter into associations with others to work for authentic social justice. It is my hope and prayer that we can do so as One Body. The more we talk about these issues in peace with each other, the better.
Hat-tip, Memeorandum.
The relationship between markets and morality has been the subject of analysis and sometimes intense debate for centuries, since Aristotle wrote chapter 1 of The Politics and possibly sooner. I myself have participated in many of these debates, and the position I would typically take is that markets were either amoral at best, or a cause of vice at worst. There are many Catholics and many Distributists who probably share the same view. They will concede and even embrace the fact that the Papacy has not categorically condemned market activity, but they will spend the majority of their time highlighting why markets ought to be regulated and taxed, why we need welfare programs, labor unions, and all of the rest.
I have written extensively against a phenomenon called consumerism, which is also heavily critiqued in the Papal encyclicals. But it would be wrong to associate consumerism, which is a byproduct of mass production and communications technology, with market activity as such, since it pre-dates industrial society by thousands of years.
First of all, I need to introduce myself: my name is Michael Denton and I'm from what Tito calls the People's Republic of Cajunland and what I call paradise: South Louisiana. As for my qualifications: well, like most other bloggers, I really have no idea what I'm talking about. If that's a problem for you…well, then you probably don't need to be reading blogs.
Anyway, today we heard the anticipated news that Los Angeles will soon see Cardinal Mahoney replaced with San Antonio's Archbishop Jose Gomez. To read all about it, I suggest you head over to Rocco Palmo's site, as he is one of the few bloggers who actually does know what he's talking about. In sum, Abp. Gomez is from the "conservative" order of Opus Dei and could be very different from his predecessor, who built a monstrous cathedral (not in a good way) and is known for hosting a Conference that annually provides Youtube clips for Catholics wishing to show others just how bad liturgical abuse can be. I don't know if that's very interesting though. While the liturgical element is certainly important, as the "Spirit of Vatican II" types are losing their foremost defender, I think we knew beforehand that Benedict was going install a replacement very different from Mahoney in liturgical views.
More important is how they're similar.
[Update at the bottom of this post]
The scandal that has engulfed the U.S. Conference of Catholic Bishops (USCCB) shows no sign in abating.
Today we learn even more incriminating facts that continue to tarnish the image of the USCCB.
In the latest RealCatholicTV.com program Michael Voris explains the deep entanglement of Democratic Party and anti-Catholic operatives that hold high positions within the USCCB.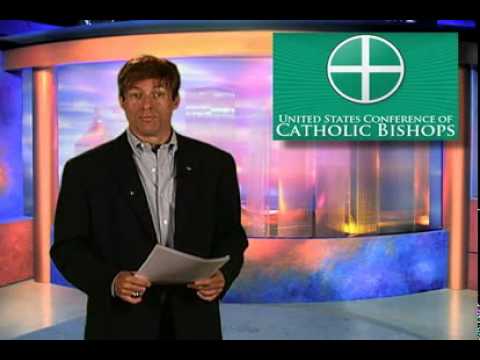 After the breaking news that showed direct links between John Carr, a top executive of the U.S. Conference of Catholic Bishops, with pro-abortion groups dating back 30 years, John Carr has denied any wrong doing.
Below watch the full eight minutes for the most current update of this USCCB scandal on RealCatholicTV.com's Daily Catholic News Roundup and The Vortex.  Vic Faust and Michael Voris will report how both the USCCB and the pro-abortion group scrubbed their websites simultaneously to hide any connection they had with each other plus much more.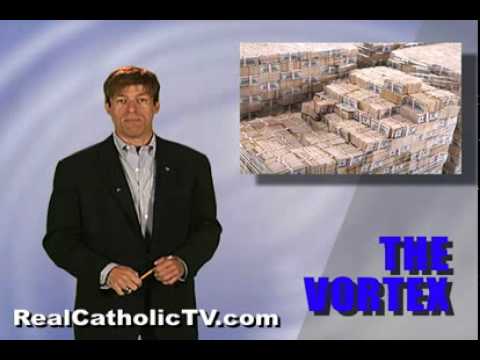 The so-called American conservative movement is not conservative in the sense that many of its proponents would suggest. In reality, American conservatism, in many ways seeks to preserve and reassert classical liberalism. In fact, the entirety of the American political spectrum is liberal in different ways and varying degrees—but it is unmistakably and manifestly liberal.
This should come as no surprise since many of the Founding Fathers were men of the Enlightenment and there is no more obvious case than that of Thomas Jefferson, the author of that quintessential Enlightenment masterpiece The Declaration of Independence. The philosophical paradigm by 1776 had already shifted—anthropology was evolving toward an increasingly false view of man and the natural law (because the philosophical concept of "nature" was changing) was something different than that articulated by classical philosophers, which had been incorporated into the Christian tradition.
The American legal tradition seeking to adhere to the letter of the social contract, i.e. The Constitution of the United States of America, seems to have individual liberty at issue in every question of law. This, to be sure, is not something to be regarded as a problem in and of itself, insofar as the operative definition of liberty is not philosophically false and the norms of justice, in the classical sense, are not contradicted.
To the learned mind, it is patently clear that the predominant philosophical paradigm, anthropological assumptions on human nature, concept of the nation-state, view of society, of freedom, of responsibility, and so forth found in the Western world is undoubtedly borne of Enlightenment thinking. The United States is most certainly no exception. In America, across the political spectrum, there is a dubious philosophical premise, that of an abstract ideal of autonomy, which, no matter how admirable or attractive it may seem, is radically incomplete. Indeed, man does possess a free will, but the form of freedom requires content. Continue reading →
It's no secret to anyone who pays the slightest bit of attention to the state of Catholic higher education that it has drifted far from orthodoxy, and in some cases, from basic Catholic teachings. The list of examples that might be complied would be sufficiently ghastly to demonstrate that fact. Unfortunately I think a new threshold has been crossed, as nominally-Catholic schools become involved with Planned Parenthood. Thanks to CatholicCulture.org for these updates.
First there is the case of Alverno College in Wisconsin, which placed a student as an intern for Planned Parenthood, as can be seen on page 34 of this PDF. Alverno College states in its mission statement that "[s]ervice to the community, improving society by addressing educational needs, and working for social justice, especially for women, are core components of both the founding order and the college." On the left, "social justice, especially for women" has traditionally meant the unrestricted right to abortion. It is sad to learn that a nominally-Catholic institution may be adopting that same view.
Next there is the case of Spalding University in Kentucky, where a "prominent administrator" has, in the course of her "community involvement" served on the board of Planned Parenthood. Some people might wonder what the big deal is, if she is only an administrator. Well, this same university co-hosted a conference with a CCHD-funded group called "Women In Transition", at which a spokesperson for Planned Parenthood of the Great Northwest gave a speech. The topic? Here was the title of the presentation: "It begins with me: Confronting reproductive health issues." A fitting title, since abortion is the height of selfishness, whether it is a woman choosing to dispose of her child or a father threatening, coercing, or encouraging the mother to do so. No, pro-aborts, it isn't all about women.
The really tragic thing here is that there is, I believe, some good in the work these groups too. They wish to address poverty and genuine social injustice. But there can be no social justice as long as the innocent and weak may be murdered on a whim. I hope the Catholic students who understand this truth hold the faculty and staff of their schools to account.
One of the many unfortunate aspects of "cafeteria Catholicism" in our country today is that the Church's social teaching has become virtually synonymous with liberal, quasi- or outright-heterodox forms of our faith. This should not be. The social doctrine of the Church is part and parcel of the deposit of faith, and those of us who embrace the truth of Catholicism must stop ourselves from assigning guilt by association with regard to social doctrine merely because its loudest proponents are very picky in the cafeteria line.
Salvete TAC readers!
Here are today's Top Picks in the world of Catholicism:
1. Today is the twenty year anniversary of the fall of the Berlin Wall.  Pope John Paul II, Ronald Reagan, and Margaret Thatcher all played pivotal roles in bringing down Communism and discredited all socialistic and atheistic systems the world over.  Pope John Paul II played the most important role of the three, providing the moral backbone that is needed when confronting these manifestations of evil.
Newt Gingrich, Callista Gingrich, and Vince Haley wrote a timely article concerning this important anniversary titled The Victory of the Cross: How spiritual renewal helped bring down the Berlin Wall.  For this article click here.
2. Dave Hartline has already posted three articles here with us.  His latest is titled, Following the 2009 Election Results which Way is the Tide Turning toward Truth or Relativism?
For the article click here.
For all of Dave Hartline's articles on The American Catholic click here.
3. Catholic Culture has changed their look again.  Unlike the last time I mentioned their new look, I have to say it is a major improvement.  It's much easier to find Diogenes of Off the Record (under Commentary).  Blue has replaced what I think was the color pink as it's primary color and the fonts are much stronger.
For the Catholic Culture link click here.
For Diogenes, which is under Commentary, click here.
From Divini Redemptoris:
55. To give to this social activity [that which was recommended in Quadragesimo Anno -- J.H.] a greater efficacy, it is necessary to promote a wider study of social problems in the light of the doctrine of the Church and under the aegis of her constituted authority. If the manner of acting of some Catholics in the social-economic field has left much to be desired, this has often come about because they have not known and pondered sufficiently the teachings of the Sovereign Pontiffs on these questions. Therefore, it is of the utmost importance to foster in all classes of society an intensive program of social education adapted to the varying degrees of intellectual culture. It is necessary with all care and diligence to procure the widest possible diffusion of the teachings of the Church, even among the working-classes. The minds of men must be illuminated with the sure light of Catholic teaching, and their wills must be drawn to follow and apply it as the norm of right living in the conscientious fulfillment of their manifold social duties. Thus they will oppose that incoherence and discontinuity in Christian life which We have many times lamented. For there are some who, while exteriorly faithful to the practice of their religion, yet in the field of labor and industry, in the professions, trade and business, permit a deplorable cleavage in their conscience, and live a life too little in conformity with the clear principles of justice and Christian charity. Such lives are a scandal to the weak, and to the malicious a pretext to discredit the Church. (emphasis added)
Divini Redemptoris is an excellent supplement to Quadragesimo Anno and yet another example of the brilliance of Pope Pius XI.
Here is a blog I wrote for fladems4life.org- this is the website for Florida Democrats for Life organization- If you are a Democrat and pro-life you should seriously consider joining the National and State chapters for Democrats for Life. There is a lot of freedom for you to bring your ideals and ideas into these growing organizations. I believe it is mostly a waste of time trying to turn Democrats into Republicans or vice versa- there is a philosophy of governance that pulls deeper than individual issues- even big issues like abortion.