Second Amendment
We the people are the rightful masters of both Congress and the courts, not to overthrow the Constitution but to overthrow the men who pervert the Constitution.
Abraham Lincoln
The veterans of World War II are now old, and mostly frail.  It is hard to remember them as most of them were during the War:  young, tough and determined.  After they got home, those who made it through the War, they would make many changes in our society, as they proved themselves to be one of the most consequential generations in American history.  On August 1-2, 1946, veterans in Athens, Tennessee demonstrated just how consequential.
Athens is the county seat of McMinn County in Eastern Tennessee, between Knoxville and Chattanooga.  Since the Civil War, up to the 1930s, McMinn County, like most of Eastern Tennessee, was largely Republican, reflecting the pro Union stance of their ancestors during the War.  With the coming of the Great Depression, Democrat political machines began to take power in much of Eastern Tennessee.  Many of these local machines were quite corrupt.  Paul Cantrell was elected Sheriff as a Democrat in 1936.  Cantrell came from a family of power and influence.  Many locals suspected that his election was a fraud, with ballot boxes having been switched to give Cantrell the victory.
Cantrell after the election became virtual dictator of McMinn County.  He and his deputies collected vast sums by shaking down citizens for petty offenses.  Buses passing through the County would be stopped by deputies and the passengers subjected to on the spot fines for pretended misdemeanors.  Cantrell fostered prostitution, gambling and bars throughout the County, carefully receiving his cut of the proceeds.   After 1936 elections were farcial with ballot boxes confiscated from precincts by Cantrell's deputies and the counting, supposed to be done in public under Tennessee law, conducted behind locked doors in the McMinn County jail.  With the Tennessee Democrat governor a firm political friend of Cantrell, the citizens opposed to Cantrell and his de facto dictatorship were helpless.  The Justice Department investigated the County on charges of vote fraud in 1940, 1942 and 1944, but without any prosecutions.  Cantrell was elected to the State Senate in 1942 and 1944.  His deputy Pat Mansfield was elected sheriff.  Whatever office he held, everyone in McMinn County knew that Cantrell continued to call the tune.
However, change was coming.  McMinn County had a military tradition.  It had sided with the Union in the Civil War, and in 1898 it had declared war against Spain two weeks before Congress did!  During World War II, some 3,526 of McMinn County's young men went off to fight, representing some ten percent of the entire population of the Country.  When those who survived the War came back they had changed, as Paul Cantrell was going to find out.
Continue reading →
Actor Danny Glover recently stepped outside of his role as an actor and assumed the roles of historian and constitutional scholar:
I don't know if you know the genesis of the  right to bear arms,' said Glover, well known for his roles in the 'Lethal  Weapon' franchise. 'The Second Amendment  comes from the right to protect themselves from slave revolts, and from  uprisings by Native Americans,' he said.
'A revolt from people who were stolen from  their land or revolt from people whose land was stolen from, that's what the  genesis of the second amendment is.'
Glover should stick to his day job.  The main concern of the Founding Fathers in regard to the Second Amendment was to provide the citizenry the ability to resist a tyrannical government.  As James Madison noted in Federalist 46:
Besides the advantage of being armed, which the Americans possess over the people of almost every other nation, the existence of subordinate governments, to which the people are attached, and by which the militia officers are appointed, forms a barrier against the enterprises of ambition, more insurmountable than any which a simple government of any form can admit of. Notwithstanding the military establishments in the several kingdoms of Europe, which are carried as far as the public resources will bear, the governments are afraid to trust the people with arms. And it is not certain, that with this aid alone they would not be able to shake off their yokes. But were the people to possess the additional advantages of local governments chosen by themselves, who could collect the national will and direct the national force, and of officers appointed out of the militia, by these governments, and attached both to them and to the militia, it may be affirmed with the greatest assurance, that the throne of every tyranny in Europe would be speedily overturned in spite of the legions which surround it. Let us not insult the free and gallant citizens of America with the suspicion, that they would be less able to defend the rights of which they would be in actual possession, than the debased subjects of arbitrary power would be to rescue theirs from the hands of their oppressors. Let us rather no longer insult them with the supposition that they can ever reduce themselves to the necessity of making the experiment, by a blind and tame submission to the long train of insidious measures which must precede and produce it.
Prior to the Civil War there were laws passed in many of the slave holding states attempting to restrict the right to keep and bear arms to whites.  Challenges to these laws by free blacks almost always asserted the second amendment.  A passage in the Dred Scott decision indicates what a preoccupation blacks carrying weapons was to slaveholders:
It would give to persons of the negro race, who were recognized as citizens in any one State of the Union, the right to enter every other State whenever they pleased, singly or in companies, without pass or passport, and without obstruction, to sojourn there as long as they pleased, to go where they pleased at every hour of the day or night without molestation, unless they committed some violation of law for which a white man would be punished; and it would give them the full liberty of speech in public and in private upon all subjects upon which its own citizens might speak; to hold public meetings upon political affairs, and to keep and carry arms wherever they went. And all of this would be done in the face of the subject race of the same color, both free and slaves, inevitably producing discontent and insubordination among them, and endangering the peace and safety of the State.
Continue reading →
My friend Dale Price writes insightful posts at his blog Dyspeptic Mutterings.  I stop by there regularly to steal borrow blog ideas.  Dale is always very good, but when he lets himself go he is magnificent.  Herewith is his post on the scape goating anti-NRA hysteria that some on Saint Blogs have been participating in:
Being marginalized in the culture war.
This is not directed at the people of good faith who I have spoken with about firearms since Sandy Hook. Hopefully,

you know

who

you are

. But I do have to unburden myself, and unfortunately in a burdensomely-verbose manner.
It doesn't matter, but I didn't sleep for s–t in the ten days after the Sandy Hook massacre. I was up until at least 1 am every night, trying to distract myself from the horror of the butchery committed by that evil garbage. It's not much, but my wife made sure to send a card to the Newtown priests facing the horror. When I started talking about the issue, I expressed my interest in solutions like smaller magazine capacity, biometric safes and trigger locks and the like. Productive, civil conversations. Or so it seemed.
As it turned out, none of that mattered. The tone changed from one of wanting to prevent another Sandy Hook into a two-months hate against gun ownership in general and NRA members in particular. Solutions fell by the wayside, and de-legitimization began in earnest.
You see, I'm an NRA member. I do not own a Bushmaster, or any other semi-automatic weapon. As is my wife. I–and Heather–collectively own several firearms. Including–as will be set forth below–a completely-legal, bona-fide military weapon currently used by our military right now. Unlike what [damnatio memoriae] used at Newtown.
Nevertheless, because of our membership in Satan's Own Rifles, prominent people of culture

hope we get shot

.

Hope really hard!

[Which strikes me as an odd spin on the Hope™ being offered in 2008, but I digress for the first time.] Continue reading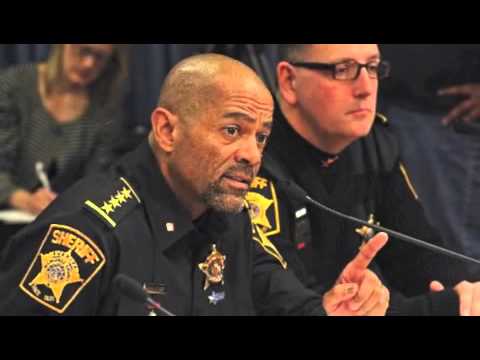 Bravo to Sheriff Dave Clark of Milwaukee who tells the absolute truth in the video above.   I have been involved in many orders of protection where the judge issuing the order admonishes the person seeking the order that it merely is a piece of paper and that they must take precautions for their own safety.  The Law is a powerful tool, but it cannot provide protection from armed assailants night and day. Continue reading →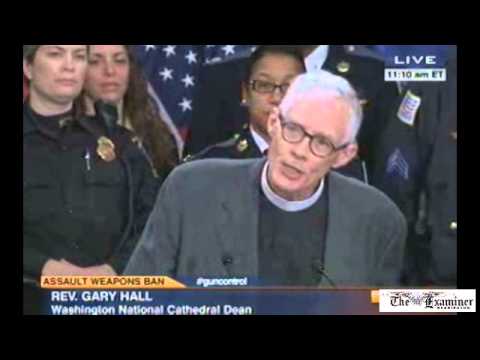 Pro-abort Senator Diane Feinstein, (D.CA)  at her press conference yesterday at which she displayed the guns she wants to ban, had it begin with a prayer by Episcopalian Canon Gary Hall, who runs the laughingly entitled Episcopalian "National Cathedral" in Washington, DC.  Canon Hall made news for himself earlier in the week by announcing that same-sex "marriages" would be performed at the "National Cathedral".  I found it intriguing that a representative of a dying church would be tagged to baptize Feinstein's gun grabbing efforts.
The Episcopal Church is clearly rotting away.
Self-reported statistics provided by the denomination this month show that the church has dropped from 2,006,343 members in 2009 to 1,951,907 in 2010, the most recent reporting year. The loss of 54,436 members increases the annual rate of decline from 2 percent to 3 percent, outpacing the most recently reported declines in most other mainline churches. The church's 10-year change in active members has dropped 16 percent.
A branch of the otherwise fast-growing 80 million member worldwide Anglican Communion, the third largest family of Christian churches globally, the Episcopal Church had also seen a steady decrease in the number of parishes, losing or closing over 100 in 2010, as well as a drop in attendance from 682,963 in 2009 to 657,831 in 2010, a 4 percent drop. Fifty-four percent of all U.S. Episcopal Churches suffered attendance loss over the prior year. Over the last decade, attendance was down 23 percent.
The denomination, which once claimed over 3.5 million members as recently as the mid-1960s, has lost over 40 percent of membership even while the U.S. population grew by over 50 percent.
Why this is occurring is easy to determine by reading an article on Canon Gary Hall at The American Spectator.
Unlike some of his predecessors, Hall is not content to host conversational forums with authors and poets or preside over high-profile funerals like those of Gerald Ford and Neil Armstrong. From calling in December for new firearms restrictions, to announcing last week that the massive gothic church is available for gay weddings, Hall embraces liberal causes as easily as he dismisses traditional Christianity.
**********************************************************
Previous generations of liberal Episcopal clergy often spoke in layers of obfuscation; discovering the heretical teaching buried in their writing and preaching required hours of decoding. Hall represents a younger generation of liberal Episcopalians who resemble nothing so much as Unitarian Universalists decked out in stoles and surplices; they are quick to denounce those who advocate historic Christian teaching—especially moral teaching—as intolerant perpetrators of injustice who must be silenced.
In an October interview with the Detroit Free PressHall announced that he is, "not about trying to convert someone to Christianity. I don't feel I'm supposed to convert Jews or Muslims or Hindus or Buddhists or Native Americans to Christianity so that they can be saved. That's not an issue for me."
Hall was also forthcoming about the fact that he finds common cause with those who do not profess a faith in Jesus Christ.
"I have much more in common with progressive Jews, Muslims, Hindus and Buddhists than I do with certain people in my own tradition, with fundamentalist Christians," Hall declared. "The part of Christianity I stand with is the part in which we can live with ambiguity and with pluralism." Continue reading →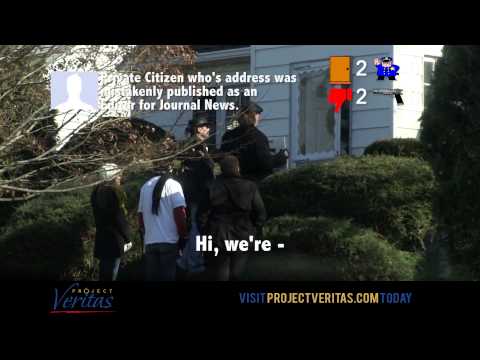 Few issues demonstrate better that liberal elites and the rest of us might as well live on different planets than the Second Amendment.  Frequently living in gated communities, usually working in institutions that have armed guards, and sending their kids to elite schools that have elaborate security, liberal elites are quite good at proclaiming that other people should disarm and rely on the police for protection who, as most cops will readily admit, are minutes away when seconds count.  James O'Keefe, the master of conservative undercover journalism, and his Project Veritas, expose liberal hypocrisy in the above video.  Contemporary liberalism is all about implementing rules for the majority to live by, rules which liberal elites themselves, and their friends and colleagues, can freely ignore.  Such a system, with one set of rules for the masses who live under the laws, and another set of rules for those who effectively live above the laws, is an essential component of a tyranny in the making.  It makes a mockery of the words of Jefferson in the Declaration of Independence:  "all men are created equal."   Let us recall these words of Abraham Lincoln: Continue reading →
We at The American Catholic, among our many other missions, aim to translate Governmentese into English with color commentary.  Herewith is an example of our service in regard to President Obama's 23 executive orders on gun control, better termed edicts:
1. Issue a Presidential Memorandum to require federal agencies to make relevant data available to the federal background check system.
Do what the agencies have been supposed to be doing all along.
2. Address unnecessary legal barriers, particularly relating to the Health Insurance Portability and Accountability Act, that may prevent states from making information available to the background check system.
The maze of laws and regulations belched out by Congress and the Executive branch each year, and which I have overwhelmingly supported, have a deleterious impact on background checks, as they do with accomplishing anything in these United States.  Shazam!
3. Improve incentives for states to share information with the background check system.
Fall in line States or we will deprive you of Federal money.  Federalism, what's that? Continue reading →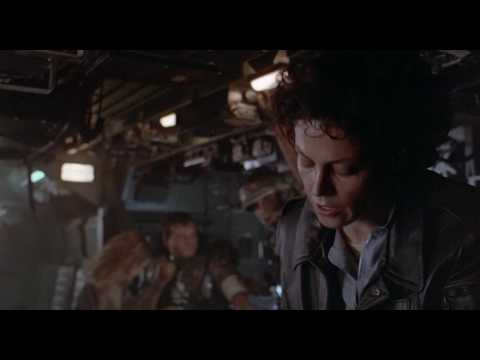 Hattip to Jim Treacher.  CNN talking head Piers Morgan, desperately trying to hold on to any shreds of credibility after his shellacking by Ben Shapiro, emitted this email:
America has over 5000 nuclear warheads. Quite hard to defend against a 'tyrannical U.S. government' with that kind of firepower.
Where to begin?
First, it is unlikely that even the most mad US President would decide to use nukes to put down a rebellion in these United States.  Too many of his own supporters would be killed and the overall reaction would likely be for the rebellion to grow as a result of his action.
Second, a wide spread rebellion in the United States would likely have the sympathy of factions within the US military, if not their active support.  The order to nuke Americans might lead to an active revolt by the military.
Third, in the event of a widespread rebellion, the rebels would probably quickly have nukes of their own.  In the case of Obama, most ICBMs and tactical nukes are located on bases in Red states. Continue reading →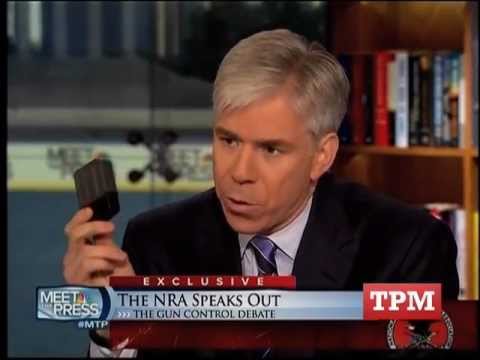 The District of Columbia, one of the worst governed jurisdictions in the United States, has a law on the books, placed there for political purposes by the uber liberals who run it, banning "high-capacity" ammo clips, of the type waved around by NBC unpaid Obama press flack reporter David Gregory in the above clip.  He did it in DC.  No intent is needed for the criminal prosecution.  It is a strict liability offense.  For the past few weeks the question has been whether Gregory would be prosecuted.  Not a chance I thought, and I was proved correct when Irvin Nathan, the attorney general for DC, released a pompous letter yesterday explaining why Gregory would not be prosecuted  The letter runs to three turgid pages, but I won't inflict all of that on you.  Instead, here is the money quote: Continue reading →