Saudi Arabia
Published
Tuesday, June 8, A.D. 2010
|
By
Tim Shipe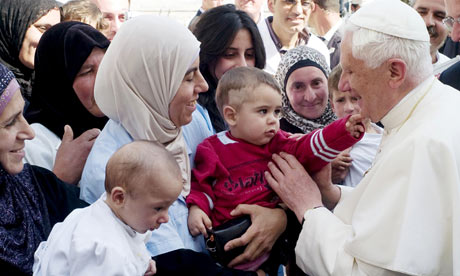 The Vatican  released a working paper during Pope Benedict XVI's pilgrimage to Cyprus to prepare the way for a crisis summit of Middle East bishops in Rome. What I take away from this- along with the Holy See's call for lifting the blockade of Gaza- is something of a vindication for my more raw views urging for a sea change in American Catholic opinion and action regarding the overall situation in the Middle East, and in Israel-Palestine in particular.
Published
Wednesday, May 12, A.D. 2010
|
By
Tim Shipe
For the past few years I have been taking my Catholic school students over to the nearby Mosque, as part of their World Religions research. It has gone well, everyone is on their best behavior, and it gives the students a chance to hear about Islam from devout Muslims, in their own place of worship. I also have visited the Mosque and Islamic community during the time of my run for public office to speak and dialogue about issues where we would find some common ground. It has all been a very positive experience, but there is one large elephant in the room that must be paid attention to.