Satanism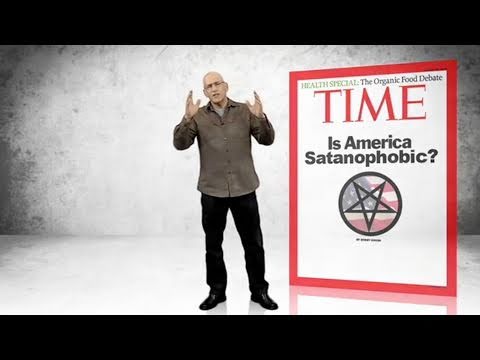 Oh, I don't know Mr. Klavan.  While vehemently opposed to Satan and all his works, not to mention his empty promises, I don't know if I fear Satanists.  Now if Satanists in various parts of the globe began to engage in suicide bombings,  used mentally handicapped individuals and kids in their suicide bombings, started stoning women,  undertook strenuous efforts to obtain nuclear weapons and other weapons of mass destruction, took over countries and proclaimed them Satanist States, beheaded captives and made snuff videos celebrating the murders, murdered 3000 of my countrymen and regularly called down the wrath of Satan on my nation and anyone who is non-Satanist, I guess a small particle of fear might creep in, along with a large amount of rage, at least in regard to those particular Satanists.  Fortunately the Satanists are merely a small band of kooks, and my main emotion to them is pity.  Thank God we are not faced with the type of moral quandries presented if a significant fraction of a global Satanist religion decided to launch a unholy war against unbelievers.  We can all relax now!
I honestly can't believe they're doing this again. I oppose gatherings such as Assisi for many reasons that I could explain with a lengthy diatribe full of references and quotations, but I decided to go with withering sarcasm instead.
Check it out and comment on it here.
I believe these meetings are immoral and imprudent. Even if they're called by the pope and supported by the hierarchy. And I think they would find some of the answers to their own questions about the crisis of the Church, of Christianity, and religious faith in general if they examined their personal reasons for being a part of,  as well as the objective social effects, of such gatherings. It was quite disappointing to hear a man who has spoken out so many times about the dangers of relativism call for an event that practically embodies the abstract concept in the physical world.