Sarah Palin
Sarah Palin and Bristol Palin respond to the vile Family Guy attack on Trig, her son with Down's Syndrome:
People are asking me to comment on yesterday's Fox show that felt like another kick in the gut. Bristol was one who asked what I thought of the show that mocked her baby brother, Trig (and/or others with special needs), in an episode yesterday. Instead of answering, I asked her what she thought. Here is her conscientious reply, which is a much more restrained and gracious statement than I want to make about an issue that begs the question, "when is enough, enough?":
"When you're the son or daughter of a public figure, you have to develop thick skin. My siblings and I all have that, but insults directed at our youngest brother hurt too much for us to remain silent. People with special needs face challenges that many of us will never confront, and yet they are some of the kindest and most loving people you'll ever meet. Their lives are difficult enough as it is, so why would anyone want to make their lives more difficult by mocking them? As a culture, shouldn't we be more compassionate to innocent people – especially those who are less fortunate? Shouldn't we be willing to say that some things just are not funny? Are there any limits to what some people will do or say in regards to my little brother or others in the special needs community? If the writers of a particularly pathetic cartoon show thought they were being clever in mocking my brother and my family yesterday, they failed. All they proved is that they're heartless jerks. – Bristol Palin"
- Sarah Palin
Perhaps it is partially because I have an autistic son, but words literally fail me to adequately describe people evil enough to mock a handicapped child because they differ with the mother of the child politically.
My colleague Eric, a man of the Left, and someone who has my strong respect due to his pro-life commitment, has posted that Sarah Palin had a few key words written on a hand as a mnemonic device during the teaparty convention.  Much of the Left is of course in a feeding frenzy about this, betraying  the unending obsession they have with Palin.  This of course is more fun for them than concentrating on the abysmal failure of the Obama administration and that their agenda is only slightly more popular currently with most of the American public than the bubonic plague.  Palin, with the good humor that has been her characteristic response to the nuttiness from the Left, wrote on her left hand "Hi Mom" for her appearances the next day to give the Lefties something more to read.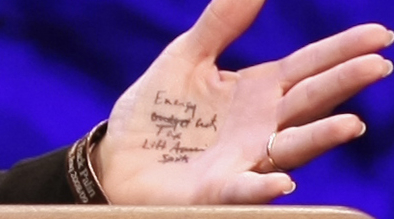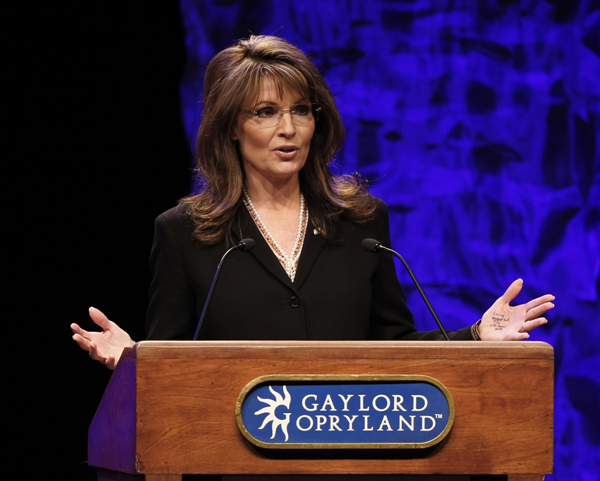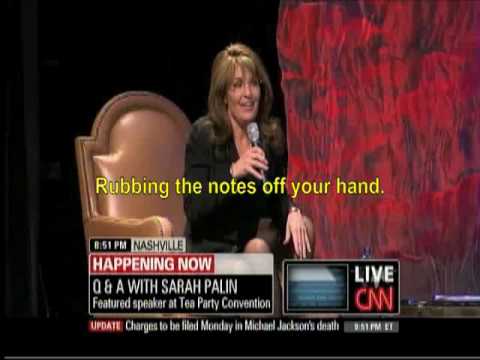 Sarah Palin in her speech at the Tea Party Convention mocked President Obama's use of teleprompters. She herself was however caught with notes written on her left hand. The words "Energy", "Tax," and "Lift American Spirits" are clearly visible. There also appears to be the phrase "Budget Cuts" with the word "budget" crossed out.
To be clear, these notes were not for her speech, for which she used prepared remarks, but for the Q&A session that followed afterward, during which she glanced at her hand. Inevitably one must ask, how is this not worse?
Nothing in her hand is specific, but rather just general concepts of things that she supports as a political conservative. This same woman on "FOX News Sunday" declared she won't "close the door" on a presidential bid in 2012.
Put another way: the leading contender, according to a recent poll, for the GOP nomination in 2012 cannot remember her own core principles as a conservative and must employ a cheat-sheet when asked about her beliefs.
In all honesty, I would vote for copy toner before I would ever think of voting for this woman.
A guest post by Paul Zummo, originally posted at his blog, The Cranky Conservative.
It's probably not a good idea generally to buy a book out of spite, but in some ways that is precisely what I did when I picked up Sarah Palin's Going Rogue.  We had had a meeting at work, and several of my co-workers were amusing themselves with some anti-Palin jibes.  So at lunch time I decided to take a stroll to the local book store and pick up Palin's book, prompting the "Oh, Sarah Palin" observation from the clerk, who must be wondering why anyone in the middle of enlightened Dupont Circle would be interested in the right-wing Neanderthal. And I have to admit that I also delayed reading the book until after I got home from Thanksgiving vacation so that I could proudly read the book on the Metro.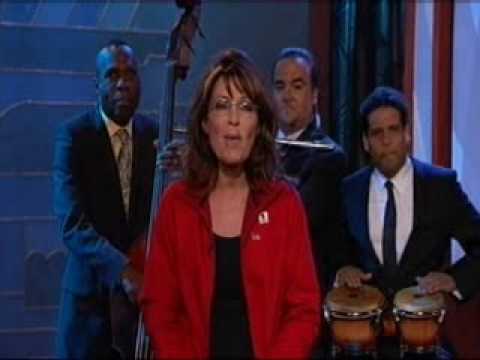 Shatner has been giving dramatic readings of some of Palin's twitter tweats, so Palin was returning the favor.  Alas, Shatner has reached the stage in life when being mocked at by a beautiful woman is about all the former Romeo of Star Fleet can hope for.  It was a funny bit and demonstrates yet again that the old political campaign rule book has been tossed out the window by her.  And rest assured this is a campaign. Polls this week showed a single point separating her and Obama as to favorability, with Obama falling and Palin rising.  I think Palin is rewriting the old Klingon proverb of revenge is a dish best served cold.  I suspect she believes it is a dish best served laughing.
Under the surface, and largely unbeknownst to the mainstream media, the tide has been turning to Catholicism for some time. The pontificates of Pope John Paul II and Pope Benedict XVI along with events such as an increase in orthodox minded seminarians, young priests and young women religious, a return to devotions and a reform of the reform of liturgy have shown us that indeed the tide is turning. However, for some time now western culture has been moving in the opposite direction, where any, whim or opinion that holds that orthodox minded religious thought is antiquated and even harmful is held in high regard. How could this jibe with the turning tide within the Church? Who would win? Didn't Jesus promise that the gates of hell would not prevail against His Church after He gave Peter the keys (and the 265 subsequent popes) to lead it? The answer is the same answer that has always been, the Church eventually always wins and it will this time as well.
Following the Election of 2008 when liberalism was on the ascendancy, many in the mainstream media joyfully proclaimed a new era, where one could read between the lines and see that traditional views of society, family and religion were on their way out and big government was in. However, a funny thing happened on the way to the revolution, many Americans refused to go to the Bastille with pitchfork in hand. Americans view of revolution was almost always in line with George Washington's view of limited government and not Maximilien Robespierre's view of war against society, family and religion. Perhaps the Election of 2008 was a pox on both their big spending houses that was wrongly construed as a vote for Big Government.
In the 23rd New York Congressional District special election, Sarah Palin has tonight endorsed the pro-life Doug Hoffman, running on the Conservative Party ticket, against Dede Scozzafava, the pro-abort leftist Republican, a race that I posted about here earlier in the week.  Sarah Palin's statement is as follows:
[Updates at the bottom of this posting as of 3:03am CDT on AD 9-10-2009]
President Obama's speech covered many topics, lets first layout our President's plan:
I. Keep the health insurance you have now.
1.  Pre-existing symptoms or disabilities no longer will disqualify anyone from coverage.
2.  No spending caps set by insurance companies.
3.  No drop in coverage in the middle of an illness.
4.  Limit on out of pocket expense.
5.  Minimal requirements of coverage.
II. Public Option & Exchange

1.  When losing your job you have the Public Option if you can't afford insurance.
2.  Insurance exchange markets will be required for insurance companies to participate in.
3.  Tax credits for small businesses.
4.  In theory this will not lead to a government take over.
[Updates at the bottom of his post]
Governor Sarah Palin recently announced her resignation as governor of the great state of Alaska and there has been a flurry of analysis of her motives, her character, and her future plans.  Some of this analysis were sincere, others were borderline antagonistic.
This is all occurring in the midst of an Obama presidency steering both Democratic controlled chambers of Congress that have substantially increased spending and enlarged the government to the detriment of our freedoms.  Couple this with the lack of a clear Republican plan to challenge all of this, the American people are in need of a leader to guide us out of this wilderness.
I believe Governor Palin can and should play this important role.  She stated in her final address as governor of Alaska that she wants to do what's best for her state.  If she is a person of principle and a patriot then it is logical to presume that she wants what's best for America.  And what's best for America right now is to have a strong and vigorous counterweight to the liberal agenda of President Obama and his enablers in the Congress.
The plan that Governor Palin should pursue is to proactively lead Americans to take back Congress as part of the pact with America.  She should do what then House Leader Newt Gingrich did in 1994 with the Republican Party's Contract with America that gave the Republicans control of the House of Representatives for the first time in 40 years.
Governor Sarah Palin announced today that she will not run for a second term as governor of Alaska, and that she will be stepping down shortly and handing the reigns over to the Lt. Governor. Among reasons cited are desire to take public scrutiny off her family, and the fact that Alaskan law does not allow a sitting governor to collect any kind of donations or outside payments — which means that her personal legal bills in defending herself against frivolous ethics complaints have left the family in very significant debt. (The resignation would allow her to make money from a book contract or speaking events.)
Governor Palin provoked a wide range of reactions as McCain's running mate during the '08 campaign, and provoked a truly revealing hate-fest among some partisan Democrats which was deeply revealing about their real attitudes towards class and women. Many Republicans hoped to see Gov. Palin make a run for the presidency in 2012 or 2016, while many others questioned whether she had the abilities and experience to be president.
Others may disagree, but I would tend to think that resigning before the end of her first time as governor indicates that she does not have future political plans. I don't see the "quitter" reputation as being something one could overcome, regardless of the reason.