Sanctity of Life
Perhaps the most villified US President since Abraham Lincoln, George Bush has been a strong pro-life President.
The United States Conference of Catholic Bishops have made fighting against the Freedom of Choice Act a high priority in their current meeting.  The Catholic Church and the incoming Obama administration are on a  collision course in regard to abortion.  For every American Catholic the choice couldn't be starker:  which side are you on?
While there is generally little to rejoice at in the results of yesterdays elections, there is a glimmer of light on the West Coast for those who believe in Christianity and Western Culture: As of this morning California Proposition 8, which would amend the California state constitution with the words "only marriage between a man and a woman is valid or recognized in California" looks to be winning out after a hard fought campaign. The LA Times refuses to call it yet, but with 91% of precincts reporting, Prop 8 leads by 350,000 votes, 51.9% to 48.1%.
President Elect Obama had opposed the measure calling it "divisive", but although Obama won California by 2,400,000 votes, Californians refused to allow to stand to a court ruling earlier this year in which 2000′s Proposition 22 defined traditional marriage by statute.
For years pro-lifers have dreamed about a national candidate who is not only pro-life, but who actually talks about it, and not just to pro-life groups.  We have such a candidate in Sarah Palin.  Here is the text of the relevant portion of her remarks at a rally in Johnstown, Pennsylvania today: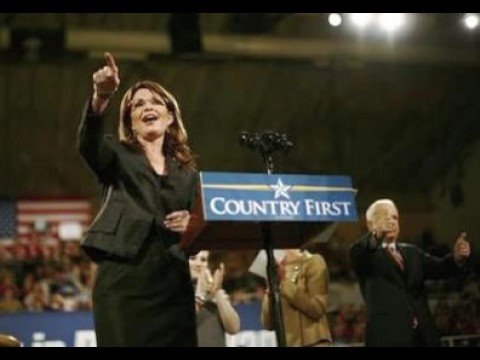 When it comes to abortion, the choice in this election couldn't be more stark.