Sanctity of Life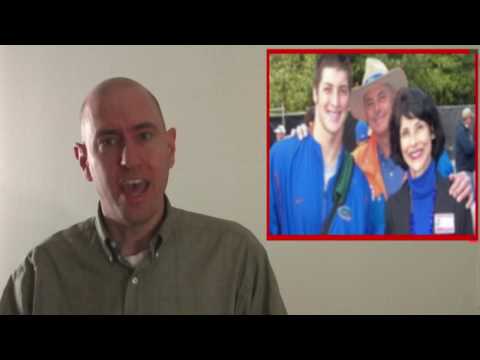 My ignorance of sports is vast.  However, I believe I now have a favorite quarterback.  Focus on the Family has paid for a 30 second ad during the Super Bowl featuring former University of Florida Quarterback Tim Tebow and his mother Pam.  When Pam was pregnant with Tim she contracted amoebic dysentery.  Harsh antibiotics were administered to her to rouse her from a coma.  She was counseled to have an abortion, being warned that her baby would be stillborn or live only a few hours.  She refused to have an abortion and Tim Tebow came into the world.
Salvete AC readers!
Buckle Up! Because here are today's Top Picks in the Catholic world:
1. Archbishop Timothy Dolan of New York commended President Obama and the Democratic Party efforts in
reforming Health Care.  He said this during the Knights of Columbus Convention in Phoenix, Arizona.  But his Grace gave this caveat that if reform…
"…leads to the destruction of life, then we say it's no longer health care at all – it's unhealthy care and we can't be part of that."
To accentuate this sentiment and as a warning to well meaning Catholics, Cardinal Levada explained that those that want to reform health care at any cost:
"[W]e do not build heaven on earth, we simply prepare the site to welcome the new Jerusalem which comes from God."
2. Catholic convert Joe Eszterhas of Hollywood screenwriting fame, will be writing the screenplay for a movie about
the Virgin of Guadalupe.  Though no director nor a green light has been given on the go ahead of this movie project, the fact that Joe Eszterhas is writing the screenplay is newsworthy in itself because of the author himself is enough to get the ball rolling in the right direction.
Nat Hentoff's characteristically blunt and 'no b.s.' columns used to be one of chief attractions of the Village Voice, before they made the foolish mistake of letting him go. Politically he's not one you can apply a label to — in 2003 he supported the removal of Saddam Hussein's murderous dictatorship on humanitarian grounds, but as a supporter of the First Amendment and civil liberties, harshly criticized the more excessive measures taken by the Bush administration.
Unapologetically pro-life, he is a staunch opponent of the death penalty and abortion (the latter apparently causing some tension with his liberal colleagues at the Voice) and vigorously opposed the court-ordered murder of Terry Schiavo.
Not surprisingly, he established a rapport with the feisty John Cardinal O'Connor, about whom he wrote an appreciative biography.
A self-described "member of the Proud and Ancient Order of Stiff-Necked Jewish Atheists," he is also one who might merit the attribution: "on the side of the angels."
Now, he takes aim at President Obama's faux-support for "dialogue" at Notre Dame:
Professor Douglas Kmiec recently gave a "reflection" over President Obama's speech at the University of Notre Dame last week. No surprises there. It appears that Kmiec is still campaigning to be Ambassador to the Holy See. But this was not his point here. We might call that a "background fact."
Still obsessed with statistics and raw data, he noted that the President received the vote of 54% of self-identified Catholics on November 4, 2008 in the presidential election and that more than two-thirds of Catholics supports the Obama Administration. Why? Social justice–which includes a litany of issues that we terribly are far behind on because of "conservative partisans" who wish to keep Catholics in a "one-issue pocket," which, in turn explains the "neglect" of social justice matters in "far too many parishes."
Obama at Notre Dame: Incomplete Eloquence by Prof. Douglas Kmiec
The presidents were there in splendid form; the bishops were not.

Three presidents stood upon the stage: Father Jenkins, the embodiment of academic integrity informed by faith; Father Hesburgh, Notre Dame's president emeritus and civil rights champion, and Barack Obama, whose inauguration just months earlier was greeted with virtual national euphoria, but whose visit to campus was claimed to be "in defiance of church teaching."

And the bishops? Sadly absent. Some, no doubt, honestly believed the President to be their antagonist. Most were silent. Notwithstanding repeated entreaties, the pastoral shepherds of the Church chose not to extend a simple pastoral blessing upon the graduates of the flagship Catholic university in America and their families.
It has become an oft repeated trope of Catholics who are on the left or the self-consciously-unclassifiable portions of the American political spectrum that the pro-life movement has suffered a catastrophic loss of credibility because of its association with the Republican Party, and thence with the Iraq War and the use of torture on Al Qaeda detainees. Until the pro-life movement distances itself from the Republican Party and all of the pro-life leadership who have defended the Iraq War and/or the use of "enhanced interrogation techniques" on detainees, the argument goes, the pro-life movement will have no moral authority and will be the laughing stock of enlightened Catholics everywhere.
Regardless of what one thinks about the Iraq War and torture (myself, I continue to support the former but oppose the latter) I'm not sure that this claim works very well. Further, I think that those who make it often fail to recognize the extent to which it cuts both ways.
For consideration: an excerpt from President Barack Obama's commencement speech at Notre Dame:
The soldier and the lawyer may both love this country with equal passion, and yet reach very different conclusions on the specific steps needed to protect us from harm. The gay activist and the evangelical pastor may both deplore the ravages of HIV/AIDS, but find themselves unable to bridge the cultural divide that might unite their efforts. Those who speak out against stem cell research may be rooted in an admirable conviction about the sacredness of life, but so are the parents of a child with juvenile diabetes who are convinced that their son's or daughter's hardships can be relieved.

The question, then — the question then is how do we work through these conflicts? Is it possible for us to join hands in common effort? As citizens of a vibrant and varied democracy, how do we engage in vigorous debate? How does each of us remain firm in our principles, and fight for what we consider right, without, as Father John said, demonizing those with just as strongly held convictions on the other side?
This is only one survey, but it is encouraging all the same. The denial of legal protection to an entire class of human beings is one of the most serious human rights issues of our time. Here's an excerpt from the article, with some thoughts below:
A new Gallup Poll, conducted May 7-10, finds 51% of Americans calling themselves "pro-life" on the issue of abortion and 42% "pro-choice." This is the first time a majority of U.S. adults have identified themselves as pro-life since Gallup began asking this question in 1995.
Salvete AC readers!
Here are today's Top Picks in the Catholic world:
1. I recently received confirmation from Lila Rose to post here on American Catholic that a little over two weeks ago she converted to the Catholic faith on March 15 in the Archdiocese of Los Angeles, Deo gratias!
Lila Rose is an impressive young lady.  A few weeks ago she was the keynote speaker for the Houston Coalition for Life Benefit 2009 dinner.  She has an excellent grasp of the history of the pro-life movement and to my nice surprise she is also very knowledgeable of the role of Catholics in the Pro-Life movement from Mother Teresa of Calcutta to Fr. Frank Pavone.
I had the opportunity to speak with her briefly at the benefit dinner and I came away deeply impressed.  She is a talented and motivated young lady and she's only a junior at UCLA.  She began getting involved in the pro-life movement as a sophomore in high school by founding a pro-life newspaper!  She now runs a production company, LiveActionFilms.org, and is editor-in-chief of the pro-life newspaper at UCLA, The Advocate.
She is the newest crop of Pro-Life warriors that will contribute to the end of abortion on demand nationwide.  With the growing strength of the Pro-Life movement being energized more and more with babies, toddlers, children, teens, and young adults, the days of Roe v. Wade are numbered.
2. There is a wonderful story of how two Catholics met online using Ave Maria Singles.  The adventure begins when Katie and Devin, for different reasons, chose Ave Maria Singles to search for a spouse.  Katie three years out of college saw slim pickings at work, at church, and definitely not at a bar.  Devin had been looking online for a spouse for four fruitless years, yet still carried a positive attitude.  After an initial 'dust off' by Katie and a close call by Devin, the two, through the guidance of the Holy Spirit were able to find their sacramental partners for life via Ave Maria Singles.
It's a sweet and compact romantic love story that spans two articles, so for the introductory portion click here.  For the final encounter and happy ending click here.  To learn more about Ave Maria Singles click here.