Saint Thomas Aquinas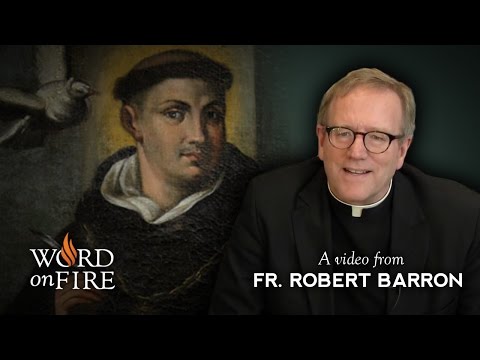 As a highly Pagan poet said to me: "The Reformation happened because people hadn't the brains to understand Aquinas." The Church is more immortally important than the State; but the State has its rights, for all that. This Christian duality had always been implicit, as in Christ's distinction between God and Caesar, or the dogmatic distinction between the natures of Christ.
But St. Thomas has the glory of having seized this double thread as the clue to a thousand things; and thereby created the only creed in which the saints can be sane. It presents itself chiefly, perhaps, to the modern world as the only creed in which the poets can be sane. For there is nobody now to settle the Manichees; and all culture is infected with a faint unclean sense that Nature and all things behind us and below us are bad; that there is only praise to the highbrow in the height. St. Thomas exalted God without lowering Man; he exalted Man without lowering Nature. Therefore, he made a cosmos of common sense; terra viventium; a land of the living.
His philosophy, like his theology, is that of common sense. He does not torture the brain with desperate attempts to explain existence by explaining it away. The first steps of his mind are the first steps of any honest mind; just as the first virtues of his creed could be those of any honest peasant.
G.K. Chesterton Continue reading →
Beginning for two weeks, up to Independence Day, the Bishops are having a Fortnight For Freedom:
On April 12, the Ad Hoc Committee on Religious Liberty of the U.S.  Conference of Catholic Bishops (USCCB) issued a document, "Our First,  Most Cherished Liberty," outlining the bishops' concerns over threats to religious freedom, both at home and abroad. The bishops called for a "Fortnight for Freedom," a 14-day period of prayer, education and action in support of religious freedom, from June 21-July 4.
Bishops in their own dioceses are encouraged to arrange special events to  highlight the importance of defending religious freedom. Catholic  institutions are encouraged to do the same, especially in cooperation  with other Christians, Jews, people of other faiths and all who wish to  defend our most cherished freedom.
The fourteen days from June  21—the vigil of the Feasts of St. John Fisher and St. Thomas More—to  July 4, Independence Day, are dedicated to this "fortnight for  freedom"—a great hymn of prayer for our country. Our liturgical calendar celebrates a series of great martyrs who remained faithful in the face  of persecution by political power—St. John Fisher and St. Thomas More,  St. John the Baptist, SS. Peter and Paul, and the First Martyrs of the  Church of Rome.  Culminating on Independence Day, this special period of prayer, study, catechesis, and public action would emphasize both our  Christian and American heritage of liberty. Dioceses and parishes around the country could choose a date in that period for special events that  would constitute a great national campaign of teaching and witness for  religious liberty.
We here at The American Catholic are participating in the Fortnight For Freedom with special blog posts on each day.  This is the final of these blog posts and is written by commenter Greg Mockeridge.
John Adams foresaw the all pomp with which we celebrate the 4th of July, but the date he gave for that was not the 4th but the 2nd. The reason he gave the 2nd was that independence was voted on and decided by the Continental Congress on the 2nd. What took place on the 4th was that final draft of the Declaration of Independence, after about a hundred revisions to Thomas Jefferson's original draft, was approved.
It is actually more fitting that we celebrate independence on 4th as opposed to the 2nd because it isn't merely independence we celebrate, but the ideas, principles, and truths this country was founded on. Fidelity to these very ideas really enable Americans to be Patriots as opposed to merely Nationalists. Just as one cannot be a good Catholic without a concerted effort to know and understand what it is he gives his assent of faith to, one cannot be a true American Patriot unless he likewise makes an effort to understand our heritage as Americans. No other U.S. founding document expresses these truths better than the Declaration of Independence. If more Americans became better acquainted with the Declaration, there would not be so much confusion regarding the Constitution.
Our Catholic faith not only does not relieve us of this patriotic duty, it actually reinforces it. An 1884 statement of the American bishops said it this way:
Teach your children to take a special interest in the history of our country. We consider the and laws as a work of special Providence, its framers "building wiser than they knew," the Almighty's hand guiding them….As we establishment of our country's independence, the shaping of its liberties desire therefore that the history of the United States should be carefully taught in all our Catholic schools, and have directed that it should be specially dwelt upon in the education of the young ecclesiastical students in our preparatory seminaries; so also we desire that it form a favorite part of the home library and home reading.
A document from the Second Vatican Council "Pastoral Constitution of the Church in the Modern World" better known by its Latin title Gaudium et Spes says: "Citizens should cultivate a generous and loyal spirit of patriotism… "(#75) Continue reading →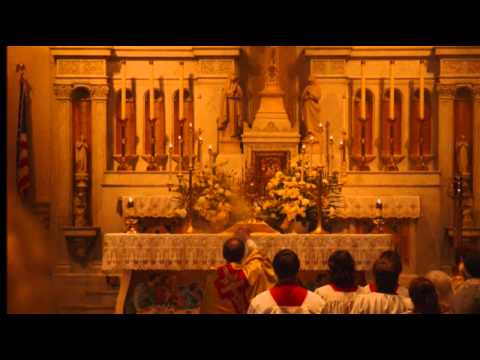 (A guest post from Don the Kiwi on the backstory regarding the institution of the feast of Corpus Cristi.)
Last Sunday we celebrated the feast of Corpus Cristi, which literally means the body of Christ, in solemn commemoration of the Holy Eucharist.   As with many of the great feasts of the Church there is a fascinating history associated with the establishment of this holy day, which involves a saint and a miracle.
God's instrument on this occasion was a woman known to history as Saint Juliana of Liege, or Julian of Mount Comillon where she was educated as a girl by the Augustinian nuns at the convent there, after the death of her parents when she was only five.  She was accepted into the order, made her religious profession, and became the mother superior of the convent.
Juliana had an ardent love of Our Lady, and also cultivated an extraordinary devotion to the Blessed Sacrament.  As she grew in her vocation, she increasingly longed for a special feast in honor of the Sacrament.  She had a vision of the Church as a full moon with one dark spot, symbolizing the lack of such a feast.  Juliana expressed her to desire to the Bishop of Liege and the Archdeacon of Liege, who received her request favorably.  In 1246 the Bishop at a synod of bishops from lands now in the country of Belgium, successfully proposed that a feast in honor of the Blessed Eucharist  be instituted in the dioceses respresented at the Synod.  The Archdeacon of Liege, Jacques Pantaleon, in time became the Bishop of Verdun, then Patriarch of Jerusalem, and, on August 29, 1261, was elected Pope under the name of Urban IV.
Shortly after this, in an example of that synchronicity that often reveals the Hand of God in history, one of the great Eucharistic miracles of the Church occurred.  In 1263 Peter of Prague, a German priest, stopped at a town called Bolsena while on pilgrimage to Rome.  He was a pious priest but had difficulty in believing that Christ was truly present in the consecrated host.  While celebrating Mass in the Church of Saint Cristina, he finished saying the words of consecration, when blood started to seep from the consecrated host and trickled over his hands and onto the altar cloth and corporal Continue reading →
When Corpus Christi rolls around I always think of Saint Thomas Aquinas and his great eucharistic hymn Pange Lingua Gloriosi Corporis Mysterium written by Saint Thomas at the command of Pope Urban IV to celebrate the feast of Corpus Christi instituted by the Pope in 1263.   It says something vastly significant about the Church that perhaps the greatest intellect of all time, Saint Thomas Aquinas, was not only a Doctor of the Church, but also capable of writing this magnificent hymn. 
The last portion of the hymn, Tantum Ergo, has vast significance for my family.  My wife, who is a far better Catholic in my estimation than I am, is a convert.  A Methodist when we married, she converted to the Church a few years later.  She had questions regarding the real presence, and this line from Tantum Ergo resolved them:  Faith tells us that Christ is present,  When our human senses fail.  When our kids came along she would whisper at the Consecration to them:  First it's bread, now it's Jesus.  First it's wine, now it's Jesus. 
Here is Saint Thomas on the Real Presence: Continue reading →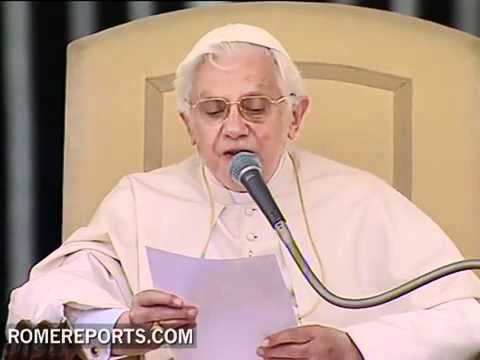 You call him Dumb Ox?  This Dumb Ox will fill all the world with his bellowing.
                    Saint Albert the Great, responding to jibes from some of the other students he was instructing aimed at a young Thomas Aquinas.
Today, January 28th, is the feast day of Saint Thomas Aquinas, who was granted three gifts from God:  the life long innocence of a child;  the soul of a mystic; and one of the mightiest intellects ever possessed by mortal man.  The ladies of History for Music Lovers kick off our celebration of the Angelic Doctor with their own unique tribute.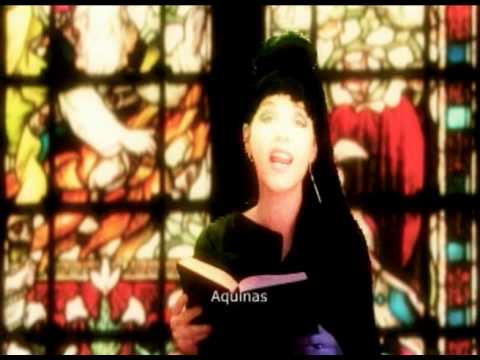 Here is Pope Benedict on Saint Thomas: Continue reading →
An Article by Melinda Selmys, author of the book Sexual Authenticity: An Intimate Reflection on Homosexuality and Catholicism.
Twelve years ago, I converted to Catholicism and began a long dialogue with my own sexuality. At the time, I was involved in a lesbian relationship that had been going on for a little over six years. I had, in the course of researching the Catholic position  with  a  view  to  refuting  it,  encountered  the  Church's  teachings  on homosexual relationships before, so when I decided to embrace the Church as my mother, I knew that meant giving up my lesbian partner. I called her that night and explained my decision.
At the time, I thought that I was signing up for a life of celibacy. I was okay with that:  before I became a Catholic I was a hard rationalist, and it wasn't a long stretch to port my idealistic devotion to rational self-possession into an iron-clad commitment to  Catholic sexual teaching. I would simply apply my will to the problem, subsume my passions to the rule of Reason, and everything would be fine. Right?
The following is the second part to this post. It is recommended that you read the first part before reading the second part.  There has been some request for the original address given by Cardinal George.  I have been unable to locate it on the web and have not gotten around to scanning it in.  As soon as I get a chance, I will try to get to up and available, barring any unforeseen copyright issues.  For now, my humble comments and summary will have to suffice.
*******
While the time from Augustine to Aquinas embodied a realization of Cardinal George's incarnation metaphysics, things began to take a turn for the worse with Duns Scotus, a contemporary of Thomas. Scotus radically separated God from the world, and in so doing separated grace from nature. Instead of a metaphysics of participation, Scotus promulgated that, "God is no longer that generous power in which all things exist but rather that supreme being next to whom or apart from whom all other beings exist" (George, 15). Scotus begins what Descartes (through philosophy) and Luther (through theology) would complete. "In both its Lutheran and Cartesian manifestations, modernity assumes a fundamental split between the divine and the non-divine and hence implicitly denies the participation/communio metaphysics that had shaped the Christian world thought the ancient and medieval periods" (George, 16).
Something for the weekend.  Tantum Ergo.  It says something vastly significant about the Church that perhaps the greatest intellect of all time, Saint Thomas Aquinas, was not only a Doctor of the Church, but also capable of writing this magnificent hymn.  On December 6, 1273, a few months before his death, Saint Thomas had a mystical experience while saying mass.  He stopped writing at this point, saying that all that he had written was mere straw in comparison to what had been revealed to him.  In Easter we celebrate that the God who made the Universe, died for each and every one of us and rose from the dead to deliver us from sin and death.  Our intellects, through revelation, teach us much about that God.  However, the love He has for us teaches us so much more.  Easter is an everlasting reminder of that love and for those who embrace God's love and grace, each day truly is Easter.