Saint Paul
We here at TAC are sometimes accused of the sins of being Calvinists, militarists, and even Americans. Someone already dealt with the Calvinist charge, but what about militarism? Is it right for us to be castigated for using the word "citadel" to describe a monastery?
What I want to know is this: why should we listen to people who, to make a grand public showing of their deeply-felt moral opposition to militarism and war, constantly nitpick others, question their faith, and inevitably conclude that they worship a different (and presumably better) God while apologizing for a tradition that has never been shy of using militaristic symbols and rhetoric in pursuit of its own goals? I am of course talking about people who apologize for Liberation Theology, which made images such as these popular in Latin America:
Undoubtedly this too would be a "tendency" that one ought to condemn – if one wants to be consistent with the pacifism one tries to push on everyone else. But wait, there's more!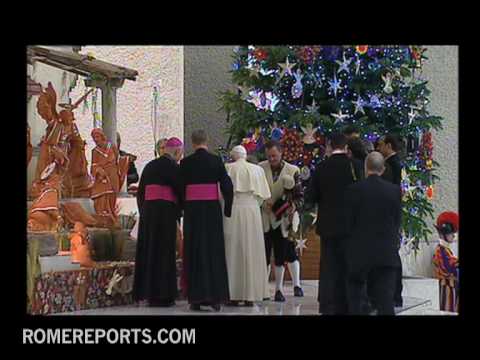 Here is the text of Pope Benedict's Christmas Eve Homily:
Dear Brothers and Sisters! "A child is born for us, a son is given to us" (Is 9:5). What Isaiah prophesied as he gazed into the future from afar, consoling Israel amid its trials and its darkness, is now proclaimed to the shepherds as a present reality by the Angel, from whom a cloud of light streams forth: "To you is born this day in the city of David a Saviour, who is Christ the Lord" (Lk 2:11). The Lord is here. From this moment, God is truly "God with us". No longer is he the distant God who can in some way be perceived from afar, in creation and in our own consciousness. He has entered the world. He is close to us. The words of the risen Christ to his followers are addressed also to us: "Lo, I am with you always, to the close of the age" (Mt 28:20). For you the Saviour is born: through the Gospel and those who proclaim it, God now reminds us of the message that the Angel announced to the shepherds. It is a message that cannot leave us indifferent. If it is true, it changes everything. If it is true, it also affects me. Like the shepherds, then, I too must say: Come on, I want to go to Bethlehem to see the Word that has occurred there. The story of the shepherds is included in the Gospel for a reason. They show us the right way to respond to the message that we too have received. What is it that these first witnesses of God's incarnation have to tell us?
Part II of my presentation of the four sermons on the Anti-Christ given by John Henry Cardinal Newman during Advent in 1835 before his conversion.  Part I is here.
In this second sermon Newman concentrates on what we can glean of  the Anti-Christ  from Scripture and from the writings of the Fathers of the Church.  One thing stands out in this sermon for me.  The idea that the reign of the Anti-Christ may involve both ferocious atheism and a return to paganism.  This seems like a contradiction, but Newman points to the French Revolution:
In that great and famous nation which is near us, once great for its love of CHRIST'S Church, since memorable for deeds of blasphemy, which lead me here to mention it, and now, when it should be pitied and prayed for, made unhappily our own model in too many respects,-followed when it should be condemned, and admired when it should be excused,-in the capital of that powerful and celebrated nation, there took place, as we all well know, within the last fifty years, an open apostasy from Christianity; not from Christianity only, but from every kind of worship which might retain any semblance or pretence of the great truths of religion. Atheism was absolutely professed; -yet in spite of this, it seems a contradiction in terms to say it, a certain sort of worship, and that, as the prophet expresses it, "a strange worship," was introduced. Observe what this was.
Prior to his conversion to Catholicism, John Henry Cardinal Newman, soon to be Blessed John Henry Cardinal Newman,  preached in 1835 a series of Advent Sermons on the Anti-Christ.  I have always found them extremely intriguing, and I am going to present them on each of the Sundays in Advent this year.
In this first sermon Newman gives us an overview of the Anti-Christ and the time of his appearance.  We see in this sermon Newman's total command of history and how he uses this knowledge to draw out the implications of the few mentions of the Anti-Christ in Scripture.  Newman intellectually was always first and foremost a historian of the highest order and he puts this talent to good and instructive use in this sermon.  When Newman converted the Church gained one of the finest intellects of the Nineteenth Century or any century for that matter.  Much of Newman's work concerned the working out of God's plan for salvation through human history, and his examination of the Anti-Christ places that mysterious part of revelation into that plan.
"Let no man deceive you by any means:
for that Day shall not come,
except there come a falling away first,
and that man of sin be revealed, the son of perdition."
The funeral for Father Edward "Ed" Hinds will be celebrated today, Saturday, October 31,  A.D. 2009 at  10:00am.  The Mass will be the Rite of Christian Burial and simulcast live int he Saint Patrick Parish Center Gym, East/West Rooms, and Cafeteria.  Additional audio will be provided outside.
This will be followed by a private burial.
The Repast will be at 11:30am at the Corpus Christi Parish Center, 234 Southern Boulevard, Chatham, New Jersey.
_._
Bishop Arthur J. Serratelli of the Diocese of Paterson where Saint Patrick's at Chatham is located had these moving words to say concerning the death of Fr. Hinds titled, A Life Cut Short: The Mystery of Evil:
[Warning: Vile language in this posting.]
Larry David is the creative producer of NBC's Seinfeld and HBO's Curb Your Enthusiam.  Over the weekend in an episode of Curb Your Enthusiasm he relieves himself on the picture of Jesus.  The details and context of the episode are not worth explaining due to the unfortunate attack on God and our Christian faith by this depraved human being.
Like so many in Hollywood, anti-Christian, more specifically, anti-Catholicism, is still prevalent among many movers and shakers.  Imagine if they would even consider insulting the founder of Islam, Mohammad, as such?  Not in a million years.
Chivalry to me is the call for men/boys to respect women/girls even if they apparently don't respect themselves, or even aggressively market themselves as mere sex objects. The visual hardwiring for males is tough to short-circuit since it is there for some very excellent reasons- but a boy in-training to become a good man, must develop the capacity to say "No" the same as for the girls- and he must learn to divert his eyes rather than feasting on the nearly ubiquitous female forms in various stages of undress parading by our senses. It is no wonder that St.Paul said it was better to marry than to burn, and Jesus laid out some very high standards when He said that lusting for a woman in your mind was adultery- pretty clear advice from someone whose opinions form my own.
I know that girls who don't have close and affectionate relationships with their own fathers will act out sexually at earlier ages to try to fill in a spiritual hole in their hearts. I hope that with my own girls I can reinforce their beauty and worth in the world by showering them with my attentions, my hugs and kisses, and all the verbal and non-verbal affirmations of their excellence and my love for them- with the added bonus of giving all praise and glory to God for them as gifts to me and their mother and the world. They should never have to feel that they "need" some sexually-charged teen to give them the idea that they are special and deserve physical and spiritual affection from a male in their life. I hope and pray that this gives them some invisible support to make the correct choice to wait until marriage for the very special gift of their physical selves to another.
Salvete AC readers!
Buckle Up! Because here are today's Top Picks in the Catholic world:
1. Archbishop Timothy Dolan of New York commended President Obama and the Democratic Party efforts in
reforming Health Care.  He said this during the Knights of Columbus Convention in Phoenix, Arizona.  But his Grace gave this caveat that if reform…
"…leads to the destruction of life, then we say it's no longer health care at all – it's unhealthy care and we can't be part of that."
To accentuate this sentiment and as a warning to well meaning Catholics, Cardinal Levada explained that those that want to reform health care at any cost:
"[W]e do not build heaven on earth, we simply prepare the site to welcome the new Jerusalem which comes from God."
2. Catholic convert Joe Eszterhas of Hollywood screenwriting fame, will be writing the screenplay for a movie about
the Virgin of Guadalupe.  Though no director nor a green light has been given on the go ahead of this movie project, the fact that Joe Eszterhas is writing the screenplay is newsworthy in itself because of the author himself is enough to get the ball rolling in the right direction.