Sacred Scripture
Follow me and I will make you become fishers of men. (cf. Holy Gospel of Saint Mark 1:17)
Grant Desme, a highly touted baseball prospect for the Oakland Athletics organization, decided that he could not fight his calling anymore and answered God by retiring from baseball and to begin seminary training immediately.
A terrific article by Jane Lee of MLB.com.
My emphases and comments:
"Last year before the season started, I really had a strong feeling of a calling and a real strong desire to follow it," the 23-year-old said. "I just fought it."
"As the year went on," he said, "God blessed me. I had a better year than I could have imagined, but that reconfirmed my desire because I wasn't at peace with where I was at. I love the game, but I aspire to higher things.

"I thought, I'm doing well in baseball, but I really had to get down to the bottom of things — what was good in my life, what I wanted to do with my life. And I felt that while baseball is a good thing and I love playing, I thought it was selfish of me to be doing that when I really felt that God was calling me more [Sounds like the Church has gained a mature and strong man for God!], which took me awhile in my life to really trust and open up to it and aim full steam toward Him ."
Archbishop George H. Niederauer of San Francisco addressed on January 13, 2010 a free will defense of abortion by Nancy Pelosi, Speaker of the House:
In a recent interview with Eleanor Clift in Newsweek magazine (Dec. 21, 2009), House Speaker Nancy Pelosi was asked about her disagreements with the United States Catholic bishops concerning Church teaching. Speaker Pelosi replied, in part: "I practically mourn this difference of opinion because I feel what I was raised to believe is consistent with what I profess, and that we are all endowed with a free will and a responsibility to answer for our actions. And that women should have the opportunity to exercise their free will."
Embodied in that statement are some fundamental misconceptions about Catholic teaching on human freedom. These misconceptions are widespread both within the Catholic community and beyond. For this reason I believe it is important for me as Archbishop of San Francisco to make clear what the Catholic Church teaches about free will, conscience, and moral choice.
Catholic teaching on free will recognizes that God has given men and women the capacity to choose good or evil in their lives. The bishops at the Second Vatican Council declared that the human person, endowed with freedom, is "an outstanding manifestation of the divine image." (Gaudium et Spes, No. 17) As the parable of the Grand Inquisitor in Dostoevsky's novel, The Brothers Karamazov, makes so beautifully clear, God did not want humanity to be mere automatons, but to have the dignity of freedom, even recognizing that with that freedom comes the cost of many evil choices.
In 2010 the Catholic Church in particular and Christianity in general are under attack because age old truths are being abandoned for the Dictatorship of Relativism. One might ask; how did we get here? It didn't happen overnight; as a matter of fact many of those doing the rebelling actually think they are doing us all a favor.  Centuries and millennium evolved into a construct of rebellion where self appointed leaders who thought knew better than the Church and society itself tried to change all that was sacred and holy into something, they but most importantly their friends in the intelligentsia, could accept. Too many cooks in the kitchen can be bad for your acquired culinary tastes, but when truth is watered down it is something entirely different and far more serious. In this instance, we are talking about souls, not taste buds.  If this is so then how could the thesis of my book, The Tide is Turning Toward Catholicism be true? The answer is simple because the world is getting closer and closer to the precipice. Some may chose to jump but thankfully more will chose to come back from ledge into the world of reality and when they do they will see the many positive developments happening in the Church. One's own mortality has a way of causing self preservation.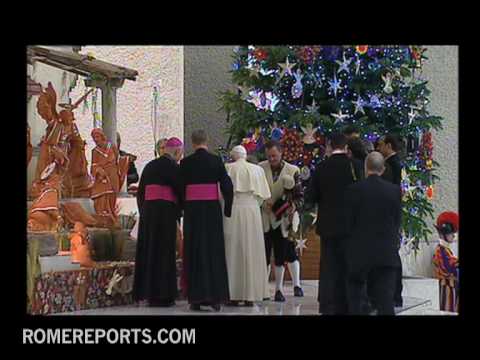 Here is the text of Pope Benedict's Christmas Eve Homily:
Dear Brothers and Sisters! "A child is born for us, a son is given to us" (Is 9:5). What Isaiah prophesied as he gazed into the future from afar, consoling Israel amid its trials and its darkness, is now proclaimed to the shepherds as a present reality by the Angel, from whom a cloud of light streams forth: "To you is born this day in the city of David a Saviour, who is Christ the Lord" (Lk 2:11). The Lord is here. From this moment, God is truly "God with us". No longer is he the distant God who can in some way be perceived from afar, in creation and in our own consciousness. He has entered the world. He is close to us. The words of the risen Christ to his followers are addressed also to us: "Lo, I am with you always, to the close of the age" (Mt 28:20). For you the Saviour is born: through the Gospel and those who proclaim it, God now reminds us of the message that the Angel announced to the shepherds. It is a message that cannot leave us indifferent. If it is true, it changes everything. If it is true, it also affects me. Like the shepherds, then, I too must say: Come on, I want to go to Bethlehem to see the Word that has occurred there. The story of the shepherds is included in the Gospel for a reason. They show us the right way to respond to the message that we too have received. What is it that these first witnesses of God's incarnation have to tell us?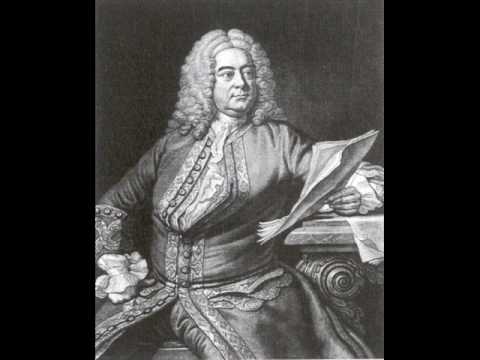 The culmination of the Advent portions of Handel's Advent Messiah.  Part I is here and Part II is here.  Handel heralds the coming of Christ with the immortal words of Isaiah Chapter 9, verse 6:
For unto us a child is born, unto us a son is given: and the government shall be upon his shoulder: and his name shall be called Wonderful, Counselor, The mighty God, The everlasting Father, The Prince of Peace.
"17 And if Christ has not been raised, your faith is futile; you are still in your sins. 18 Then those also who have fallen asleep in Christ are lost. 19If only for this life we have hope in Christ, we are to be pitied more than all men." (1 Cor 15:17-19)
I've never had much use for Jimmy Carter.  I view him as in the running with James Buchanan for the title of worst President of the United States, and he has always struck me as a mean and spiteful little man.  Now he adds the title of bigot to his list of dishonors.  In an address to the World Parliament of Religions (You know that has to give God a good laugh!)  the Solon of Plains is reported to have unloaded on both Southern Baptists and Catholics.
In opposition to the vast majority of authentic scholars and historians, Carter asserted: "It's clear that during the early Christian era women served as deacons, priests, bishops, apostles, teachers and prophets."  He added: "It wasn't until the 4th century or the 3rd at the earliest that dominant Christian leaders, all men, twisted and distorted Holy Scriptures to perpetuate their ascendant position within the religious hierarchy."
Contrary to the theorizing of Carter, Pope John Paul II taught, "The Lord Jesus chose men to form the college of the twelve apostles, and the apostles did the same when they chose collaborators to succeed them in their ministry."  He added: "the Church recognizes herself to be bound by this choice made by the Lord himself.  For this reason the ordination of women is not possible." (Catechism of the Catholic Church; 1577)
Carter singled out the Southern Baptist Convention and Roman Catholic Church, claiming that they "view that the Almighty considers women to be inferior to men."  However, both Christian faiths hold to the Scriptural truth that God created men and women equal.
Carter suggests that only in permitting women to become priests and pastors could male religious leaders choose to interpret teachings to exalt rather than subjugate women.  "They have, for their own selfish ends, overwhelmingly chosen the latter, subjugation," he said.
"Their continuing choice provides a foundation or justification for much of the pervasive persecution and abuse of women throughout the world," said Carter. Carter goes on to list horrific violations against women such as rape, genital mutilation, abortion of female embryos and spousal battery.
For many Christians today, the thought that the leaders of the Protestant Reformation believed in the Immaculate Conception of Mary or her bodily Assumption into heaven would seem ludicrous, even more bewildering would be the devotions many of the Reformation's leaders had for the Blessed Mother. Believe or not it, they did. In this month of December when Catholics celebrate three feast day's commemorating the Mother of our Lord, perhaps it is time to remind our separated brethren of the truths their founder's believed.
Sometime ago when I was writing my book, The Tide is Turning Toward  Catholicism,  I showed a friend of mine, who is an Evangelical, a homily about the Virgin Mary delivered in the 1500s. I asked him who gave that homily, "probably some pope," he exclaimed. No, I said it was Martin Luther. He replied, "Dave I trust in almost everything you say, but I am going to have to call you out on this one. I mean isn't that what the Reformation was all about, ending superstitions like those about Mary?" His mouth dropped when I showed him the passages. I am sure many of today's Evangelicals, especially of the Calvinist lineage, would have the same reaction.
Part II of my presentation of the four sermons on the Anti-Christ given by John Henry Cardinal Newman during Advent in 1835 before his conversion.  Part I is here.
In this second sermon Newman concentrates on what we can glean of  the Anti-Christ  from Scripture and from the writings of the Fathers of the Church.  One thing stands out in this sermon for me.  The idea that the reign of the Anti-Christ may involve both ferocious atheism and a return to paganism.  This seems like a contradiction, but Newman points to the French Revolution:
In that great and famous nation which is near us, once great for its love of CHRIST'S Church, since memorable for deeds of blasphemy, which lead me here to mention it, and now, when it should be pitied and prayed for, made unhappily our own model in too many respects,-followed when it should be condemned, and admired when it should be excused,-in the capital of that powerful and celebrated nation, there took place, as we all well know, within the last fifty years, an open apostasy from Christianity; not from Christianity only, but from every kind of worship which might retain any semblance or pretence of the great truths of religion. Atheism was absolutely professed; -yet in spite of this, it seems a contradiction in terms to say it, a certain sort of worship, and that, as the prophet expresses it, "a strange worship," was introduced. Observe what this was.
The New Testament: Its Apostolic Foundations & the Significance of 70
The answer to the question of the "historical Jesus" is intricately tied to the question of the New Testament. The bulk of our knowledge about the person of Jesus comes from the New Testament; for this reason, the New Testament must become the principal object of analysis to answer the more fundamental question: who was Jesus of Nazareth?
God chose to communicate with mankind in human language, which by necessity is deeply shaded by the personality, culture, and time of each sacred author. The sacred authors inevitably wrote as people of their own time for their own time while communicating the truths that God wished to be written. Accordingly throughout history any attempt to understand and learn these truths has required that the Church "journey back" to the world of the sacred authors to truly understand Sacred Scripture.
[Warning: Vile language in this posting.]
Larry David is the creative producer of NBC's Seinfeld and HBO's Curb Your Enthusiam.  Over the weekend in an episode of Curb Your Enthusiasm he relieves himself on the picture of Jesus.  The details and context of the episode are not worth explaining due to the unfortunate attack on God and our Christian faith by this depraved human being.
Like so many in Hollywood, anti-Christian, more specifically, anti-Catholicism, is still prevalent among many movers and shakers.  Imagine if they would even consider insulting the founder of Islam, Mohammad, as such?  Not in a million years.