Ron Paul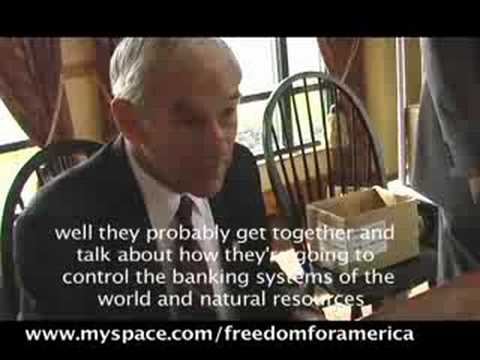 That Ron Paul is a conspiracy believing nutcase as the video above indicates should not be controversial.  This is the man who was the keynote speaker at the John Birch Society fiftieth anniversary dinner in 2008, an organization that has embraced such bizarre conspiracy theories as Eisenhower being a Communist and water fluoridation being a Communist plot.  Throughout his career he has given a wink and a nod to most paranoid conspiracy groups on the right.  We see this most clearly in the newsletters that came out for over a decade in his name.  Ron Paul claims now not to know what was in those newsletters which I find passing strange since he earned a million bucks on them in one year alone (1993).  However, Ron Paul the crank and coddler of cranks is not the focus of this post.  This post is concerned with Ron Paul the isolationist.  That he is an isolationist, and not simply a non-interventionist as he claims,  was amply demonstrated in  a recent column by Eric Dondero who worked for Paul for 12 years:
Ron Paul is most assuredly an isolationist.  He denies this charge vociferously.  But I can tell you straight out, I had countless arguments/discussions with him over his personal views.  For example, he strenuously does not believe the United States had any business getting involved in fighting Hitler in WWII.  He expressed to me countless times, that "saving the Jews," was absolutely none of our business.  When pressed, he often times brings up conspiracy theories like FDR knew about the attacks of Pearl Harbor weeks before hand, or that WWII was just "blowback," for Woodrow Wilson's foreign policy errors, and such.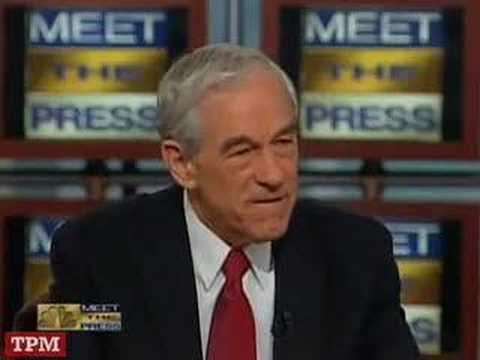 Congressman Ron Paul (R. Pluto) is running for President again, and I assume his views on the Civil War and Abraham Lincoln haven't altered since this interview which took place in 2007.  I will leave to other venues debates as to Ron Paul and his stance on current issues.  I would merely note that in regard to the Civil War he appears to be singularly ill-informed.  According to Mr. Paul the entire Civil War could have been avoided with a plan for compensated emancipation.  Now if only Abraham Lincoln had thought of that!  Wait, he did! Continue reading →
This video is dedicated to Drs. Rand and Ron Paul!
(With all due respect to my libertarian colleagues, I couldn't resist posting this video)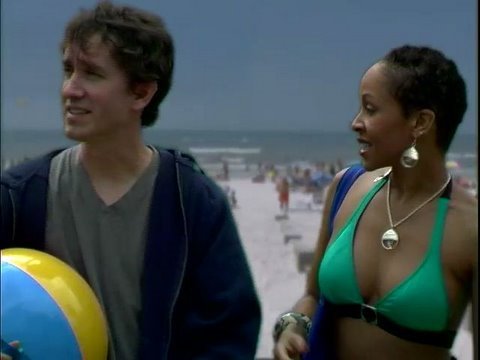 Hat Tip: Lisa Graas
I'm never going to be excited about major party politics. When we come to the finish line, I will hold my nose and vote for the lesser evil, since I don't see the harm in using my vote. But I'm not going to sit around and speculate about which mainstream GOP or Democratic politician is going to be the frontrunner for 2012. I'll let others worry about that.
I'd rather focus on the men of principle who sometimes get involved in these races, even though they have no chance of winning. Independent or "outsider" candidates and their campaigns serve a couple of vital functions: they bring viewpoints delegitimized and mocked by the main news sources on the left and right to the forefront, which in turn reminds us that we still live in a relatively free country and haven't become a fascist dictatorship like China. They can also put some pressure on the major party candidates to take certain issues more seriously.
Recently Judge Andrew Napolitano, the only man on the major networks I can bear to listen to for more than a few minutes, invited Ron Paul and Ralph Nader on his show to discuss the issues and discover the extent to which "progressives" such as Nader and libertarians such as Paul can agree on them. I wasn't surprised to discover that they agree on quite a bit, as you will see if you watch the video above.
In the previous part of this series, I gave a detailed comparison of the views of John Locke and Pope Leo XIII on the state of nature, the origin of private property, and the proper use of private property. In this final part, I want to make a few more points regarding what I think can be called "Lockean" thought, at least as it exists in contemporary America, explore the relationship between the Catholic Church and the United States, and explain why I think all that has been considered thus far is relevant for our political situation today.
This is meant to be a fun post speculating about who might run for the Republican Presidential Nomination. Here's my list, who do you think will run?
Likely Running:
Rick Santorum-former Senator from Pennsylvania
Tim Pawlenty- Governor of Minnesota
Mitt Romney-former Governor of Massachusetts
Still looking into it:
Mike Huckabee- former Governor of Arkansas
Mitch Daniels-Governor of Indiana
Sarah Palin-former Governor of Alaska
Newt Gingrich-former Speaker of the House
Long shots:
Bobby Jindal-Governor of Louisiana
Paul Ryan- Congressman from Wisconsin
Mike Pence-Congressman from Indiana
Tom Tancredo-former Congressman from Colorado
Ron Paul-Congressman from Texas
John Thune-Senator from South Dakota
Jeb Bush-former Governor of Florida
Analysis:
I think potential candidates like Huckabee and Palin have to be considered front runners in Iowa because of that state's social and culture conservative leanings. Pawlenty may have an advantage in Iowa since he governs a neighboring state.  Meanwhile, I think potential candidates like Romney and Daniels will play well in New Hampshire. I think all the candidates are going to have to build their war chests for the remaining candidates. I don't really see any one of the current candidates running away with the nomination early on, so it may be a long drawn out battle. I don't think it will go the distance like Obama-Clinton, but its not going to be wrapped up in a few primaries. What do you think?
I've been trying to think of a good way to discuss a serious problem, which is the ongoing conflict between libertarians and conservatives in the United States over the proper response to the challenges as well as the threats posed by the Islamification of the West, which is well underway in Europe, has made inroads in Canada and Australia, and has not yet impacted the United States – at least until this ground-zero mosque controversy.
I follow the Campaign for Liberty's updates on Facebook, and it is here that I witness some of the most troubling political conflict. There are many liberty-minded conservatives who follow C4L, who agree with its perspectives on many issues, but who become irate at the manner in which some C4L contributors address the issue of radical Islam (as well as illegal immigration, and the topics are not entirely unrelated). Conservatives are concerned, almost by definition, with cultural preservation and national security. Libertarians are quite naturally concerned with preserving liberty and treating everyone equally before the law. These concerns sometimes overlap, and sometimes diverge.
Though I agree with Ron Paul and other prominent libertarians on a number of issues, and even take their side on issues over which they typically disagree with conservatives, such as the war on drugs or even the "war on terror" – if by that is meant the occupation of foreign countries by American troops and the formation of an domestic police state – when it comes to the challenges posed to the West by radical Islam, many of them are, to use the most accurate and charitable word possible, naive.
I figure it's time for me to finally put down in a sort of structured way what I think about this "ground zero mosque" controversy, beginning with the admission that I know it isn't "only" a mosque, but a mosque is a part of what will hereafter be referred to as that "construction project."
Next, I might simply wrap it up by saying I think that Charles Krauthammer, a man with whom I typically find little to agree with, is absolutely right in his assessment of the entire situation, while Ron Paul, a man with whom I typically find much to agree with, is almost entirely wrong in his own assessment, which makes repeated appeals to property rights.
Let me give you Krauthammer's thesis, which is also a reply to this sort of argument, and which has been my own since the first day I heard about this:
No one disputes the right to build; the whole debate is about the propriety, the decency of doing so.
In my own readings and heated debates, the refrain I hear from the defenders of this construction project is the same as Obama's: they have a right. What this argument boils down to is this: "we are doing this because we can, because you have no legal standing to stop us, and all of your complaints are irrelevant."
The relationship between markets and morality has been the subject of analysis and sometimes intense debate for centuries, since Aristotle wrote chapter 1 of The Politics and possibly sooner. I myself have participated in many of these debates, and the position I would typically take is that markets were either amoral at best, or a cause of vice at worst. There are many Catholics and many Distributists who probably share the same view. They will concede and even embrace the fact that the Papacy has not categorically condemned market activity, but they will spend the majority of their time highlighting why markets ought to be regulated and taxed, why we need welfare programs, labor unions, and all of the rest.
I have written extensively against a phenomenon called consumerism, which is also heavily critiqued in the Papal encyclicals. But it would be wrong to associate consumerism, which is a byproduct of mass production and communications technology, with market activity as such, since it pre-dates industrial society by thousands of years.
1600 words.
Sigh. I hate this. I really do. I was going to write more about populism, but a recent angry outburst directed at me prompted this instead.
I hate having to clarify a position that will likely cause at least some people who agree with me on 95% of issues to become my embittered, mortal enemies over the remaining 5%. But I'm just the sort of guy who must perpetually set the record straight. Don't blame me, blame my personality.
I agree with Ron Paul and Pat Buchanan on American foreign policy. So do a lot of the troops, by the way – the people who actually have to fight America's wars gave more money to Ron Paul than to any other GOP candidate during the 2007-08 primaries (please don't listen to people who factor in McCain's contributions after April of '08, when Paul withdrew from the race).
This is to say, I support an non-interventionist (not "isolationist") foreign policy. I will give you four reasons why.
Read the rest and comment here.
Rand and Ron Paul are the true face of the Tea Party. I support them 100% in the months and years to come.
Though I agree that with Rand that we don't need to apologize to the world for our economic system, we do need to continually revise and update it in accordance with the demands of the moral law and human dignity. My hope is that Distributist ideas can continue to gain traction in America, and among the Catholics in the tea party and hopefully beyond.