Rick Santorum
Now that Rick Santorum has basically tied Mitt Romney in the Iowa caucus, the knives are really out for Rick.  On the one hand, he will undoubtedly experience a surge in the polls and in fundraising.  On the other hand, as every conservative who has ascended in the polls has before, he will face a firestorm of criticism from both left and right.  I discussed this in my post yesterday, and now things have only gone into overdrive.  As someone who reads secular conservative blogs, there is a lot of concern that Santorum is some kind of "big government" conservative.  I think this is absurd, as does a pretty famous conservative figure not known for particularly liking big government types: Rush Limbaugh.  Here's what he had to say about the big government charge on his program today: Continue reading →
George Will has a first-rate column about Rick Santorum:
He can, of course, be tenaciously serious. On Sept. 26, 1996, the Senate was debating whether to ban partial-birth abortion, the procedure whereby the baby to be killed is almost delivered, feet first, until only a few inches of its skull remain in the birth canal, and then the skull is punctured, emptied and collapsed. Santorum asked two pro-choice senators opposed to the ban, Russ Feingold (D-Wis.) and Frank Lautenberg (D-N.J.), this: Suppose the baby slips out of the birth canal before it can be killed. Should killing it even then be a permissible choice? Neither senator would say no.
On Oct. 20, 1999, during another such debate, Santorum had a colloquy with pro-choice Sen. Barbara Boxer (D-Calif.):
Santorum: "You agree that, once the child is born, separated from the mother, that that child is protected by the Constitution and cannot be killed. Do you agree with that?"
Boxer: "I think that when you bring your baby home .?.?. ." Continue reading →
Some elections are themeless and some have themes.  The Republican presidential nomination contest has had a theme from the outset:  this is a two man race with Romney, or as I affectionately refer to him, the Weathervane, and one other candidate, identity to be determined.  Last night the identity of the Not Romney candidate was determined:  Rick Santorum.
Final Iowa Results:
Mitt Romney:               30,015
Rick Santorum:            30,007
Ron Paul:                     26,219
Newt Gingrich:            16,251
Rick Perry:                   12,604
Michele Bachmann:       6,073
Jon Huntsman:                 745
Santorum was annointed by default:  each of the earlier pretenders to the title having, in turn, stumbled and fallen away:  Bachmann, for a nano-second, Perry, debating is an essential skill for Presidential candidates unless they have won a big war, Cain, the femmes were found, and Gingrich, a man can outrun anything except his own past.  However, Santorum would not have been so annointed if he had also not been working the state assiduously for many months, visiting each county in Iowa, and holding over 375 townhall events.  The caucus set up in Iowa rewards old fashioned shoe leather politics and Santorum did the endless hard work neccessary to succeed.
So today is Santorum's day in the limelight and he has earned it.  What happens next?  Santorum is currently in single digits in all other states.  That should change now, but in order to be taken as a serious challenger to Romney, he will quickly have to move into at least a close second place behind Romney in most of the upcoming primaries.  Campaign funds will now start flowing to Santorum, and he will need to use it swiftly to build up a national organization.
Candidates will start dropping out:  Bachmann soon and probably Gingrich soon after New Hampshire.  I think Bachmann has been angling for a while for a job in a Romney administration, and I expect her to endorse Romney, although that is not probably important as her support is miniscule.  Newt is boiling over from the fact that Romney negative advertising torpedoed his campaign, and he and Santorum have been close in the past, so I would not be surprised if Gingrich endorses him after he drops out. Continue reading →
UPDATE 1-8-2012:  We have eliminated Ron Paul due to spamming issues.  If you feel the need to cast a vote for Ron Paul, please do s0 by leaving a comment.
John Bolton, Rudy Giuliani, Buddy Roemer, and Paul Ryan never announced their candidacy for the GOP nomination as some had speculated, so they have been removed from the TAC Poll.  In addition, Gary Johnson has removed himself from consideration the moment he accepted the Libertarian Party Nomination.  Herman Cain has suspended his campaign which is nothing more than preventing the inevitable.
Here's our latest poll so please vote in anticipation of the Iowa Caucuses (voting ends 7pm this Friday):
The Hawkeye Cauci have arrived, and tonight we'll watch in breathless anticipation to see which presidential candidate will walk away with the lion's share of the precious 25 delegates being awarded tonight – a critical two percent of the 1,144 needed to win the nomination.  Rick Santorum has climbed up the polls and is a serious threat to finish third, if not win the caucus outright.  And as with all candidates who have experienced a burst in popularity, the knives have come out for Santorum.  Yesterday I linked to Alan Colmes's disgusting mockery of the manner in which Santorum and his family mourned the loss of their child, but that is just a taste of the attacks that Santorum has experienced in the previous few days and will experience if he continues to be a somewhat viable candidate.
In particular the blog Red State has run a number of blog posts in recent days that have, to put it mildly, been very critical of Santorum.  Just scroll through the link and you can see that Erick Erickson in particular has been a busy beaver.  Now most (though not all) of the contributors to the blog are pro-Perry and they see Santorum as a threat mainly to Perry.  And for what it's worth, I am sympathetic to Red State's views.  Though I certainly think people should vote for the candidate they feel is best, as a Perry supporter myself I lament that Santorum will do more to divide the conservative vote and help nominate Romney than anything else.  Rick Perry is much better suited for a long run at the nomination than Santorum, so I have mixed feelings about Santorum's rise in the polls as he is my second choice for the nomination.  In fact I'd be ecstatic if either Rick won, yet both candidates are basically evenly dividing the not-Mitt vote with Gingrich.
Red State's takedowns of the other candidates, especially Ron Paul, have been very good.  The anti-Santorum stuff, on the other hand, has been very weak tea.  There's but the vaguest hint of a scandal with a company that Santorum was associated with, and this attack on Santorum about not believing the President to be a Chief Executive is nitpicky at worst, and smells of desperation.  The most effective criticisms revolve around the issues I brought up in this post from about a month ago.  In particular, this post simply linking to Santorum's video endorsement of Arlen Specter is just damning.   Continue reading →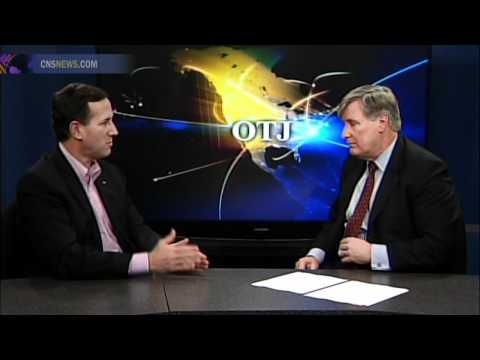 A big surge is being detected in polling in Iowa to Santorum, with Santorum outpolling Ron Paul (R.Pluto), who was just behind Romney, in the last two days of polling.  Go here to read all about it.  A win for Santorum in Iowa could be a game changer, as overnight he could become the conservative hope against a Romney nomination.  That would be great, as Santorum is as pro-life as they come, recognizes the threat from the radical jihadists and has a realistic plan to cut government expenditure, the components of which are as follows: Continue reading →
We need to rewind a little bit before we address the madness engulfing the presidential primary season.  During the runup to the 2010 midterm elections and in its immediate followup there has been some internal GOP strife between purists who want to select only the most ideologically pure candidates and those of a squishier stripe whose primary concern is electability.  This has been an ongoing warfare, and has continued on into the GOP presidential primary.
So now Newt Gingrich is atop of the polls.  A mere few months ago Newt had been written off as a candidate, especially by the purists.  Gingrich reviled the base right at the start of his campaign by deriding Paul Ryan's budget reform plan as right-wing social engineering.  This was just the latest in the string of rhetorical and other slights against the right.  He had endorsed Dede Scozafava, sat on the couch with Nancy Pelosi for that silly global warming PSA, and had otherwise served as a negative symbol of the establishment.  But a few great debate performances – and I emphasize the word performance here – plus the flameout of various other non-Romney candidates managed to put Newt at the top of the polls.
So now the same establishment voices that urged moderation are attacking Gingrich in full voice.  Pundits like Charles Krauthammer and others are questioning Gingrich's bona fides.  George Will went so far as to suggest that Newt is some kind of Marxist, and Mark Krikorian implied that Newt's heart belonged to the French Revolution.  This, in turn, has angered the conservative firebrands, who perceive that the establishment is attacking the new conservative hero.  In other words, for questioning Gingrich's conservatives purity these writers are basically being written off by purists who think that these commentators are manifesting a clear lack of purity.  The anti-purists, meanwhile, are writing off a candidate because of his, umm, lack of purity.  So the anti-purists are clearly RINOs because they think someone who the purists themselves thought was insufficiently pure not that long ago is not in fact pure. On the other hand the purists are upset that the non-purists are questioning the bona fides of a previously heretofore believed to be impure candidate, and in doing so are demonstrating that they are tools of the impure establishment.
Yeah.
I am convinced that if National Review wanted to derail the Gingrich campaign all it has to is endorse Gingrich.  As I have written before there seems to be a contingent of the GOP electorate that is motivated by spite, and they will flock to any candidate that the establishment criticizes.
It's an astoundingly insane situation.  Frankly, I think that Gingrich is neither a Marxists-Leninist, nor is he the modern embodiment of Ronald Reagan.  Gingrich is a conservative technocrat.  He thinks that we can achieve conservative outcomes through just enough social and government tinkering.  He's not quite a big government conservative, but I think Jonah Goldberg has a pretty good feel for Gingrich's political instincts.
Gingrich probably agrees with the late Daniel Patrick Moynihan more than any other leading conservative. "The central conservative truth is that it is culture, not politics, that determines the success of a society," Moynihan observed. "The central liberal truth is that politics can change a culture and save it from itself." A constant theme of Gingrich's career is a desire to use government to fix the culture. Indeed, there's no Republican in the field with a more robust faith in the power of government.
So in this crazy, upside down primary season the segment of the Republican party that agrees with Gingrich is trying to eliminate him from the race, and the segment that is turned off by this sentimentality is outraged that anyone could question Gingrich.
Personally, I am ambivalent about Newt.  He's a better candidate than most, and think that he'd ultimately make an adequate president. And while I don't that it is unfair to dig deeper into a candidate's philosophy and question his fitness for office, some of the assaults on Gingrich are a little absurd.  When John Sununu is on the attack against a candidate and questioning his conservative record, well, let's just say Sununu is probably not the best judge of conservative character.
But to me the race has come down to two men named Rick.  Which one will I ultimately vote for?  If it were purely about ideology it would be Santorum, but other factors – including executive experience – ultimately matter as well and weigh in Perry's favor.  I'd be perfectly content with either candidate.  Neither is looking particularly strong in the polls right now, but considering all that has taken place over the past few months, we should expect either to be the party's nominee.
In all seriousness, neither is as much of a longshot as they appear right now.  You see, there's this election that takes place in Iowa.  Despite the fact that Iowa is a rather small state and has a method of voting that is one of the dumbest and most confusing methods of selecting a candidate known to man, the Iowa caucus is crucial.  And so, this completely outmoded and overrated caucus may very well cause a darkhorse candidate to jump to the front of the line.  Both Santorum and Perry appeal to the socially conservative element in the state, and victory is obtainable in a state where the election hinges on non-traditional forms of electioneering.  I'm not suggesting that Perry or Santorum will in fact win, but if either does – especially in the case of Perry – then it will fundamentally alter the narrative of the campaign.
Of course, if either takes (or in Perry's case, reclaims) the lead, then expect the establishment to get the knives out.  But then at least the battle lines will make sense.
Most of you have an immediate response to the question posed in the title of this post, but please indulge me for a moment.
In this seriously flawed Republican presidential primary field is a candidate who is a Roman Catholic.  He is a man who clearly lives his faith.  He has no skeletons in his closet (that we know of, naturally).  He is the father of seven children, and has demonstrated a devotion to the pro-life cause in a manner that is second to none.  He is unapologetically conservative, and is willing to take stands that go against the grain.
In other words, we have a candidate who it would seem should be drawing a large chunk of the conservative and Catholic vote.  Yet he regularly polls somewhere in the 1-2 percent range.  Considering the number of Catholics in the country and within the Republican party, this suggests he can't even win the support of even a fraction of the most conservative Catholics.  Heck, even the conservative and Catholic author of this post has not really fully supported Senator Santorum.  I oscillate between the two Ricks, but have generally leaned towards Governor Perry.  So what gives? Continue reading →
Just so we're clear, if this guy wins the Republican nomination, I walk:
Mitt Romney was firm and direct with the abortion rights advocates sitting in his office nine years ago, assuring the group that if elected Massachusetts governor, he would protect the state's abortion laws.

Then, as the meeting drew to a close, the businessman offered an intriguing suggestion — that he would rise to national prominence in the Republican Party as a victor in a liberal state and could use his influence to soften the GOP's hard-line opposition to abortion.

He would be a "good voice in the party" for their cause, and his moderation on the issue would be "widely written about," he said, according to detailed notes taken by an officer of the group, NARAL Pro-Choice Massachusetts.

"You need someone like me in Washington," several participants recalled Romney saying that day in September 2002, an apparent reference to his future ambitions.

Romney made similar assurances to activists for gay rights and the environment, according to people familiar with the discussions, both as a candidate for governor and then in the early days of his term.
People can change their minds on an issue, and if Mitt Romney has had a genuine change of heart on abortion, then that's great.  But how can anyone possibly trust this man?  He's a chameleon who changes his tune to suit his audience.
On the other hand, though Rick Santorum is not my first choice at the moment, he's the only candidate who puts social issues first on his website.  He's by far the most passionate defender of the unborn we have in this race, if not the country.
Peter Wehner's getting all nervous because certain Republican candidates are saying things that he disapproves of:
One of the GOP presidential candidates (Ron Paul) believes the United States is responsible for triggering the 9/11 attacks. Another (Rick Santorum) has said he would use the presidential bully pulpit to speak out against the dangers of contraception and its role in the moral decline of America ("One of the things that I will talk about that no president has talked about before is I think the dangers of contraception in this country, the sexual liberty idea and many in the Christian faith have said, you know contraception is OK. It's not OK because it's a license to do things in a sexual realm that is counter to how things are supposed to be.")

Yet another (Herman Cain), has dramatically shifted his positions on negotiating with terrorists and legalizing abortion within a matter of hours, after having said he would (contra the Constitution) impose a religious test on Muslim Americans. And nowGovernor Rick Perry has indicated he's not quite sure whether Barack Obama was born in the USA, citing Donald Trump as an authority.
Some of this is correct, but the rest is a mess.  For instance, Perry's comments seem almost totally aimed at tweaking Obama and nothing more.  Even Paul's 9/11 theories are a bit more nuanced than Wehner suggests.  As for Rick Santorum, I say good for him.  As Mike Potemera points out, it's rather unlikely that any conservative president will be "calling for the hiring of millions of contraception cops as a solution to joblessness."  Santorum would be using the office of president to discuss an important cultural issue.  It's nothing more than what Michelle Obama has done to encourage efforts to fight against obesity.  There's nothing wrong with using the bully pulpit to discuss social issues and raise awareness so long as you are not actually calling for legislation that impedes personal liberty.
Santorum continues to be one of the few candidates who gets it, in that he understands the nexus between social and economic issues.  While others have concentrated on narrow technocratic solutions, Santorum has really been the only one to explain how the breakdown of the family is one of the contributing causes of our economic rot.  That's not to say, by the way, that certain tax and fiscal policies are wrong.  In the end, you can't quite dictate improved sexual mores through executive fiat , so we do need purely economic solutions to the current mess we're in.  But at least Santorum is willing to engage in conversation about social issues.  Okay, so perhaps he does so in a manner that comes off as just a bit whiny, but that doesn't dilute the importance of his message.