Rick Santorum
In other words, Santorum is right and his hardcore libertarian opponents are wrong.
Rick Santorum has stated that he believes that there is no right to privacy in the Constitution.  Therefore, Supreme Court decisions such as Griswold v. Connecticut (striking down Connecticut's anti-contraception statutes) and Lawrence v. Texas (striking down Texas's anti-homosexual sodomy laws) were wrong.
Mitt Romney artfully dodged this question at a recent debate, so Santorum's coming under fire for stating what should be taken as a given among so-called conservative constitutionalists.  As indicated in prior posts, Santorum does not suggest that he would personally favor such laws; in fact he has expressly stated that he would not vote for laws that banned contraception or sodomy.
Santorum's main fault, evidently, is that he is expressing an originalist understanding of the constitution.  Both of the decisions referenced above were gross miscarriages of constitutional justice.  No matter what you think of the laws in questions, Supreme Court Justices are supposed to decide cases based on the constitution, not their personal policy preferences.   In both cases, the majority opinion was based on policy, though justified with a thin veneer of constitutional justification.
In the case of Griswold, Justice William O. Douglas wrote the famous majority opinion in which he stated that though there is no right to privacy expressly stated in the constitution, it is found in "penumbras" and "emanations" found in other constitutional rights.  Justice Kennedy wrote the majority opinion in Lawrence, relying heavily on the concept of substantive due process, a legal concept that has enabled the Court to completely trample on states' rights.  In other words, the Court struck down state laws that ran afoul of no direct constitutional prohibition.  The writers of these majority decisions had to contort the plain meaning of the document in order to justify a decision they had already reached without reference to the constitutional text.
Both of these cases sparked notable dissenting opinions.  Potter Stewart in Griswold and Clarence Thomas in Lawrence said much the same thing: the law under consideration is uncommonly silly, and if i were a legislator in this particular state I would vote against such a law.  But my job as a jurist is to determine whether the law is constitutional or not, and neither Stewart or Thomas considered the law in either case to run afoul of the constitution.  The sentiment expressed by both Stewart and Thomas should inform any intellectually honest jurist.
Justice Arthur Goldberg offered a concurring opinion in Griswold that some conservatives have found to be more compelling, citing the Ninth Amendment as justification for striking down the Connecticut statute.  The problem with this rationale is that the ninth amendment ought to be read in conjunction with the tenth.  The Bill of Rights in general were meant to be restrictions placed upon the federal government.  The ninth and tenth amendments exists because the framers of the Bill of Rights fretted that the Bill of Rights would be read to imply that only the rights contained therein were protected.  in fact many of the opponents of the Bill of Rights opposed creating such a list precisely because they believed that a specific enumeration of rights would imply that rights not listed were not protected. So the ninth amendment assures us that the first eight amendments are not an exhaustive list of protections.  But again, this has to be read in light of the purpose of restricting the power of the federal government.  It is not a broad grant of individual rights, but an assurance that the federal government could not augment its reach beyond certain delineated fields. If anything, the ninth amendment should be used as a cudgel against the Court and the federal government in general in their attempts to restrict states rights.
Therefore I find it odd that those who claim to be averse to a centralized, big brother government are content with said government being able to strike down state laws for no other than the laws in question are of questionable value.  It suggests to me that those who cry "Nanny Statist!" with regards to Rick Santorum ought to look in the mirror.
We have all seen the supposed polls indicating that 99% of Catholic women use birth control. However, has anyone ever bothered to look at who conducted the poll? It was the Guttmacher Institute; the driving force behind abortion and other leftist social movements.  Finally someone in the Mainstream Media (The Washington Post) has weeks after the fact realized the untruthful nature behind this canard. This is just one of many red herrings thrown at religious conservatives to discredit and mock them. It seems some in mainstream media are making it their mission to ask former Pennsylvania Senator and Republican Presidential candidate Rick Santorum every question imaginable with regard to birth control. Whatever happens to Santorum in the primary race, it does seem as if the Hand of Providence is helping bring up the topic of birth control and the faithful alternative of Natural Family Planning.
While there is some dispute between Catholics and some Evangelicals on birth control; there are signs that many Evangelicals are seeing what Catholics and some Orthodox Jews have long believed about birth control. In my previous book and forthcoming book; The Tide Continues To Turn Toward Catholicism, I cite quotes from Chuck Colson and R Albert Mohler, two towering figures in the Evangelical world. They have genuine affection for Pope Paul VI's 1968 prophetic encyclical Humanae Vitae which cemented the Catholic view on birth control in the modern birth control pill era. If you want to really rile up a militant secularist you might mention that it wasn't until 1930 that the first religious group (the Anglican Church) even approved of birth control. The Progressive Teddy Roosevelt said the idea of birth control was "ridiculous" and even liberal hero Dr Sigmund Freud said the whole concept was "narcissistic."
Dorothy Day (1897-1980) the late women's rights activist, who used birth control back before any religious group approved of it, spoke out forcefully against abortion and birth control once she converted to Catholicism later in life. She told men and women that in using birth control they were becoming engaged in a culture that was disconnecting them from God's plans, along with not using their bodies in accordance with the Holy Spirit. Though her women's rights and libertarian economic views remained, she became a social conservative, who lashed out at Margaret Sanger and Planned Parenthood, something you aren't likely to hear or read in the mainstream media.
Families that adhere to the clinically proven facts of Natural Family Planning are treated as if they are some sort of religious nuts. Militant secularists in the corridors of power (Legislative and Fourth Estate) have even thrown out their favorite term "sexually repressed." Now this term is so widely repeated in our popular culture, perhaps we should examine where it came from. Herbert Marcuse (1898-1979) of the infamous Marxist "Frankfurt School" came up with the term. Marcuse left pre-World War II Germany and taught at Columbia. Marcuse believed in free love and surmised that the more narcissistic society was with regard to sexual relations, the better the world would become. Before his death, he claimed his prized student was 1960s militant radical Angela Davis. Marcuse was way out in left field in his day and yet the militant secularists in our pop culture have made him seem as mainstream as Dr. Phil. When societies turn away from religion they embrace the crazies like Marcuse; sadly something has to fill the vacuum and it is usually the ideas which come from the half baked among us that do so. Continue reading →
Rick Santorum has come under fire from right-wing critics for being not conservative enough on fiscal and economic issues, while simultaneously being too conservative on social issues.  In my mind, he's just right.
On the matter of fiscal policy Santorum has been portrayed as some kind of big government statist.  As a Senator he did cast votes for raising the debt ceiling, for Medicare Part 2, No Child Left Behind, and other big spending programs.  He's admitted erring on a couple of these votes.  Overall, though, Santorum's record as judged by free market policy institutes is fairly solid.  The Weekly Standard ran a piece on the National Taxpayer Union's grading of Santorum, and he compares very favorably to most of his colleagues.   Continue reading →
Santorum has some savvy ad people in his campaign if this ad is any indication.   Having the buttoned down Romney in a Rambo spoof is hilarious and will stick in the minds of viewers.  It also hits on Romney's one trick pony campaign:  ceaselessly go negative because his flip-flops over the years make it impossible to portray himself, with a straight face, as a candidate with convictions about anything except that he should be president.  Bravo Santorum campaign! Continue reading →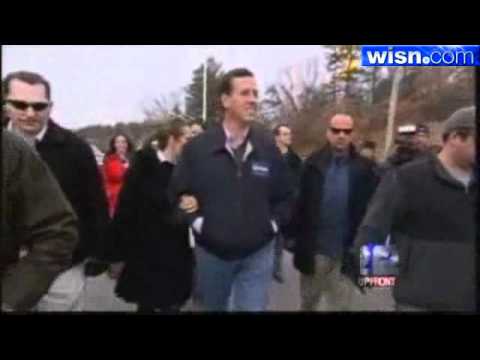 A brilliant piece by Ross Douthat in the New York Times explaining why Romney a/k/a the Weathervane, is running into so many problems in dealing with the challenged posed by Santorum:
But Santorum's advantage is that he can get to Romney's right and to his left at once. On the one hand, Santorum isn't responsible for a health care bill that looks an awful lot like "Obamacare" and he doesn't have a long list of social-issue flip-flops in his past. This makes his candidacy a plausible rallying point for the voters who previously turned Bachmann and Cain and the pre-debate Rick Perry into conservative flavors of the month.
At the same time, though, Santorum's persona, his record and his platform all have a populist tinge that plays well in states like Michigan, Ohio and Pennsylvania, where swing voters tend to be socially conservative but economically middle-of-the-road. (Hence the Michigan poll that showed him leading among independents and Democrats who plan to vote in that state's open primary.)
This means that Santorum can play the same anti-Bain, anti-rich-guy, blue-collar card that Gingrich tried to play in New Hampshire and South Carolina – but subtly, implicitly, in ways that don't make him sound like he belongs in Occupy Wall Street instead of the Republican primary.
So what script should Romney choose as a response? Many conservatives have urged him to rebrand himself with primary voters by embracing a more rigorously right-wing policy agenda – endorsing Paul Ryan's budget more explicitly, outlining a more aggressively supply-side approach to tax policy or even a pure flat tax, echoing furious attacks on the Federal Reserve by Ron Paul and Gingrich, and so on. Continue reading →
Speaking as a former Rick Perry supporter, I promise you that not all of us are petulant brats.  I cannot speak for others, unfortunately.
Red State's all-out assault on Santorum comes as no surprise.  This is a blog that perceives all who fail short of achieving purity as a conservative (whatever that's supposed to mean) as heretics.  So they have taken a few incidents where Santoum fell short – and in some cases, he did cast a wrong vote or endorsed the wrong candidate – and have now transformed Santorum into some kind of statist.
The shrill attacks on Red State are to be expected.  What's disappointing is seeing an otherwise insightful blogger like Ace of Spades hyperventilate ignorantly about Santorum.  What set Ace off was this comment by Santorum from much earlier in the campaign:
One of the things I will talk about that no president has talked about before is I think the dangers of contraception in this country, the whole sexual libertine idea … Many in the Christian faith have said, "Well, that's okay … contraception's okay."

It's not okay because it's a license to do things in the sexual realm that is counter to how things are supposed to be. They're supposed to be within marriage, for purposes that are, yes, conjugal … but also procreative. That's the perfect way that a sexual union should happen. We take any part of that out, we diminish the act. And if you can take one part out that's not for purposes of procreation, that's not one of the reasons, then you diminish this very special bond between men and women, so why can't you take other parts of that out? And all of a sudden, it becomes deconstructed to the point where it's simply pleasure. And that's certainly a part of it—and it's an important part of it, don't get me wrong—but there's a lot of things we do for pleasure, and this is special, and it needs to be seen as special.
Ace is displeased: Continue reading →
Interesting.  I had assumed that National Review was in the tank for Romney.  However, this morning the editors have called for Gingrich to drop out and endorse Santorum.  They follow this up with a blast at Romney:
We hope so. Gingrich's verbal and intellectual talents should make him a resource for any future Republican president. But it would be a grave mistake for the party to make someone with such poor judgment and persistent unpopularity its presidential nominee. It is not clear whether Gingrich remains in the race because he still believes he could become president next year or because he wants to avenge his wounded pride: an ambiguity that suggests the problem with him as a leader. When he led Santorum in the polls, he urged the Pennsylvanian to leave the race. On his own arguments the proper course for him now is to endorse Santorum and exit.
We hope so. Gingrich's verbal and intellectual talents should make him a resource for any future Republican president. But it would be a grave mistake for the party to make someone with such poor judgment and persistent unpopularity its presidential nominee. It is not clear whether Gingrich remains in the race because he still believes he could become president next year or because he wants to avenge his wounded pride: an ambiguity that suggests the problem with him as a leader. When he led Santorum in the polls, he urged the Pennsylvanian to leave the race. On his own arguments the proper course for him now is to endorse Santorum and exit.
Santorum has been conducting himself rather impressively in his moments of triumph and avoiding characteristic temptations. He is doing his best to keep the press from dismissing him as merely a "social-issues candidate." His recent remark that losing his Senate seat in 2006 taught him the importance of humility suggests an appealing self-awareness. And he has rightly identified the declining stability of middle-class families as a threat to the American experiment, even if his proposed solutions are poorly designed. But sensible policies, important as they are, are not the immediate challenge for his candidacy. Proving he can run a national campaign is.
Romney remains the undramatic figure at the center of the primaries' drama. Lack of enthusiasm for him has set it all in motion. Romney is trying to win the nomination by pulverizing his rivals. His hope is that enthusiasm will follow when he takes on Obama in the summer and fall. But his attacks on Santorum have been lame, perhaps because they are patently insincere. (Does anyone believe that Romney truly thinks poorly of Santorum's votes to raise the debt ceiling?) Continue reading →
Rick Santorum's speech at the Conservative Political Action Conference convention this week.  According to The Hill, the impact of the speech on the conservative audience was electric.  Go here to read the story.  Coming off his trifecta wins on Tuesday, Santorum is now neck and neck with Romney in national polls, and is beginning to see poll results where he outpolls Romney against Obama.  We may be witnessing one of the greatest comebacks in American political history.    Continue reading →
Rick Santorum is taking some heat in various places for some remarks he made about the failure of the Left to understand where our rights come from. In this case, as in so many other positions Santorum expounds on throughout his campaign, his views are informed by a belief about human nature that was shared by America's Founding Fathers and by all who believe man was Created by a loving God. First, let's listen to what Santorum said that he is being criticized for, in some circles. Then, I'll explain the main disconnect between those who agree with the views Santorum is expressing here and those who disagree with them .
Transcript excerpt:
When you marginalize faith in America, when you remove the pillar of God-given rights, then what's left is the French Revolution. You are a bigot and a hater because there's no rational reason. What's left is a government that gives you rights. What's left are no inalienable rights. What's left is a government that will tell you who you are, what you'll do, and when you'll do it…and France became the guillotine. Ladies and gentlemen, we're a long way from that, but, if we do, and follow the path of President Obama and his overt hostility to faith in America, that we are headed down that road.
The criticism is that Rick Santorum is using a "slippery slope fallacy" either to intentionally scare people or because of ignorance on his part. The slippery slope fallacy is also referred to as the Camel's Nose:
When the camel's nose enters the tent, can the rest of the camel be far behind?
In order for a slippery slope argument to be a fallacy, it must lack an argument for inevitability. Most people probably understand that the Camel's Nose proverb is indeed a fallacy because most of us probably know that a camel may very well stick his nose into a tent without ever entering the tent. We might say it's common sense. It does take some awareness of camel behavior to know whether or not this is a fallacy, and enough information is known by most people for them to recognize that the argument fails. The "nature of the camel" is something that one must know in order for the Camel's Nose argument to be recognized as a fallacy. So it is with Rick Santorum's argument about the HHS mandate. One must know something about human nature in order to understand that evil actions do set one's feet on a path toward even more seriously evil actions.
If you do not have a good understanding of human nature, you will probably believe Rick Santorum's argument is a fallacy. Naturally, you will come up with alternative explanations for his claim, such as that he is either ignorant or willfully scaring people. Logically speaking, if human nature is not at all what Rick Santorum believes it to be, then it would mean that he is ignorant. But if Rick Santorum is "ignorant" about human nature, then so is the Catholic Church and so are America's Founding Fathers because his view is in keeping with both.
From the Declaration of  Independence, we have a reference to human nature in the quote about Natural Law [Emphasis mine]:
When in the Course of human events it becomes necessary for one people to dissolve the political bands which have connected them with another and to assume among the powers of the earth, the separate and equal station to which the Laws of Nature and of Nature's God entitle them, a decent respect to the opinions of mankind requires that they should declare the causes which impel them to the separation.
From the Catholic Church we can look to the Summa Theologica in which St. Thomas Aquinas explained that when man commits evil acts, he will develop a habit of evil, and when he practices virtuous things, he will develop virtuous habits. Certainly, we Catholics believe also that God's grace is both necessary and available to us in this process, but most parents, Catholic or not, can tell you that letting a child get away with bad behavior will result in the child developing bad habits. So it is for each of us because we all have human nature. We should hope and pray that this is still common sense, because if it is not, America is in deep trouble.
As for Rick Santorum's reference to the French Revolution, I have heard him make this case many times on the campaign trail. He underscores the difference between the American Revolution and the French Revolution in the context of each country's claim about where rights come from. As previously noted, the American Founders stated that our rights come from God by virtue of our being created by Him. Not so, with the French.
From the Declaration of the Rights of Man and of the Citizen, 1789:
The principle of all sovereignty resides essentially in the nation. No body nor individual may exercise any authority which does not proceed directly from the nation.
It is the above principle that Rick Santorum claims, and rightly so, that the Left in America believes in, as opposed to the American Founders' contention that the fact that we have rights (our sovereignty) resides in the fact that we were created by God and that no nation may legitimately usurp those rights.
The claim of the Left is that it is important for the Obama Administration to force the Catholic Church to pay (through healthcare coverage) for contraceptives, including abortifacients, as a matter of "fairness" to women. This is generally what the Left in America claims to be about: "Fairness". In this, they are claiming that they are "fair" and the Catholic Church is "not fair." As such, they are claiming that Catholic teaching is unjust. They believe that they decide what is "just" and what is "unjust" and have decreed that the Church is opposed to their view of justice. If such a precedent were allowed to remain in "good standing" in American law, that the Catholic Church is unjust and must be oppressed wherever the state determines it to be unjust, could the guillotine really be so far away as Rick Santorum claims? This would be my only criticism of Santorum's claim, that we are "a long way" from the guillotine.
It is precisely because so many in America, and certainly Santorum's political opponents, fail to understand human nature and apply their erroneous understanding to their positions on the law that he will face a challenge in making the argument to the American people that the Left is not about "fairness" at all. Rather, they are about deciding for us what our rights are even though they are incompetent on the matter of human nature which was so clearly understood by those who Founded our country and penned the Bill of Rights based on that understanding.
We really do have a choice now, in this election, to choose the Constitution and the reasoning behind the rights it delineates, or to choose a view of rights that history has already shown us will lead to the guillotine.
I choose Rick Santorum.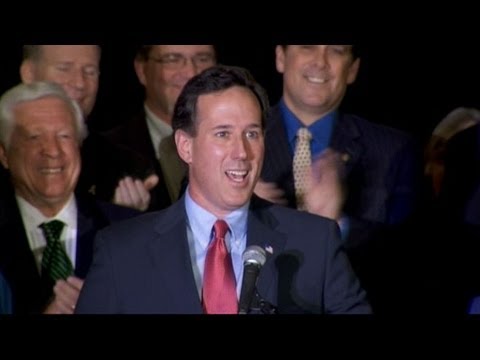 Last night in Missouri Rick Santorum finally got to go one on one against Romney, since Gingrich did not bother to get on the ballot, and the results were devastating to the Weathervane.  Santorum won two to one, garnering 55% of the vote to 25% for Romney, with Ron Paul bringing up the rear with 12%.  Santorum won every county in the state.  The Romney camp will claim that since this was a non-binding beauty contest and that Romney did little campaigning in the state, this is meaningless.  Rubbish!  What does it say about the Romney campaign and its appeal to Republican voters that they lost this badly in a state that has been a bellweather of the nation in most Presidential elections?
However, Missouri was not the end of the bad news for Romney last night.  In the Minnesota caucuses Santorum came in first with a stunning 45% and second was, wait for it, Ron Paul with 27%.  Romney, who won the caucuses by 20 points in 2008, came in third  at 17% with Gingrich being Tail-end-Newt with 11%
To complete the trifecta of woe for the Weathervane last night, we turn to Colorado, a state Romney was supposed to win according to the polls.  In the caucuses, Santorum came in first with 40%, Romney took second at 35%, Gingrich a very distant third at 13%, just edging out Paul at 12%.
So, the night couldn't have been better for Santorum or worse for Romney, but what does it all mean? Continue reading →
Rick Santorum has won two of the three election contests tonight, and as of the time I write this is dead even with Mitt Romney in a state that had been all but conceded to Romney before this weekend.  Santorum has now won three of the eight primaries/caucuses that have been held thus far, and possibly four.  That puts him about even with Romney, and comfortably ahead of Gingrich and Paul in states won.
Admittedly he will be behind Romney in the delegate count, especially considering that no delegates were up for grabs in Missouri.  But 200,000 people went to the polls in Missouri, and a majority of them voted for Santorum (and again, I'll admit that Gingrich was not on the ballot there).  He drubbed Romney in Minnesota as well.
This primary season has been a wild one, and who knows what will happen in the coming weeks.  The Romney sleaze machine* is already out in full force hitting Santorum.  Santorum is radically underfunded compared to Romney and even Newt, although that makes his victories thus far that much more impressive.  Right now it is looking like a two-man race, but it's not between Newt and Romney but rather Romney and Santorum.
*: I wrote a post a few weeks back in which I said that Newt was and perhaps still is a jerk.  For the record, Mitt is kind of a jerk, and over two election cycles has proven himself to be a rather despicable campaigner.  For those of you who would vote for Romney in the general election, I suppose the silver lining is that the man is willing to fight dirty.  So at least he's got that going for him.  Which is nice.
Santorum 45, Obama 44 according to Rasmussen.
Doesn't exactly sound like Johnson-Goldwater to me.
I should add, by the way, that it's just a snapshot of the current mood, and by no means indicative that Santorum would have a free and easy path to a general election victory.  It does show that the grave concerns about Santorum's ultimate electability are overwrought to say the least.
So, to sum up, Santorum polls better than Gingrich against Obama, is more conservative than Gingrich, and has certainly far less personal baggage than Gingrich.  For those of you still clinging to Gingrich as the anti-Romney of your choice, why?