Rick Santorum
The usual caveats as to language applies to the above Internet Hitler video.  (What else can one expect from internet Hitler?)  Taking a momentary pit stop in my vacation traveling.  I note with bemusement the debate that has erupted on the blog in regard to Paul Ryan and the attempted questioning of his Catholicism.  I find that utterly bizarre.  In the primaries I supported Rick Santorum.  Santorum has enthusiastically endorsed Romney's pick of Ryan. 
Here is a video below from earlier this year in which Santorum praised Ryan's budget, with the caveat that it did not go far enough in cuts:
Continue reading →
My compatriot Paul Zummo posts: Assertion Without Evidence.
Here find my reply.
Mr. Zummo writes:
"Show, don't tell"  is an admonition often given to writers. Usually it applies to fiction, but it works with non-fiction as well. If you make an assertion about someone's beliefs, it is generally good form to provide evidence supporting your argument, at least if you want to be taken seriously. It is true that the blogopshere doesn't necessarily allow for extended treatises, yet it's still possible within the confines of a few hundred words or more to demonstrate credible evidence of your assertions.

When it comes to Paul Ryan and his evil Randian ways, however, such worries are cast aside.
The claim is that there is no evidence to support the assertion that Paul Ryan is "Randian." That is, that he ascribes to the philosophy of Ayn Rand.
First, it is very clear that, in recent years, Paul Ryan was an avid supporter of what he called the "morality of capitalism" as defined specifically by Ayn Rand. (Video here.)
Secondly, when political blowback was clear, Ryan stated that the claims that he supports Ayn Rand are "urban legend." The term "urban legend" is commonly understood to describe a myth. In other words, his reply was that the claims are "not true," but we have the video, don't we? Robert Costa added undue credibility to Ryan's assertion:
These Rand-related slams, Ryan says, are inaccurate and part of an effort on the left to paint him as a cold-hearted Objectivist.
It is ironic that Ryan will not acknowledge that the poor are "due" assistance, even as he is given undue credibility by Costa and National Review. More troubling indeed is Costa's assertion that the source of this "lie" is political opponents on the Left. This gives the impression that Ryan is a person of privilege who will be defended by National Review, which is heavily-staffed with Catholic columnists, even against true claims against him. In this way, the credibility of Catholic conservatives is eroded. That is something I certainly do not want to see.
Let it be noted that I have never claimed that Ryan is an Objectivist, per Costa's article, but only that he is opposed to the preferential option for the poor. I would love to see any quote from Ryan claiming that the poor are "due" economic assistance from those who have more. Certainly, Rick Santorum would tell you that the poor are "due" assistance by virtue of the fact that they are poor. He would say it a thousand times without flinching, though he may disagree with some on the structures it takes to make that happen effectively. Ryan appears to have no belief that the poor are "due" assistance.
Finally, on the main point about whether Ryan is "Randian," if we assume that he's had a "conversion" from Rand, then a couple of things would be required to make it an actual conversion. First, you would have to convert "to" something else. Secondly, you would have to demonstrate somehow that you actually believe that philosophy that you've converted to.
Ryan claims that he follows St. Thomas Aquinas, not Ayn Rand.
"I reject her philosophy," Ryan says firmly. "It's an atheist philosophy. It reduces human interactions down to mere contracts and it is antithetical to my worldview. If somebody is going to try to paste a person's view on epistemology to me, then give me Thomas Aquinas," who believed that man needs divine help in the pursuit of knowledge. "Don't give me Ayn Rand," he says.
If he follows Aquinas, as claimed, this would make him a proponent of Distributism. Try quoting Aquinas' remarks on Distributism to any conservatives who have not read them before and ask them what it sounds like to them. I'll be shocked if they don't call it "socialism."
As stated above (Article 1), in distributive justice something is given to a private individual, in so far as what belongs to the whole is due to the part, and in a quantity that is proportionate to the importance of the position of that part in respect of the whole. Consequently in distributive justice a person receives all the more of the common goods, according as he holds a more prominent position in the community. This prominence in an aristocratic community is gauged according to virtue, in an oligarchy according to wealth, in a democracy according to liberty, and in various ways according to various forms of community. Hence in distributive justice the mean is observed, not according to equality between thing and thing, but according to proportion between things and persons: in such a way that even as one person surpasses another, so that which is given to one person surpasses that which is allotted to another.

Aquinas goes on to say that it is the poor, as Jesus said, who are to be considered to have the more prominent position in the community. G.K. Chesterton was a proponent of Distributism. No heretic, he.
Several times today alone, I have shared the above quote from Aquinas with conservatives and have been told it is "redistribution of wealth," the term frequently employed by conservatives to describe socialism. I would argue that most people would say the quote above describes Obama policy better than it describes Ryan policy. Herein lies the conundrum of ignorance which plagues us and foments division in the Church through political confusion. Not one among us who call ourselves conservative would let Barack Obama get away with saying that he follows Aquinas, but if Paul Ryan says it, no one bats an eyelash? Well, not me. Not me. And so, here I am before you asking you not to let any man get away with claiming he follows Aquinas when he does not, least of all a candidate for high office, and especially so when it is a candidate for high office who identifies as Catholic on the national stage.
Certainly, Ryan's philosophy continues to more closely resemble the philosophy of Ayn Rand than of Aquinas. CLICK HERE to see why that is so dangerous to the Church in America, and yes, even to Western Civilization itself.
As for Mr. Zummo's attempt to compare Paul Ryan to Rick Santorum, there is no comparison. They are vastly different, as stated above, but also considering the fact that Paul Ryan endorsed Mitt Romney, who is running on a solely economic platform, over his fellow Catholic Rick Santorum in Wisconsin. This action effectively knocked Rick Santorum out of the GOP presidential primary for good and certainly indicates strongly that the two are not at all on the same page economically. At the very least, it's clear that Paul Ryan prefers Romney economics to Santorum economics. Mitt Romney believes those who work are "due" what they work for. Fine, fine, but Rick Santorum believes, in addition to that, that the poor are "due" assistance in some form. It's a philosophy that is consistent with our Catholic Faith, whereas Ryan's philosophy is not.
There was no "assertion without evidence." To the contrary, there is a great deal of evidence, and we ignore it at our peril.
"Show, don't tell"  is an admonition often given to writers. Usually it applies to fiction, but it works with non-fiction as well. If you make an assertion about someone's beliefs, it is generally good form to provide evidence supporting your argument, at least if you want to be taken seriously. It is true that the blogopshere doesn't necessarily allow for extended treatises, yet it's still possible within the confines of a few hundred words or more to demonstrate credible evidence of your assertions.
When it comes to Paul Ryan and his evil Randian ways, however, such worries are cast aside. Already his critics are harping on how the influence of Ayn Rand on Paul Ryan calls his judgment into question. And it's not just the usual suspects making these arguments, Continue reading →
Elizabeth Santorum at Hot Air reminds us that the Santorum household has a double reason to celebrate today:
Sunday is an important day in the Santorum house. On May 13th, we'll be celebrating a birthday. My little sister, Bella, is turning four. As some of you can imagine, having seven kids in my family, we do a lot of birthday parties. Various sweets, party hats, and re-used gift bags are always floating around the house, waiting to be used in the next celebration. Our house is a happy one, full of life. That being said, Bella's birthday is always uniquely joyful and the cause of grateful reflection. I say this because every year with Bella is a gift. Bella was born with a rare genetic condition called Trisomy 18. Of the 10% of babies with Trisomy 18 who survive birth, 90% won't make it to their first birthday. When she was born, the prognosis was bleak. The odds were simply stacked against her.
Ten days after she was born, Bella came home from the hospital. As doctors explained to us how to best prepare for her death, we chose to celebrate her life. And we did, every, single day. I remember when we first brought Bella home; we hung a sign in our living room. It read, "Happy 1-Week Birthday Bella." As the weeks went by, we changed the sign from 1 to 2 to 3 weeks. Eventually weeks turned into months and now, thanks be to God, years. We fought for her each step of the way, giving her every opportunity to do well. She beat the odds and has been doing so ever since.
As I reflect on this last year of her life, it has been amazing to see how many people Bella has touched and the issues that have been discussed in the public sphere as a result of her condition. In the middle of winter, when the world found out that Bella had been hospitalized, the response was overwhelming. Our inboxes and mailboxes were flooded with notes of encouragement, prayer, and support. People in all walks of life from around the country united around the witness of a three-year-old little girl. We even got notes that said, "I don't agree with you politically, but thank you for being a voice for the special needs community." She brought unity and refocused us on what was really important in the midst of a heated primary season. Continue reading →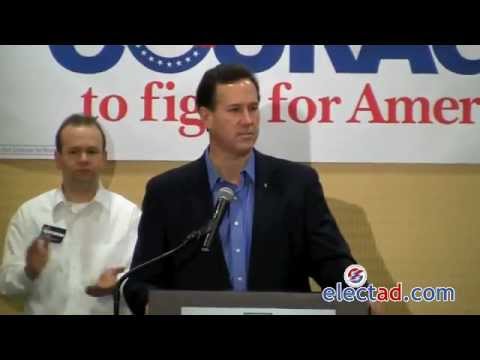 Rick Santorum, the candidate who I supported in the primaries, has endorsed Romney in an e-mail to his supporters.  I agree with every word of his email:
Thank you again for all you did as one of my strongest and committed supporters. Your belief in our campaign helped us start a movement of Americans who believe deeply that our best days are ahead as long as we fight to strengthen our families, unshackle our economy and promote freedom here and around the world. Karen and I will be forever grateful for the support, kindness and commitment you showed us, as well as our children, over these last months.
On Friday, Governor Romney came to Pittsburgh for an over-hour long one-on-one meeting. The conversation was candid, collegial and focused on the issues that you helped me give voice to during our campaign; because I believe they are essential ingredients to not only winning this fall, but turning our country around.
While the issue of my endorsement did not come up, I certainly have heard from many of you who have weighed in on whether or not I should issue a formal endorsement. Thank you for your counsel, it has been most helpful. However, I felt that it was completely impossible for me to even consider an endorsement until after a meeting to discuss issues critical to those of us who often feel our voices are not heard by the establishment: social conservatives, tea-party supporters, lower and middle income working families.
Clearly without the overwhelming support from you all, I never would have won 11 states and over 3 million votes, and we would not have won more counties than all the other candidates combined. I can assure you that even though I am no longer a candidate for president, I will still continue to fight every day for our shared values – the values that made America the greatest country in the history of the world.
During our meeting I felt a deep responsibility to assess Governor Romney's commitment to addressing the issues most important to conservatives, as well his commitment to ensuring our appropriate representation in a Romney administration. Continue reading →
The above video is a salute to Rick Santorum, former candidate for the Republican presidential nomination, for understanding the essential nature of the Crusades as a defensive reaction to Islamic aggression.  In the video below we have a rather mindless reaction to the same quote from a talking head from the liberal group Young Turks, who, judging from his comments, gained his knowledge of the Crusades from the laughably ahistorical crusader bashing flick Kingdom of Heaven (2005).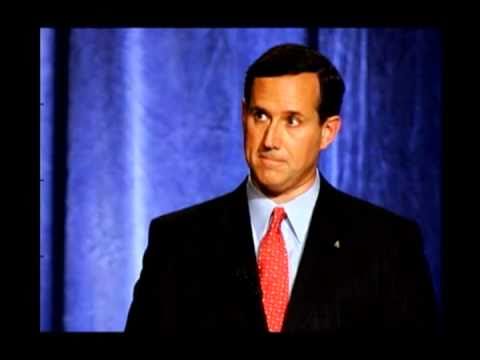 Ignorance of the depth displayed in the video above is always to be lamented, and is not unusual, as noted by Dr. Thomas Madden, one of the foremost of the scholars of the Crusades, who, over the past 40 years, have revolutionized our knowledge and understanding of that epoch:
The crusades are quite possibly the most misunderstood event in European history. Ask a random American about them and you are likely to see a face wrinkle in disgust, or just the blank stare that is usually evoked by events older than six weeks. After all, weren't the crusaders just a bunch of religious nuts carrying fire and sword to the land of the Prince of Peace? Weren't they cynical imperialists seeking to carve out colonies for themselves in faraway lands with the blessings of the Catholic Church? A couch potato watching the BBC/A&E documentary on the crusades (hosted by Terry Jones of Monty Python fame no less) would learn in roughly four hours of frivolous tsk-tsk-ing that the peaceful Muslim world actually learned to be warlike from the barbaric western crusaders. No wonder, then, that Pope John Paul II was excoriated for his refusal to apologize for the crusades in 1999. No wonder that a year ago Wheaton College in Illinois dropped their Crusader mascot of 70 years. No wonder that hundreds of Americans and Europeans recently marched across Europe and the Middle East begging forgiveness for the crusades from any Muslim or Jew who would listen. No wonder.
Jonah Goldberg, in his just released book Tyranny of Cliches, demonstrates that he is aware of the current scholarship on the Crusades:
The great irony is that the zealot-reformers who want to return to a "pure" Islam have been irredeemably corrupted by Western ideas. Osama bin Laden had the idea that he was fighting the "new crusaders." When George W. Bush once, inadvertently, used the word "crusade," jihadists and liberal intellectuals alike erupted with rage. It was either a damning slip of the tongue whereby Bush accidentally admitted his real crusader agenda, or it was a sign of his stunning ignorance about the Crusades. Doesn't he know what a sensitive issue the Crusades are? Doesn't he know that the Crusades belong alongside the slaughter of the Indians, slavery, and disco in the long line of Western sins?
After all, it's been in the papers for a while. In 1999, Muslim leaders demanded that Pope John Paul II apologize for the Crusades. "He has asked forgiveness from the Jews [for the Church's passivity in the face of the Holocaust], so he should ask forgiveness from the Muslims," Sheikh Ikrima Sabri, the grand mufti of Jerusalem, told the New York Times.3   Across the country sports teams have been dropping their crusader mas­cots because they're offensive to . . . someone. Wheaton College changed their seventy-year-old team name from the Crusaders to the Thunder (no word from Thor worshippers yet as to whether they are off ended). Even Campus Crusade for Christ opted to change its name to Cru partly be­cause the word crusade has become too radioactive. "It's become a flash word for a lot of people. It harkens back to other periods of time and has a negative connotation for lots of people across the world, especially in the Middle East," Steve Sellers, the organization's vice president told Christianity Today. "In the '50s, crusade was the evangelistic term in the United States. Over time, different words take on different meanings to different groups."4
I'll say. Until fairly recently, historically speaking, Muslims used to brag about being the winners of the Crusades, not the victims of it. That is if they talked about them at all. "The Crusades could more accurately be described as a limited, belated and, in the last analysis, ineffectual re­sponse to the jihad—a failed attempt to recover by a Christian holy war what had been lost to a Muslim holy war," writes Bernard Lewis, the greatest living historian of Islam in the English language (and perhaps any language).5 Historian Thomas Madden puts it more directly, "Now put this down in your notebook, because it will be on the test: The cru­sades were in every way a defensive war. They were the West's belated response to the Muslim conquest of fully two-thirds of the Christian world."6 Continue reading →
Are you curious about the direction of the Republican Party now that Mitt Romney is expected to be the nominee in the aftermath of Rick Santorum's surprising victories in eleven states? Santorum is expected to meet with Mitt Romney on May 4 about just that, among other things.
At National Review's The Corner, Robert Costa has some quotes from senior Santorum campaign strategist John Brabender on what he expects to be discussed at the meeting. "We've only taken one thing off of the table," says Brabender. That one thing is discussion of Rick Santorum's campaign debt.
From National Review's The Corner:
On Friday, May 4, Rick Santorum will huddle with Mitt Romney. According to Santorum strategist John Brabender, the former rivals will discuss a variety of topics, including how Santorum could potentially work with Romney during the general-election campaign.

"It's about more than moving toward an endorsement," Brabender says. "It's also about helping Rick and Governor Romney to get to know each other on a personal level. They've only talked in passing at the debates; they've never really gotten to know each other. Rick wants to sit down with Romney, one on one, and talk through some things.
Visit RickSantorum.com
Well, Mr. Inevitable is indeed inevitable now.
Kudos to Rick Santorum on a race well run.  It is amazing that he managed to accomplish what he did considering his financial resources and his standing at the outset of the race.  Unfortunately it wasn't enough to overcome Mitt Romney's considerable resources.  Santorum would have had to run a perfect campaign to win the nomination, and he didn't.
It is unbelievable to me that Mitt Romney is going to be the Republican nominee.  After the remarkable victories in the 2010 mid-terms and the rise of the tea party movement, this is the best the Republicans can do.
Mitt Romney is running as a conservative now, but in the general, we can expect a flip-flop. It was made clear already by a top Romney campaign adviser saying he will erase his conservative views as with an "Etch-A-Sketch" once the general election comes around,  if he is the nominee. Tonight, Romney's Maryland campaign chair said that women will see Mitt Romney's "real views" in the general election.
From  CNN, transcript:
Piers Morgan: Obviously, Governor Romney's got a problem in the polling with women, not entirely surprising given the social issue debates that have been raging in the Republican Party have been pretty negatively received. How does he rebuild trust in the female vote?

Romney's Maryland Campaign Chair, Bob Ehrlich: I think that's more a function of the Santorum campaign, quite frankly, and the Democrats using some of Senator Santorum's verbiage to their electoral advantage, to their partisan advantage. I think, when the general election, again, when you have one-on-one election, a general election, and they see again, are reminded of Governor Romney's real views, that gender gap will dissipate rather quickly.
Why do people vote for this? Mass insanity, that's why. People have rejected moral reasoning, and when you reject moral reasoning, you don't think reasonably. Believe me, I know about this in living technicolor as I live with Bipolar Disorder. If I don't find my identity in God's truth, I will go quite literally crazy. Healthy brains can do the same thing when they reject moral reasoning.
From Pope Benedict XVI"s Chrismas 2010 address:
Alexis de Tocqueville, in his day, observed that democracy in America had become possible and had worked because there existed a fundamental moral consensus which, transcending individual denominations, united everyone. Only if there is such a consensus on the essentials can constitutions and law function. This fundamental consensus derived from the Christian heritage is at risk wherever its place, the place of moral reasoning, is taken by the purely instrumental rationality of which I spoke earlier. In reality, this makes reason blind to what is essential. To resist this eclipse of reason and to preserve its capacity for seeing the essential, for seeing God and man, for seeing what is good and what is true, is the common interest that must unite all people of good will. The very future of the world is at stake.
"Eclipse of reason." "The very future of the world is at stake." Is the Pope being "over the top" here? No. It is all plain as day to the faithful.
This is why I always say that we have to elect Rick Santorum because "the future of the world is at stake." It really is. Either we embrace moral reasoning, or we sink into the abyss.
I've been saying since long before Rick Santorum decided to run for president that America is rejecting moral reasoning and that we are headed for a dark age if we don't get our bearings back. Seeing people fall for the "Etch A Sketch" candidate and seeing the full weight of the Republican Party establishment out to destroy Rick Santorum's hopes for the nomination is no surprise to me. America will elect Rick Santorum or it's game over.
Catholics, particularly, who vote for Mitt Romney should be ashamed of themselves. The man stood on stage before a national audience and, in order to save his own political skin, told a blatant and horrific falsehood about the Catholic Church. He said that the Church voluntarily submitted to subsidizing child murder. He's clearly a man who will say and do anything to gain power, even tell such a lie about the Church before a national audience, and yet…Catholics are voting for him. "Eclipse of reason."
I'm ashamed of Catholic Republicans who are voting for this impostor, but then, the Church has been through worse. We'll get through this as we have gotten through far worse things, albeit losing many souls along the way. God, help us.
Think I'm going overboard? I don't have to win elections. I only have to remain close to Christ, because He is all. I don't lose any sleep over the possibility that Rick Santorum may not win. As he told me tonight after losing in Maryland, Wisconsin and D.C., "God is good."  Indeed, God is good, and God will remain eternally good, even if America rejects Him. She will get what she deserves, but it is my hope that she works hard to deserve freedom by helping to elect a man of principle – Rick Santorum.